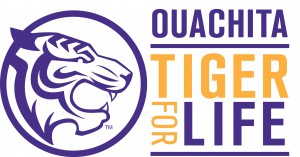 Tiger for Life is a reflection of something as old as Ouachita itself. This campus, this experience, this family finds a place in your heart and stays… for life!

A Tiger for Life is thankful to those whose support preserved Ouachita in the past, celebrates and promotes the Ouachita of today, and joins with others to guarantee Ouachita's existence for future students.

The Tiger for Life brand was created in the spring of 2010 by a group of 13 Ouachita students working on a class project. This became much more than an assignment to these students. It became their "gift" to Ouachita's future.
Visit Ouachita's Cornerstone Fund to learn about how you can make a gift to Ouachita's future.


Activities
Freshman/Transfer Orientation (WOW - Welcome to Ouachita's World)
All freshmen and transfer students receive a Tiger for Life t-shirt -- their very first official Ouachita wear. They hear about the legacy of donors on campus and why it's so important to be grateful to those donors and why it's important to give back as alumni.
Tiger for Life Week (Fall Semester)
Students participate in a week of gratitude, including "Bowing Day," where all campus buildings are wrapped in purple ribbon signifying a donor's provision. Students wear purple ribbons signifying that they benefit from gifts to Ouachita.
Donor Appreciation Day (Spring Semester)
At about 80% through the academic year, we celebrate the day that student's tuition "runs out" and donors begin paying the difference. Though the day is symbolic, it is a great reminder that tuition, room and board only cover about 80% of what it costs to experience Ouachita. Student celebrate Donor Appreciation Day by writing thank you notes to every Cornerstone Fund donor up to that day that year.
Tiger Idol
Students compete in a talent show, sponsored by campus clubs and organizations. All proceeds benefit the Ouachita Cornerstone Fund.
Senior Gift
All graduating seniors are encouraged to pledge $50 as their "Senior Class Gift." In 2011, the classes began splitting their gift between paying for the Senior Walk and giving their first gift to the Ouachita Cornerstone Fund. The class of 2015 gave over $5,000 in first-time pledges to the Cornerstone Fund!