The Ouachita Baptist University Biology department is proud to partner with the City of Arkadelphia Department of Parks and Recreation to conduct a forest health survey on DeSoto Bluff. This survey exemplifies the Department of Park and Recreation's commitment to community involvement and also showcases the priority OBU Biology places on application of classroom learning to real-world settings.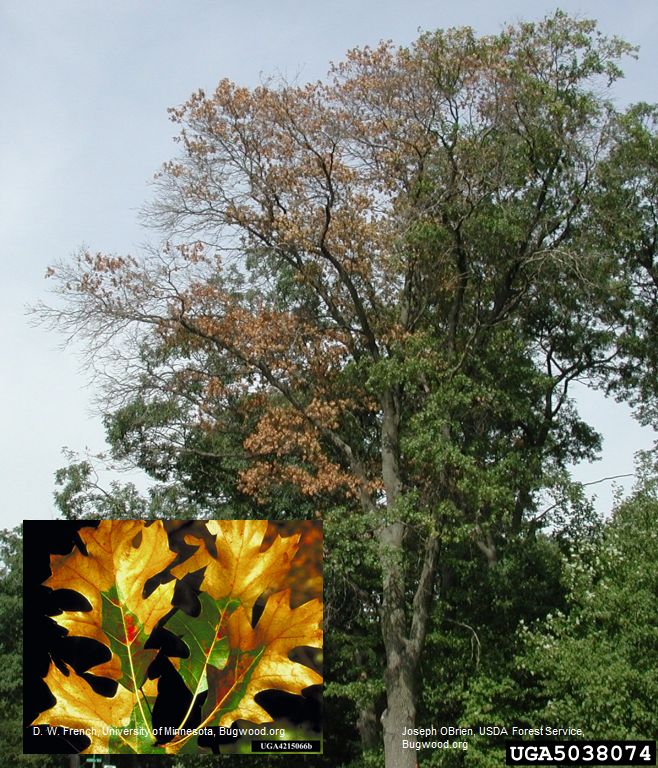 The forest health survey will assess the susceptibility of oak trees on DeSoto Bluff to oak wilt, a fungal disease of oak trees. Oak wilt kills trees by clogging up their water transport system, preventing effective movement of water from the roots of the tree to the crown. Oak wilt is an incredibly dangerous disease, particularly for red oak trees, which typically die within a few weeks of infection.
The oak wilt pathogen, Bretziella fagacearum, is transmitted to new trees by sap beetles or by underground root connections between trees. Sap beetles are attracted to fresh cut wounds on trees and may transport the fungal spores when they fly to a new tree. The survey will include capturing beetles and collecting soil samples and testing both for the presence of microbes, including the oak wilt fungus. The spread of oak wilt may be readily controlled by ensuring that oak trees remain healthy and undamaged during the beetle flight periods or by cutting the root connections between adjacent healthy and infected trees.

Oak wilt is distributed in central Texas and in the east-central United States, including northern Arkansas. Although oak wilt has not been reported from Clark County, the fungus has been identified in neighboring Nevada County. A goal of this forest health survey is to determine whether the oak wilt fungus is present on DeSoto Bluff, allowing the City of Arkadelphia to formulate a response if the fungus is found.