Your gift to the Ouachita Cornerstone Fund helps students dream their larger dream in a Christ-centered learning environment. Take a moment to check out the stories below from those who benefit from and give to the Cornerstone Fund.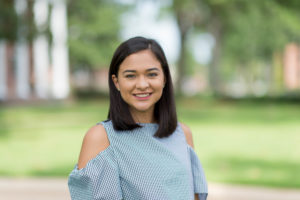 Abigail Brizuela is a senior finance and business administration double major with a management emphasis from San Pedro Sula, Honduras. Abigail is the third sister to attend to attend Ouachita after alumnus Wayne Clinkingbeard, a missionary serving in Honduras, shared with her family his love for Ouachita. "I knew I wanted my own Ouachita story after hearing the stories about the Ouachita difference," Abigail said.
"Being in a different country for most of the year away from friends and family is challenging," Abigail added. "God has used these times to teach me to trust in Him and that He is always there. Ouachita has given me Godly friends to encourage me and Godly professors like Dr. Bryan McKinney who not only advise me in my studies but even attended Tri Chi Family Day with me since my family could not be here."
Abigail has created her own Ouachita story by immersing herself in all the things that make Ouachita, Ouachita. She is involved in Campus Ministries, Alpha Chi Honor Society, the International Food Festival Committee, the Academic Success Center, Hickingbotham School of Business Student Advisory Board and Tri Chi women's social club.
After rushing Tri Chi, Abigail said she was "amazed at how joining a group of young women I did not know could become loving and caring friends I can trust through thick and thin."
When it comes to her academic pursuits, Abigail said, "Being a part of Enactus, an international nonprofit organization dedicated to inspiring students to improve the world through entrepreneurial action, has given me hands-on experience by pitching new ideas to other entrepreneurs, organizing events to help the community, expanding my business network and traveling to different states to compete with a team.
"The faculty and my friends at Ouachita have taken the time to invest in my life and that is what makes Ouachita, Ouachita," she added.
Your gifts to the Cornerstone Fund allow you to invest in Abigail's story and the stories of countless other students like her by supporting the organizations that make a difference in her life like Campus Ministries, the Academic Success Center, Enactus and so much more.
"I am thankful for donors who give so I can make the most of my Ouachita experience," Abigail noted. "Your gifts not only support the difference-making programs but they also provided me with the financial assistance I needed to continue my undergraduate degree." Abigail's bigger dream is to get her Master's degree and help her family manage and grow their Christian, bilingual school in Honduras and to give back by helping missionaries with translation to help spread the Gospel.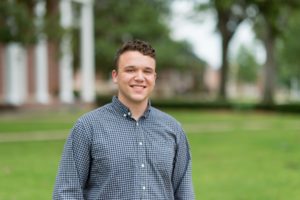 For Caleb Byrd, Ouachita is more than just a college in Southern Arkansas; it is a part of his family. Caleb's parents, Lannie and Jennifer both graduated from Ouachita ('97), and his dad serves as president of the alumni board. The communications & media and Spanish double major from Little Rock, Ark., has heard all about their experiences and witnessed their lifelong connections. He also credits the meaningful interactions and connections with Ouachita professors in his decision to come to Ouachita.
"Dr. Jeff Root is my advisor and a longtime family friend," Caleb said. "He has given me so many opportunities and coached me on how to make the most of my college experience."
Caleb has taken full advantage of those opportunities. He has become the sports editor for The Signal student newspaper and is an active member of Kappa Chi men's social club, Ouachita Student Foundation and Student Senate. He also is the lead color commentator for the Arkadelphia Badgers football games and does color commentary/play-by-play for Ouachita basketball games, as well. He is the executive producer of the JR Eldridge Show for the Arkadelphia High School football program and is a student assistant to Ouachita's sports information director.
"Since Ouachita is a small school, I have been able to do so many things as a freshman that I wouldn't have been able to do until my junior or senior year at a bigger school," Caleb said of his experience in the Rogers Department of Communications. He also had the opportunity to create a common experience with his dad by pledging Kappa Chi men's social club.
Caleb noted that Ouachita's close-knit spiritual community has been key as he navigates the demands of college life.
"I had been able to rely upon myself for happiness and satisfaction before college, but my college experience has taught me that I can do nothing on my own but everything through Christ," Caleb said. "The Christian environment of Ouachita's campus has allowed me to have frank conversations with my friends about my faith and helped me to grow in that regard."
As Caleb comes closer to completing his academic experience at Ouachita, he is thankful for the gift donors have given him.
"The Cornerstone Fund has impacted my Ouachita experience in a complete way," he said. "Without the Legacy Scholarship provided through the Cornerstone Fund, I likely would not have been able to attend Ouachita. With the help from scholarships, I am able to attend college debt-free and focus on what God wants me to do after college rather than trying to pay off loans." Your gifts help Caleb and others like him meet their academic, personal, spiritual and financial goals at Ouachita.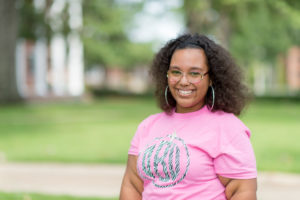 Brittany Burr is a sophomore elementary education major from Shreveport, La. "When I first walked on campus, I knew instantly that this was the school for me. It had a very different atmosphere than all the other schools that I visited."
Brittany is building her leadership skills through involvement in many on-campus organizations including Student Senate and Multicultural Organization Reaching Equality. She especially enjoyed taking part in the tradition of guarding the tiger statue during Battle of the Ravine Week. "My parents thought that I was losing my mind when I told them I was going to be camping out to guard a statue," she said. "My friends and I drank a lot of coffee, ate pizza and played cards."
Brittany already has noticed her professors really investing in her, as well. "All of my professors in my freshman year have invested in me in some way or another, but the one that I will be very grateful for is Dr. Rachel Pool," Brittany said. "Once she was made aware of my daddy passing, she made herself available to me not to give me pity but to encourage me. She made me realize that my daddy was a part of my story, but he wasn't the main character and that I was called to do great things.
"Just in freshman year alone at Ouachita I see how God is preparing me for my future," Brittany added. "I always knew I wanted to be an elementary teacher, and through the Godly leadership from professors and the Christian community, I am gaining confidence in my purpose."
After graduating with her bachelor's degree, Brittany wants to begin teaching as she works toward her master's degree.
Your donations help Brittany and many students like her develop in a Christ-centered community where they can achieve their goals.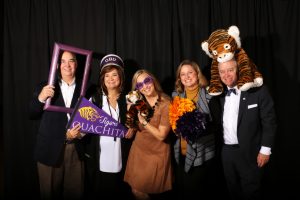 From the earliest years of their lives, Jenny ('82), Bobby ('83), John ('84), Leigh Anna ('89) and April ('94) were immersed in all that is Ouachita. Their parents, Marianne ('55) and Bob ('56), made sure that they were well acquainted with the small-town college in Southern Arkansas. Taking them to Tiger football games in the Fall, Tiger basketball games in the Spring, homecoming and even hosting Ouachita alumni events in their home were all a part of these siblings earliest memories of Ouachita.
To say the Gossers have left a legacy at Ouachita is an understatement. Seventeen Gossers have attended Ouachita, spanning three generations. Their glad and sincere hearts have been giving to Ouachita for decades. Take a look below to hear from the siblings themselves about why they choose to give back to Ouachita and why Ouachita continues to play a special role in their family dynamic even today.