Ouachita's America Counts program serves third graders in Arkadelphia Public Schools with one-on-one tutoring and mentoring to improve their mathematics skills. The program was established in response to a call for literacy efforts among our nation's children by the U.S. Department of Education and the National Science Foundation. Read more about the program's history below.

These positions are an excellent opportunity for students to contribute to the local community in a meaningful way. In addition to gaining skills in mathematics, there is a great opportunity for each child to make significant strides in self-esteem as a result of the mentoring aspect, which occurs as the relationship between the tutor and child develops.
"Improved test scores, positive interaction with a college student and a rise in self-esteem are just a few of the benefits our students experience through their participation in the America Counts Program."
"Being a part of America Counts has been one of my favorite things about my time here at Ouachita. The time I spend with those students is always the highlight of my week. It feels amazing to know that you are making an impact on students' lives, and nothing is better than the connections you get to make!"

Requirements for Selected Tutor/Mentors
Complete mandatory training workshops at the beginning of the fall semester
Sign an agreement to commit to guidelines established for tutoring programs
Arrange tutoring schedule with classroom teachers after assignments are made (children should receive about 1.5 hours of one-on-one tutoring per week)
How to Become a Tutor/Mentor
Ouachita students may apply to join the program as either volunteers or as paid work-study positions (for those eligible for federal work-study). Applications are due from Feb. 1 – March 31 in order to tutor the following fall semester. Prior to the end of the spring semester interviews are conducted by the coordinator of public school initiatives . The pay scale for tutor/mentors is $1.00 above the average work-study position.
For more information contact:
Leigh Anne McKinney, associate director of the Elrod Center
mckinneyl@obu.edu // 870-245-5320
Fall 2016 America Counts Tutor Training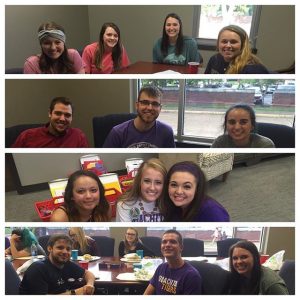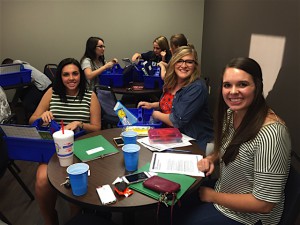 Program History
The America Counts Challenge Initiative was issued in 1998 by the U.S. Department of Education and the National Science Foundation to strengthen the focus on mathematics education.

In response, Ouachita's America Reads/America Counts steering committee determined, with input from Arkadelphia Public Schools, that a mathematics tutoring program would be beneficial to the children in Arkadelphia schools. It also would provide practical experience for the university students involved.

The program was designed to include recruiting and training tutors, fostering a successful relationship between tutor and child, linking smoothly with schools and increasing levels of math skills. A pilot mathematics America Counts tutoring program launched as Ouachita in the fall semester of 1999, offering one-on one tutoring and mentoring of third grade children by university students.

Jan Bass served as coordinator of public school initiatives until her May 2012 retirement. Leigh Anne McKinney joined the Elrod Center as coordinator of public school initiatives in August of 2012. She is responsible for coordinating all program aspects with the public schools.
In a partnership with