ElderServe connects Ouachita students with senior adults in the Arkadelphia community. The pair form a friendship over the course of a college semester by meeting once a week, mainly just to visit. The senior adult greatly benefits from the youth, energy and friendship of the student, and the student is given the opportunity to make a difference in the life of the senior adult while gaining a new friend with valuable life experience.

ElderServe students also function as a team each month to carry out service projects in area nursing homes and senior adult housing complexes. Ongoing instruction is provided to the students (as well as meals!) throughout the year to equip them to serve more effectively and to help them form a community of their own.

ElderServe works closely with nursing homes, churches and local agencies to identify senior adults who could benefit from a relationship with a student. The student will sometimes help with various tasks such as light cleaning, reading correspondence or even washing a dog. Each relationship is unique and is guided by the needs that become apparent as the friendship develops. In most cases, a genuine friendship is formed between the student and senior adult.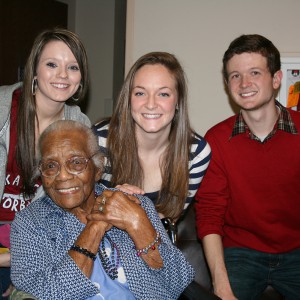 For more information contact:
Judy Duvall, director of the Elrod Center
duvallj@obu.edu // (870) 245-5320