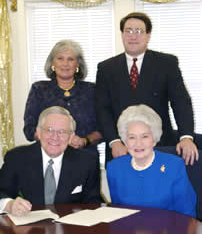 Dr. & Mrs. Ben M. Elrod, seated, with their children Cindy Elrod Stroud and Bill Elrod.
---
Measured by the number of brick masons kept busy on campus projects, the academic and spiritual growth of the students or the passion with which friends and colleagues talk about his life and contribution to Ouachita Baptist University, Dr. Ben M. Elrod's 10-year tenure as president of Ouachita was a time of monumental growth.

Discussions of Elrod's contributions, however, rarely start with bricks and mortar, or even with talk of what the increased endowment can do to support academic programs. Those who know him focus first and foremost on his commitment to Christ and his personal influence on their lives.

"The money he raised was great; the buildings he built were marvelous; the programs he designed were innovative; the education he promoted was inspiring; but the lives he touched and changed are forever priceless," said Dr. Wesley Kluck, a Ouachita graduate and current vice president for student services and university physician.

Kluck grew up across town from Ouachita. The son of longtime Second Baptist Church pastor Carl Kluck, Wesley found two strong male role models in his life.

"Next to my father, Dr. Elrod has impacted my life more than any other man I know," said Kluck. "When I was a student at Ouachita, the influence of Dr. Elrod's encouragement and motivation erased fears and limitations in my life. My entire personality and confidence was changed directly as a result of his interest in me."

Such personal testimonials are not hard to come by. Dr. Andrew Westmoreland, Ouachita's 14th president, served as Elrod's assistant to the president, vice president for development and executive vice president. Westmoreland also is quick to point out that Elrod was more than a talented boss.

"As a child, I heard my dad say many times from his pulpit that 'you are the best Christian that somebody knows.' For me, that best Christian is Ben Elrod," said Westmoreland. "Throughout the past 10 years, I've had the opportunity to stand with him in the highest and the lowest moments of life, and I have always found him to be resolute in his commitment to serve Christ and to live his life in such a way that others could see Christ in him. I could not ask for a better friend."

For Elrod, the personal and professional ties often run together. It was a sense of God's calling that made Elrod's life and Ouachita almost synonymous.

"Ouachita has been such an integral part of my life that it is very difficult to think about myself or my life without thinking of Ouachita," said Elrod. "The greatest honor that any educational institution can bestow on one of its own is the opportunity to serve as its president. It has been a genuine joy."

Coupled with his penchant for reaching people has been a vision for a better Ouachita and the ability to make it happen. Dr. William D. Downs, Jr., professor emeritus of mass communications, joined the faculty in 1967. He has witnessed major transitions in every aspect of university life.

"Having worked closely with Dr. Elrod over the last 30 years, I have seen firsthand the extraordinary leadership he has provided in guiding Ouachita to becoming the first-rate educational institution it is today," said Downs. "Building on the foundation provided by his predecessor, Dr. Daniel R. Grant, the results of his leadership are obvious: a dynamic program that continues to be exemplified in the quality of our graduates, in the beauty of our campus and in the broad support by the various publics on which the university depends."

While a simple list fails to accurately depict the myriad ways that an institution can grow over a decade, the following is descriptive of the prevailing sense of progress present during the Elrod years:
Elrod oversaw two phases of the "Decade of Progress" capital campaign, and each raised more money than any previous fund-raising effort in the history of the institution. The first phase surpassed its challenge goal of more than $26 million, and the second, "The Window of Opportunity" campaign, surpassed its base goal and was nearing $30 million on its way to a challenge goal of $40 million.

The market value of Ouachita's endowment increased from less than $13 million in 1988 to $29 million in 1997.

Ouachita's operating budget increased from less than $11 million in 1988 to more than $20 million in 1997.

The percentage of alumni supporting the institution financially rose from less than 10 percent in 1988 to 32 percent in 1997.

Student enrollment rose from less than 1,200 in 1988 to 1,624 in 1997.

The number of religion majors rose from fewer than 80 in 1988 to 231 in 1997.

Ouachita was honored during Elrod's tenure by several national publications that rank colleges and universities based on cost and quality, including four consecutive rankings as a U.S. News & World Reports "Best Value."

The Carl Goodson Honors Program sends Ouachita students abroad each year to complete research on various topics through the Ben M. Elrod Scholarship.

The Daniel R. Grant International Studies Program grew to include study abroad programs in 12 nations, and the number of international students on campus increased from 10 in 1988 to 88 in 1997. There also were 89 children of Southern Baptist Convention missionaries on campus in the fall of 1997.

New construction included: Harvey and Bernice Jones Performing Arts Center, Harvey Jones Science Center, Clarence and Bennie Sue Anthony Hall for men, Edward and Kathryn Maddox Hall for women, Katie Speer Pavilion and Gardens, the Tiger Den and the International Flag Plaza. Nearly every other facility has undergone significant renovation, especially Cone-Bottoms Hall, Blackmon-Benson Fieldhouse and Verser Theatre.
Elrod is the first to say that building an institution, like building a life, is a process. It was the strong presidency of Dr. Daniel R. Grant that put Ouachita in position to enjoy Elrod's decade. Grant, now president emeritus, stabilized a struggling institution when he came aboard in 1970, and his steady influence in 18 years as president helped Ouachita become one of the region's well-respected liberal arts universities.

The relationship between these two men has been, in fact, a key to the university's burgeoning growth. As many big businesses and large institutions have found, the transition between one strong leader and another can be a treacherous time. That wasn't the case at Ouachita. Elrod, as Grant's vice president for development for eight years, played an important support role in the success of the Grant administration. In retirement, Grant returned the favor. As the namesake of the international studies program at Ouachita and as the founding father of the Consortium for Global Education (a joint effort in improving international opportunities for Southern Baptist colleges and universities), Grant supported one of Elrod's major goals as president – making Ouachita more global in its thinking and ambitions.

Similarly, Elrod now relishes his role as a supporter of current president, Dr. Ben Sells.

"Ouachita is a great institution and to be associated with it in any capacity is a pleasure," said Elrod. "To serve as its president has been the most satisfying experience of my life. I want to say, however, that Ouachita's greatest days are yet to come. I am very excited about the future with Dr. Horne's leadership. This is a time to look ahead and not to the past."

Those words are proof that his life's work continues. Elrod appreciates the past – and rightly treasures it – but he is more interested in the future. Late in his presidency, Elrod said to the faculty, staff and students, "There are no limits to Ouachita's future greatness, except our own lack of vision."

Thanks to the vision of a young man from Rison who came to Ouachita in 1948, a new generation of Ouachitonians can set their sights on an even higher mountaintop.