Mrs. Roberta Birdwell
Ms. Sue Browning
Mr. Tom Calhoon
Mr. Charles F. Cunningham
Mr. Jimmy Franklin
Mr. Dan Gathright
Mrs. Claire Gehrki
Ms. Pamela Harris
Mr. Fred Hatley
Mr. Chuck Hollingshead
Dr. Frank Holman
Dr. Barbara Holt
Dr. Mark Jansen
Dr. Woody Jolley
Mrs. Mary King
Mr. Taylor King
Dr. Wesley Kluck
Ms. Jane Lucas
The Honorable Percy Malone
Judge Buddy Manning
Mr. Jim McAlister
Mr. Robert McCallum
Mr. Ed McCorkle
Mr. Joe Miles
Mr. Jerry F. Newman
Dr. Joe Nix
Mr. Kevin "Kip" Norton
Ms. Rae Rice Perry
Dr. Gari Rucker
Ms. Joyce Shepherd
Mr. Blain Smith
Ms. Virginia M. Smith
Rev. Llewellyn Terry
The Honorable John Thomas
Rev. Gary Turner
Mr. Paul Webb
Ms. Mary Whipple

Photos from the 1999 Advisory Council Reception
Students give first-hand reports on the Elrod Center's various programs.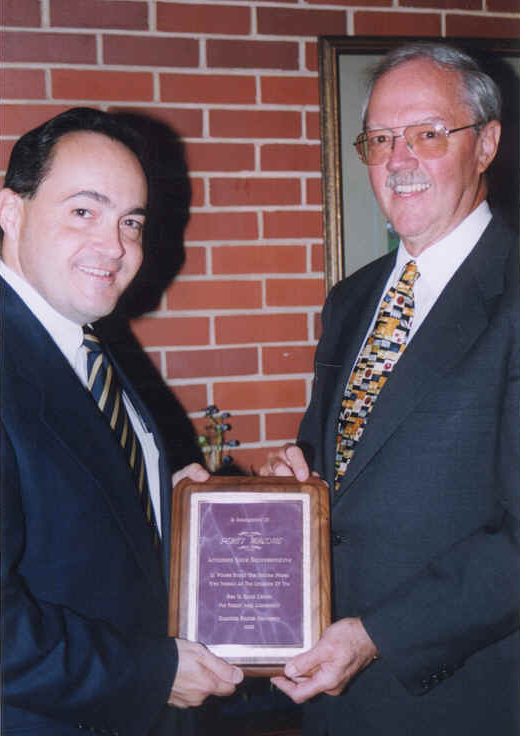 President Westmoreland honors Representative Percy Malone with a plaque.
The Elrod Center was located in the Malone House.