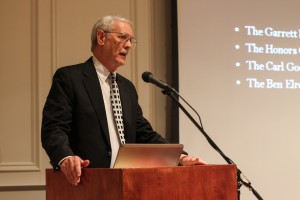 The Directed Study allows Honors students to work individually with an OBU professor on a topic of the student's choosing. Students select a topic for study that is not covered by a regular class. The student then asks a member of the OBU faculty to serve as director of the study. Generally, students should select a faculty member with an interest or expertise in the chosen topic. Together they design a study plan appropriate for one hour of credit.
Once a student writes their proposal, they turn it in to the Honors Director with a Directed Study cover sheet signed by the faculty mentor. Then, the student and faculty member both sign up for a 10-minute Q & A with the Honors Council, to clarify how the Directed Study will work.
Some students become so intrigued and interested in the topic of their directed study that they choose to follow up with more research and inquiry on the same subject for their senior thesis.
Steps for Doing a Directed Study
Select a topic and consult with an OBU faculty member about directing the study.
Download a Directed Study Proposal Form
If you plan to do your directed study in the Fall or Spring, in consultation with your faculty member, complete the proposal and return to Dr. Barbara Pemberton, BBB 101, before 5 p.m. by the deadline specified. The Honors Council will notify you of acceptance in time to pre-register. When you pre-register for the Fall or Spring Semester, plan on including the one hour of college credit in your degree plan.
The Honors Council will consider the proposal, then, the Council will meet with the student and her or his faculty member to discuss the work.
Students complete the Directed Study with their sponsoring faculty over the course of the semester.
The faculty director of the study assigns a midterm and final grade (S or U), informing Dr. Pemberton at mid-term and end of term, who reports the grades to the registrar. The standard for determining an S is work at the level of a B or better.
Steps for Composing Your Directed-Study Proposal
In one typed paragraph stapled to the back of the Directed Study Proposal Form:
Title your directed study
Focus exactly what you are studying in the first sentence
Explain your method (reading a book, lab experiements, interviews, article surveys, etc.)
State where and how often you will meet with your professor
Propose what your final product will be (an annotated bibliography, paper, experiment)