Applying to Ouachita
Ouachita is ready to invest in you. Our application doesn't require an essay or application fee, so you don't have anything to lose! Check out these step-by-step instructions and feel free to contact your admissions counselor if you have any questions. We would love to help you through the process and ultimately welcome you to the Ouachita family, whether you're joining us on campus in Arkadelphia or through our Ouachita Online program.

Interested in pursing graduate or professional studies through Ouachita? Learn more here.
The college application process can be a daunting task, but we're here to help. If you'd like to talk to someone before beginning, we encourage you to contact your admissions counselor. If this is the first time you will be attending a college or university, follow the steps below.
1.

Apply for admission

.

Our application is simple. Fill it out today to start your journey to becoming a Ouachita Tiger.
2. Submit your official ACT/SAT scores. The writing portion is not required. Superscores are accepted!
3.Submit your official high school transcript. Have your school counselor send it to us at Ouachita Baptist University, 410 Ouachita Street, Arkadelphia, AR, 71998.
If you are one of the following types of students, check out additional information below:
If you are planning to transfer from another college or university, fill out our simple admission application and submit your official transcript(s) from the previous colleges and universities you have attended. Please have them sent to Ouachita Baptist University, 410 Ouachita Street, Arkadelphia, AR, 71998.
Those who wish to transfer to Ouachita should apply for admission as transfer students and supply catalogs from college(s) in which you are currently enrolled. Transfer students may be admitted only if they are eligible to return to the institution from which they came. They must declare all colleges and universities attended in the past.
For additional information regarding admission of transfer students and for the transferability of coursework from other institutions, contact our registrar at 870-245-5578.
We at Ouachita understand the challenges of the college search for the homeschool family. Your admissions counselor is ready for any questions you may have, and looks forward to walking you through the application and financial aid process. Homeschool students excel at Ouachita, and we're confident you'll love it, too. Here are some reasons why:
Small class sizes. Our average class size is 18.
Caring professors. Our professors know their students and thrive on the opportunity to teach. At Ouachita, it's all about the student educational experience.
Top-notch first-year experience. Your first year at Ouachita will walk you through the transition from home to college with many check-points along the way to make sure you are acclimating to life at OBU.
Academic Success Center. The ASC is a great resource throughout the year as students become accustomed to the difference between the home and the classroom.
Ouachita has a rich history of welcoming to campus missionary and third culture kids from around the world. We also have an outstanding track record of preparing future missionaries for work in the field. In fact, Ouachita is one of the top universities in the world preparing missionaries to serve with the Southern Baptist Convention's International Mission Board. Also, as a gesture of Ouachita's commitment to supporting the work of missionaries, we offer tuition discounts specifically for the children of missionaries who work with the Southern Baptist Convention International Mission Board as well as other evangelical organizations.
There are many ways for new students to get involved on campus, and we strive to provide an extra layer of TLC for MKs and TCKs as they make the transition to college through the Grant Center for International Education and International Club student organization. Plus, Ouachita has programs to help all students transition to college life. We hope that Ouachita will become your "home away from home" where you're challenged to grow – academically, spiritually and personally.
We are so glad you're considering coming to Ouachita!
Ouachita is proud to be home to a diverse community of international students, missionary kids and third culture kids, all of whom enrich the OBU community in their own unique ways.
Please visit our Grant Center for International Education website for international admissions and further information.
With Ouachita's fully online degree programs, you can now earn a quality Ouachita degree on your own time. Ouachita Online can provide you with a college home where you feel supported and encouraged both spiritually and academically by your professors, as well as your classmates.
If you are interested in pursuing graduate or professional studies at Ouachita, you will have a separate set of application instructions and processes. Please visit obu.edu/gps to learn more.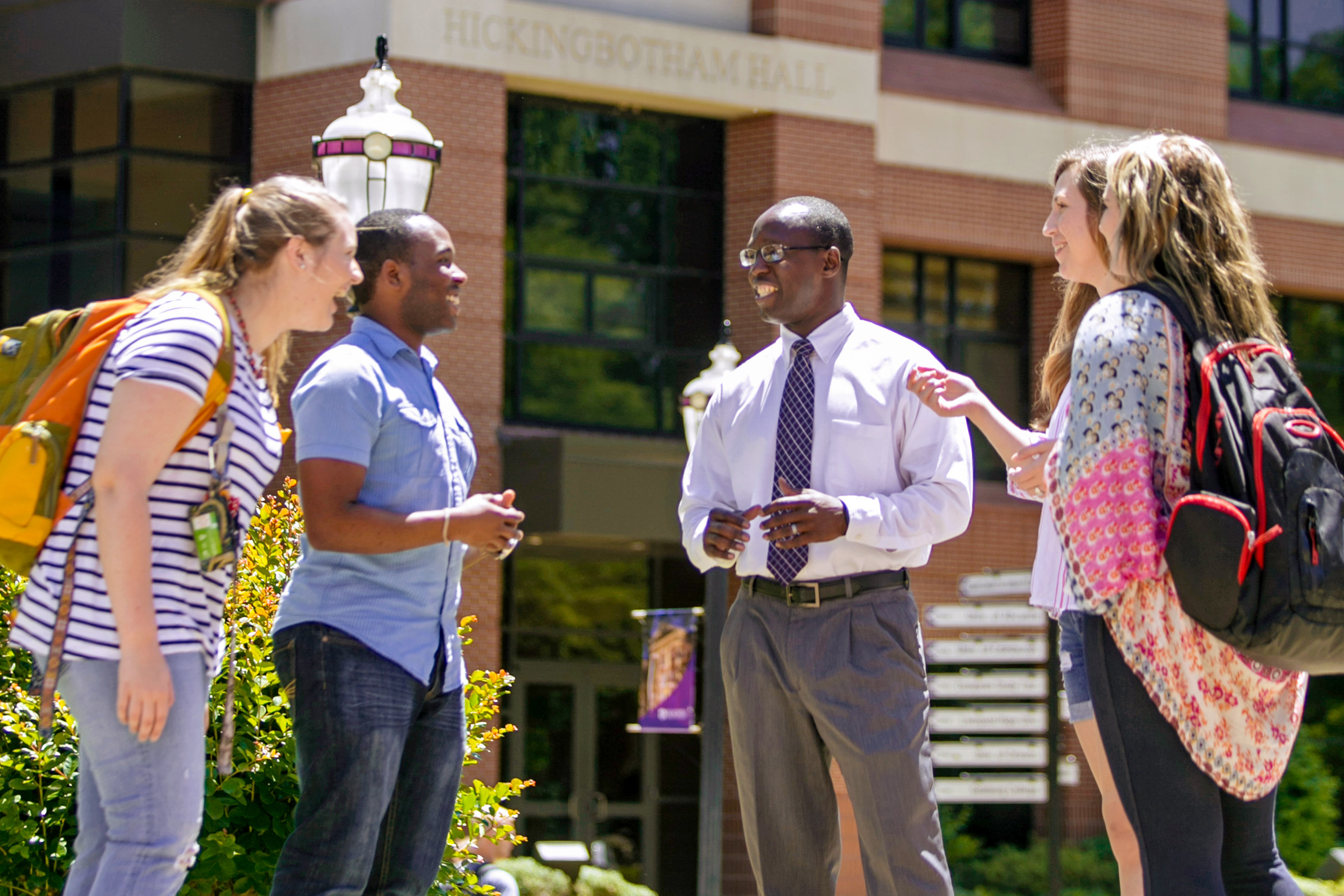 Admission Requirements
A certificate of graduation from high school
A minimum high school grade point average (GPA) of 2.750 on a 4.000 scale*

An ACT score of 20 or SAT score (without writing) of 1030** (Superscores accepted!)
*GPA of 2.0 may be considered for conditional admission
**An ACT of 17 or an SAT of 920 may be considered for conditional admission
3. DEPOSIT
Once you are accepted, please send in your $250 admission deposit. This deposit is required before you are assigned housing and a class schedule and is non-refundable after May 1. We recommend turning this in before February of your senior year.
GET IN TOUCH
Have a question about Ouachita? Want more information? Shoot us a message!