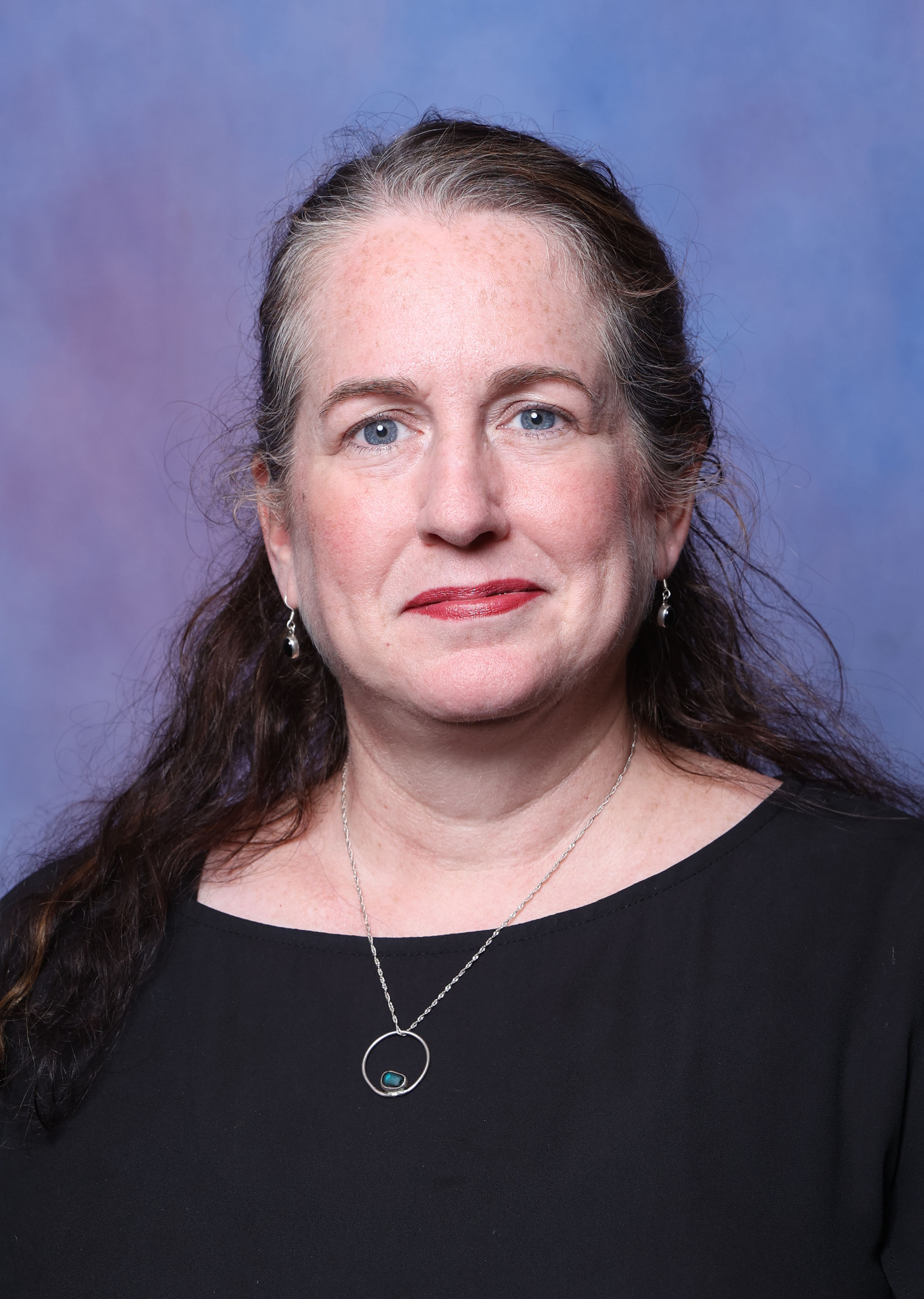 MARGARET GARRETT
Professor of Music, Division of Music
Office Hours
Available by appointment
| Degree | Area of Study | Institution | Year |
| --- | --- | --- | --- |
| D.M.A. | Voice Performance | Southern Baptist Theological Seminary | 2008 |
| M.M. | Voice Performance | Indiana University-Bloomington | 2000 |
| B.M. | Voice Performance | University of North Carolina School of the Arts | 1997 |
| Certificate | Voice Performance | Hochschule für Music Dresden | 1994-1995 |
| B.M. (not completed) | Voice Performance | Belmont University | 1992-1994 |
About
Dr. Maggie Garrett has taught at Ouachita since 2008. She teaches Studio Voice and Vocal Literature regularly and has also taught Vocal Diction II: German and French, The Ouachita Sounds (show choir), Sight to Stage: The Journey Stories Take Becoming Operas and Musicals (Honors Seminar), From Revolutions to Revelations: The Beatles and Religion (Honors Seminar), and OBU Connections: Becoming the Beatles.
Her previous positions have been at The Southern Baptist Theological Seminary, Louisville, Ky.; Boyce College, Louisville, Ky.; and Lindsey-Wilson College, Campbellsville, Ky. Her vocal teachers have included Arnold Rawls, Heather and Edward Crafts, Patricia Stiles, Mary Ann Hart, George Shirley (Aspen Music Festival), Carla Lefevre, Marilyn Taylor, and Marjorie Halbert. She has had the privilege of working in seminars and master classes with Sheri Sanders (Rock the Audition), Edrie Means Weekly (CCM Vocal Pedagogy Institute), Robert Edwin (Bach to Rock), Jeannette LoVetri (Somatic VoiceWorks), Richard Miller (Vocal Pedagogy Workshop at IU), Julianne Baird (Early Music Institute at Eastman), and Dawn Upshaw (2008 NATS National Convention).
Dr. Garrett lives in Arkadelphia with her husband, Mark, a software architect, and their son, David. They enjoy performing in, video recording, and supporting community theatre.
Fun Facts
What is a favorite moment of working with students at Ouachita?
Any time a student has an "ah-ha!" moment and grasps a concept that they then apply to their singing, resulting in a vocal, physical, or mental "breakthrough."
What is your favorite place on campus and why?
When I have a little spare time, I love to take walks along the Ouachita River by the Speer Pavilion. It is so serene.
What is your go-to song?
"I Will Survive" by Gloria Gaynor
What is your go-to snack?
Chocolate. Chocolate ice cream. Chocolate chip cookies. Chocolate coffee. You get the picture.
What are your hobbies?
Traveling, drinking coffee, listening to audiobooks, taking photographs, and writing songs and poetry.
Areas of Expertise
Courses taught
Applied Voice
Vocal Literature
OBU Connections: Becoming the Beatles
Vocal Diction 2: German and French
Ouachita Sounds (Show Choir)
From Sight to Sound: The Journey Stories Take Becoming Musicals and Operas (Honors Seminar)
Revolutions and Revelations: The Beatles and Religion (Honors Seminar)
Representative Publications/Presentations
"Operatic Influences on the Hymn Tunes Used by John and Charles Wesley", Amazing Love! How Can It Be: Studies on Hymns by Charles Wesley, ed. Chris Fenner and Brian G. Najapfour, Biblical Spirituality Press, 2020.
Everything Changes: A Cabaret. Presented with John Alec Briggs at the National Association of teachers National Convention, Las Vegas, NV, 2018.
Dissertation: A Director's Guide to staging the Song Cycle, Songs of Fields and Prairies, by Jocelyn Hagen, 2008.
Involvement
National Association of Teachers of Singing (Southern Region Assistant Auditions Chair
Sigma Alpha Iota (Epsilon Delta Faculty Advisor and Treasurer)
Musical Theatre Educators' Alliance College Music Society
The Voice Foundation
National Opera Association
Arkadelphia Philharmonic Club
The New York Singing Teachers' Association
Pi Kappa Lambda National Music Honor Society
Artist Bio
Faculty Recitals
Caffeinated: My Senior BMMT Recital (2019)

Based on the Bachelor of Music in Musical Theatre senior recital
Classical songs and arias, vocal chamber music, musical theatre songs and duets, a song and tap dance number, and a scene by Shakespeare

Everything Changes: A Motherhood Cabaret (2017)

Autobiographical musical theatre cabaret about motherhood
OBU professor John Alec Briggs served as pianist and music director
Co-written and directed by Broadway veteran Kelli Barrett (Liza Minelli – Fosse/Verdon)
Presented at the 2018 National Association of Teachers of Singing National Conference (Las Vegas, NV), OBU (2017 & 2018), Arkansas Tech University (2017), and Blue Mountain College (2017).
Operatic Performances
Gems of French Opera/Opera in Concert
Mary, the Mother of Jesus/Rendezvous with Destiny (World Premiere)
Mabel/Pirates of Penzance
Laurie/The Tender Land
Sandrina/La Finta Giardiniera
Little Red Riding Hood/Little Red Riding Hood
Polly/Polly Patchwork/IU Opera Educational Tour
Worldly Spirit/The Obligation of the First Commandment
Kentucky Opera

Dialogues des Carmélites, Les pêcheurs de perles, Madama Buttlerfly, La bohème

Piedmont Opera

Cavaliere Rusticana/I Pagliacci, Il Trovatore, Don Giovanni, L'elisir d'amore

Opera Carolina
Indiana University Opera Theater
Oratorio Solos
Handel's Messiah
Mendelssohn's Elijah
Fauré's Requiem
Haydn's Creation
Brahms' German Requiem
Bach's Magnificat
Vivaldi's Gloria
Vaughan Williams' Pilgrim's Progress
Orchestral Solos/Chamber Work
Mozart's Exsultate, jubilate
Glière's Concerto for Coloratura Soprano and Orchestra
Ligeti's Mysteries of the Macabre
Theatre/Musical Theatre
It's a Wonderful Life/Hot Springs Bathhouse Dinner Theatre
Matilda/The Studio Theatre
A Little Night Music/Bloomington Music Works
My Fair Lady/Davidson Community Players
The Butterfingers Angel/Davidson Community Players
Play It Again, Sam/Davidson Community Players
SELECTED ACHIEVEMENTS BY DR. GARRETT'S STUDENTS
Professional Performances
Arkansas Children's Theatre (Little Rock, AR)
Biblical Times Dinner Theatre (Pigeon Forge, TN)
Birmingham Children's Theatre (Birmingham, AL)
Disney College Program (Orlando, FL)
Fancyful Parties (Little Rock, AR)
Hawks Cay Resort (Florida Keys)
Horn in the West (Boone, NC)
Million Dollar Quartet National Tour
Missoula Children's Theatre (Missoula, MT)
Murry's Dinner Playhouse (Little Rock, AR)
North Texas Performing Arts (Plano, TX)
Ogunquit Playhouse (Ogunquit, ME)
The Phoenix Theatre Company (Phoenix, AZ)
The Rev. Theatre Co. (Auburn, NY)
Sierra Repertory Theatre (Sonora, CA)
Sight & Sound Theatre (Branson, MO)
Sight & Sound Theatre (Lancaster, PA)
Silcock's Winter Wonderland (Manchester, UK)
Silver Dollar City (Branson, MO)
Six Flags over Texas (Dallas, TX)
TEXAS Outdoor Musical (Canyon, TX)
Trumpet in the Land (New Philadelphia, OH)
Walt Disney World's Hollywood Studios (Orlando, FL)

The Great American Movie Ride
Indiana Jones Stunt Show (Marian)
Jedi Training Program (Nedriss)

Wayside Theater (Middletown, VA)
Music Educators
Bright Elementary School (St. Leon, IN)
Burnet Elementary School (Galveston, TX)
Como Montessori School (Fort Worth, TX)
Conway Christian School (Conway, SC)
Dripping Springs ISD (Dripping Springs, TX)
Jacksonville Lighthouse Charter School (Jacksonville, AR)
Little Rock Christian Academy (Little Rock, AR)
Malvern Elementary School (Malvern, AR)
Maumelle Charter Elementary School (Maumelle, AR)
MicroSociety Magnet School (Jonesboro, AR)
Noble-Reed Elementary School (Crandall, TX)
Poyen School District (Poyen, AR)
Prestonwood Christian Academy (Plano, TX)
Springtown High School (Springtown, TX)
Woodlawn High School (Woodlawn, AR)
Worship Leaders
Fellowship Bible Church (West Little Rock, AR)
Fellowship Worship (Northwest AR)
Lake Valley Community Church (Hot Springs, AR)
The Leland Church (Leland, NC)
Lyndon Baptist Church (Louisville, KY)
Prestonwood Baptist Church (Plano, TX)
Summer Programs/Study Abroad
Broadway Artist Alliance Workshops (New York, NY)
Musica nelle marche Opera in Italy Summer Program
OBU's NYC Professional Intensive for Musical Theatre (New York, NY)
Opera in Concert's Opera in Italy Summer Study Abroad Program
Study Abroad at Liverpool Hope University (Liverpool, England)
Study Abroad at the Mozarteum (Salzburg, Austria)
University of Miami Salzburg Program (Salzburg, Austria)
Awards
Arkansas District Metropolitan Opera Encouragement Award Winner
Kennedy Center American College Theatre Festival Musical Theater Initiative (KCFTCF) Music Theatre Winner 
Mary Shambarger Vocal Competition Winners
NATS Arkansas Chapter Winners
NATS Southern Region Winners
Trinity Presents Collegiate Performance Showcase Winner (2013)
Graduate Program Acceptances
Campbell University School of Divinity
Indiana University-Bloomington Early Music Institute
Liverpool Hope University
New York University
North Texas University
Northeastern Illinois University
Southeastern Baptist Theological Seminary
The Southern Baptist Theological Seminary
Texas Tech University
Tulane University
University of Alabama
University of Arkansas
University of Louisville
Yale University Early Music Institute Finalist