General Engineering: B.S.
If you're a creative thinker and problem-solver interested in how technology can improve the lives of others, learn how to bring your innovative ideas to life in Ouachita's new Bachelor of Science degree program in general engineering with optional emphases in civil, mechanical and a general designation that combines elements of both. This academic offering builds on the tradition of excellence in the J.D. Patterson School of Natural Sciences, offering a 4-year, fully-residential engineering program set to launch in Fall 2023*.

*pending approval from Ouachita's accrediting agency, the Higher Learning Commission (HLC)
Degree Emphases: Mechanical, Civil and General
Engineering Core Credit Hours
Patterson School Grad/Professional School Acceptance Rate
Ouachita Student-to-Faculty Ratio
Tailor Your Experience:
choose your path
Civil engineering involves the design, construction, maintenance and inspection of large infrastructure projects.
Through coursework and lab experience, a civil engineering emphasis will give you a background in areas including soil properties and analyses pertinent to engineering problems and designs; highway and airfield engineering; hydrologic analysis of precipitation, hydraulic analysis and design of water runoff, storm water management and flood frequency forecasting; and classical and matrix methods for analyzing simple and continuous structures.
Mechanical engineering involves the design, manufacturing, inspection and maintenance of machinery, equipment and components, as well as control systems and instruments for monitoring their status and performance.
The mechanical engineering degree emphasis will include areas of study such as the theory and application of fundamental heat transfer concepts including conduction, convection and radiation; analysis and design of heating, ventilation and air conditioning systems; fatigue behavior in structural machine elements such as beam supports, rods and drive shafts; and the selection and use of components including electrical, pneumatic and hydraulic that are used in mechanical systems.
Undecided about which of these two emphases to choose? You can pursue a B.S. in general engineering and take a varied slate of courses from both areas, graduating with a General Emphases distinction.
"I could not be more excited about our newest program in the Patterson School, the Bachelor of Science degree in general engineering. Our intentional, focused and student-driven way of preparing young people for the future will be the foundation of our program, which is designed to prepare students for careers that are addressing the greatest engineering market needs in the U.S. right now."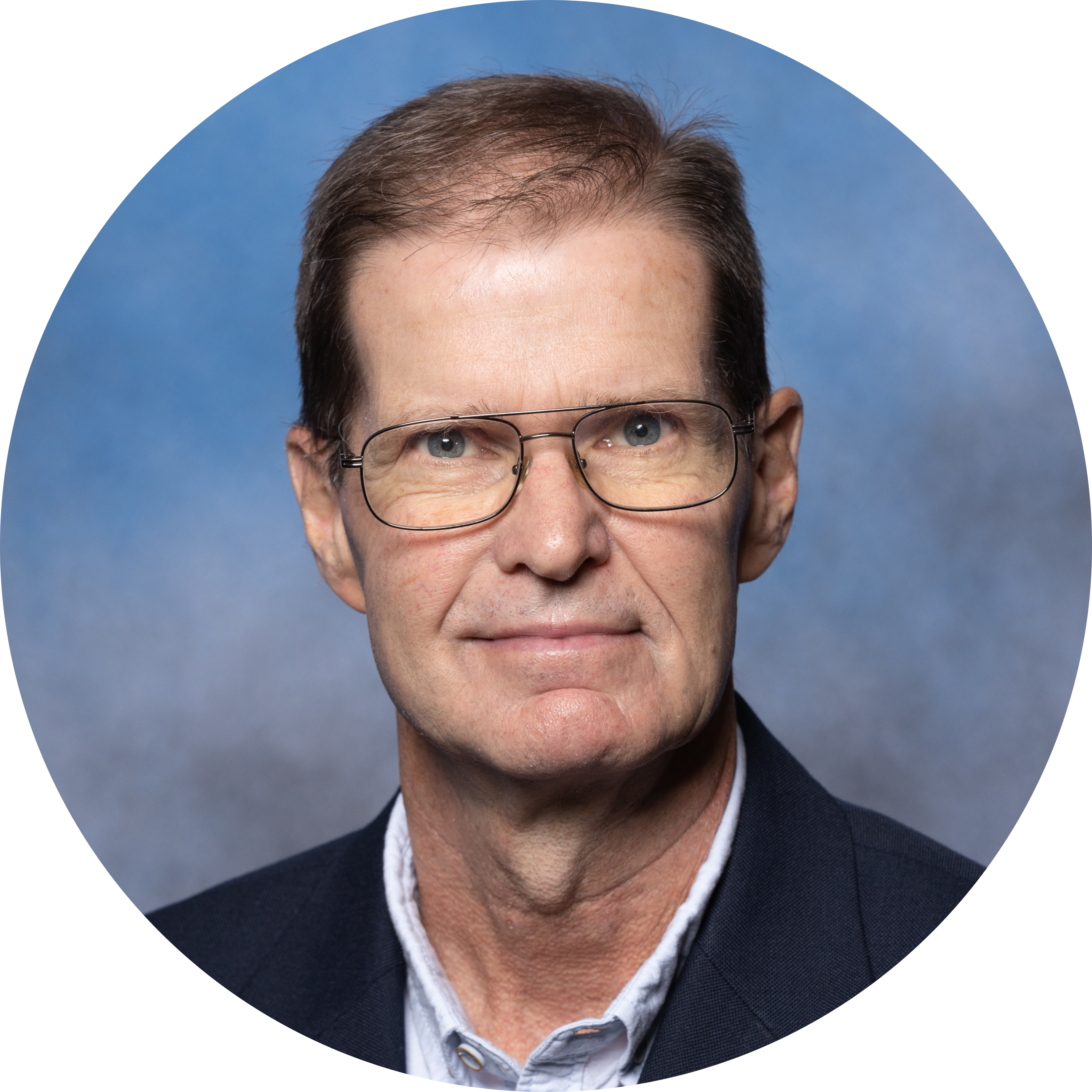 Tim Knight, Ph.D.
Dean, J.D. Patterson School of Natural Sciences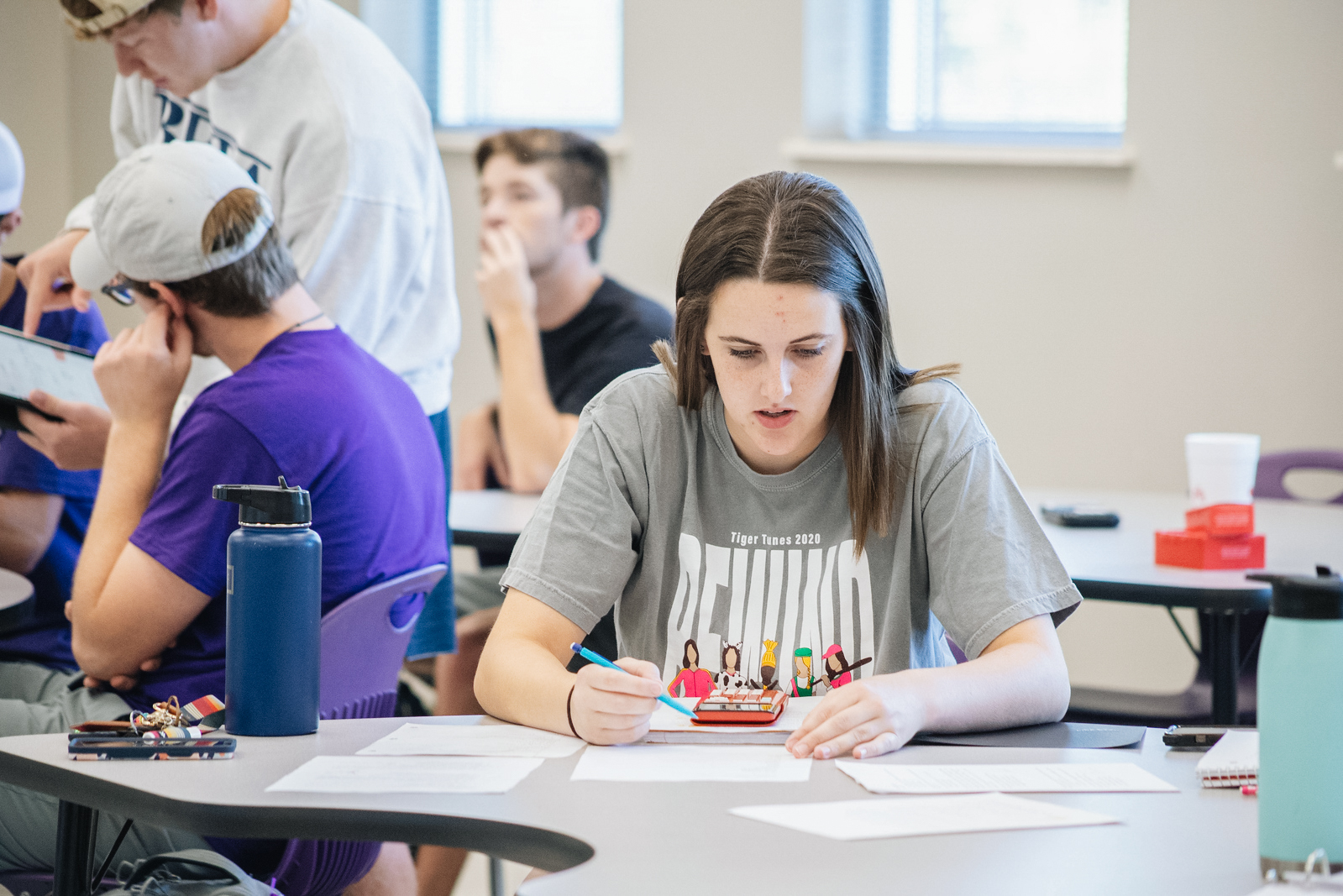 Designed to meet ABET standards
The first required step to becoming a Professional Engineer is to graduate from an engineering program approved by the Accreditation Board for Engineering and Technology (ABET). Ouachita began the process of earning ABET accreditation by designing our B.S. degree program in general engineering specifically to meet standards set by ABET, accelerating your progress to becoming a Professional Engineer.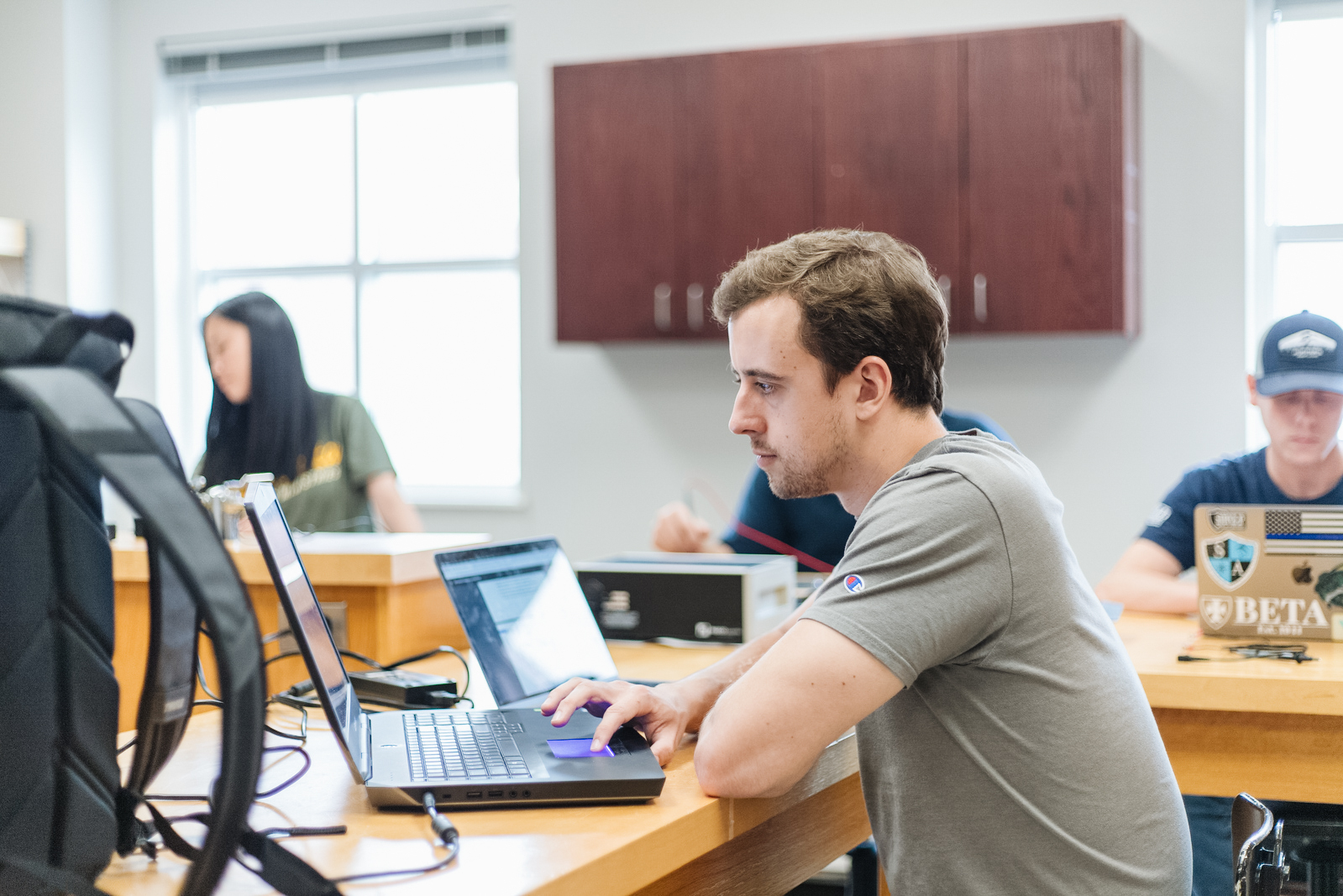 Renovated "make and break" space
If you're going to master the tools required for engineering-related projects, practice general fluid mechanics or circuit laws and network theorems, test strategies for storm water management or assess the properties of portland cement concrete or hydraulic conductivity, you'll need a ton of room to mix it up. We've got just the place: a 4,400-square-foot engineering lab on the edge of campus, fully equipped to bring your coursework to life.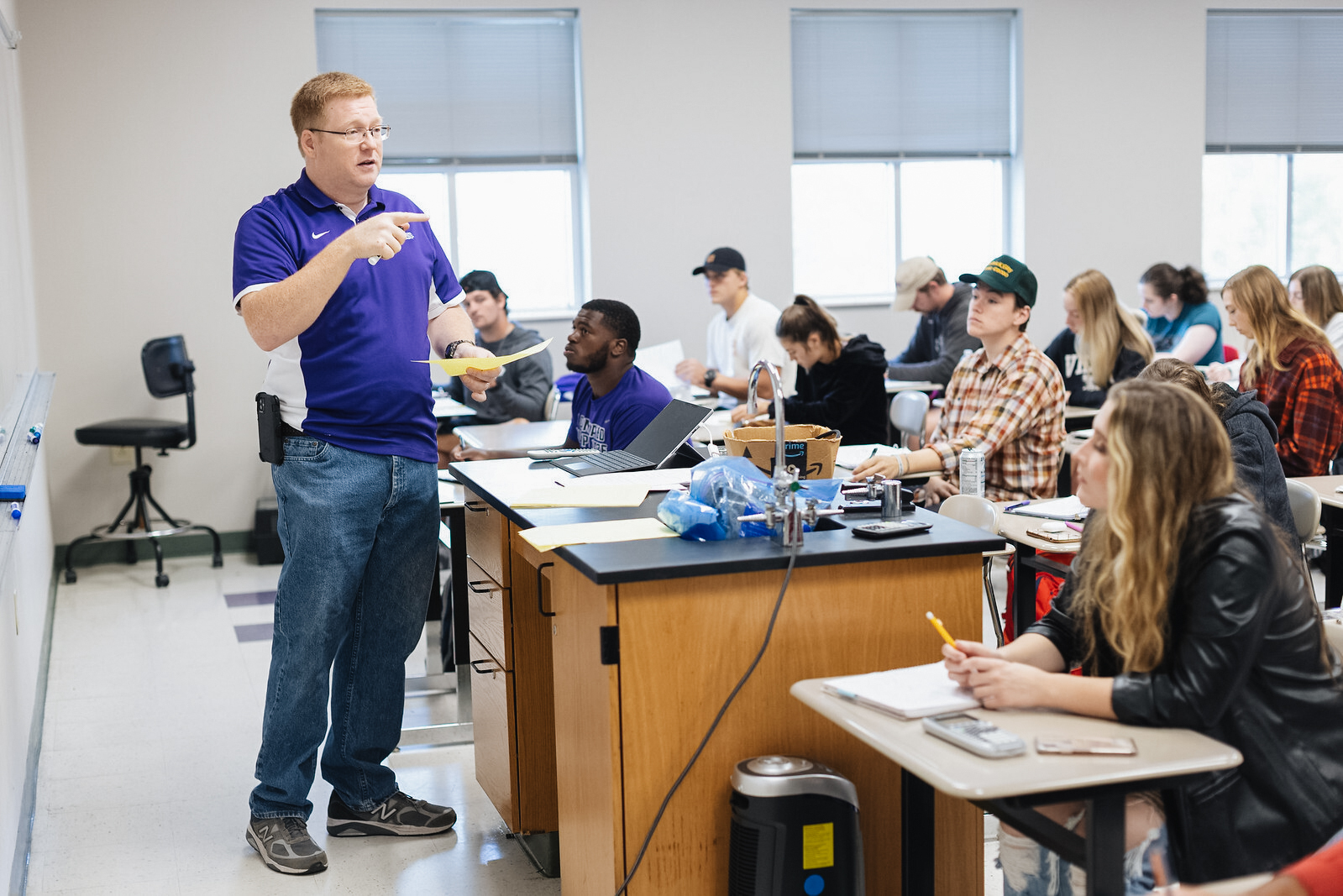 Prep for a rapidly growing field
Exciting opportunities for engineering to advance technological breakthroughs are abundant. Demand for Professional Engineers is strong and continues to increase, regionally and nationally. Offering exceptional instruction and real-world experience through summer internships for upperclassmen, Ouachita's engineering program will equip you for success in the field as well as a wide range of related careers.
Capstone Team Projects Give You a Jump
on relevant work experience.
Every Ouachita engineering major will use what they've learned in the program in a series of capstone classes to strengthen their skills in their chosen profession. These open-ended team design projects are conducted throughout senior year. Capstone I, offered in the fall, is the planning phase where projects are assigned, sites are visited and organization begins. Capstone II follows in the spring, when project design is executed and results are presented in both written and oral formats.
The best-prepared students seeking a B.S. degree in general engineering will be Pre-calculus ready as entering freshmen and have additional college course credits (such as Composition I) to aid in the scheduling process.
Formal application for accreditation can be made to ABET when the first engineering cohort graduates. Once accreditation is granted, it applies to future program graduates and retroactively to all who completed the program in the year prior to the date of approval.
After you graduate with a B.S. in general engineering from Ouachita, these are your next steps to becoming a Professional Engineer:
Become classified as an engineer intern by passing the Fundamentals of Engineering exam administered by the National Council of Examiners for Engineering and Surveying (NCEES).
Complete at least four years of qualifying engineering experience.
Pass the Principles and Practice of Engineering exam in your state.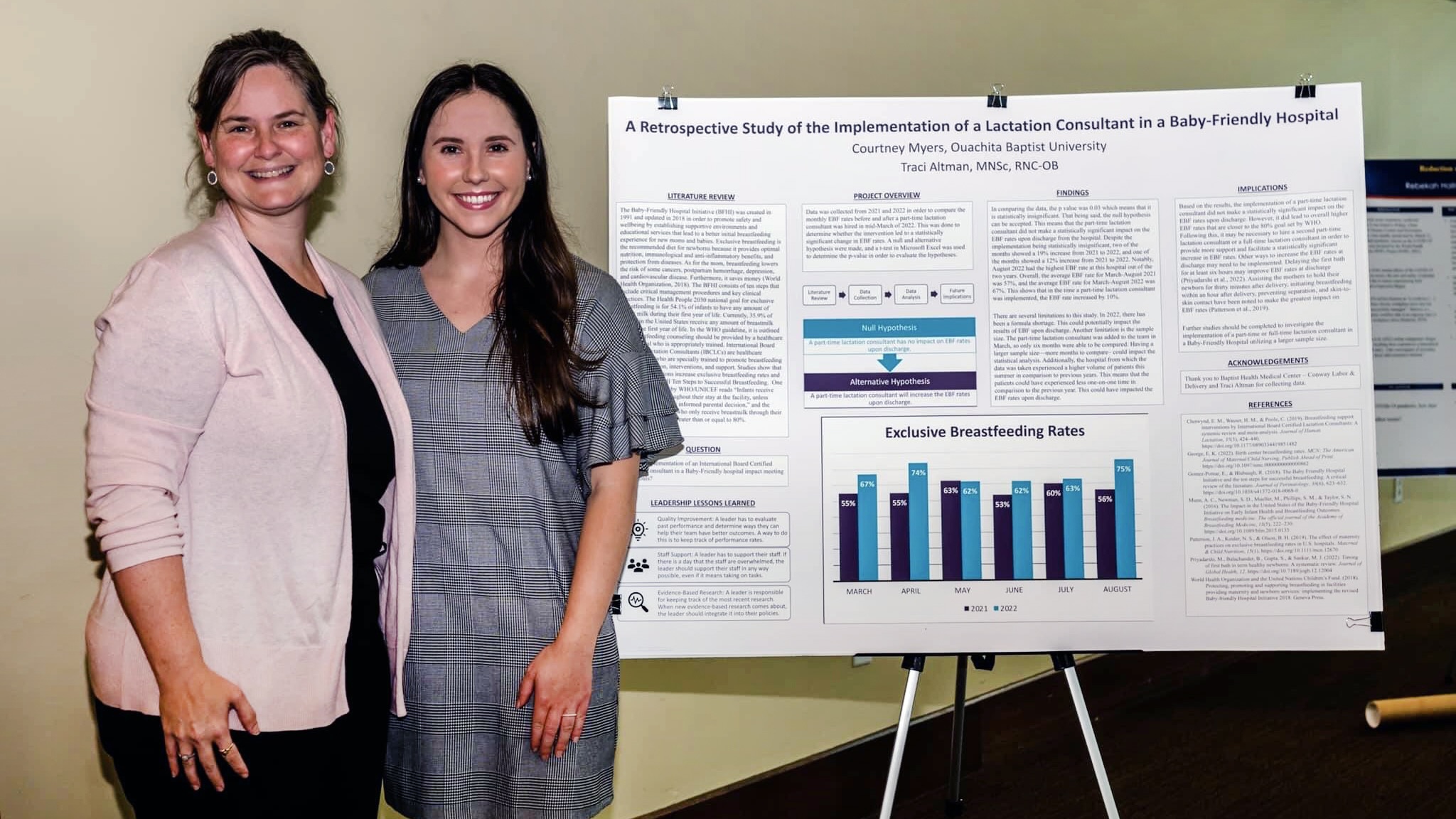 Courtney Ragsdell receives BSN Leadership Award
Courtney Myers Ragsdell, a senior nursing major at Ouachita Baptist University, received the 2022 Bachelor of Science in Nursing (BSN) Young Leadership Award as a part of the "40 Nurse Leaders Under 40" leadership program from the Arkansas Center for Nursing, Inc.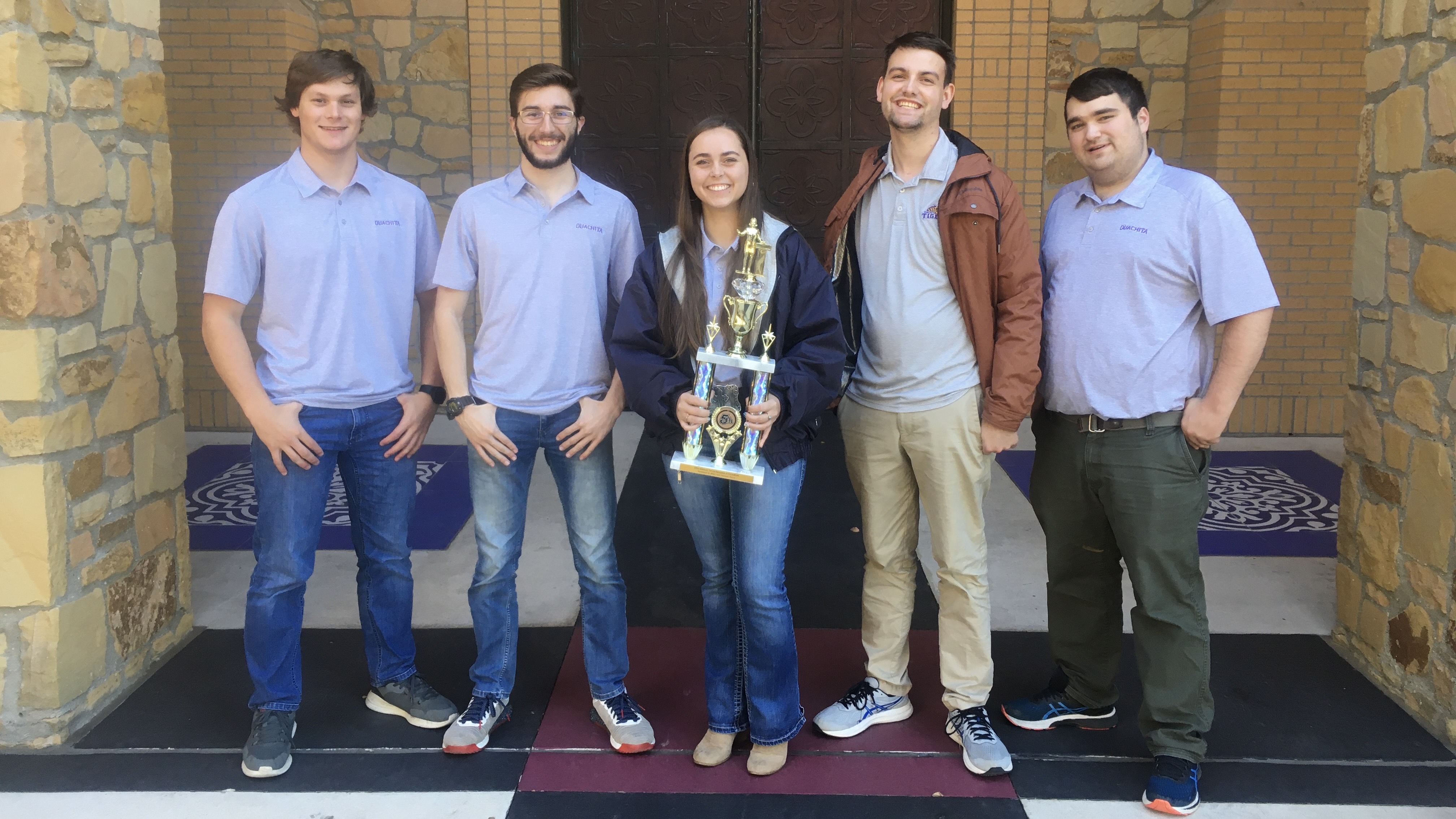 Ouachita team places in regional ethics bowl
A team of Ouachita Baptist University students earned fifth place in the 25th Annual Texas Regional Ethics Bowl on Friday, Nov. 12, in San Antonio.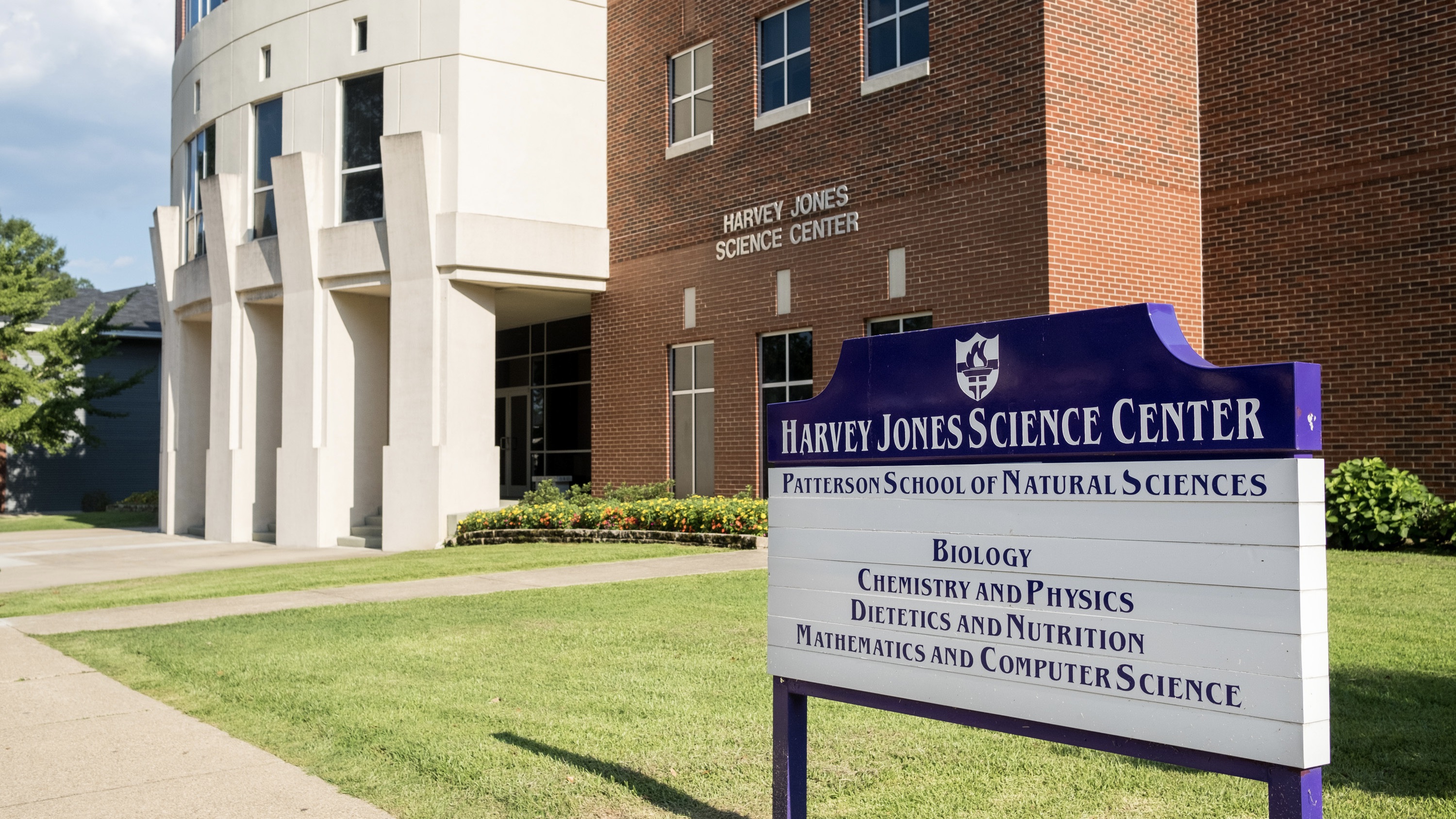 Reyna, Plymale and Pruett publish research paper on AR-CURE program
Ouachita Baptist University professors Dr. Nathan Reyna, Dr. Ruth Plymale, and Dr. Christin Pruett collaborated with colleagues at other universities on a research paper that has been published in Biochemistry and Molecular Biology Education, vol. 50, issue 5. Their paper, titled, "From genetics to biotechnology: Synthetic biology as a flexible course-embedded research experience," details the implementation and assessment of the Arkansas Course Embedded Undergraduate Research Experience (AR-CURE) teaching model developed at Ouachita by Reyna and Plymale.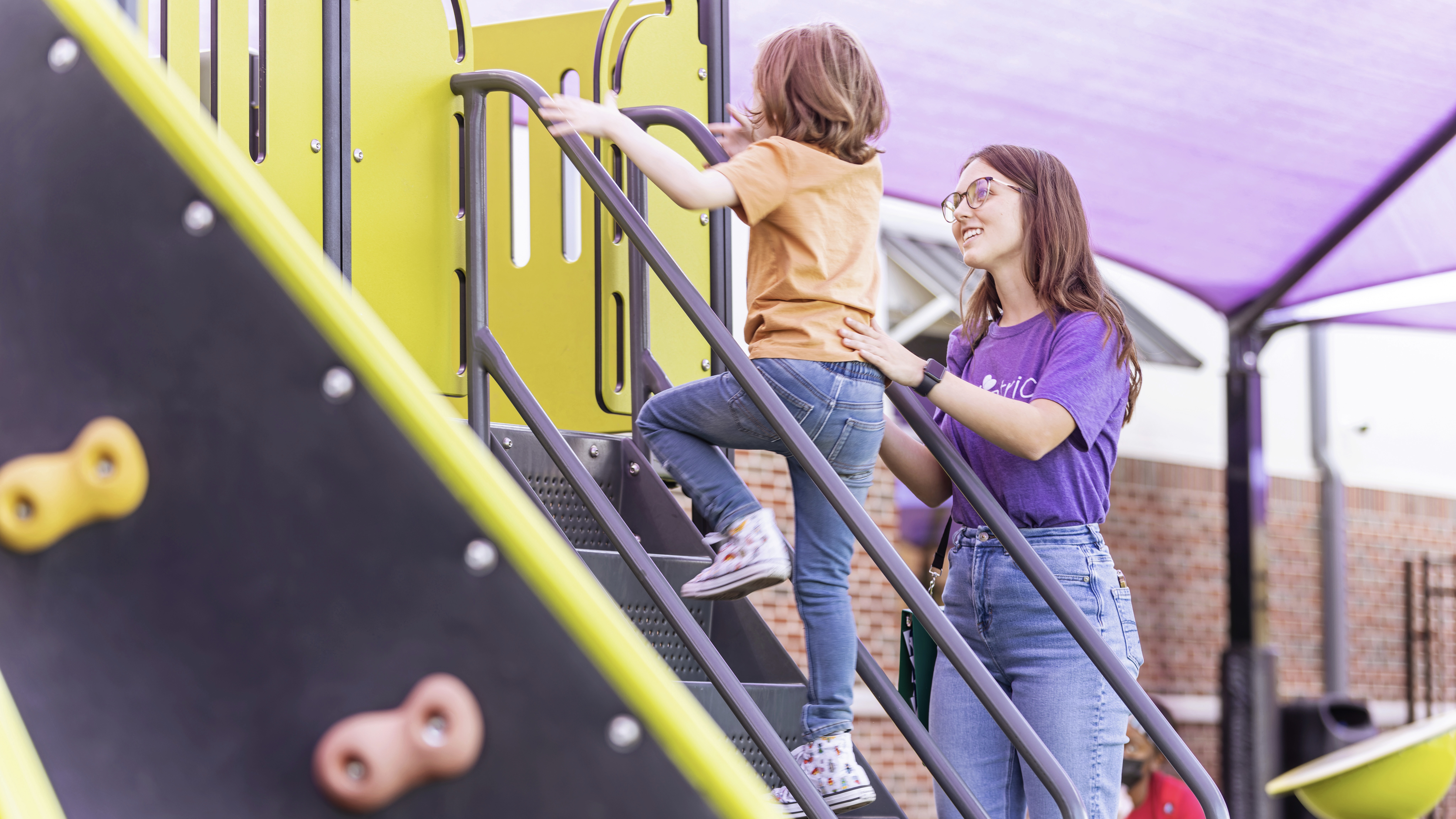 Ouachita to offer Master of Arts degree in applied behavior analysis
Ouachita Baptist University is preparing to offer Arkansas' first Master of Arts degree program in applied behavior analysis – an additional option to the university's existing Master of Science degree. The M.A. program will launch in Fall 2023, pending Higher Learning Commission (HLC) and Verified Course Sequence (VCS) approvals.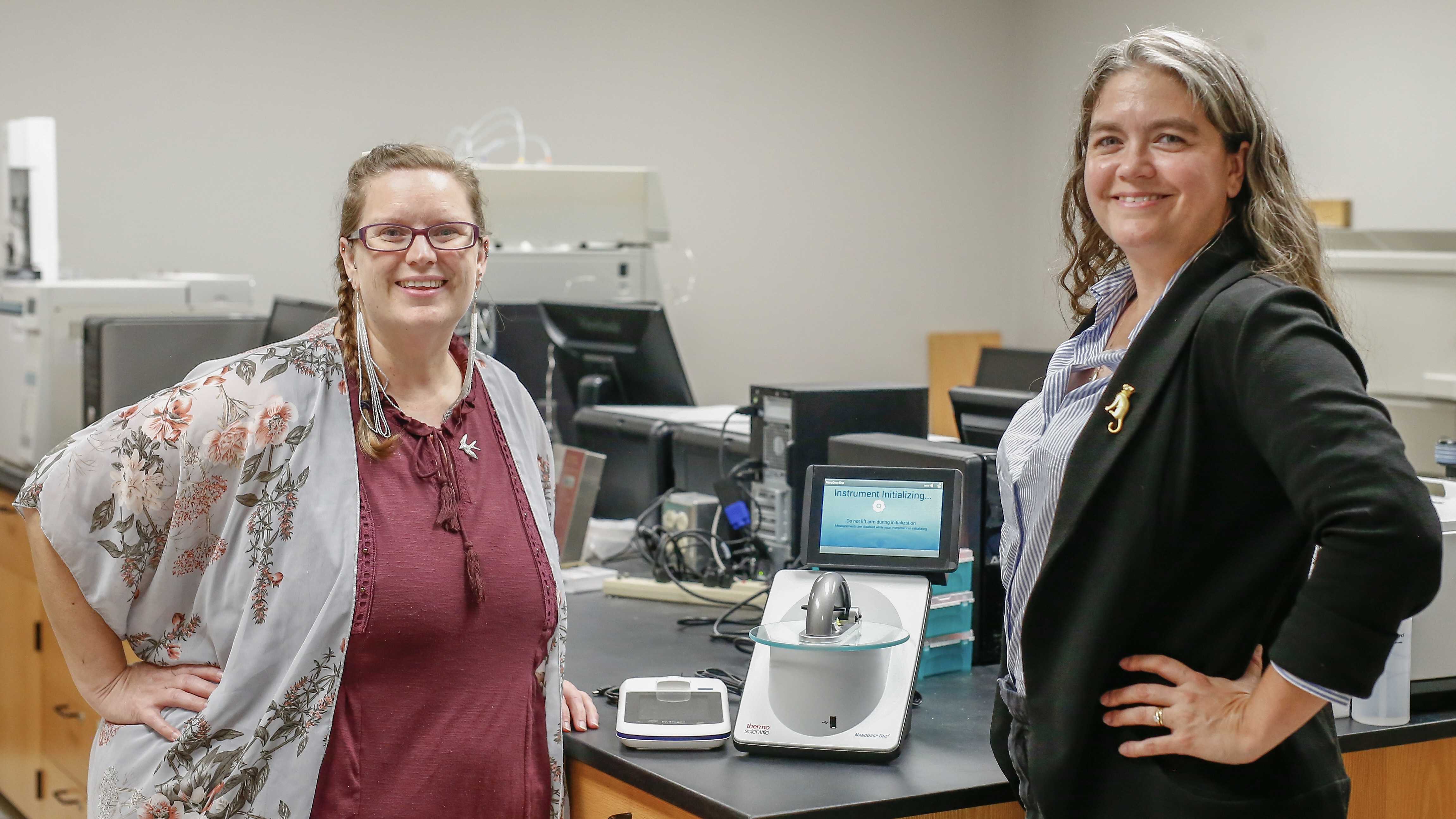 Hamilton, Hubbard use INBRE grant to bring new instruments to Ouachita chemistry program
Ouachita Baptist University chemistry instructors Dr. Sharon Hamilton and Dr. Sara Hubbard were awarded a $14,135 small instrument grant by the Arkansas IdeA Network of Biomedical Research Excellence (INBRE), which they used to purchase a spectrophotometer and a fluorometer for use by students in Ouachita's Department of Chemistry. The grant was made possible by the National Institute of General Medical Sciences in the National Institutes of Health.
GET IN TOUCH
Have a question about Ouachita? Want more information? Shoot us a message!