The Henderson State University and the Ouachita Baptist University ROTC program are part of the 5th Brigade, and the Golden Lion Battalion.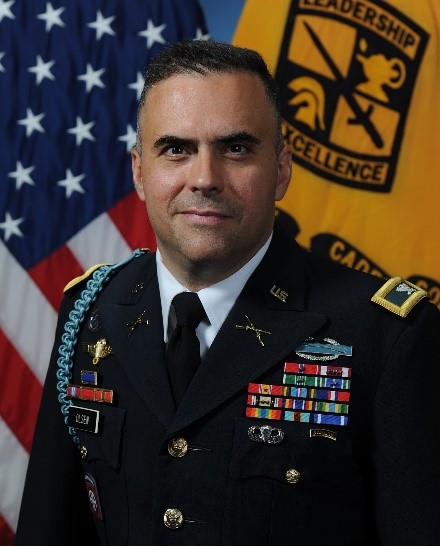 COLONEL MARK A. OLSEN
Commander, 5th ROTC Brigade
COL Olsen enlisted in the United States Army in 1992 as a 37F Psychological Operations Specialist. In 1996, COL Olsen received his commission as an Infantry Officer, following graduation from Claremont McKenna College with a Bachelor of Arts in History and Russian. He has a Master of Arts in History from Rice University, a Master of Military Arts & Sciences degree from the School of Advanced Military Studies, and a Master of Science degree from the Joint Advanced Warfighting School. He is also a graduate of the Defense Language Institute's Basic Russian Course, the Infantry Officer Basic Course, the Infantry Captain's Career Course, Jumpmaster School, and the French Joint Staff College.
COL Olsen's previous assignments include Assistant BN S-3 and Rifle Platoon Leader for 2-6 Infantry, 1st Armored Division, Baumholder, Germany where they deployed to Bosnia and Macedonia; Battalion S-4 and Company Commander for D/3-325 AIR for 3-325 Airborne Infantry Regiment in the 82d Airborne Division, Fort Bragg, NC where he led his company in the initial invasion of Iraq in 2003; Military History Instructor at The United States Military Academy; BCT Planner for 4 th IBCT, BN S3, and Executive Officer for 3-15 IN at Fort Stewart, GA; Brigade S3 for 4/3, 3ID, Fort Stewart, GA; Battalion Commander Assignments Officer at Human Resources Command; Battalion Commander of 1 st Battalion, 30 th Infantry Regiment, 3d Infantry Division, Fort Stewart, GA; Special Assistant to the Commanding General, TRADOC; and Chief of US Special Operations Command's Transnational Threats Branch, MacDill AFB, FL.
His awards and decorations include the Bronze Star Medal with oak leaf cluster, the Meritorious Service Medal with two oak leaf clusters, the Army Commendation Medal with oak leaf cluster, the Army Achievement Medal with oak leaf cluster, the Combat Infantryman's Badge, the Expert Infantryman's Badge, the Ranger Tab, and the Parachutist Badge.
COL Olsen is married to Dr. Margaret N.N. Olsen. They have two children, Nora and William.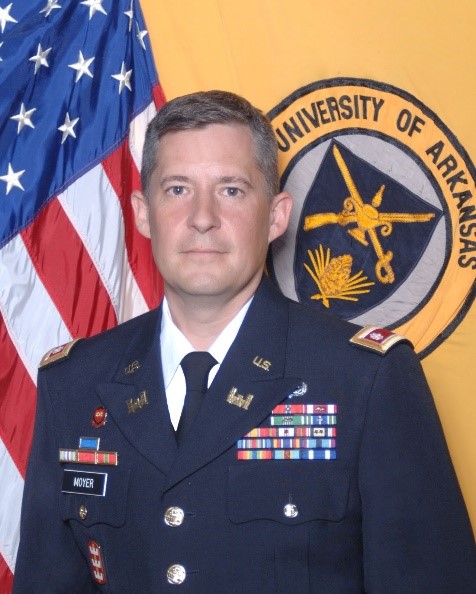 LIEUTENANT COLONEL KEVIN MOYER
Professor of Military Science
870-575-8446
moyerk@uabp.edu
LTC Moyer was commissioned into the Corps of Engineers in 1998 with a B.A. in Political Science from the University of Memphis. He received an M.A. in Public Administration from Webster University in March 2002 and an M.A. in National Security and Strategic Studies from the Naval Postgraduate School in September 2007. LTC Moyer currently serves as the Professor of Military Science for the University of Arkansas Pine Bluff, Henderson State University, and Ouachita Baptist University and has since June 2019.
His previous assignments include Hawaii, Kansas, Kentucky, Germany, and Missouri and he has deployed in service to this country to Nicaragua, Iraq, and Afghanistan. LTC Moyer's military education includes the Command and General Staff College Officers' Course, Red Team Members Course, Air Assault Course, Army Operational Electronic Warfare Course, Combined Arms Services and Staff School, and the Engineer Basic and Advanced courses. He also holds his professional certification as a Project Management Professional (PMP).
His military awards and decorations include two Bronze Stars, four Meritorious Service Medals, three Army Commendation Medals, six Army Achievement Medals, a Humanitarian Service Medal, National Defense Service Medal, Armed Forces Expeditionary Medal, Afghanistan Campaign Medal, Iraq Campaign Medal, Global War on Terrorism Expeditionary Medal, Global War on Terrorism Service Medal, a Presidential Unit Citation, Meritorious Unit Citation, two Army Superior Unit Awards, a Joint Meritorious Unit Award, the Air Assault Badge, and the coveted Engineer Bronze DeFluery Medal.
He is married to Melodie Bichon from Hernando, Mississippi, and has three daughters.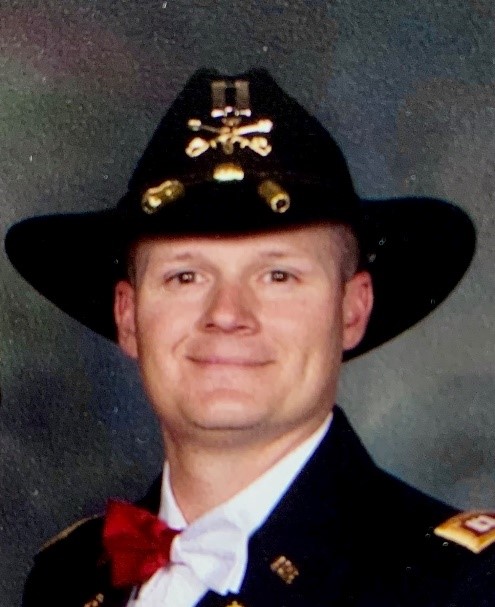 CPT BRODY BRIGHT
Assistant Professor of Military Science
870-245-4179
brightb@obu.edu
CPT Brody L. Bright has over 17 years of military experience: 6 years enlisted in the USAF and 11 years as a commissioned officer in the US. Army. He holds a Bachelor of Arts Degree in English Education from Texas Tech University and is pursuing a Masters in Higher Education Administration through the University of Louisville.
His military education includes the Officer Candidate School, Combat Survival Training (ERR), Aircraft Electrical and Environmental Systems Technician, Bioenvironmental Engineering Technician, Airman Leadership School, Ordnance Officer Basic Course, Unit Movement Officer Course, and the Logistics Captains Career Courses. He is also certified as a Demonstrated Senior Logistician.
CPT Bright first served as the Maintenance Platoon Leader (FWD) for 2-38 CAV, and Executive Officer, 509 th Forward Support Company, 504 th Battlefield Surveillance Brigade, Fort Hood, TX. While stationed at Fort Lee, he was the S4 for 71 st Transportation Battalion within Army Logistics University. After completing the Combined Logistics Captains Career Course, he was assigned as the Transportation Officer, Support Operations, 404 th Aviation Support Battalion and Commander of Fury Troop F/ 6-17 Attack Recon Squadron, Combat Aviation Brigade, 4 th Infantry Division at Fort Carson, CO. Most recently CPT Bright was stationed in Tower Barracks, Grafenwoehr, Germany serving as the Executive Officer of the Combined Arms Training Center and then the Current Operations Officer of the Joint Multinational Simulation Center under 7th Army Training Command.
CPT Bright and his wife Angela Bright recently celebrated over 20 years of marriage. They have two boys: Connor and Donovan, both of whom currently attend Texas A&M.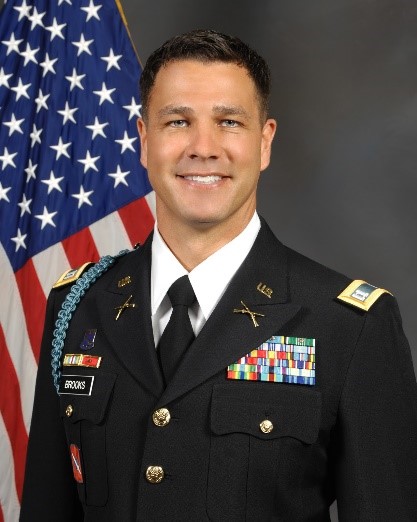 CPT RYAN BROOKS
Assistant Professor of Military Science, National Guard asset
870-245-4177
brooksr@obu.edu
CPT Brooks joined the OBU/HSU ROTC program in Fall 2020 as an Assistant Professor of Military Science. He is currently a member of the Arkansas National Guard and has served for over 14 years.
He has been married for over 18 years and has one daughter and one son. In his spare time, he enjoys outdoor activities and spending time with his family.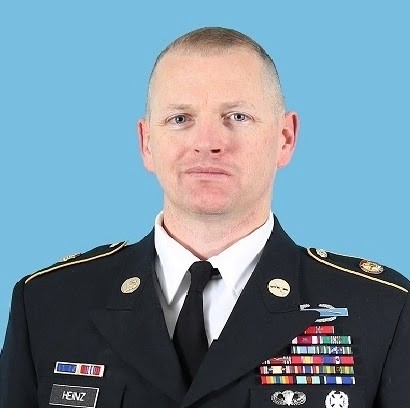 SFC RON HEINZ
Military Science Instructor
870-245-4176
heinzr@obu.edu
SFC Ron Heinz is an Infantry NCO. He has volunteered and served in Joint Assignments during his entire career. In his final combat tour he deployed to Afghanistan where he lived with and supported Special Forces – Counter-Insurgency.
He has over 22 years of Service, is Military Armorer certified, builds precision rifles, reloads, and bow hunts.
MRS. JERUSHA "MRS. J" SCHOFER
Program Assistant
870-230-5007 or 870-245-4352
schoferj@obu.edu
Mrs. J is a 2001 Henderson State University alumna with a Bachelor's degree in Recreation. She started with the program in May 2013 as the Administrative Assistant, and in February 2020 began in her current position.
Mrs. J is married and has one daughter. When not at work, Mrs. J enjoys reading, photography, watching high school sports, especially her Harmony Grove (Camden) Hornets, and traveling with her husband and daughter.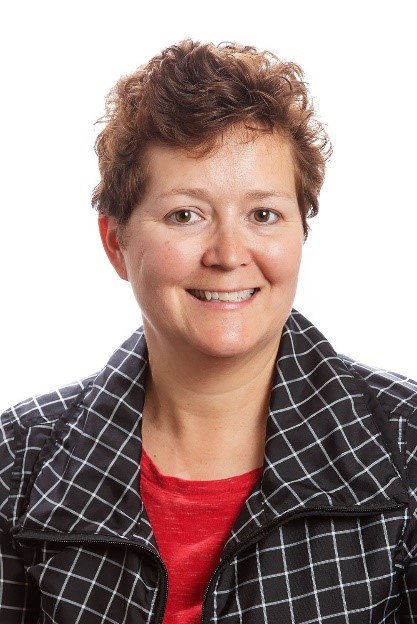 MRS. ELIZABETH "LIZ" MARTIN
Administrative Assistant
870-230-5546
martine@obu.edu
Liz joined the ROTC program in April 2020, moving to this position from the HSU Admissions office. She moved to Arkadelphia with her family in 2017. Her husband, Bryon, teaches Natural Resource Management at HSU. Liz and Bryon have two children.