Virtual Visit
Welcome to Ouachita! During this unprecedented time of social distancing, we aren't offering in-person visit opportunities on campus, but we still want to share Ouachita with you! You can experience campus from wherever you are using the videos and interactive elements below. Additionally, our admissions counselors are still available to talk with you to answer your questions and help you continue your college search.
To view our typical campus visit options to plan for a future in-person visit, see obu.edu/visit.
Since we are unable to walk you around our beautiful campus in person, watch this video as our Guest Experience Coordinator Adam Wheat gives you a personal campus tour.
Ouachita Baptist University is conveniently located at 410 Ouachita Street in Arkadelphia, Arkansas, about 65 miles southeast of Little Rock and 80 miles northeast of Texarkana on Interstate 30 and about 35 miles south of Hot Springs on Highway 7.
PRINTABLE CAMPUS MAPS
Full Map | Main Campus Map | Athletics Facilities Map | Parking Map |
Main Campus Map with Accessibility
DIRECTIONS
From I-30 E, take Exit 73 and merge right onto Pine St.
Follow Pine Street for almost 3 miles to a T intersection at a stop sign.
Turn left onto N. 6th St., which enters campus a block down the road.
Turn right onto Ouachita St. to find Cone-Bottoms Hall and Jones Performing Arts Center.
From I-30 W, take Exit 78 and turn left onto Highway 7/Valley St.
Follow Valley St./N. 10th St. about 4 miles and turn left onto Elrod Boulevard, which enters campus.
To find Cone-Bottoms Hall and Jones Performing Arts Center, turn right from Elrod Blvd. onto N. 8th St.
Veer left at University Dr. onto N. 6th St.
Cone-Bottoms and JPAC will be at your left at the 6th St./Ouachita St. intersection.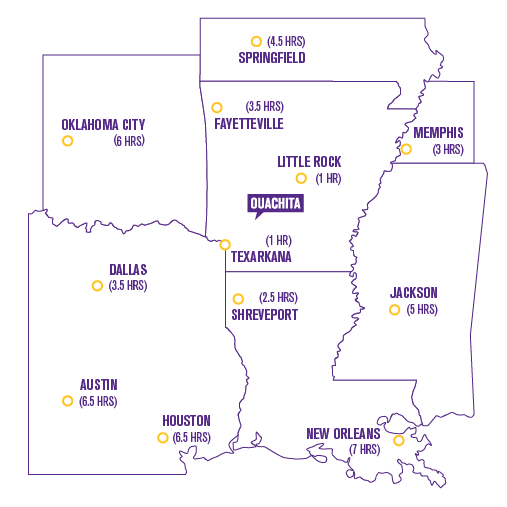 EXPERIENCE OUACHITA IN 360°
Experience Ouachita in 360° and get an up-close peek at campus life. In just a few minutes, you can go from cheering for the Tigers on the football field, to the classroom working on a chemistry experiment.
Use a phone, computer or headset to watch as we show you what it's like to be at Ouachita. Don't forget to turn or swipe to look all around you!
Playback of 360° video is supported in the latest version of Chrome, Opera, Firefox or Internet Explorer on your computer. On mobile devices, use the latest version of the YouTube app for Android or iOS.
GET IN TOUCH
Have a question about Ouachita? Want more information? Shoot us a message!