The Ouachita Wind Ensemble is dedicated to the study and performance of outstanding wind and percussion literature. Since its beginning in the late '90s the 40+ member ensemble has performed at state, regional and national meetings; toured throughout the United States and Europe; and recorded numerous CDs.
Check out OBU Bands on YouTube!

Performances
Ouachita Wind Ensemble has performed for the Christian Instrumental Directors National meeting, the Arkansas Music Educators Association state meeting, the national convention of the Association of Concert Bands, and the international meeting of the International Mission Board.
The Ouachita Wind Ensemble performs in regional tours every year and in international tours every three to four years performs (1996 – Hawaii; 2000 – Italy, German, Austria, and the Czech Republic; 2004 – Austria and Germany; 2007 – Spain and Portugal).
Membership
Membership in the Ouachita Wind Ensemble is open to all wind and percussion performers of Ouachita Baptist University through an audition. The ensemble is auditioned each semester. Fall auditions are held the week of registration. Spring auditions are held in November before the Spring semester. The Ouachita Wind Ensemble rehearses Mondays and Wednesdays from 4-6 p.m. in the Fall and Spring semesters. Members of the Wind Ensemble receive one-half hour of academic credit.
For more information about the Ouachita Wind Ensemble please contact Dr. Craig Hamilton.
Recordings
In 1998, the Ouachita Wind Ensemble began a recording project with Mark Custom Recording. The project features band and wind ensemble literature which uses hymn tunes or has a sacred connotation.
Recordings are available by contacting the band office at (870) 245-5137 or hamiltonc@obu.edu.
Simple Gifts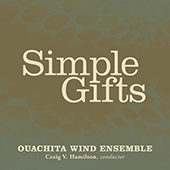 Ouachita Baptist University Symphonic Band and Wind Ensemble - Dr. Craig V. Hamilton, conductor
Released in 2018 • Listen on Spotify
Simple Gifts (4 Shaker Songs): No. 1, In Yonder Valley - Frank Ticheli
Simple Gifts (4 Shaker Songs): No. 2, Dance - Frank Ticheli
Simple Gifts (4 Shaker Songs): No. 3, Here Take This Lovely Flower - Frank Ticheli
Simple Gifts (4 Shaker Songs): No. 4, Simple Gifts - Frank Ticheli
Give Us This Day: I. Moderately Slow - David Maslanka
Give Us This Day: II. Very Fast - David Maslanka
Mayflower Overture - Ron Nelson
A Sacred Suite: I. Spirit of the Ages Fanfare - Brant Karrick
A Sacred Suite: II. Consolation - Brant Karrick
A Sacred Suite: III. True Happiness - How Firm a Foundation - Brant Karrick
Benediction - John D. Stevens
A Light unto Darkness - David R. Gillingham
Spoon River (arr. W.S. Carson & A. Naylor for Wind Ensemble) - Percy Grainger, William S. Carson, Alan Naylor
Radiant


Ouachita Wind Ensemble - Dr. Craig V. Hamilton, conductor
Released in 2009 • Listen on Spotify
Mother Earth - David Maslanka
Mansions of Glory - David Gillingham
Geometric Dances - Roger Cichy

I. Quadratic Permutations
II. Pentangular Concoction
III. Hexagonal Undulations
IV. Heptomical Infusions

My Jesus! Oh, What Anguish - J.S. Bach
American Hymnsong Suite - Dwayne S. Milburn

I. Prelude on "Wonderous Love"
II. Ballad on "Balm of Gilead"
III. Scherzo on "Nettleton"
IV. March on "Wilson"

Radiant Joy - Steven Bryant (Ouachita Alumnus)
Sketches on a Tudor Psalm - Fisher Tull
Sanctuary


Ouachita Wind Ensemble - Dr. Craig V. Hamilton, conductor
Released in 2007 • Listen on Spotify
Joy - Joseph Curiale
Sanctuary - Frank Ticheli
Introit - Fisher Tull
Symphony for Band - Vincent Persichetti

I. Agagio Allegro
II. Agagio Sostenuto
III. Allegretto
IV. Vivace

Chester Overture for Band - William Schuman
Liturgical Music for Band, Op. 33 - Martin Mailman

I. Introit
II. Kyrie
III. Gloria
IV. Alleluia

Chorale and Alleluia - Howard Hanson
The Red Machine - Peter Graham
Zion


Ouachita Baptist University Symphonic Band and Wind Ensemble - Dr. Craig V. Hamilton, conductor
Released in 2005 • Listen on Spotify
Variants on a Mediaeval Tune - Norman Dello Joio
Spiritual from Symphony No. 5 1/2 - Don Gillis, Transcribed by Glenn C. Bainum
Tau Beta Sigma Hymn - Corwin Taylor, Arranged by Craig Hamilton
Solace for Wind Ensemble - John Spencer (OBU Alumnus)
Psalm for Band - Vincent Persichetti
Fugue in C - Charles E. Ives, arranged by James B. Sinclair
O Magnum Mysterium - Morten Lauridsen, Transcribed by H. Robert Reynolds
Zion for Wind Ensemble - Dan Welcher
Swing Low, Sweet Chariot - Steve Rouse
A Movement for Rosa - Mark Camphouse
And Can It Be


Ouachita Baptist University Symphonic Band and Wind Ensemble - Dr. Craig V. Hamilton, conductor
Released in 2004 • Listen on Spotify
Psalm 46 - John Zdechlik
Watchman, Tell Us of the Night - Mark Camphouse
Held Still in Quick of Grace - Jack Stamp
A Million Suns at Midnight - Steven Bryant (OBU Alumnus)
And Can It Be - David R. Gillingham
Be Thou My Vision


Ouachita Baptist University Symphonic Band and Wind Ensemble - Dr. Craig V. Hamilton, conductor
Released in 2000 • Listen on Spotify
Festive Variations on "Lasst uns Erfreuen" - Thomas Root
Chorale Prelude: For the Beauty of the Earth - Don Colquitt
Let us Break Bread Together - Thomas Root (Doug Lockard - Trumpet)
Blessed Are They - Johannes Brahms, scored by Barbara Buehlman
Were You There - Fred J. Allen
Chorale and Shaker Dance - John Zdechlik
Salvation is Created - Pavel Tchesnokoff, arr. Bruce H. Houseknecht
In the Bleak Midwinter - Gustav Holst, arr. Robert W. Smith
Do Not Go Gentle Into That Good Night - Elliot Del Borgo
Be Thou My Vision - David R. Gillingham
God of Our Fathers - Thomas Knox
Winds of Praise


Ouachita Baptist University Symphonic Band and Wind Ensemble - Dr. Craig V. Hamilton, conductor
Released in 1998
Fanfare Prelude on the Italian Hymn - James Curnow
A Childhood Hymn - David Holsinger
Grace Preludium - W. Francis McBeth
Chorale Prelude: Be Thou My Vision - Jack Stamp
Llwyn Onn - Brain Hogg
On an American Spiritual - David Holsinger
Amazing Grace - Frank Ticheli
Chorale Prelude: God of Our Fathers - Claude T. Smith
Sanctus, from German Mass in F - Franz Schubert, trans. by James Curnow
Assurance - John Ness Beck, arr. by Andy Clark
On a Hymnsong of Philip Bliss - David Holsinger
Messianic Kingdom, from Apocalyptic Dreams - David R. Gillingham