Getting Started
The password used for Moodle is the same as your Tigermail password. If you need to reset your password, get help with passwords. You may also log in to your web portal and under My Accounts choose Create/Change Tigermail/Moodle Acct.
Once you login to Moodle, your course(s) should appear in the center of the page under My courses. You can also find your courses in the left column under Courses Available To You, or in your Dashboard where your full list of courses will be displayed under the heading "Course Overview".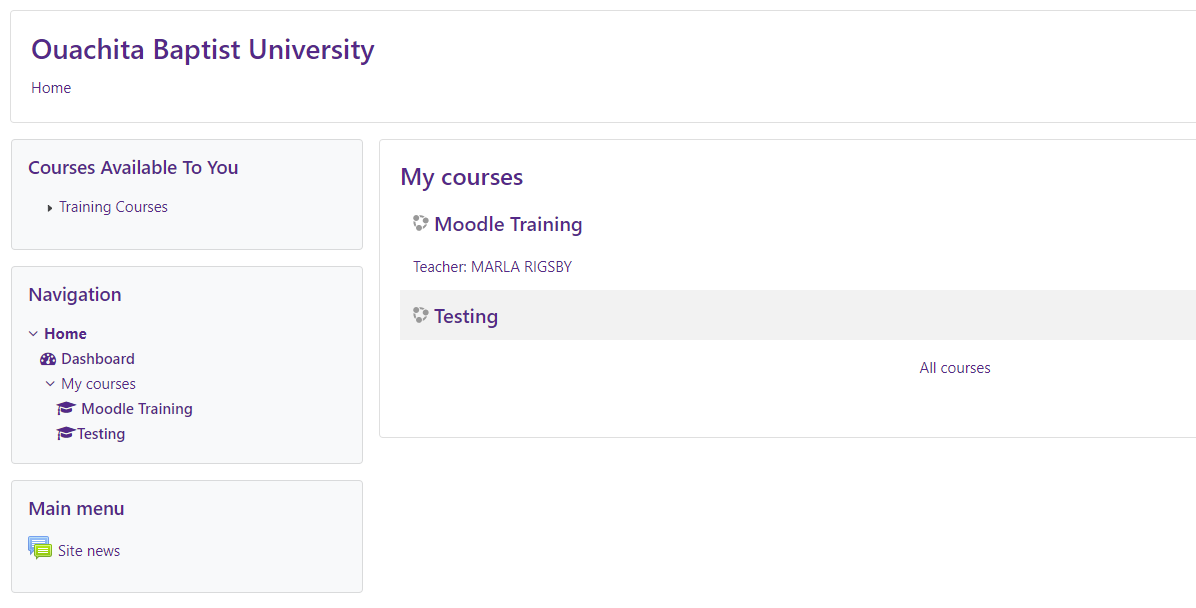 Assignments
Log into Moodle

On the Navigation menu, select My Courses, and then select the name of a course.

Open the assignment.

Click Add submission to view the file uploading area.

Drag and drop your file(s), or use the Add icon to add files to the submission area.

Scroll down and click Save changes to save your assignment.

Check for a Submit assignment button.

If there is no Submit assignment button:

You can continue to make changes to your assignment up until the due date.

If there IS a Submit assignment button:

You MUST click this button for your assignment to be submitted for grading. Once you click the button, you can no longer make changes to your assignment.
In some cases you may be able to enter text online rather than uploading a file or files.
A rubric is an assessment tool that tells you what you need to do to get the grade you want. Rubrics also help instructors grade all submissions fairly and consistently.
Rubrics are made up of rows and columns. The rows correspond to the different criteria of an activity. The columns correspond to the level of achievement expressed for each criterion. A description and point value for each cell in the rubric defines the evaluation and score of an assignment.
Instructors can add rubrics to assignments and Open forums.
View assignment rubrics

: Open an assignment and view the

Submission status

to see the rubric information.

View Open forum rubrics

: Go to Open Grader in the Administration block, select the forum, then select

View grading rubric

.
If you have a file in OneDrive that you need to submit to an assignment:
Choose Add submission from the assignment activity
In the File Submissions area choose the Add a file icon
Choose Microsoft OneDrive from the file picker

Log into your OneDrive account using your Tigermail address and password

Locate and select the file to upload then save changes.
If your file is larger that 100 MB it can't be uploaded directly to Moodle. Instead you can share it within OneDrive then include the link to the shared file in Moodle. Getting Started with OneDrive for more detailed instruction.
Go to https://portal.office.com and log in using your Tigermail address and password.
Look for the Install Office button in the upper right corner of the window to install Word, Excel, PowerPoint and other Office 365 apps.
Discussion Forums
Log into Moodle

On the

Navigation

menu, select

My Courses

, and then select the name of a course.
Open the forum, select

Add a new discussion

.
Type a meaningful

Subject

and

Message

.

Use the advanced editor

if you want to format your description.

Attach a file if required.

Select Submit.
Note: You have 30 minutes to edit the post before it is visible to other students.
On the

Navigation

menu, select

My Courses

, and then select the name of a course.

Select a recent discussion.

Select

Reply

beneath the post you want to reply to.

Type a subject for your post.

Type your post or discussion thread.

Select

Submit

.
Your reply appears under the original post.
Quizzes
Log into Moodle

On the

Navigation

menu, select

My Courses

, and then select the name of a course.

Navigate to the quiz and select the associated link.

Select

Attempt quiz now

.

Answer the questions.

At the end of a quiz you can view a summary of your attempt. You are shown if any questions have not been answered and if you have any flagged questions.

Select

Return to attempt

to finish the quiz if you need to answer a question. Select

Submit all and finish

to submit the quiz to your teacher.
Taking a quiz using Safe Exam Browser using Google Chrome.
Grades
You can find your grades in several places. You choose where you want to check them!
Activity

: Open an assignment or quiz activity to see the grade in the activity summary.

Open Grader

: Use the Open Grader in the Administration block to see grades for your submitted assignments and forum posts only. You can also view rubrics used to grade as well as instructor feedback.

Gradebook

: Go to the Grades in the Navigation block to see how you are doing in all of your courses and on each of your activities.

Reports

: Use the Open Reports in the Navigation block to track your progress in your course.
To view your discussion grades and to see how you were scored on the rubric, you need to use the Open Grader function on the administration block.
The administration block should be located at the bottom left of your course page.

After locating the administration block, click on Open Grader.
This should bring up your assessment page – each discussion forum for the course can be accessed from this page once it has been graded.
To see your score and comments, click on "view grading rubric" – the cells highlighted green indicate the category and points assessed. Overall feedback can be read at the very bottom of the page.

Mobile App
To continue using an app for Moodle please install the Open LMS app. You can download the app from Google Play or the App store.
To log in enter https://moodle.obu.edu when prompted for your site.
Help
If applicable, try using another browser. Otherwise, contact your instructor for help. If your instructor is unable to resolve the problem contact IT Support in one of the following ways.
Call the IT Support office at 870-245-5520 between 8:00 am CT and 5:00 pm CT Monday through Friday.
Email moodlesupport@obu.edu. Include your name and a description of the problem with as much detail as possible.
Submit a Helpdesk support ticket.
Walk-in assistance is discontinued as this time.
If you contact support after hours, typically expect a response within 24 hours.