LOOKING FOR YOUR IDEAL COLLEGE?
congrats, you found us!
Learn More
It's different here. By choosing Ouachita Baptist University as your college home, you're choosing not only to invest in outstanding academic training and career preparation, but you also are joining a community unlike any other. Our relationships run as deep as our over 130-year history, with meaningful traditions and a strong spiritual foundation supporting it all.
Job or Graduate School Placement
Student Satisfaction Rate in AR, TX & LA (CollegeConsensus.com)
WHAT YOU'LL LOVE ABOUT OUACHITA
As a residential campus (95% of students live on campus), Ouachita encourages its students to do life together with a Residential Life program that builds community. You'll be more than classmates with your peers; you'll be lifelong friends.
Ouachita is a place of growth, community and Christ-centered education that will equip you in your faith no matter your major or career goals. From small group discipleship to weekly corporate worship services, programs that develop your relationship with Christ are an integral part of Ouachita life.
More than 98% of Ouachita students receive financial aid. Our generous scholarships help make private higher education affordable.
What if you could go to a college surrounded by lakes, rivers and trees, while still only a short drive to the city? Ouachita is situated in the foothills of the Ouachita Mountains, on the banks of the Ouachita River and minutes from DeGray Lake Resort State Park.
Ranked among the nation's leading universities by Forbes, USAToday and U.S. News & World Reports, there's no doubt you'll get a great education at Ouachita. With more than 97% of our students placed in jobs or grad school within 6 months of graduation, you know you'll be prepared for the next step.
Whether it's performing as a part of Tiger Tunes to raise money for student scholarships, joining Tiger Nation to cheer on the team during Battle of the Ravine rivalry games or graduating on the lawn of historic Cone-Bottoms Hall, there are endless opportunities to enjoy life on a campus steeped in more than 130 years of tradition.
We're committed to your whole person development, which means you'll know and be known by people who are deeply invested in you. Come share in our authentic community of faith and scholarship.
We equip our students for success, whether that's in grad school or starting a career. 97% of our grads have jobs or are accepted to graduate schools within 6 months of graduation.
More than 20% of Ouachita's students compete on one of the university's 16 NCAA D-II sports teams. Add in one of the most active intramural sports leagues in the nation and world-class outdoor rec options, and there's something for everyone.
Not a college athlete, but still love playing sports? Check out our club sports or intramural sports programs!
You'll get to know each of your professors, and they'll know you. Ouachita's outstanding faculty not only facilitate academic success, but also mentor students and invest in them personally.
SEE FOR YOURSELF
Experience a glimpse of the campus life we get to live every day at Ouachita!
Ouachita Baptist University is conveniently located at 410 Ouachita Street in Arkadelphia, Arkansas, about 65 miles southeast of Little Rock and 80 miles northeast of Texarkana on Interstate 30 and about 35 miles south of Hot Springs on Highway 7.
PRINTABLE CAMPUS MAPS
Full Map | Main Campus Map | Athletics Facilities Map | Parking Map |
Main Campus Map with Accessibility
DIRECTIONS
From I-30 E, take Exit 73 and merge right onto Pine St.
Follow Pine Street for almost 3 miles to a T intersection at a stop sign.
Turn left onto N. 6th St., which enters campus a block down the road.
Turn right onto Ouachita St. to find Cone-Bottoms Hall and Jones Performing Arts Center.
From I-30 W, take Exit 78 and turn left onto Highway 7/Valley St.
Follow Valley St./N. 10th St. about 4 miles and turn left onto Elrod Boulevard, which enters campus.
To find Cone-Bottoms Hall and Jones Performing Arts Center, turn right from Elrod Blvd. onto N. 8th St.
Veer left at University Dr. onto N. 6th St.
Cone-Bottoms and JPAC will be at your left at the 6th St./Ouachita St. intersection.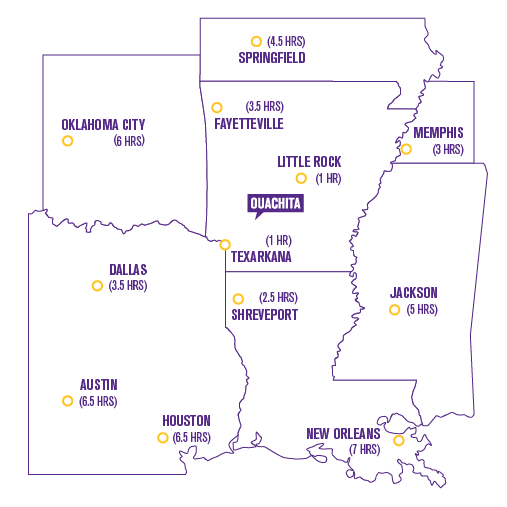 GET IN TOUCH
Have a question about Ouachita? Want more information? Shoot us a message!