THIS IS OUACHITA
learn more 👇
Learn More About Ouachita
Ouachita Baptist University has been a Christ-centered learning community focused on providing outstanding academic training and career preparation in the liberal arts tradition for 136 years. We take a highly personalized approach to higher education, which means our students are valued and known.
Located in the foothills of the beautiful Ouachita Mountains – just an hour south of Little Rock – Ouachita has been creating a transformational college experience for students since 1886. Let us create a place for you.
Job or Graduate School Placement
WHAT YOU'LL LOVE ABOUT OUACHITA
Founded in 1886 – the same year the Statue of Liberty was unveiled – Ouachita is steeped in tradition. Our across-the-street football rivalry, "The Battle of the Ravine," is one of the oldest and most unique in the nation, and we look forward every year to graduation held on the lawn of historic Cone-Bottoms Hall. From raising money for student scholarships by participating in Tiger Tunes or Tiger Traks to pouring our hearts and our Tiger Pride into the parties, reunions, music, tailgating and generations-old campus customs we pack into Homecoming Week, we love to celebrate our traditions. Come join us!
Whether you're an introvert or extravert – whether you're into music, sports, languages, Greek life, science, travel, theatre, business, philosophy – you'll find that our 60 clubs, organizations and activities offer you ways to put yourself out there, make friends, find your spot and be a leader. From trivia nights to ax throwing or moonlight hikes to inner tube water polo, the offices of Student Life and Rec Life make sure there's always something to look forward to.
Beyond our degree programs, Ouachita offers several resources to meet you wherever you are in your academic journey. Not sure what major to choose? Our Discover Program can help you decide. Need a little extra support in your Spanish class, getting a handle on time management or writing your first research paper? Our Academic Success Center and Speer Writing Center are great resources. Looking for something more challenging? High-achieving students can join our Carl Goodson Honors Program for special seminars, social events and exclusive perks.
Learn more about the Academic Success Center and Carl Goodson Honors Program.
We're proud of our athletics legacy and more than a little competitive during game time. All of Ouachita's championship-level athletic teams provide an awesome fan experience for Tiger Nation. Since our average class size is 18, you'll have friends who compete on one or more of our 18 NCAA Division II teams. So you'll learn that when the Tigers win, it's personal.
Not a college athlete, but still love playing sports? Check out our club sports or intramural sports programs!
At Ouachita, there are no overwhelming lecture halls filled with unfamiliar faces. Our 13:1 student-to-faculty ratio and average class size of 18 mean that your professors become mentors and invest personally in your success (except when you meet them on the intramural field). Being connected in community with faculty, staff and classmates enhances your Ouachita experience as a student and pays dividends when you take your next steps after graduation.
SEE FOR YOURSELF
Experience a glimpse of the campus life we get to live every day at Ouachita!
Ouachita Baptist University is conveniently located at 410 Ouachita Street in Arkadelphia, Arkansas, about 65 miles southeast of Little Rock and 80 miles northeast of Texarkana on Interstate 30 and about 35 miles south of Hot Springs on Highway 7.
PRINTABLE CAMPUS MAPS
Full Map | Main Campus Map | Athletics Facilities Map | Parking Map |
Main Campus Map with Accessibility
DIRECTIONS
From I-30 E, take Exit 73 and merge right onto Pine St.
Follow Pine Street for almost 3 miles to a T intersection at a stop sign.
Turn left onto N. 6th St., which enters campus a block down the road.
Turn right onto Ouachita St. to find Cone-Bottoms Hall and Jones Performing Arts Center.
From I-30 W, take Exit 78 and turn left onto Highway 7/Valley St.
Follow Valley St./N. 10th St. about 4 miles and turn left onto Elrod Boulevard, which enters campus.
To find Cone-Bottoms Hall and Jones Performing Arts Center, turn right from Elrod Blvd. onto N. 8th St.
Veer left at University Dr. onto N. 6th St.
Cone-Bottoms and JPAC will be at your left at the 6th St./Ouachita St. intersection.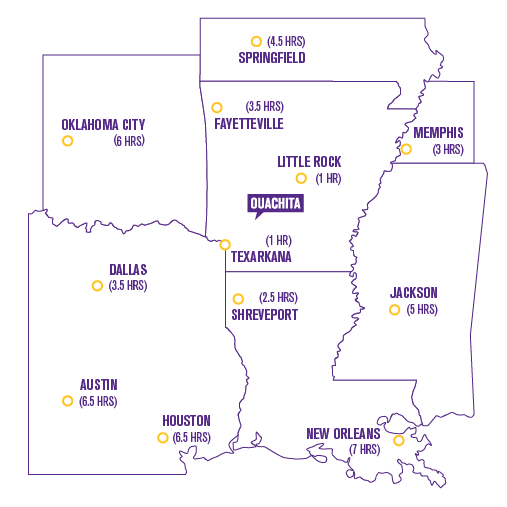 GET IN TOUCH
Have a question about Ouachita? Want more information? Shoot us a message!