Move-In
New Students
Friday, August 18, 2023, 9:00 a.m. – 2:00 p.m.
Check your Ouachita email for a link to sign up for an arrival time.


Returning Students
Apartments: Tuesday, August 15
Check your Ouachita email for move-in info from your apartment manager.
Residence Halls: Saturday-Monday, August 19-21
Check your Ouachita email for a link to sign up for an arrival time.
August 4, 8:00 a.m.-12:00 p.m. // Football Student Staff (Managers, Athletic Trainers, Video Production)
August 5, 8:00 a.m.-12:00 p.m. // Football

August 10, Various Times // Resident Assistants

August 12, 1:00-3:00 p.m // Men's & Women's Soccer, WOW Orientation Steering Committee

August 13, 1:00-3:00 p.m // Cheer, Volleyball, Dance, Band

August 14, 1:00-3:00 p.m // Returning International Student Mentors

August 15, 1:00-3:00 p.m // Campus Ministry Leaders, New International/Third Culture Students

August 16, 1:00-4:00 p.m. // WOW Orientation Leaders, Men's & Women's Track, Men's & Women's Cross Country

August 17, 1:00-3:00 p.m // Returning Nursing Students
What Can You Expect as a New Student?
A welcome befitting our newest Tigers! We're excited you've joined the Ouachita family! When you arrive at your reserved time, you'll find a crew of current students and staff ready to help you every step of the way. Enter campus through Elrod Boulevard, where you will receive instructions about parking your vehicle. Check in at your residence hall lobby to get your room key. Come rain or shine, we'll help unload your vehicle(s) and take your things to your room.


for new & returning students
New Students
Pack as much as you can into boxes, baskets or shelves/drawers that can be taped or sealed shut.
Write your room number and residence hall initials (e.g., Frances-Crawford West = FCW) on all of your belongings.
Once your car is unloaded, follow directions for moving your car and making a space for the next shift of move-in appointments.
Returning Students
Bring your own carts or hand trucks/dollies for moving in large items.
Apartment Residents:

There is limited parking at the apartment complexes, so be considerate when deciding how many vehicles you'll bring.
Your utilities must be turned on before you can move in.
Packing
Wondering what to bring to Ouachita? We've got some tips for you.

The first challenge of your college experience may be figuring out how to squeeze the essential possessions of two people into one residence hall room. Communicate with your roommate before you arrive on campus, especially concerning large items such as microwaves, refrigerators and televisions.
Arkadelphia has a Walmart, Brookshire's Grocery and several discount stores and pharmacies. However, we recommend that you come prepared with what you'll need for the first few weeks of school since these stores will be taxed heavily due to the large influx of students.
smart tv or television and streaming device (Roku, Amazon Fire TV Stick, Apple TV)

TV wall mounts are NOT allowed.

television streaming service subscription
microwave (one per suite)
MicroFridge or mini fridge (4.5 cubic feet or less)
dining utensils, cups and plates to use when eating meals in your room
paper towels
Keurig and K-Cup pods
computer – preferably a laptop; LAN cable if your device is not wireless
power strip/surge protector
desk lamp and/or floor lamp
pens, pencils, highlighters, sticky notes, small dry erase board
organizer/planner/calendar
backpack or satchel
cleaning supplies for your dorm room/suite (disinfecting spray and wipes, all-purpose cleaner, dish soap, glass cleaner, toilet bowl cleaner, Magic Erasers)
vacuum, broom, small mop or Swiffer
items to decorate your room and make you feel at home
adhesive putty and/or Command strips to hang your decorations

Nails and thumb tacks are NOT allowed.

curtains and tension rods

Curtains must hang on tension rods fitted inside window frames; curtain hardware mounting brackets are NOT allowed.

area rug
small fan
trash can
alarm clock
twin-sized bedding (mattress pad, sheets, blanket, pillow, pillowcase, bedspread)
shower curtain, shower curtain rings, bath rug

Does not apply to residents of O.C. Bailey

bath linens, robe
shower caddy for toiletries
personal hygiene items
first aid kit, including over-the-counter pain and allergy relievers, adhesive bandages, elastic bandage, antibiotic ointment
laundry bag or basket
liquid or powder laundry detergent – no pods!
iron, ironing board, hangers
umbrella, raincoat, shoes/boots
workout and/or sports clothes
sports equipment (football, volleyball, basketball, etc.) for use at the sand volley ball court/outdoor basketball court
friends and family contact list

Include all contact information, even mailing addresses)
weapons of any kind, including firearms

If you are a hunter, contact the Office of Campus Safety & Emergency Management at (870) 245-4000 about storing your firearm.

explosives of any kind, including fireworks
alcohol, tobacco, illegal drugs
pets (fish are acceptable in tanks up to 3 gallons)
candles, incense, lighters, matches
Open coil and open flame devices including toasters, toaster ovens and hot plates are strictly prohibited.
printers (Wireless printers are strongly discouraged)
THE TIGER HANDBOOK HAS FULL DETAILS ABOUT UNIVERSITY POLICIES, INCLUDING THESE:
---

Alcohol and Drugs
pp. 18, 28
Apartment Policies and Procedures
pp. 42-43
Appliances
p. 39
Cable Television Service
p. 39
Drug Testing
p. 20
Firearms and Weapons
p. 18
Internet Service
p. 40
Possession/Use of Fireworks
p. 18
Pets
pp. 18, 39
Use of Campus Computer Network

p. 35
Where is Elrod Boulevard?
It's the main entrance to Ouachita's campus, off of 10th Street. All new student move-in drivers must enter the campus here to help us manage traffic.
How will I know where/who my RD is when I get to my dorm?
New students will receive instructions at checkpoints along the move-in route. RD's will welcome students in the lobby of their building.
Where should we stay the night before move-in if we are from out of state?
A list of local hotel and restaurant options is available below.
Will the campus store be open?
Yes. The Ouachita Campus Store, located in the lower level of Evans Student Center, will be open.
Where should we park after I've moved in?
All vehicles will be required to move out of the residence hall parking lots when they're unloaded to make room for the next shift of move-in appointments. Parking can be found behind JPAC, Maddox Hall, SPEC and Tollett Hall.
Where's the best place to go if I forgot things or need to buy supplies?
In Arkadelphia, the best places to go for supplies are Walmart Supercenter, Walgreens or Brookshire's Grocery.
Where do I get my student ID if I don't already have one?
The Student Development office will be open and available to help you with your student ID. You can find it on the main floor of Evans Student Center, around the corner from the stage at Dr. Jack's Coffeehouse.
Where do I get my parking permit?
Campus Safety will be distributing and applying parking permits during move in.
Will Ouachita Commons (the cafeteria) be open?
Yes! The Ouachita Commons will be open.
---
Still have questions after reading the FAQ section? That's okay. If you're a new student, contact your admissions counselor or call (870) 245-5110. If you're a returning student, contact the Office of Student Development at (870) 245-5220.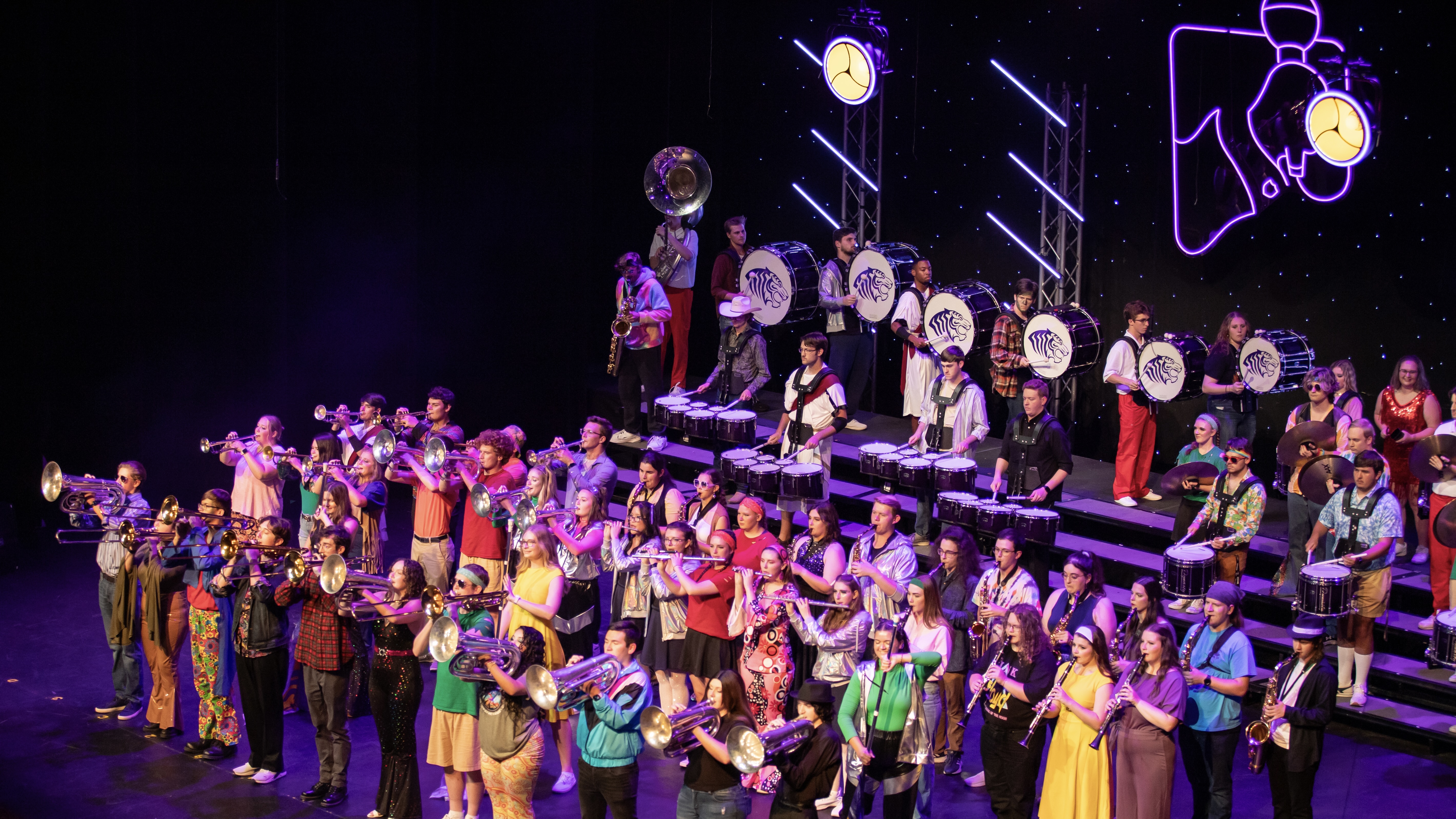 Ouachita Student Foundation sets new Tiger Tunes fundraising record
The Ouachita Student Foundation raised more than $205,000 during Tiger Tunes 2023, surpassing its $200,000 goal and securing the most money raised in one year by the event. Held each year in Jones Performing Arts Center during the university's Homecoming weekend, Tiger Tunes is a song and dance production that parodies popular music as a competition among student organizations.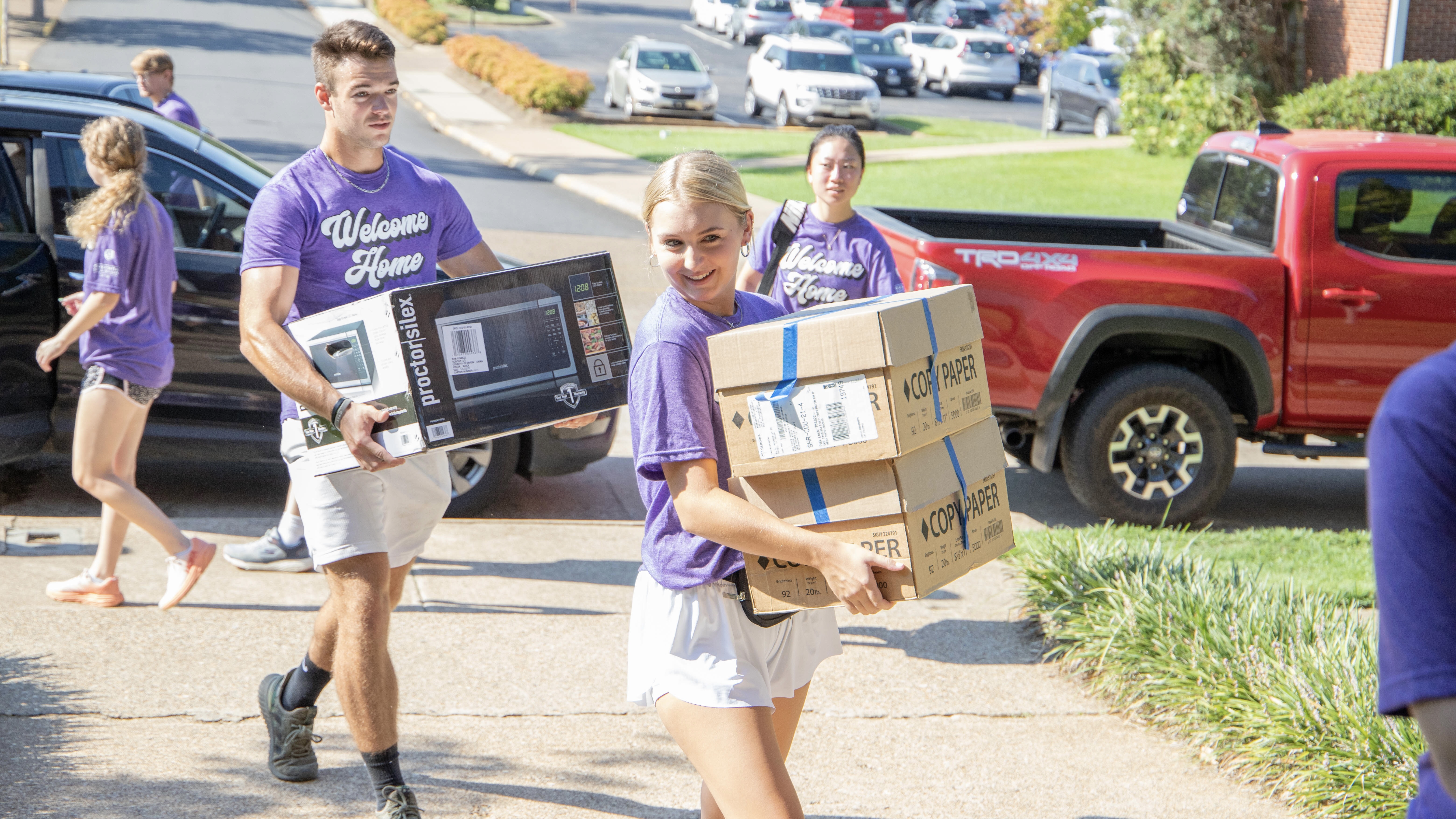 What not to pack for college
"Welcome to Ouachita," they'll say. You'll drive through the parking lot of Francis Crawford Hall or Flippen-Perrin Hall or O.C. Bailey Hall; your car will be loaded down, and perhaps your parents' cars will be loaded down, too. Or you might be planning to be greeted from the passenger seat of a U-Haul that your family insisted on renting.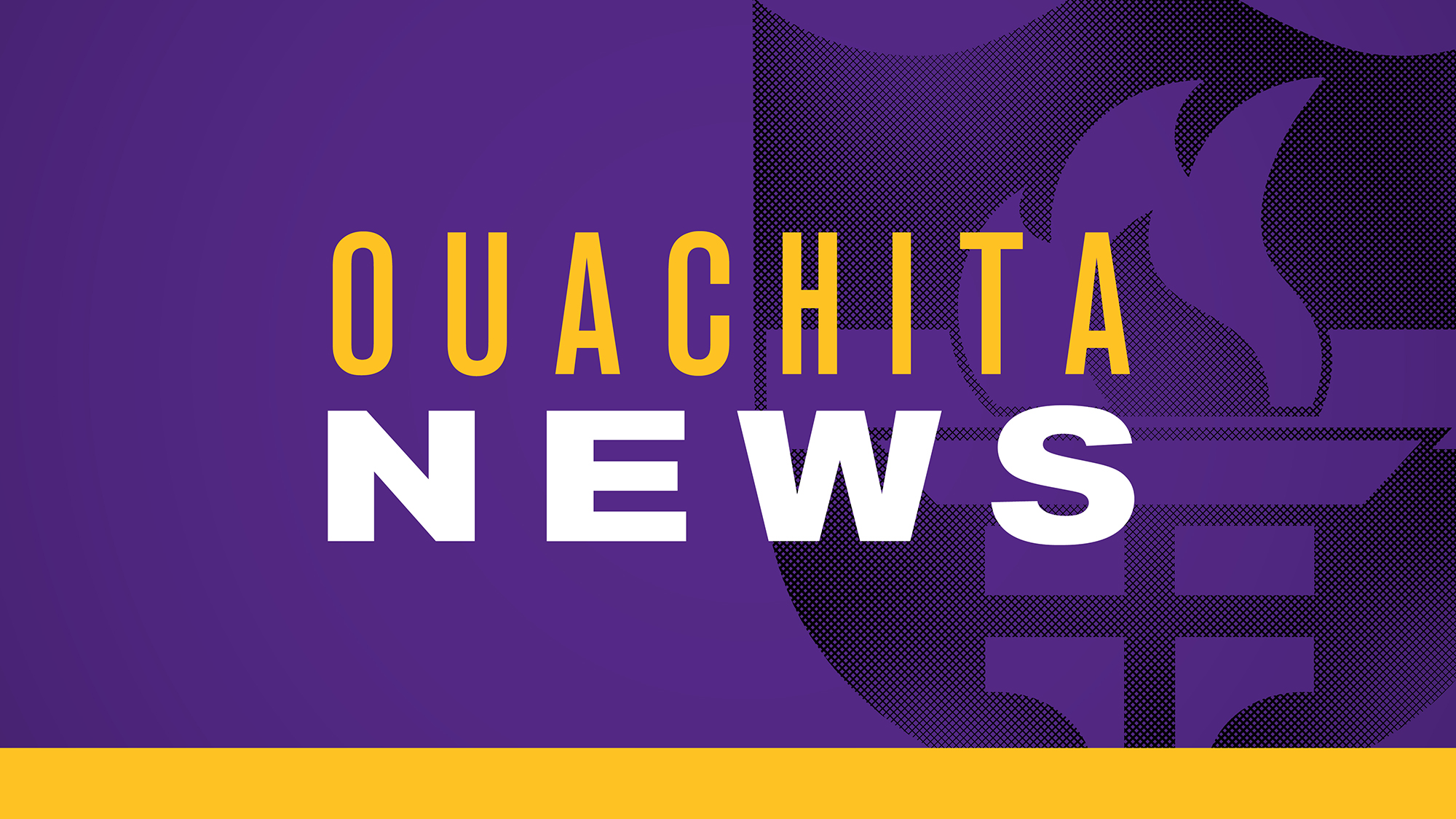 Ouachita names 40 students to Who's Who
Forty students at Ouachita Baptist University have been named to the latest edition of Who's Who Among American Colleges and Universities.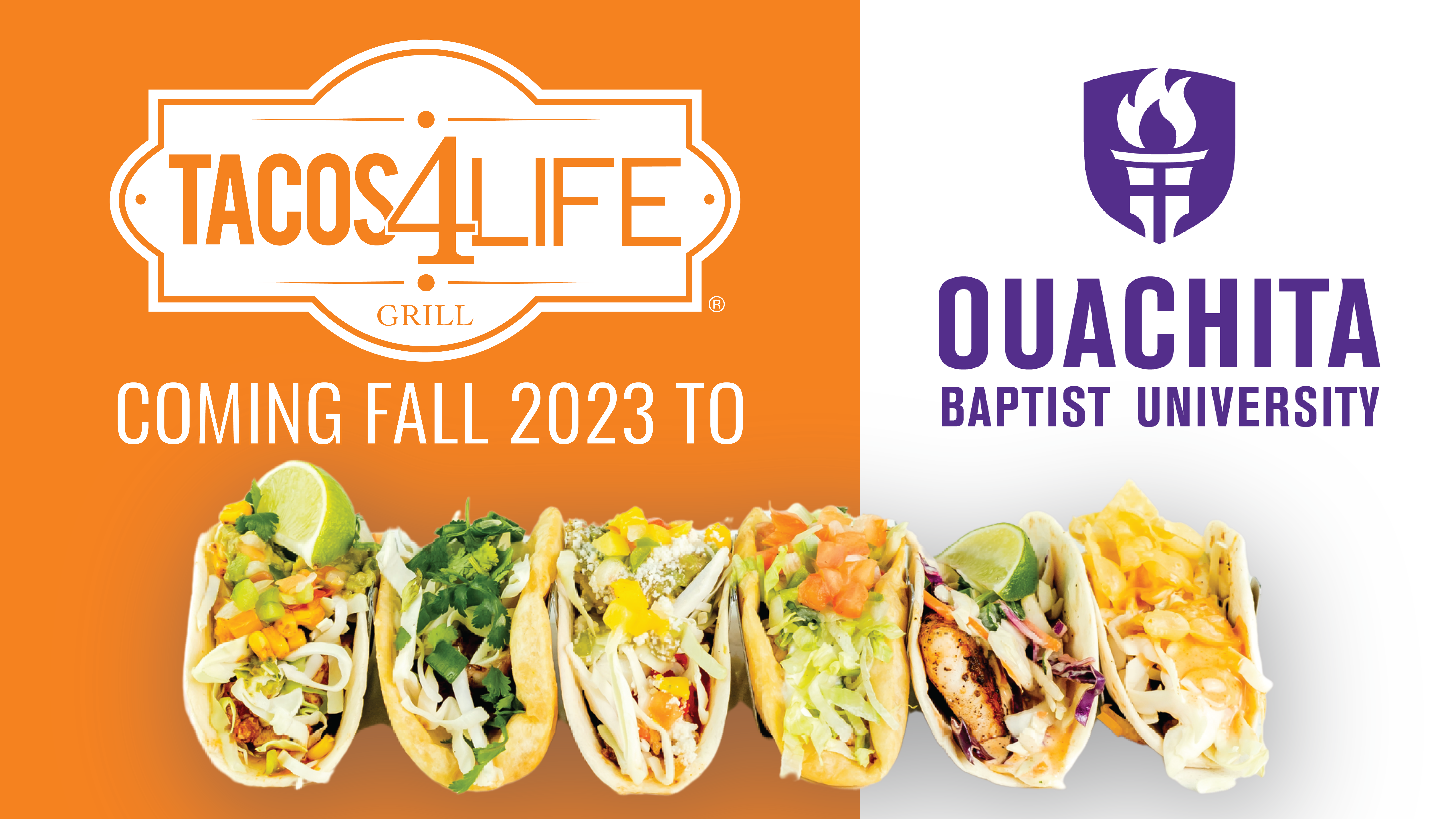 Ouachita to house one of the first two university-based locations of Tacos 4 Life
Ouachita Baptist University will be one of the first two colleges to welcome Tacos 4 Life to its campus when the Arkansas-based restaurant chain launches an outlet in Ouachita's Evans Student Center in Fall 2023.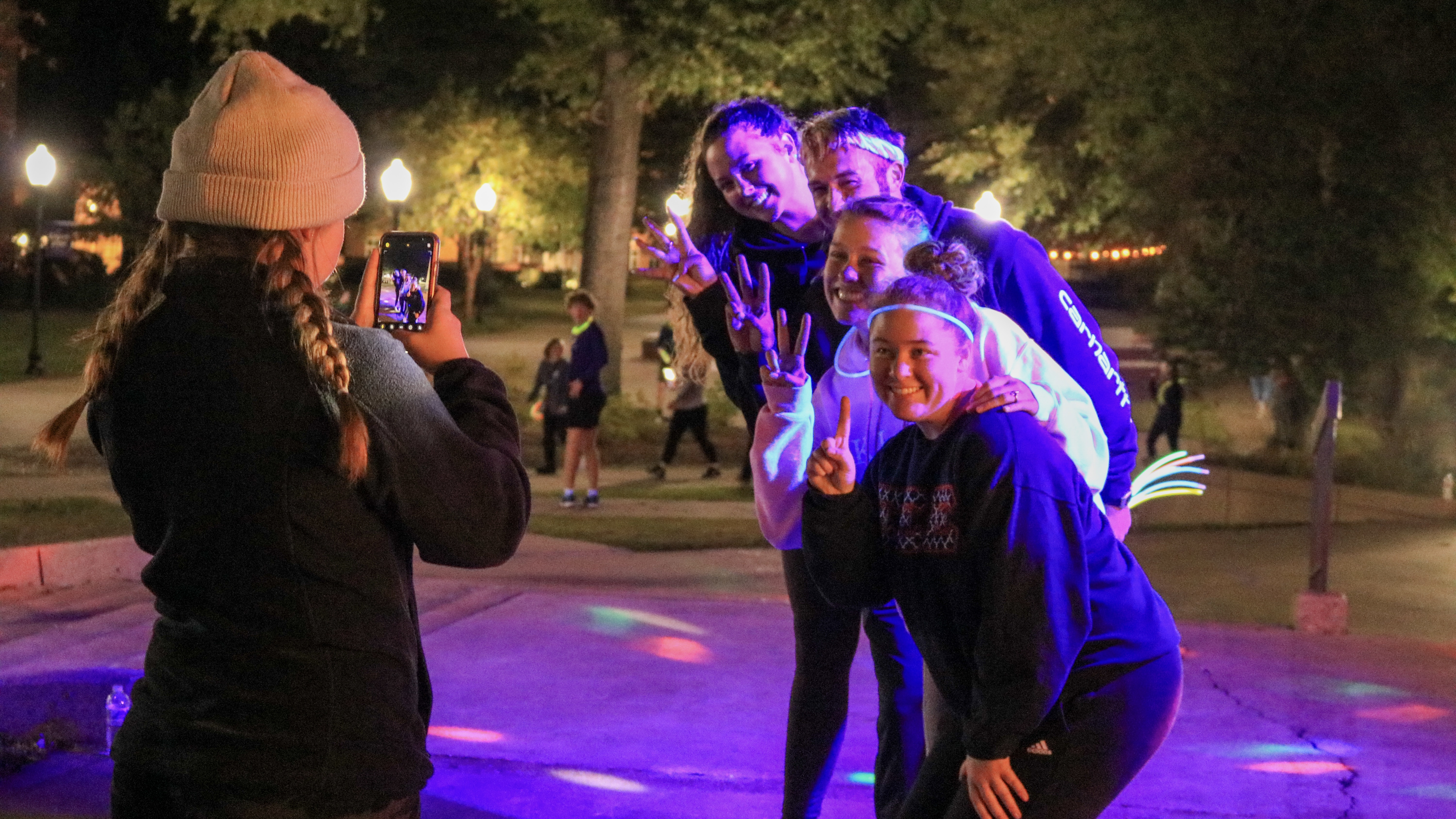 Falling in love with Ouachita
Let's face it. Winter is tiring, and sometimes that can lengthen the second semester.
GET IN TOUCH
Have a question about Ouachita? Want more information? Shoot us a message!