Ouachita Coronavirus Information
Drawing on guidance regarding COVID-19 from the Centers Disease Control and Prevention (CDC), state and local health officials and Ouachita's Health Monitoring & Action Team, the following information guides the university's operations. These guidelines will be updated as needed.

Members
Dr. Wesley Kluck, university physician – chair

Dr. Byron Eubanks, chair of the Department of Philosophy and director of the Sutton Center for Integrity

Tim Harrell, director of student life

Dr. Tim Knight, dean of the Patterson School of Natural Sciences

Missy Lewis, compliance officer and IT Services project coordinator

Sherri Phelps, director of human resources

Rickey Rogers, vice president for student development

David Sharp, director of athletics

James Taylor, director of campus ministries

Molly Wallace, director of health services

Brooke Zimny, assistant to the president for communications & marketing – ex officio
Charge
Be current with public health guidance and practices, especially as they relate to institutions of higher education.

Give direction and recommendations for applying public health guidance/practices to Ouachita's leadership groups; faculty, staff, and students; and sponsored activities.

Serve as a sounding board for the university community on public health practices and recommendations that are in place.
Former members who have rotated off the committee: Tyrese Allen, Student Senate president, and Caitlin Hetzel, director of housing and assistant director of residence life.
Masks: Masks are optional.
Feeling Sick? Students, faculty and staff should each continue to monitor their own health for symptoms consistent with COVID-19. Those who are experiencing symptoms should use the CDC self-check screening or check with the Office of Health Services (870-245-5244) or their doctor before returning to class or work.
COVID-19 Testing: Testing is recommended for those experiencing symptoms of COVID-19 and is available while supplies last in the Office of Health Services, located Evans Student Center. Please call ahead to make an appointment: 870-245-5244. Testing also is readily available at local pharmacies and healthcare providers, and at-home tests are available at retailers or through COVIDtests.gov.
If you have COVID-19 or are exposed: Drawing on current CDC guidelines, students and employees who have COVID-19 should isolate for at least 5 days and take precautions such as wearing a mask for 5 additional days. Isolation may take place in campus housing in cooperation with the student's roommate and Res Life staff; meals will be available for pick-up through Campus Dining. For those who have been exposed, monitor your symptoms and take precautions such as wearing a mask for 10 days.
Missing class or work due to COVID-19: Students should notify their instructors and work study supervisors of their absence; employees should notify their supervisors. Students should contact the Office of Health Services to obtain validation for absences from class, which they can present to their instructors. Work with your instructors and/or supervisors on the best way to make up work according to your situation. Return to class and work according to your doctor's guidance. No room and board credit or work study credit will be issued for quarantined or isolated students; employees must use their accrued sick time or vacation time.
Physical Distancing: Classrooms, arts events and athletics events have no capacity limitations.
Sanitation: Hand sanitizers and water bottle-filling stations are located throughout campus and ventilation systems continue to benefit from the improvements made in 2020.
COVID-19 Vaccines: Vaccines are not available on campus but are widely available in the community. See vaccines.gov or the Arkansas Department of Health website to find a vaccination location.
Student Athletes: Athletic teams will be guided by NCAA and conference protocols regarding COVID-19.
Campus Guests: Guests are welcome to campus and are expected to follow the university's current guidelines listed above. Please do not visit campus if you have COVID-19.
QUESTIONS? Contact the Office of Health Services at 870-245-5244.
Last updated August 16, 2022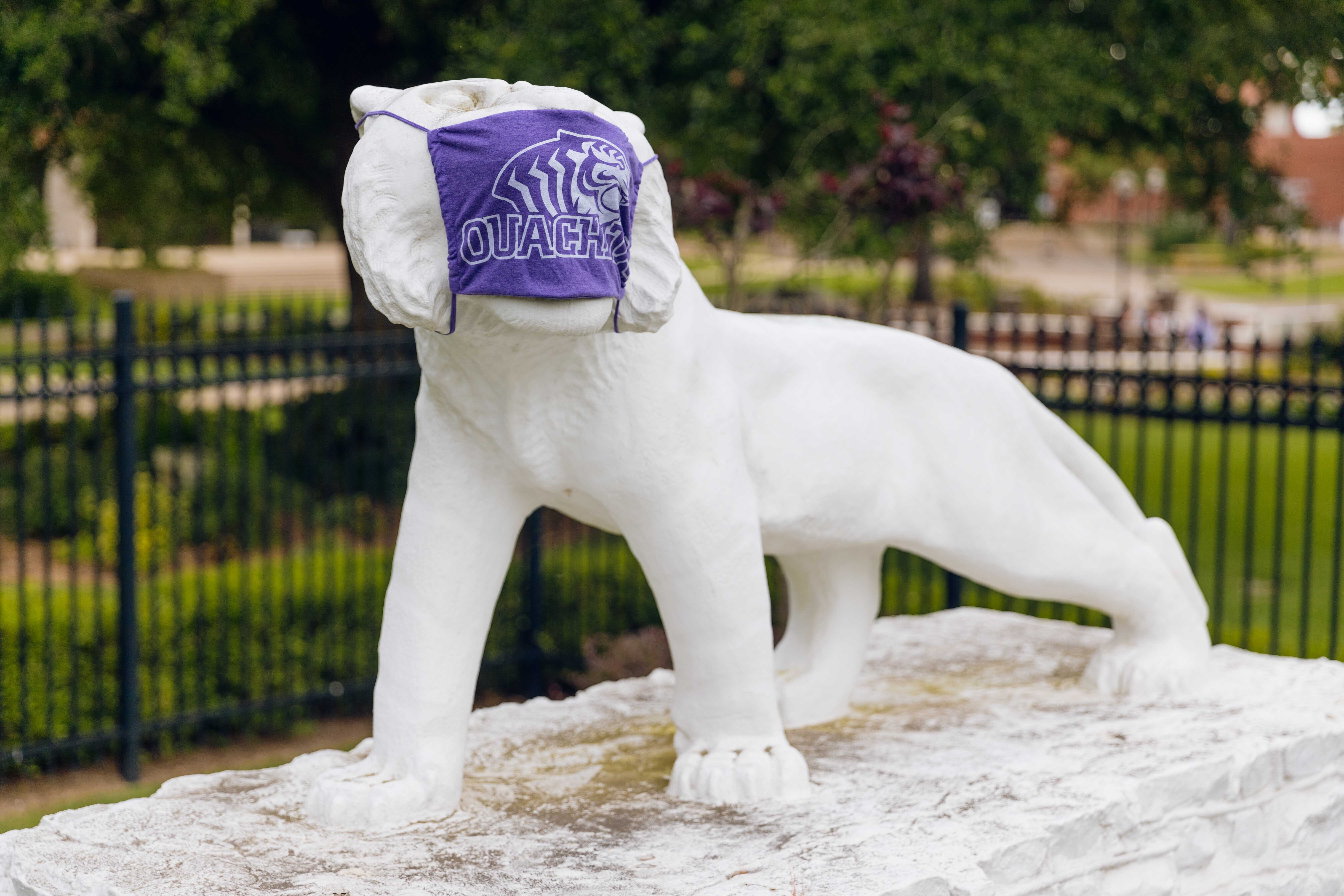 "Take Care, Tigers" defines the commitment and effort by the Ouachita campus during the past two academic years, allowing us to be one of the few universities in the nation to have an in-person experience. Even as the pandemic continues to evolve, we encourage the campus community to continue what has served us well – respect for self, respect for others and respect for Ouachita's Christian mission.