Ouachita Biology students gain indispensable scientific reasoning skills and self confidence through the multiple opportunities for hands-on research in research-based laboratory courses at all levels of the Biology curriculum. In the freshman research experience PHAGES program, students are independently working to discover novel mycobacteriophages—describing the basics of viral biology and genomics and designing and implementing projects to further characterize each bacteriophage. Students enrolled in Microbiology are working through the Small World Initiative to isolate antibiotic-producing bacteria from the environment and describe the physiology of each bacterium. Students in Cell Biology design and carry out experiments in mutant and transgenic plants to investigate oxidative stress pathways and their relevance to human disease. In the senior-level Genetics course, Biology students are working to characterize genes used in synthetic biology research and to assemble functional synthetic genetic elements, contributing to the International Genetically Engineered Machine (iGEM) database.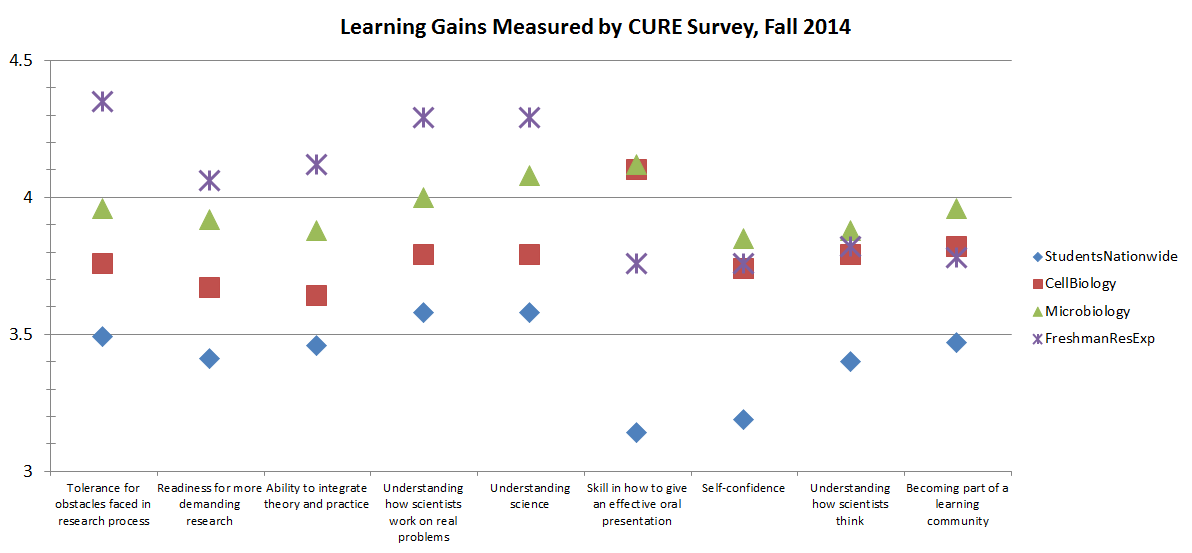 The CURE survey is an online survey for assessing student learning gains. We thank Leslie Jaworski and David Lopatto for the use of the survey and providing the results. The CURE survey is funded with a grant from the Howard Hughes Medical Institute.
THE DEVELOPMENT OF ARABIDOPSIS IN ALTERED ENVIRONMENTAL CONDITIONS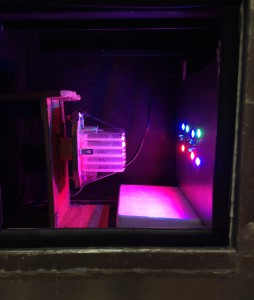 The growth of plants in outer space will be dependent on how plants respond to altered atmospheric pressure, gravity, and modified light. The purpose of
Dr. Jim Taylor's
research is to further investigate the development of Arabidopsis plants at lower atmospheric pressure and distorted gravity by using a clinostat inside of a hypobaric chamber. This picture shows plastic plates containing Arabidopsis seedlings, on a rotating clinostat, within a reduced-pressure vacuum box. These studies will give more insight to how plants develop at lower pressure and in altered gravity which will give a better understanding to how plants may develop during long term space travel.
IDENTIFICATION OF THE EXPRESSION PATTERNS OF CANDIDATE APOPTOSIS GENES IN TRANSGENIC TOBACCO PLANTS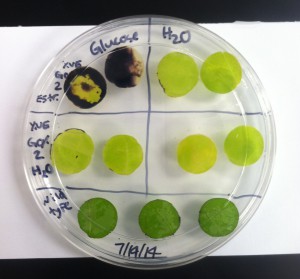 Programmed cell death (PCD) is an essential cellular process characterized by cell shrinkage, nuclear condensation and fragmentation that leads to the selective elimination of cells and has been reported to play a major role in cystic fibrosis, oncogenesis and other disease occurrences. There appears to be some evolutionarily conserved signaling pathways for an apoptotic-like programmed cell death in plants.
Dr. Nathan Reyna's
research uses a tobacco plant model to identify new genes associated with oxidative stress and apoptosis. In this picture, blackening indicates hydrogen peroxide-induced oxidative damage.
ENVIRONMENTAL INFLUENCES ON BIOFILM FORMATION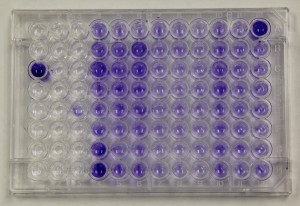 Dr. Ruth Plymale
collaborates with student researchers to design a unique microbiological project for each student. Many of these projects study biofilms, communities of bacteria encased within a sticky matrix that adheres the bacteria to a surface. Biofilms are both medically and environmentally significant, making them a relevant research topic. Recent research projects have surveyed the distribution of biofilm-forming bacteria in fountain-beverage machines and investigated the ability of commercial mouthwashes to prevent biofilm formation. This picture shows the differential effects of mouthwash on biofilm formation; lighter wells indicate decreased biofilm formation.