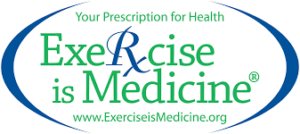 Physical Activity is a wonderful way to promote and maintain a healthy lifestyle. This leads to a better quality of life which can improve your energy level, and your balance of health and mobility.

This is important because it helps individuals create healthy habits that will lead to better physical health and movements. This includes eating healthy, getting enough water, sleeping and rest habits, and regular physical activity (at least 150 minutes per week).

This personal responsibility will positively affect your activities of daily living (ADL's).

Research shows 150 minutes of moderate exercise per week over 3-5 days will enable a person to live a healthier lifestyle. Sedentary patients, or those with chronic diseases, often have limited access to reimbursed exercise programs within the healthcare setting. Patients need community-based solutions (professionals, places, programs) where they can be physically active and receive expert training. Properly prepared exercise professionals have an opportunity to work with referred patients and develop on-going relationships with healthcare providers and practices.

Community Outreach Lab

This program is accessible for community members who are interested in making a change to their health and wellness. Upon referral from a health care provider, individuals can get an individualized assessment.
Contact (appointments only)

Terry DeWitt, PhD, AT, EP-C
Professor, Chair
Department of Kinesiology & Leisure Studies
dewittt@obu.edu
870-245-5264 (Office)