Nursing: B.S.N. (On Campus or Dual Enrolled)
If you're called to a career in nursing, pursuing your education at Ouachita can be a life-changing experience. Our nursing program is built on Christian values and beliefs, nursing standards and nursing ethics, so you'll learn how to meet the healthcare needs in your community from outstanding nurse educators who are committed to academic excellence and to your spiritual growth. They'll prepare you to provide holistic care to patients of all ages in structured and unstructured healthcare settings, around the block and around the world.
Science Healthcare Grad School Acceptance Rate
Years Combined Faculty Experience
In-Person Degree Pathways
You can live on campus and engage fully in Ouachita's student-focused culture while you earn a 4-year B.S.N. Play intramural sports, participate in Tiger Tunes, accept an invitation to pledge one of Ouachita's social clubs, lead or serve in any of our 40+ organizations, grow spiritually through weekly worship in Chapel and a host of programs sponsored by Campus Ministries. You can make the most of your opportunities to gain clinical experience, too.
Ouachita has relationships with 15 regional healthcare providers, as well as a $2.2 million Nursing Education Center on campus. Plug in to our growing nursing community of students and faculty members who are ready to support you along your educational journey.
This distinctive B.S.N. program is in partnership with Baptist Health College Little Rock (BHCLR), which is part of the largest healthcare system in Arkansas. You'll have the opportunity to earn two degrees in four years, a B.S.N. from Ouachita and an Associate of Applied Science in Nursing (AASN) degree from BCHLR, and enter the workforce one semester earlier than traditional nursing students.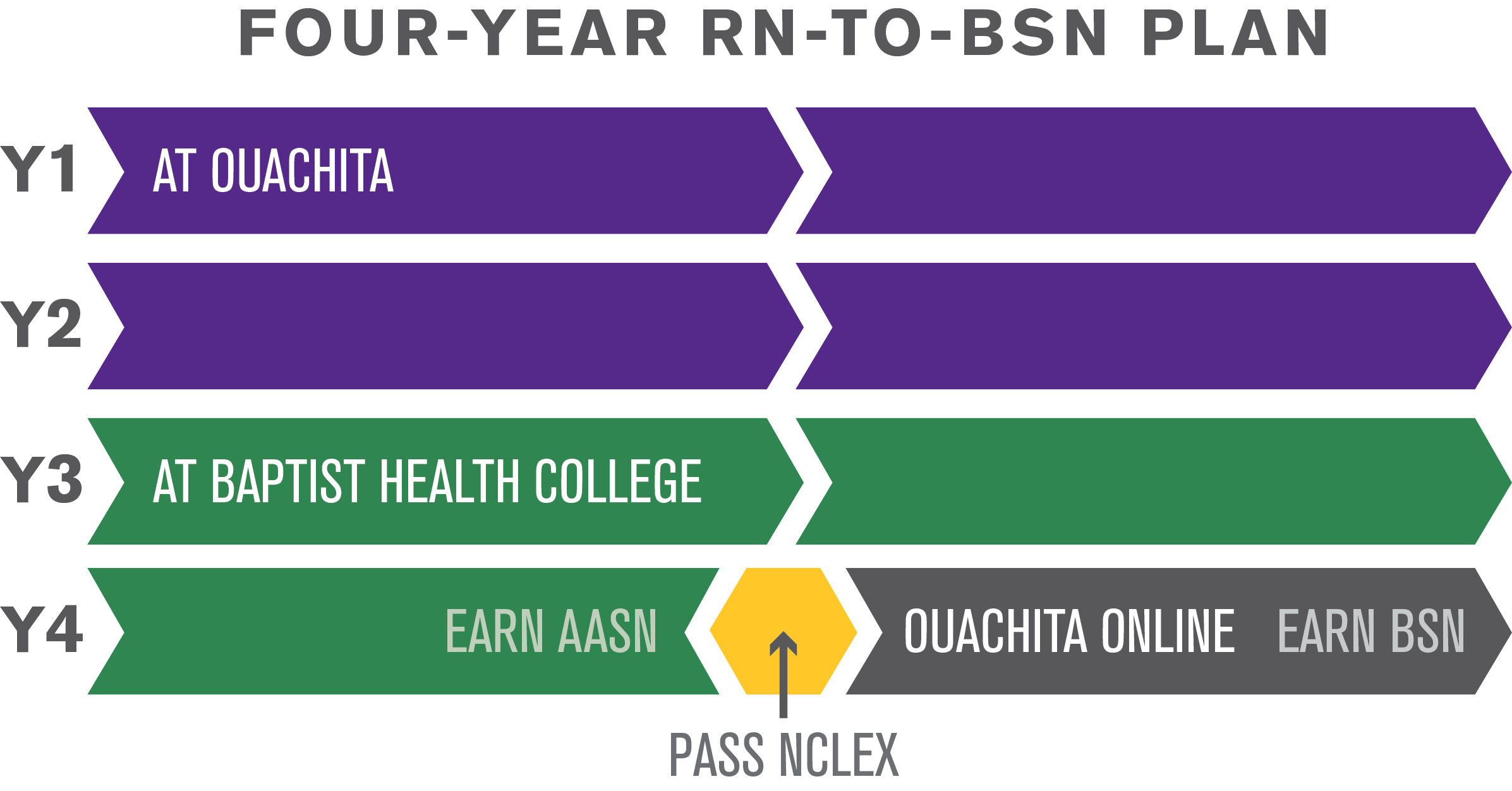 The program is divided into three phases, and you'll be a full-time Ouachita student throughout all of them. During Phase 1, you'll live on campus for a minimum of four semesters—or longer should you choose to pursue an additional major. You'll transition to dual enrollment at BHCLR for three semesters during Phase 2, when you'll complete online coursework through Ouachita and receive pre-licensure theory and laboratory and clinical experience at BHCLR. After successfully completing all AASN degree requirements at BHCLR, you may apply to sit for the National Council Licensure Examination for Registered Nurses (NCLEX-RN). Once you've passed, you'll be eligible for Phase 3, completing B.S.N. degree requirements during one final semester of online courses through Ouachita. Because the final semester is completely online after earning RN licensure, students are able to begin their careers while finishing their B.S.N. courses.
Approved as a pre-licensure program by the Arkansas State Board of Nursing.
Earn dual degrees in five years by combining your passion for nursing with focused preparation in one of these fields of study:
Are you already a licensed RN? Find out if Ouachita's fully online RN-to-BSN program is a fit with your career goals.
In their words
hear from a faculty member & student
"To be a nurse means being at the forefront in times of healthcare crises, whether individual or global; to be a patient advocate; to be a healthcare innovator; to be an agent of change; and, ultimately, to provide the best healthcare possible for positive patient outcomes. We're proud to educate men and women to support the region's growing workforce needs and assist in meeting the demand in Arkansas for nurses with baccalaureate-level preparation."
Dr. Brenda Trigg
Ouachita's Director of Nursing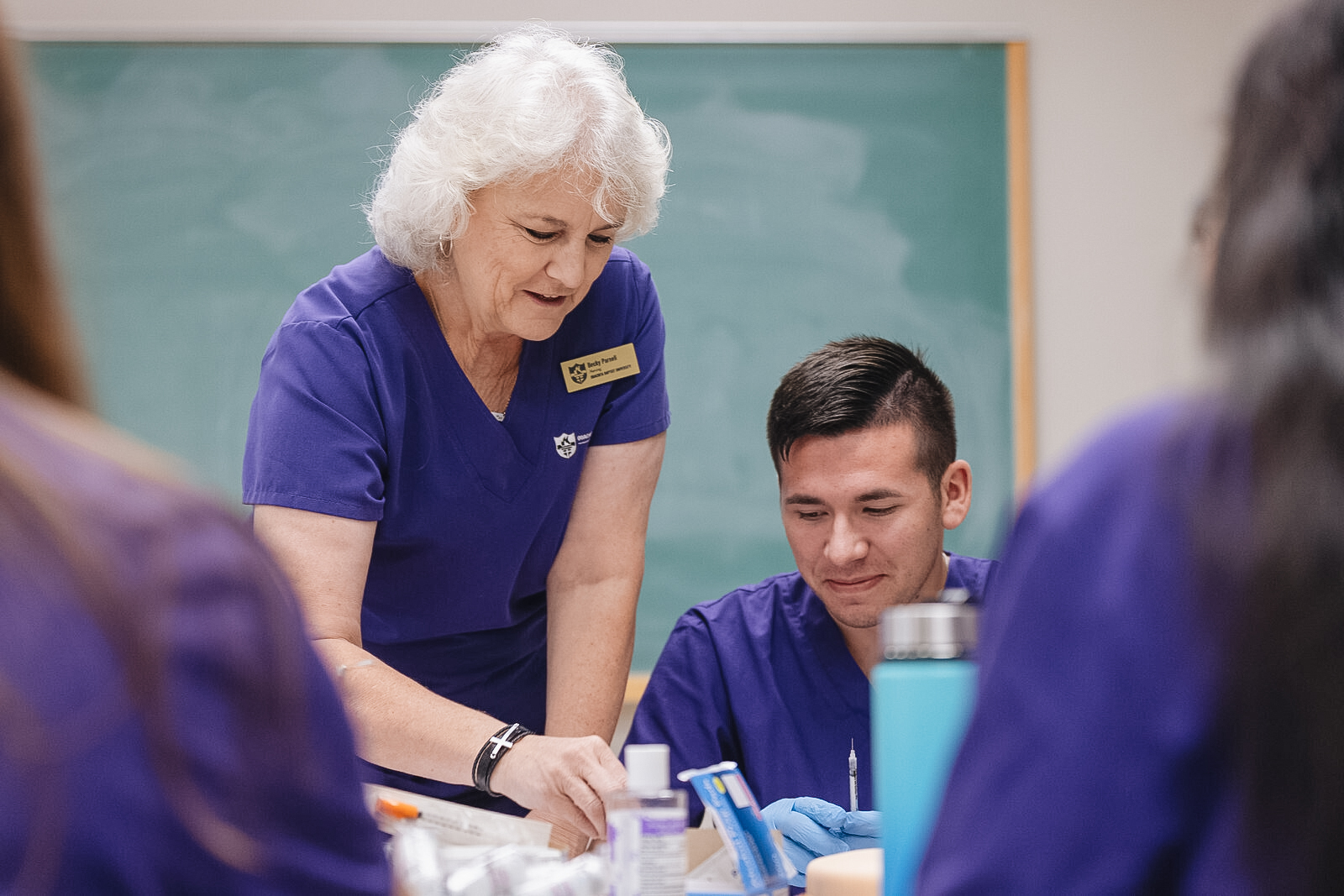 LEARN FROM QUALIFIED, COMPASSIONATE FACULTY
Ouachita's four nursing faculty members bring a combined 118 years of nursing education and clinical experience to the program. As your teachers and mentors, they'll be devoted to your intellectual and spiritual growth as they help you sharpen your critical thinking skills and exercise the service-oriented attitude and appreciation for cultural diversity that are valued both by the nursing profession and by Ouachita. Their goal is to equip a diverse cohort of nursing students to provide holistic care in structured and unstructured healthcare settings, locally and globally.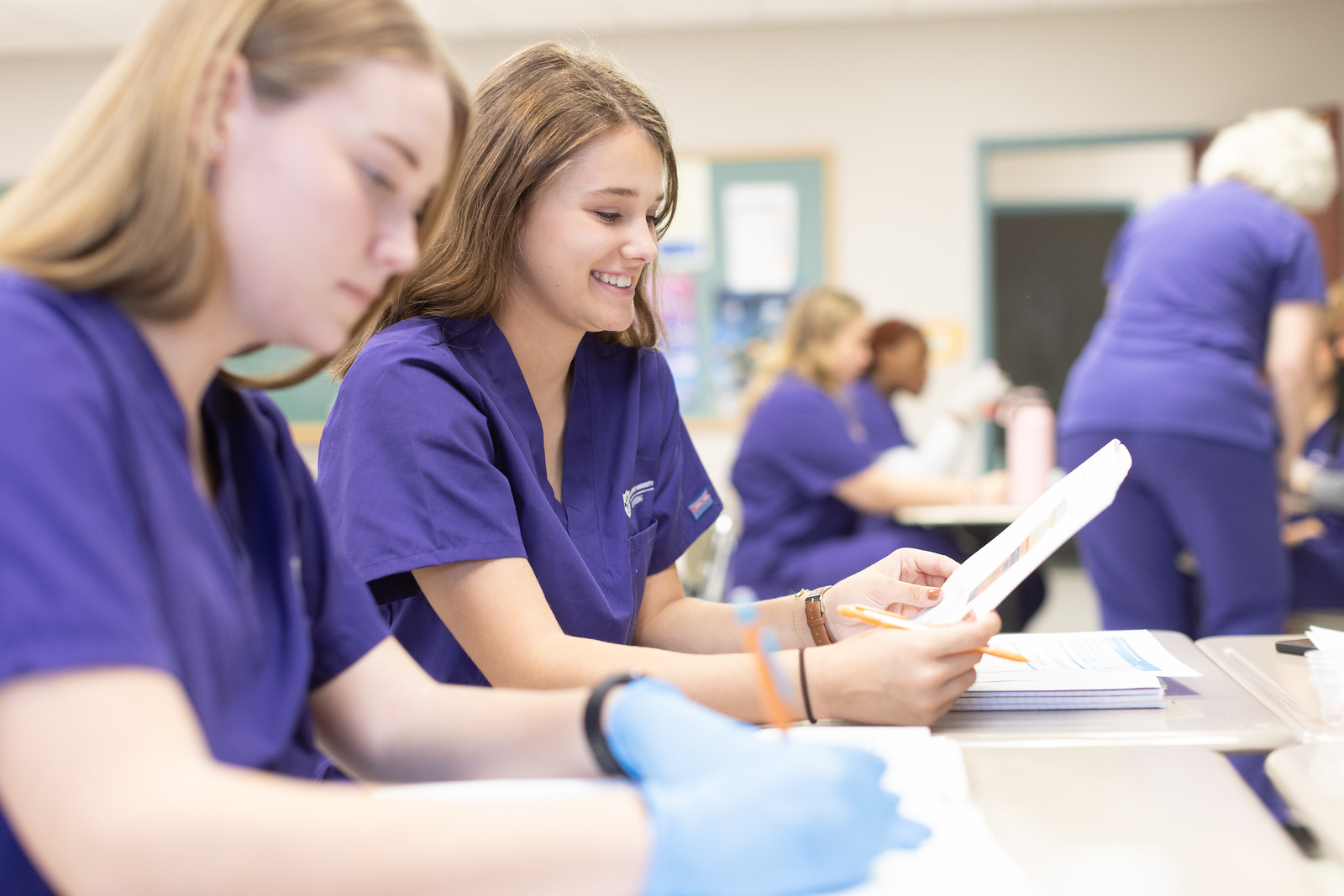 GAIN CLINICAL EXPERIENCE IN STATE-OF-THE-ART FACILITIES
Ouachita's $2.2 million, 6,600-square-foot Nursing Education Center will provide a home base for your nursing studies. This simulation and teaching center will feature a clinical skills lab, five simulated hospital patient rooms, a pharmacy and several high-fidelity mannequins that will allow you to perfect your assessment, clinical and communication skills. The center will supplement the adjacent 70,000 square foot Jones Science Center that also serves nursing students, and is scheduled to be completed before the beginning of the Fall 2022 semester.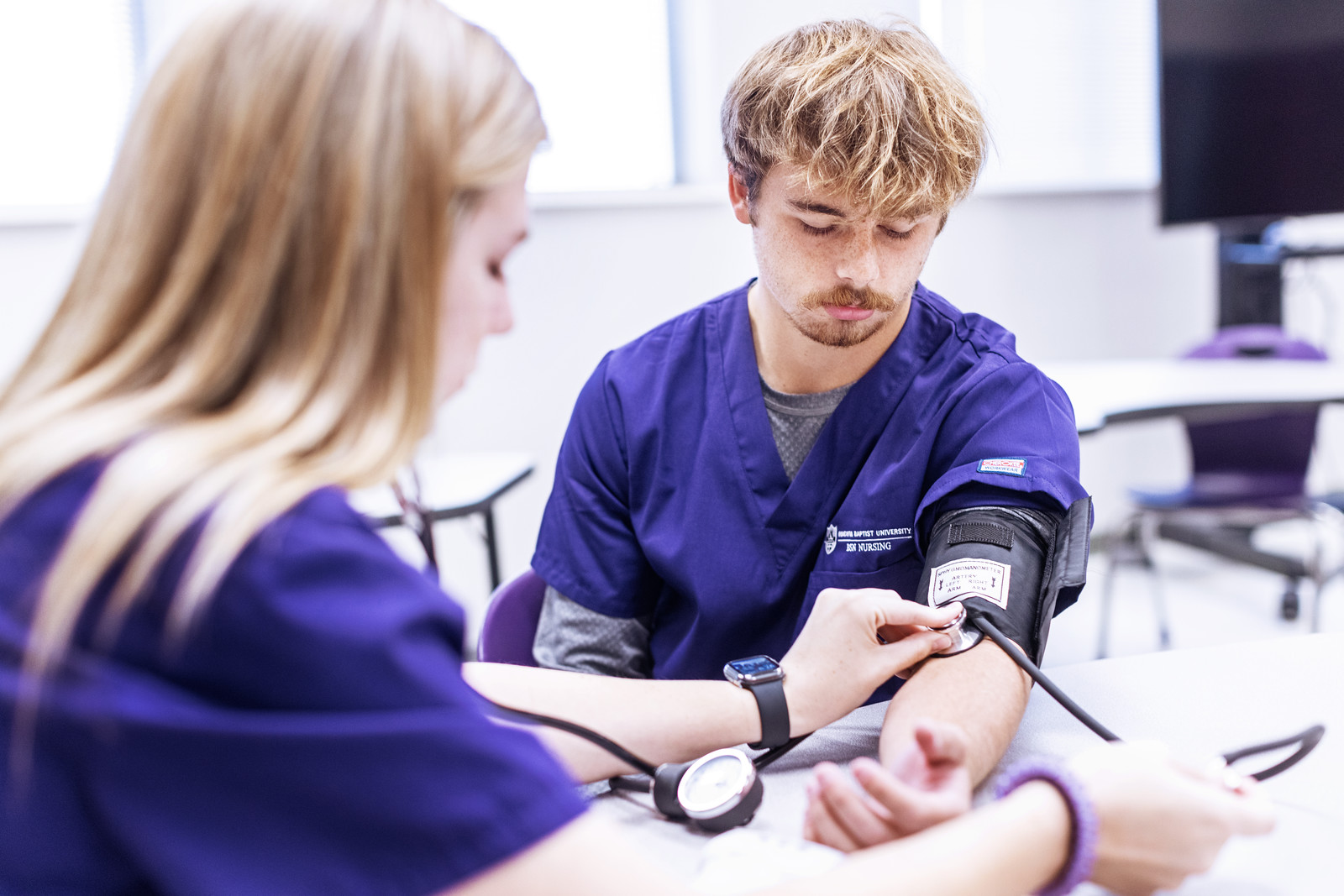 PREPARE FOR A LIFE OF MEANINGFUL WORK
Ouachita's Department of Nursing can prepare you for a life of extraordinary service, providing Christ-like compassionate and holistic care to those in need—which is critically important as the U.S. experiences a nursing shortage. When you earn a B.S.N. at Ouachita, you also can pursue an additional Bachelor of Arts degree in international missions, Spanish or biology with just one more year of study. These specialized degree programs are curated to equip you to follow your passion for medical missions, multicultural clinical healthcare and more.
STUDY WITH
the best of the best
When you pursue a B.S.N. at Ouachita, you'll benefit from having a strong liberal arts education at a leading Christian university where you're challenged and inspired to grow intellectually as well as spiritually. The Department of Nursing is part of Ouachita's J.D. Patterson School of Natural Sciences, which is housed in the Harvey and Bernice Jones Science Center—one of the finest science education facilities in the region. The Patterson School has an excellent reputation for preparing students for healthcare fields; on average, more than 90 percent of its graduates who apply to medical or graduate school are accepted each year.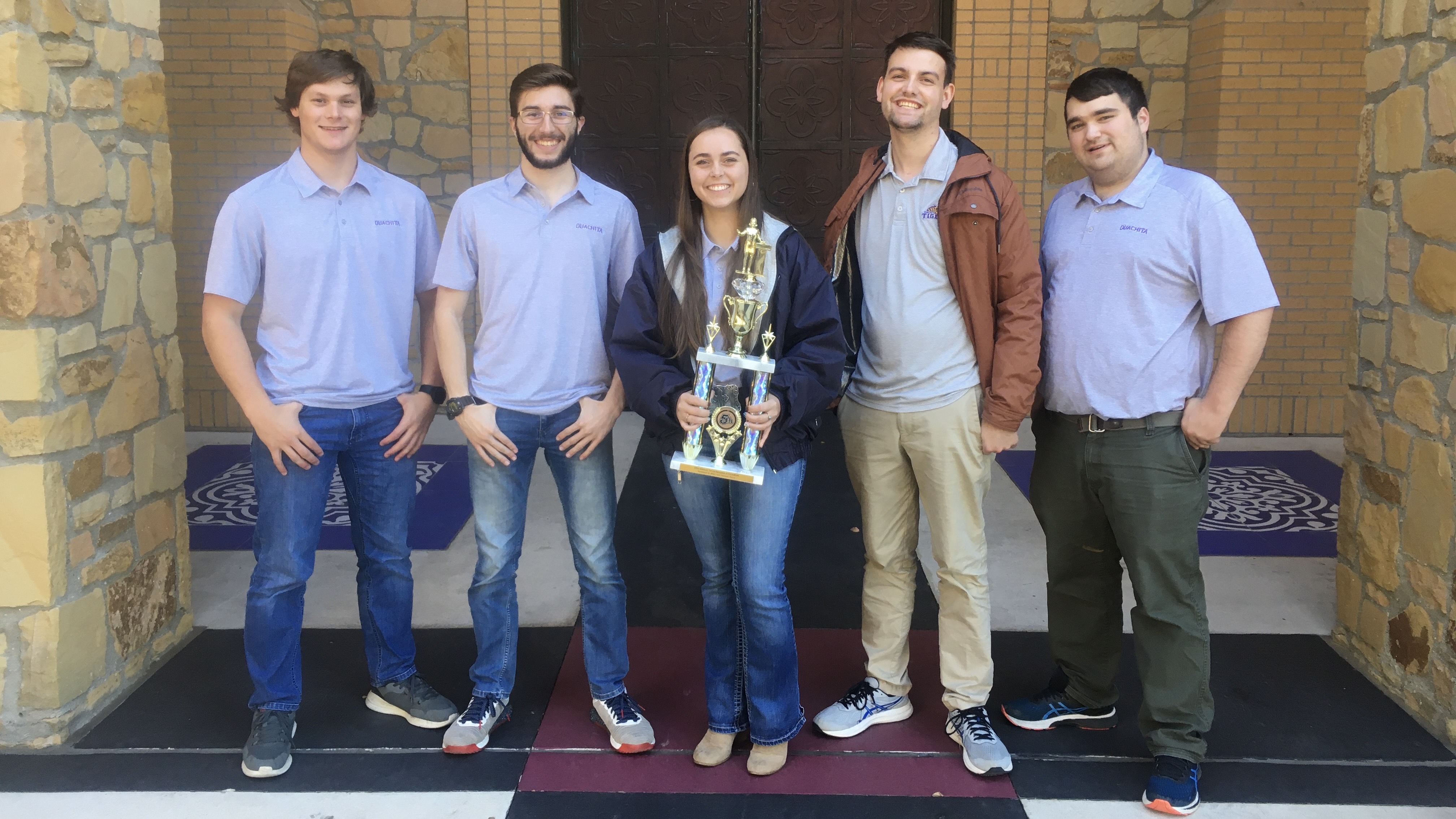 Ouachita team places in regional ethics bowl
A team of Ouachita Baptist University students earned fifth place in the 25th Annual Texas Regional Ethics Bowl on Friday, Nov. 12, in San Antonio.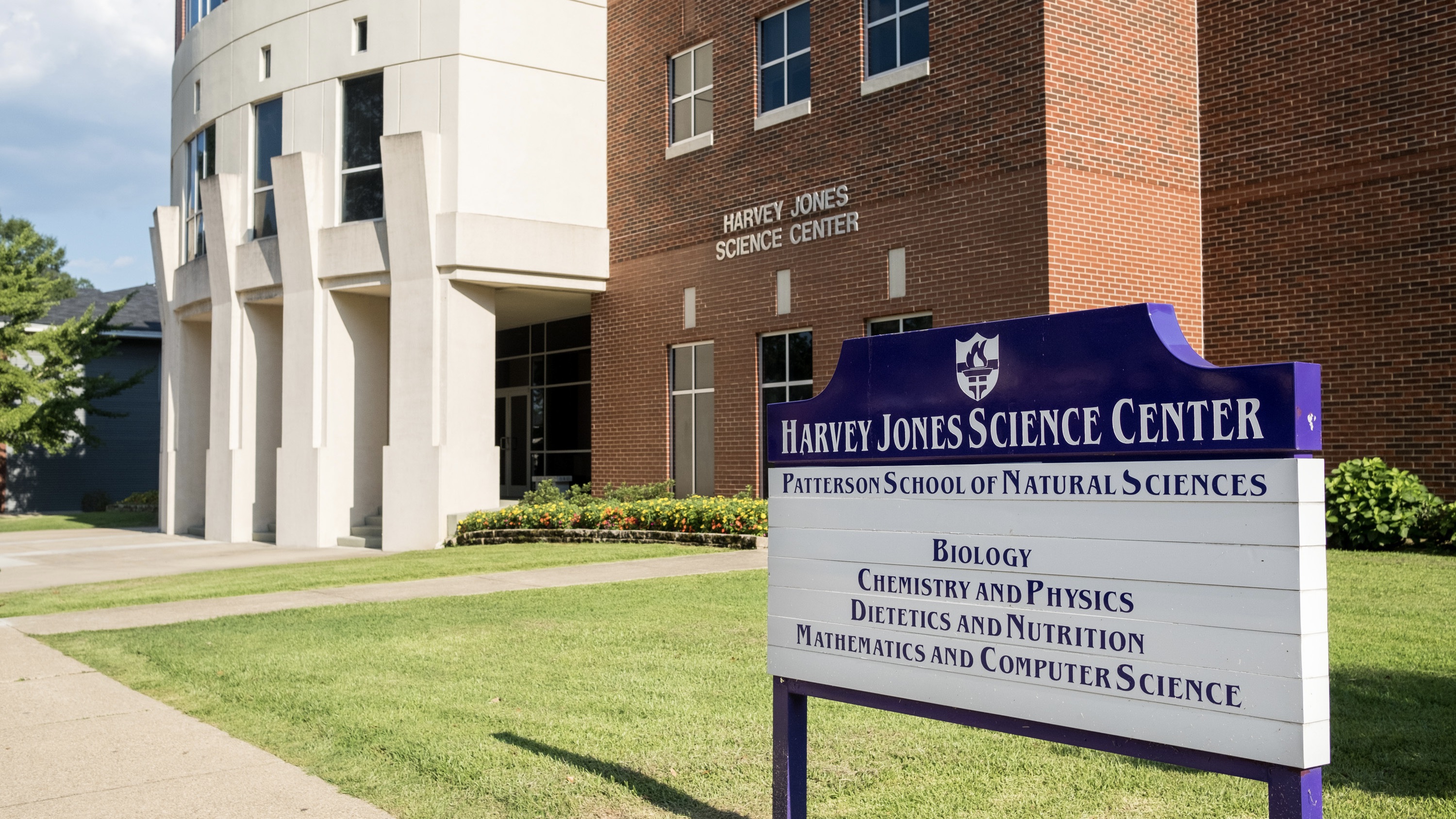 Reyna, Plymale and Pruett publish research paper on AR-CURE program
Ouachita Baptist University professors Dr. Nathan Reyna, Dr. Ruth Plymale, and Dr. Christin Pruett collaborated with colleagues at other universities on a research paper that has been published in Biochemistry and Molecular Biology Education, vol. 50, issue 5. Their paper, titled, "From genetics to biotechnology: Synthetic biology as a flexible course-embedded research experience," details the implementation and assessment of the Arkansas Course Embedded Undergraduate Research Experience (AR-CURE) teaching model developed at Ouachita by Reyna and Plymale.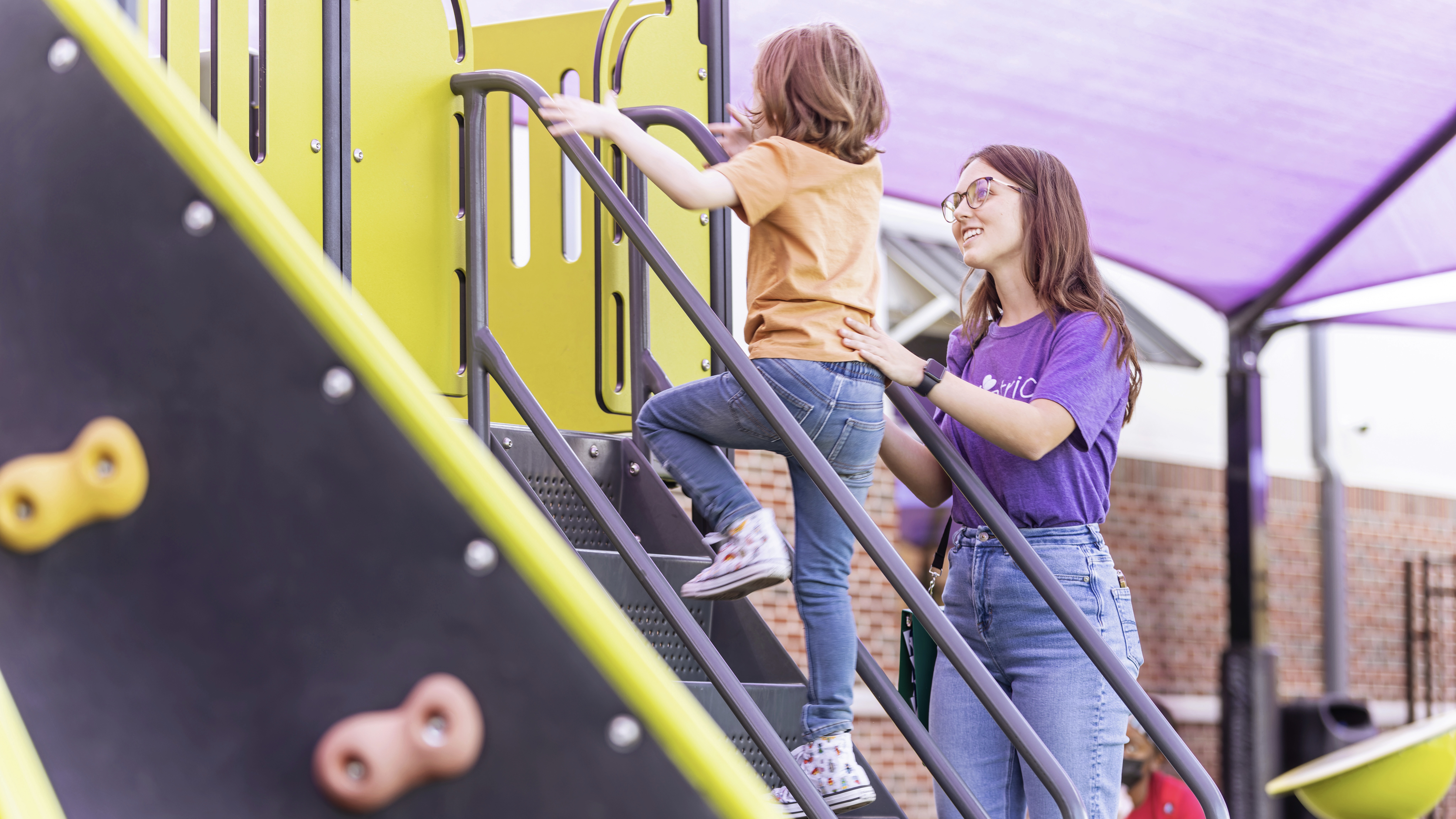 Ouachita to offer Master of Arts degree in applied behavior analysis
Ouachita Baptist University is preparing to offer Arkansas' first Master of Arts degree program in applied behavior analysis – an additional option to the university's existing Master of Science degree. The M.A. program will launch in Fall 2023, pending Higher Learning Commission (HLC) and Verified Course Sequence (VCS) approvals.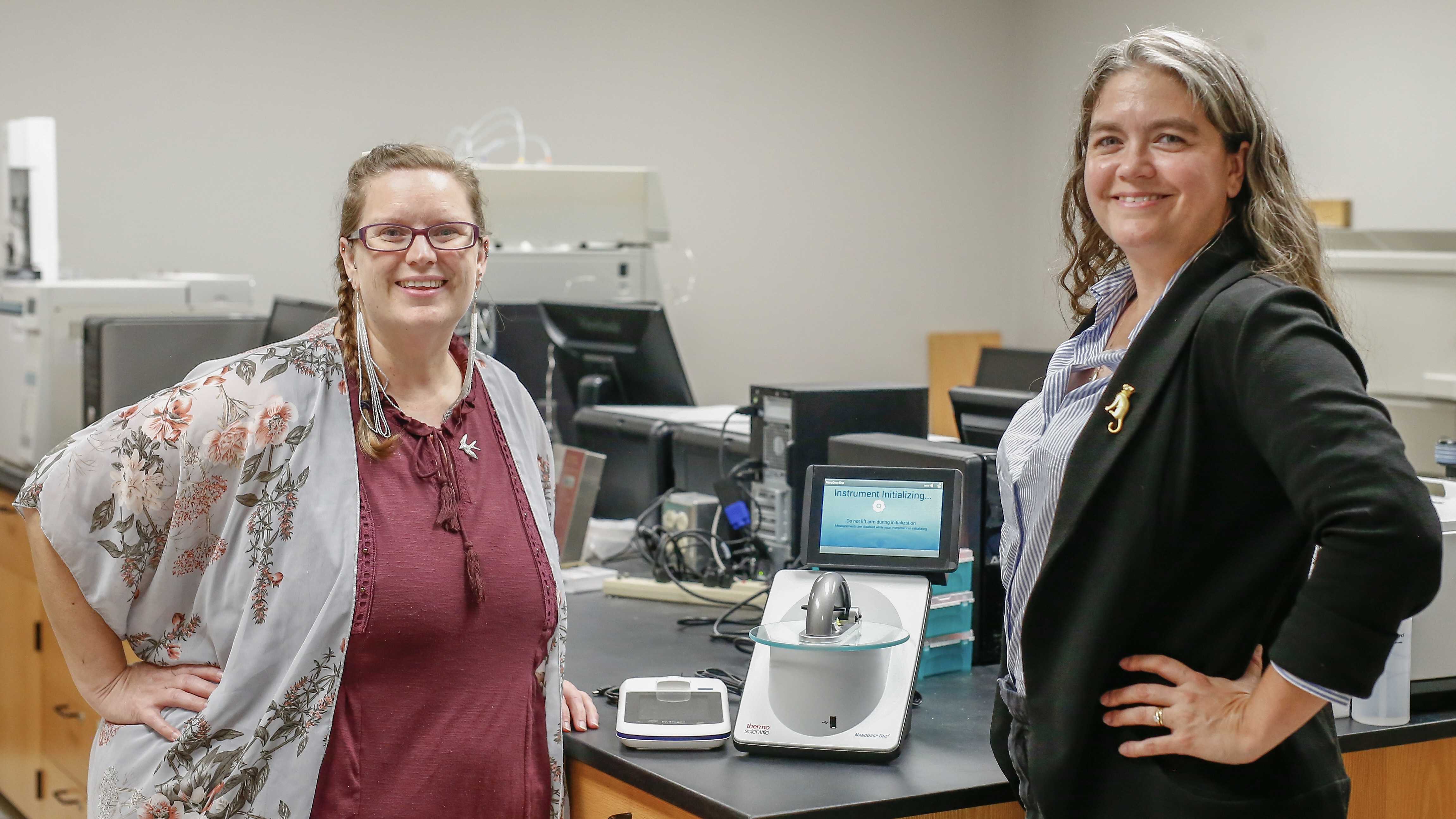 Hamilton, Hubbard use INBRE grant to bring new instruments to Ouachita chemistry program
Ouachita Baptist University chemistry instructors Dr. Sharon Hamilton and Dr. Sara Hubbard were awarded a $14,135 small instrument grant by the Arkansas IdeA Network of Biomedical Research Excellence (INBRE), which they used to purchase a spectrophotometer and a fluorometer for use by students in Ouachita's Department of Chemistry. The grant was made possible by the National Institute of General Medical Sciences in the National Institutes of Health.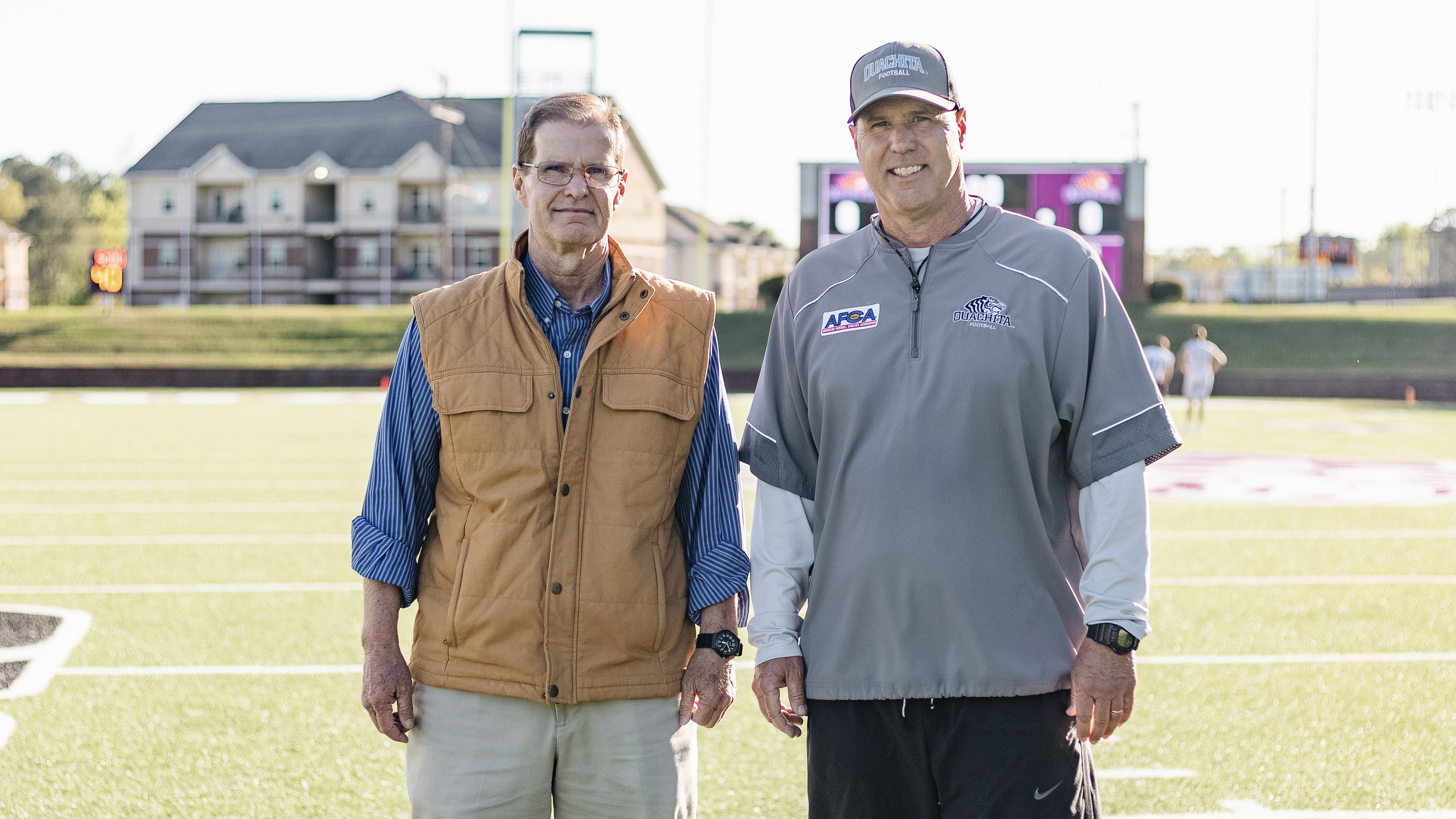 From the "Ouachitonian": Dr. Tim and Coach Todd Knight
Ouachita's favorite set of faculty football brothers – Head Football Coach Todd Knight and Dr. Tim Knight, dean of the J.D. Patterson School of Natural Sciences – continue to make a lasting impact on campus. As Coach Knight led his team to wins on the football field year after year, Dr. Knight experienced his victories in the classroom. This purple-and-gold bleeding set of brothers truly make Ouachita a better place. Coach Knight keeps Ouachita's successful football program on the map as his brother is the face behind the entire Jones Science Center operation. These two brothers are special assets to Ouachita, and Ouachita wouldn't be the same without the Knight family.
GET IN TOUCH
Have a question about Ouachita? Want more information? Shoot us a message!