NURSING: Dual Enrollment B.S.N.
When you study nursing at Ouachita, you'll gain more than outstanding job training; you'll gain a life-changing experience. Ouachita's nursing program is based on Christian values and beliefs, nursing standards and nursing ethics to assist diverse students to provide holistic care and service locally and globally across the lifespan in structured and unstructured healthcare settings.
Structured as an innovative, RN-to-BSN dual enrollment completer program in partnership with Baptist Health College Little Rock, you'll get the unique college experience offered on Ouachita's campus paired with the hands-on clinical opportunities at BHCLR. You'll have the opportunity to earn both a BSN degree from Ouachita and an AASN degree from BHCLR in four years.


Student Satisfaction Rate in AR, TX & LA (CollegeConsensus.com)
Science Healthcare Graduate School Acceptance Rate
Baptist Health: The Largest Healthcare System in Arkansas
Ouachita's dual enrollment BSN pathway consists of three distinct phases: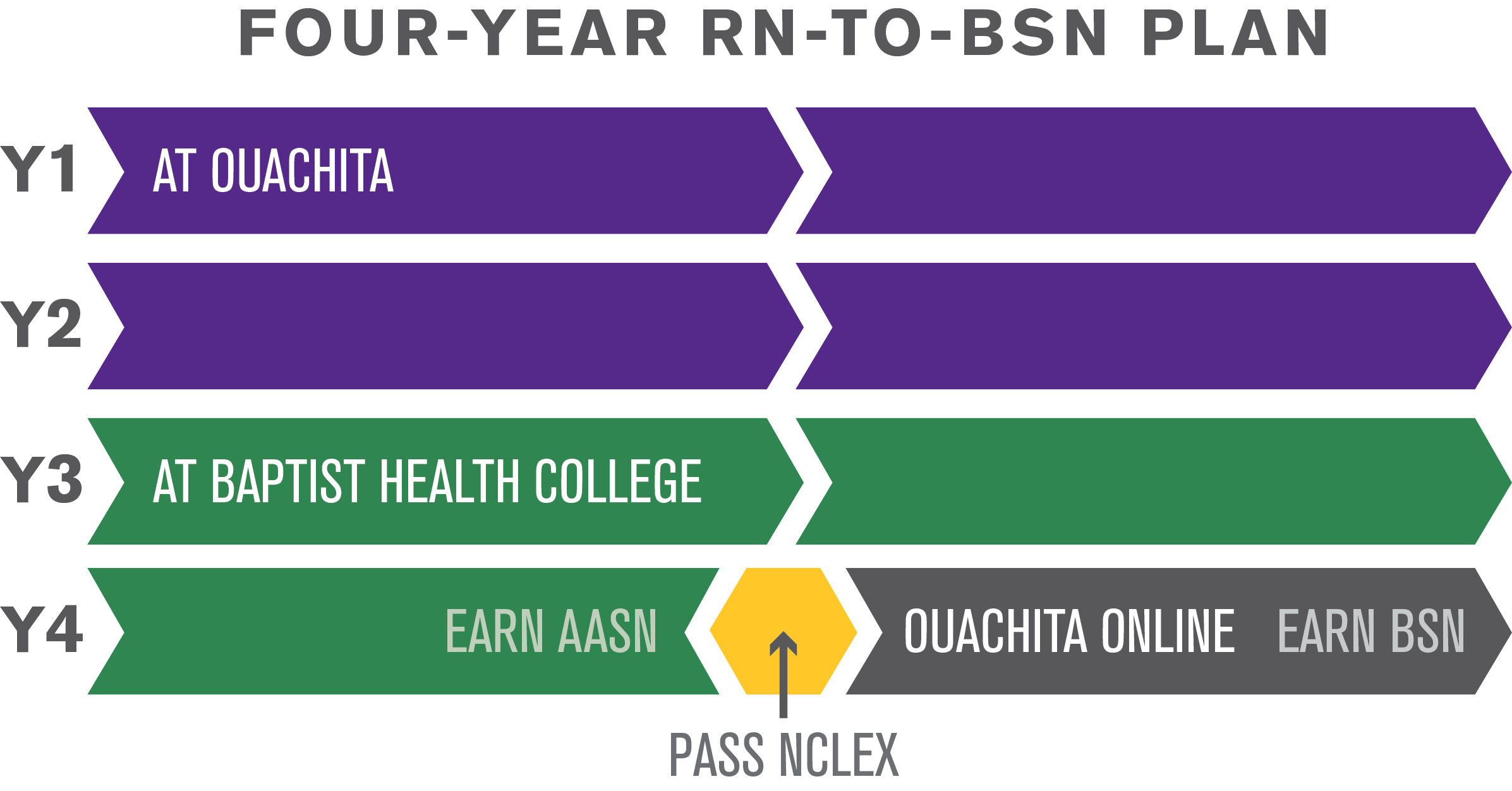 Phase 1, residency on Ouachita's campus (minimum 4 semesters but easily extendable should you choose to pursue an additional major);
Phase 2, continued enrollment through Ouachita Online along with pre-licensure theory, laboratory and clinical experiences at Baptist Health College Little Rock (3 semesters); and
Phase 3, completion of BSN requirements through Ouachita Online (1 semester).
You'll be a full-time Ouachita student throughout all three phases, while dually-enrolled at Baptist Health College in Phase 2. After successful completion of all requirements at BHCLR, you may apply to sit for the National Council Licensure Examination for Registered Nurses (NCLEX-RN) to be eligible for licensure as a Registered Nurse. Once you've passed the NCLEX, you'll be eligible to complete your BSN requirements in Phase 3.
"Nurses have the reputation of being compassionate healers. To be a nurse means being at the forefront in times of healthcare crisis, whether that be an individual or global crisis; to be a patient advocate; to be a healthcare innovator; to be a change agent; and, ultimately, to provide the best healthcare possible for positive patient outcomes. The foundation of Ouachita's nursing program is founded in a love of God and educates students to practice nursing using culturally and spiritually appropriate care to diverse individuals, groups and communities during times of need."
Dr. Brenda Trigg
Ouachita Director of Nursing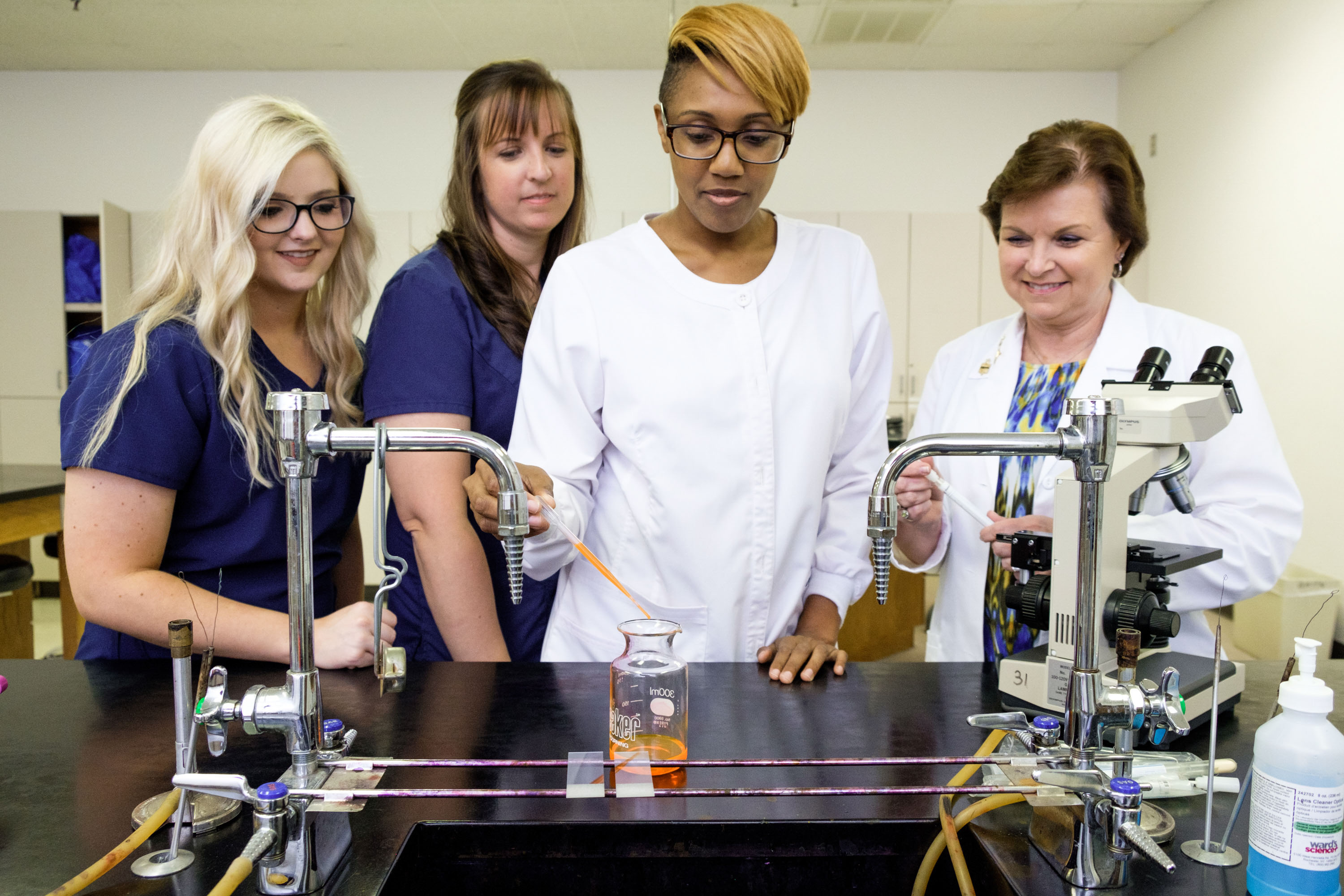 INNOVATION & FLEXIBILITY
BSN courses are strategically planned throughout your course of study to build skills and knowledge that will be reinforced in the clinical setting. Leadership clinicals conducted in the senior semester can be conducted at the nursing student's place of employment to allow for flexibility in your busy schedule.
ASSOCIATIONS & HONORS
You'll have the opportunity to benefit from social and professional resources offered by national nursing organizations. Students can join Student Nursing Association upon declaring nursing as a course of study. You also may be invited into the most honored nursing honors society, Sigma Theta Tau.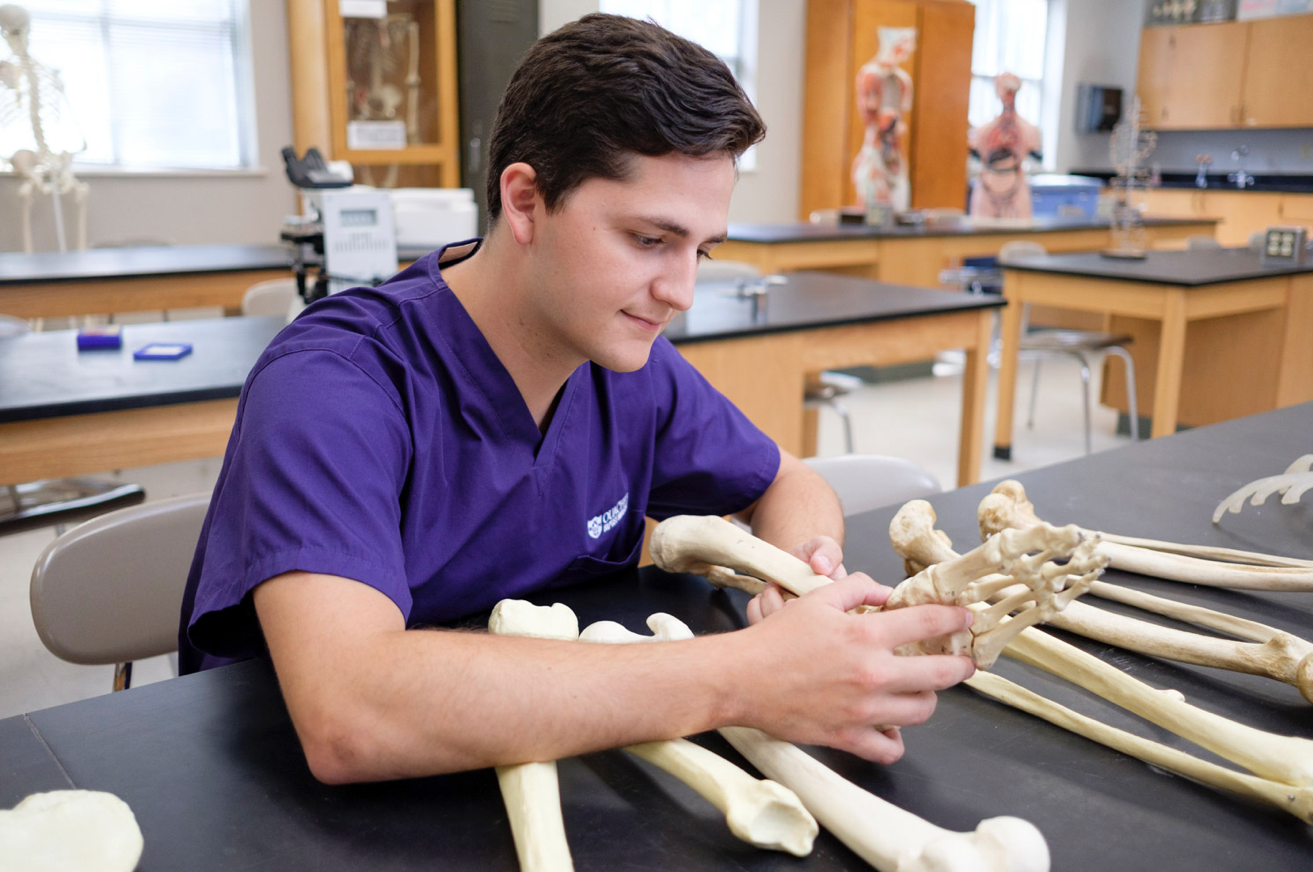 TRAIN FOR PASSIONATE SERVICE
At Ouachita, you can pursue an additional B.A. degree in international missions, Spanish or biology with only one more year of study. These specialized degree programs are curated to prepare our nursing students for lives of extroardinary service, following their passions for medical missions, multicultural clinics and more.
A UNIQUE PARTNERSHIP
between leading institutions.
Answering nationwide calls for innovation in healthcare education and more baccalaureate-level nurses, this new degree pairs the strengths of Ouachita Baptist University with the strengths of Baptist Health College Little Rock. Ouachita is a nationally-ranked liberal arts college founded in 1886 with a mission of fostering a love of God and a love of learning. And Baptist Health College Little Rock is a recognized leader in healthcare education since 1920 and an integral part of Baptist Health Medical Center-Little Rock and Baptist Health, the largest healthcare system in Arkansas.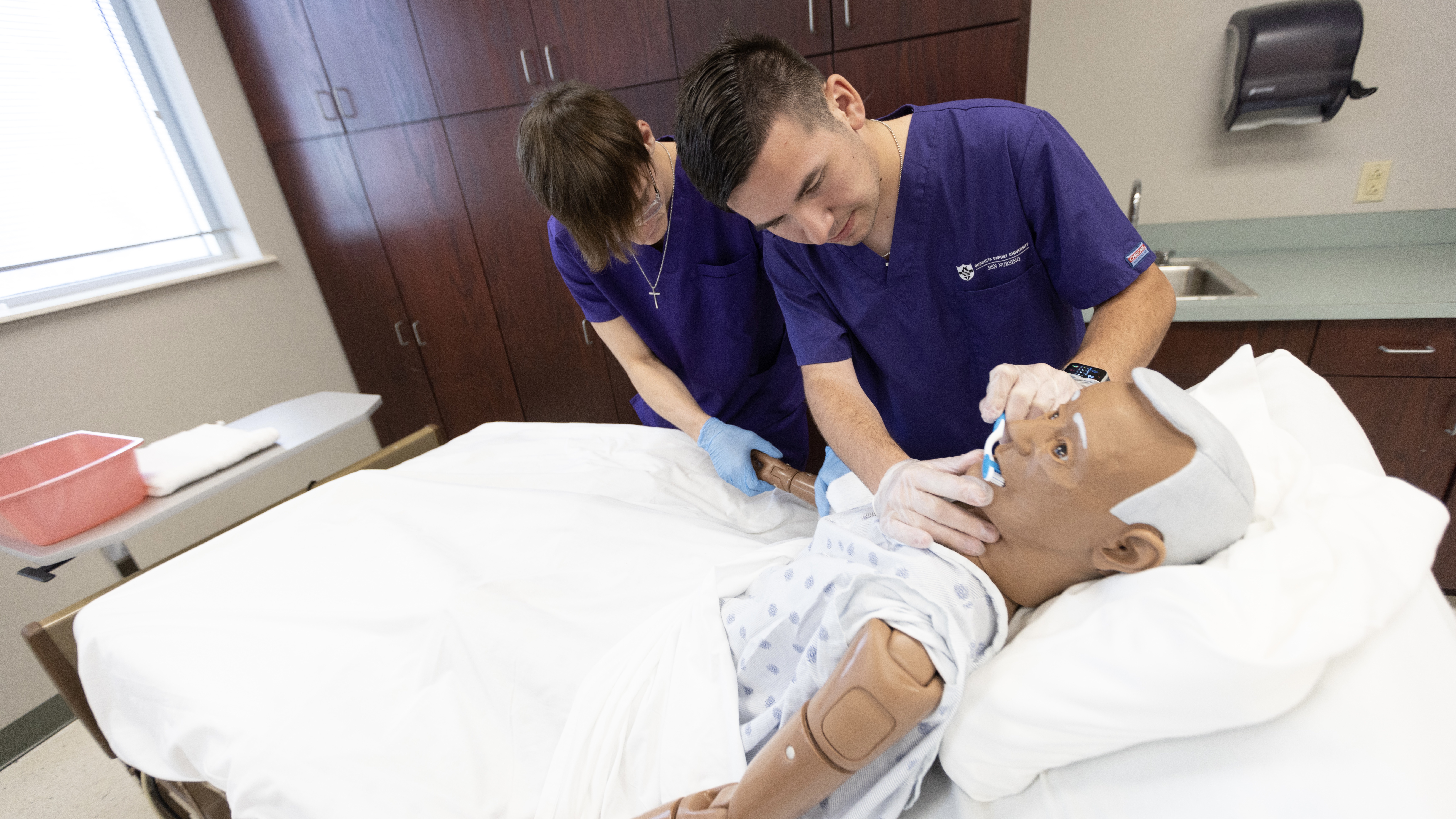 Ouachita receives initial approval for 4-year BSN program in Arkadelphia
Ouachita Baptist University's Department of Nursing has been initially approved by the Arkansas State Board of Nursing (ASBN) to begin recruiting and admitting students to its 4-year, residential Bachelor of Science in Nursing pre-licensure program option. The first cohort will start the program at the beginning of the Fall 2022 semester.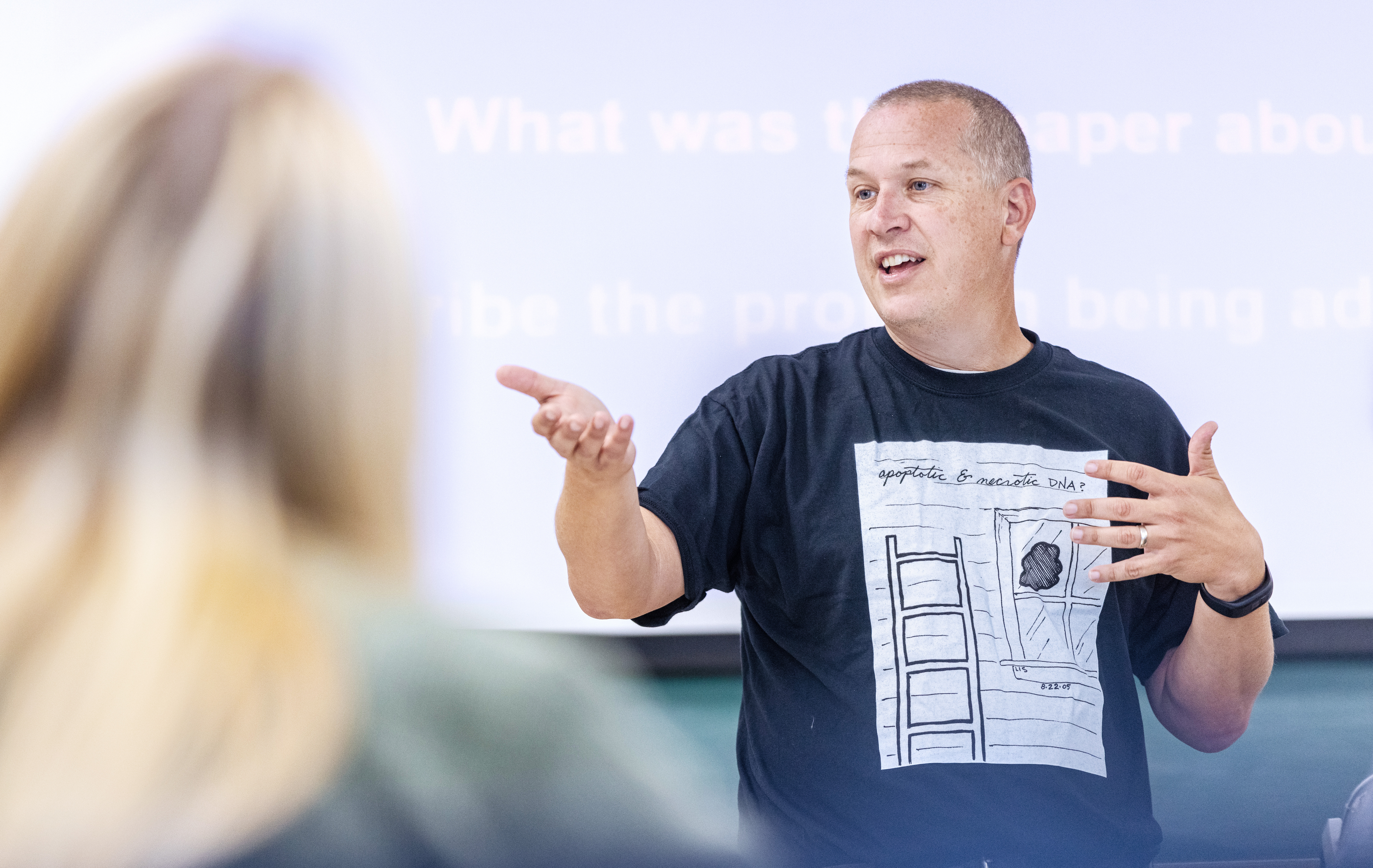 Ouachita's Dr. Nathan Reyna receives national Innovation in Education Award
Dr. Nathan Reyna, associate professor of biology at Ouachita Baptist University, has won the first Innovation in Education Award from the American Society for Cell Biology (ASCB).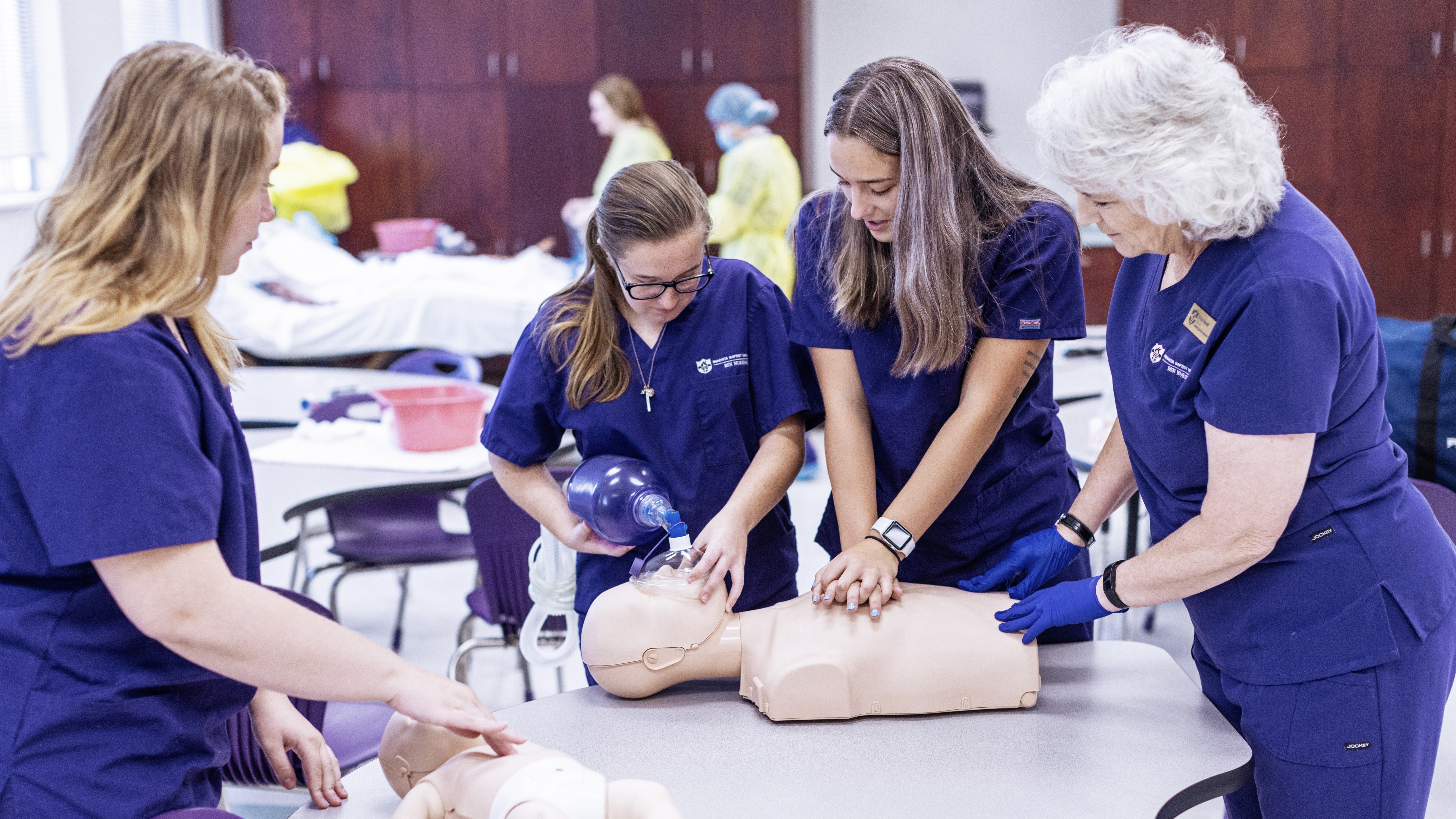 Ouachita's Department of Nursing receives grant from Blue & You Foundation
Ouachita Baptist University's Department of Nursing is among 41 recipients of a grant from the Blue & You Foundation for a Healthier Arkansas. Totaling $3,360,327, the grant will fund health initiatives in 71 of Arkansas' 75 counties.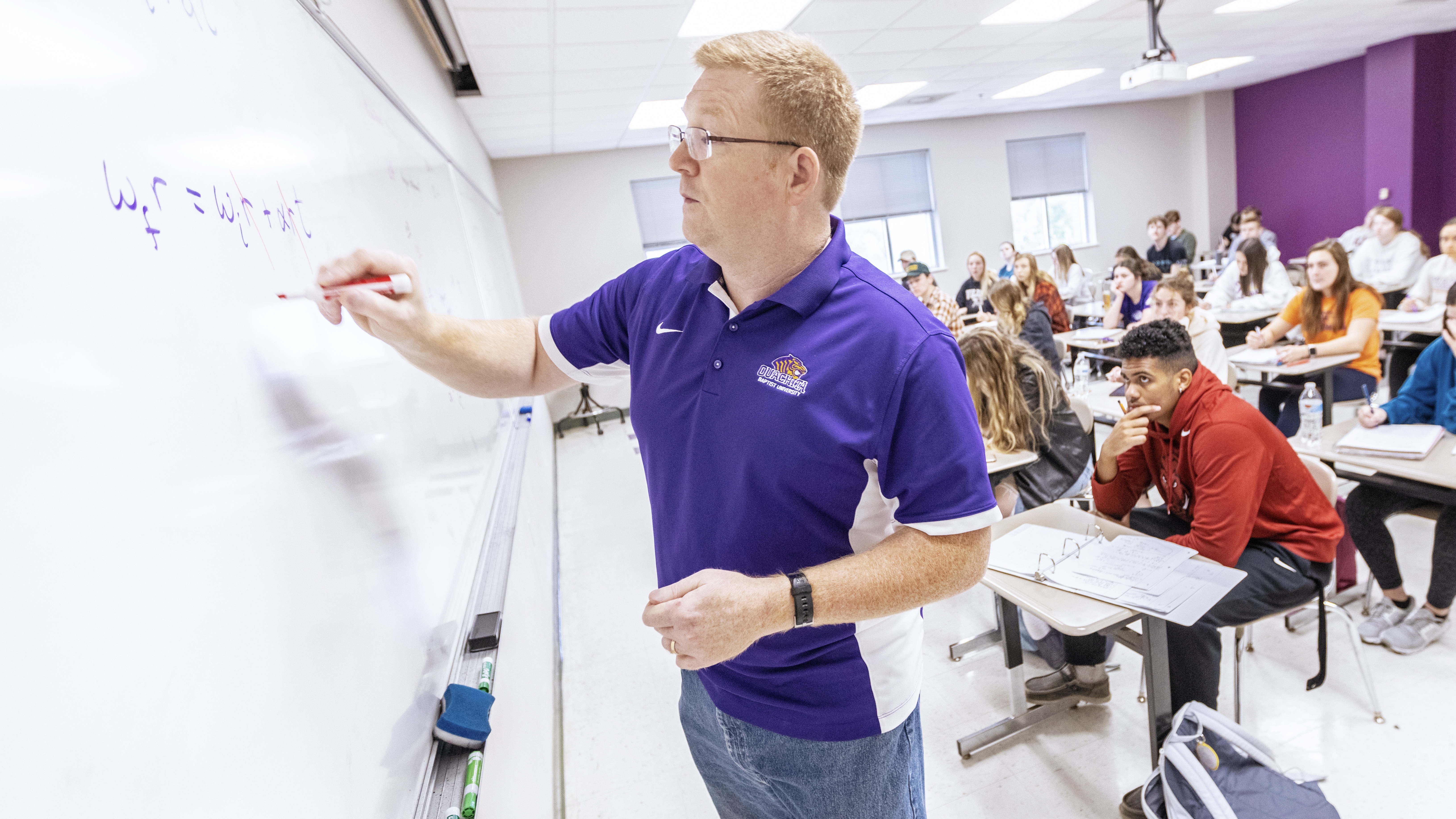 Ouachita preparing to launch new engineering program
Ouachita Baptist University is preparing to offer a Bachelor of Science degree in engineering as early as Fall 2022, pending approval from the university's institutional accreditor, the Higher Learning Commission (HLC). The new 4-year program is being designed to meet standards set by the Accreditation Board of Engineering and Technology (ABET) and will be housed in the J.D. Patterson School of Natural Sciences at Ouachita.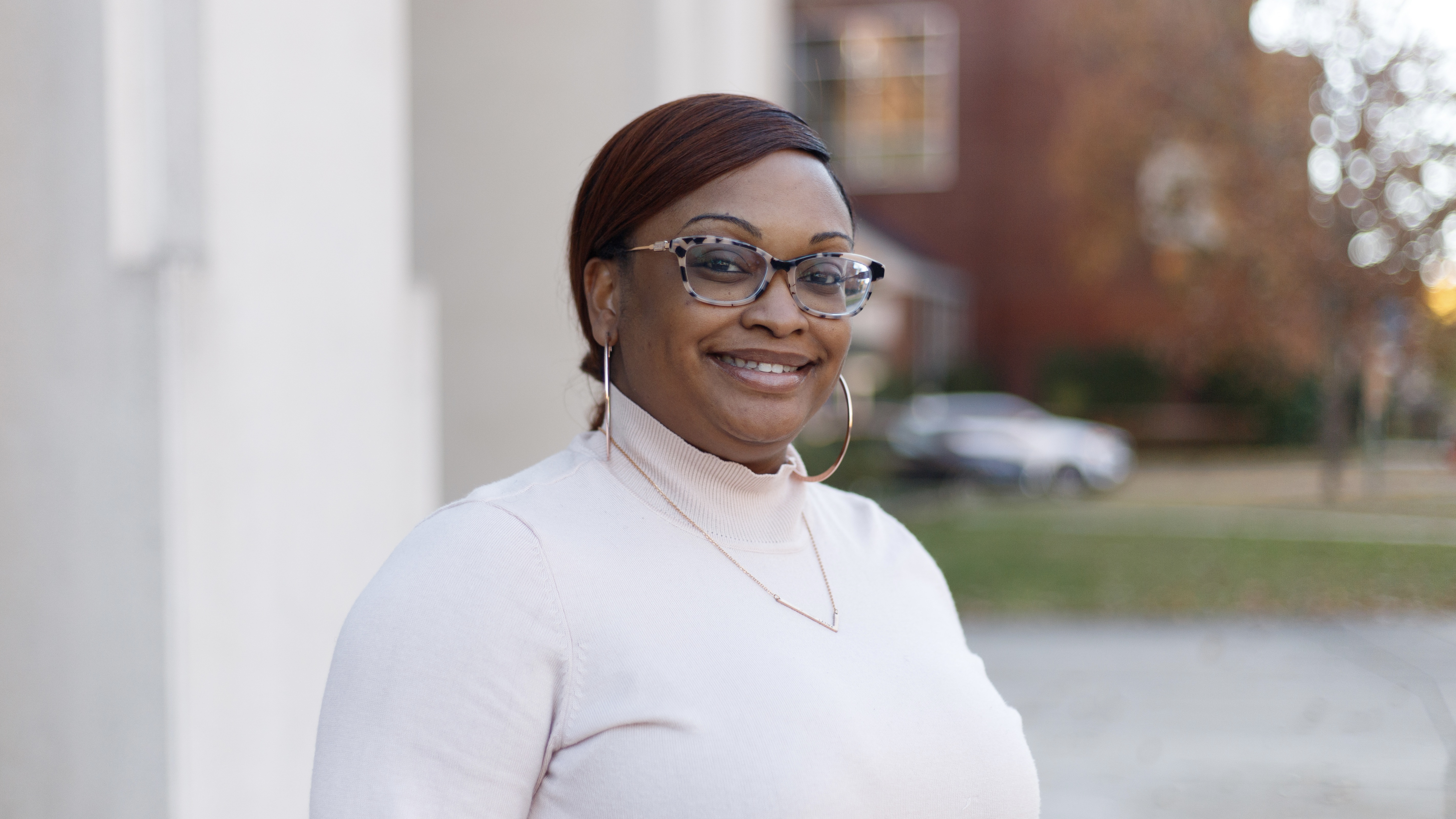 Ouachita student awarded Advancing Diversity in Dietetics Scholarship
Latina Robinson, a Dietetic Internship graduate student at Ouachita Baptist University, is one of two recipients a $25,000 Advancing Diversity in Dietetics Scholarship from the Academy of Nutrition and Dietetics (AND) Foundation.
The Patterson School of Natural Sciences nurtures critical and creative thinking, an appreciation of the beauty and complexity of natural systems, the development of ethical codes, the ability to communicate effectively, and an understanding of the importance of service and leadership.
GET IN TOUCH
Have a question about Ouachita? Want more information? Shoot us a message!