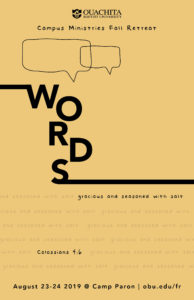 The Campus Ministries Fall Retreat happens every year the first weekend after classes. It's a great way to focus yourself spiritually at the beginning of the semester, to take a brief pause after the busyness of move-in, and to learn about ways to connect with CM during the year.

This year's retreat theme is Words, based on Colossians 4:6 and the reminder that our communication should be "gracious and seasoned with salt." We're excited have Byron Eubanks, Professor of Philosophy, join us as the main speaker at the 2019 retreat. Breakout sessions are led by some great guests and Ouachita faculty and staff!

August 23-24 • $30

Breakout Sessions
Ben & Lisa Sells • President's Office
Listening to God's Word
Amy Gattis • Missions Mobilizer
Taking the Word to the World
KaNeil Purifoy • Residence Life & Counseling Services
James & Amy Taylor • Campus Ministries
The Ministry of Small Talk
Joel Winters • FBC Benton
The Words We Sing in Worship

"Communication matters because relationships matter. And we were created to live in relationship with God and others. But sometimes we struggle with our words, or use them to bad ends, and then relationships suffer. At this retreat, we will hear from God's word and consider how to use our own words more wisely, so we can love God and others more faithfully."

– James Taylor, Director of Campus Ministries

Check out our FAQ page or send us a message if you have any questions.