Jones Performing Arts Center
Jones Performing Arts Center, better known as JPAC, is Ouachita's premier venue for hosting campus theatrical productions, concerts, recitals, variety shows and events throughout the year. The 1,488-seat proscenium theater is home to Ouachita Chapel, Tiger Tunes, A Festival of Christmas, Miss OBU, musical theatre productions and more!
Event Livestreams
JPAC Calendar


Keep up with JPAC on social media
Jones Performing Arts Center is proud to be a part of the central Arkansas community. We hope you'll consider our first-class facility for your events, and we are eager to serve you and your guests. In order for us to best meet your needs successfully and efficiently, please take a moment to submit a request so we can gather more information and get in touch to assist in planning your event.
The Jones Performing Arts Center is a centerpiece on the campus of Ouachita Baptist University! It is an outstanding venue that hosts a wide variety of campus events each year. The near 1,500-seat capacity accommodates the residential students at Ouachita for weekly Chapel, music concerts, theatrical productions, Tiger Tunes, and much more. The venue also serves the community by hosting high school graduations, performing arts events, youth camp worship services, and large group meetings.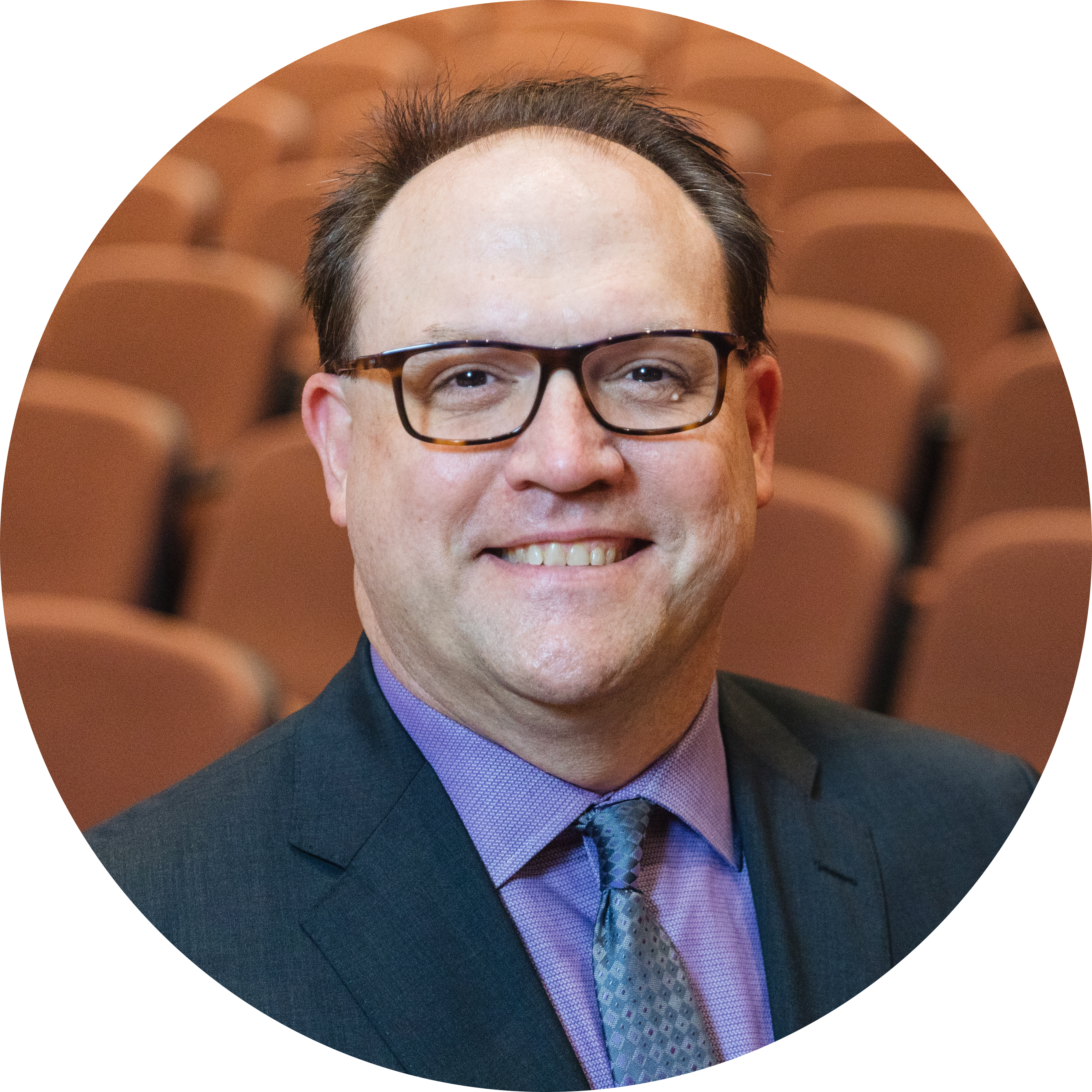 Dr. Ryan Lewis
Interim Dean, School of Fine Arts
Seating Chart - Jones Performing Arts Center
UPDATED: JAN. 23, 2007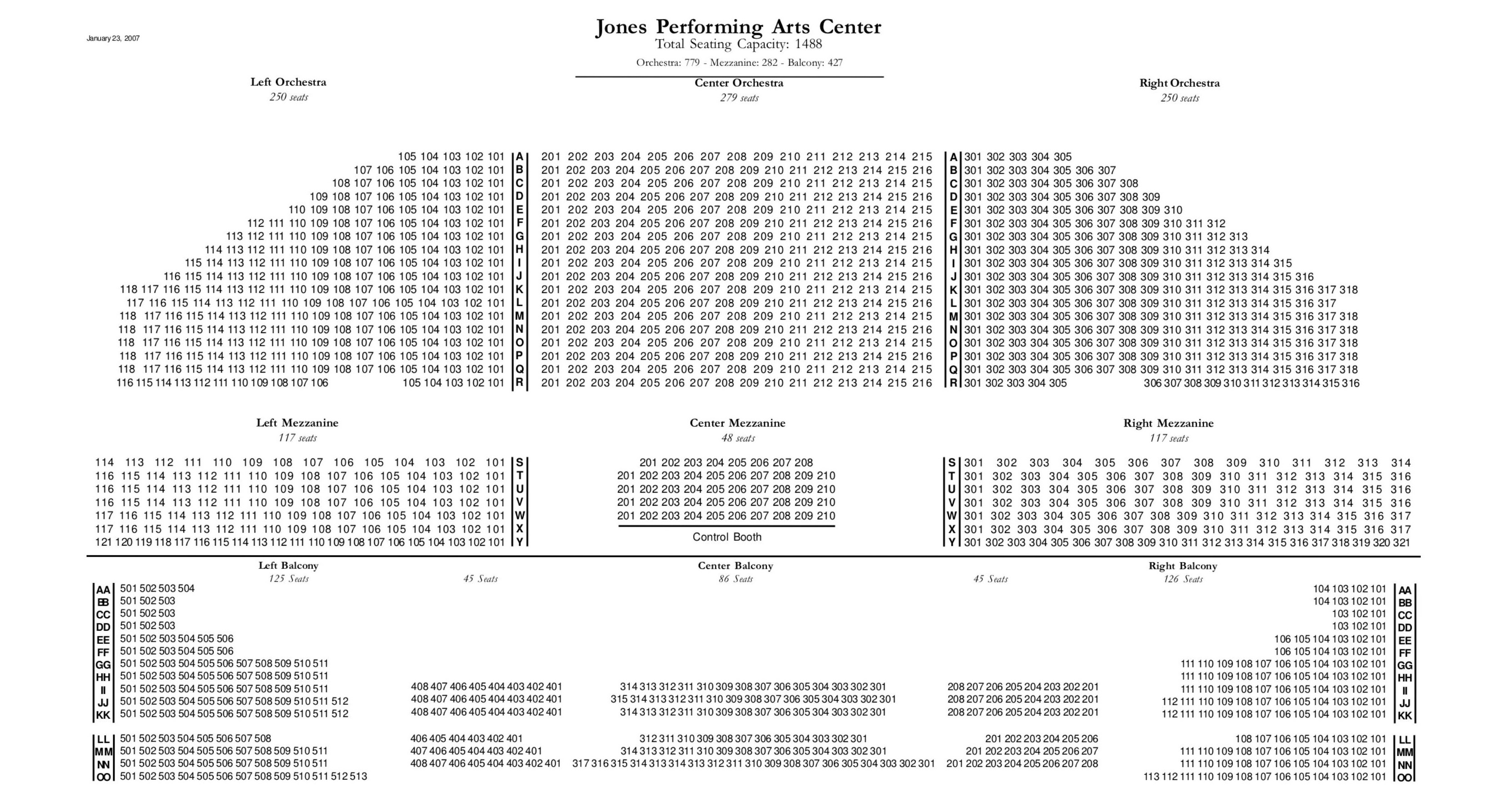 Technical Rider - Jones Performing Arts Center
UPDATED: JAN. 21, 2022
CONTACT INFORMATION:
Jones Performing Arts Center
Ouachita Baptist University
410 Ouachita St
OBU Box 3767
Arkadelphia, AR 71998
Production Manager/Technical Director
Nick Smith
870.245.5262
smithn@obu.edu
GENERAL INFORMATION:
JPAC is a 1,488-seat proscenium theater

JPAC is not a union house. The student crew members are paid by Federal and OBU work study. Only JPAC crew are allowed to operate JPAC equipment.
JPAC reserves the right to use JPAC crew as department heads and in key technical positions where safety is a concern.
STAGE:
JPAC has a sprung, dance style stage with painted matte black masonite covering

Proscenium opening: 54ft wide by 26ft high

Grid height: 54ft

SL and SR Wing space: 22ft wide by 40ft deep

Plaster line to last US fly line: 31ft

Plaster line to apron front DS center: 10ft

Plaster line to apron front DS left and right: 4ft

Loading dock: Upstage left at stage level, 12ft high by 10ft wide sliding door
JPAC is a counterweight fly system with 26 single purchase lines. All lines fly and travel from stage right at stage level
Lock rail - Stage Right at stage level
Pin Rail - Stage Right at 35ft
Loading Rail - Stage Right at 50ft
AUDIO:
Allen and Heath dLive s5000 console, DM48 stage rack, 10 ME-1 personal mixers

Dynacord Cobra Line Array

6 EV TX1152FM wedges

Telex/RTS Intercom stations

Shure wireless mics (handheld and lavalier), dynamic and condenser mics
DIs, stands, cables, etc.
LIGHTING:
Jands Vista L5
ETC Sensor dimming racks
ETC, Altman, L&E, Elation, Chauvet fixtures
2 Robert-Juliat Buxie 575W MSD follow-spots
ELECTRICAL:
Temp audio: 100 amp 3-phase, upstage center
Temp lighting: 400 amp 3-phase, upstage right
SUPPORT ROOMS:
2 cast dressing rooms located off stage left, with restroom and shower facilities
1 common make-up room connecting dressing rooms, with mirrors and lighted stations
1 green room located off stage left hallway
Line Schedule - Jones Performing Arts Center
UPDATED: MARCH 2022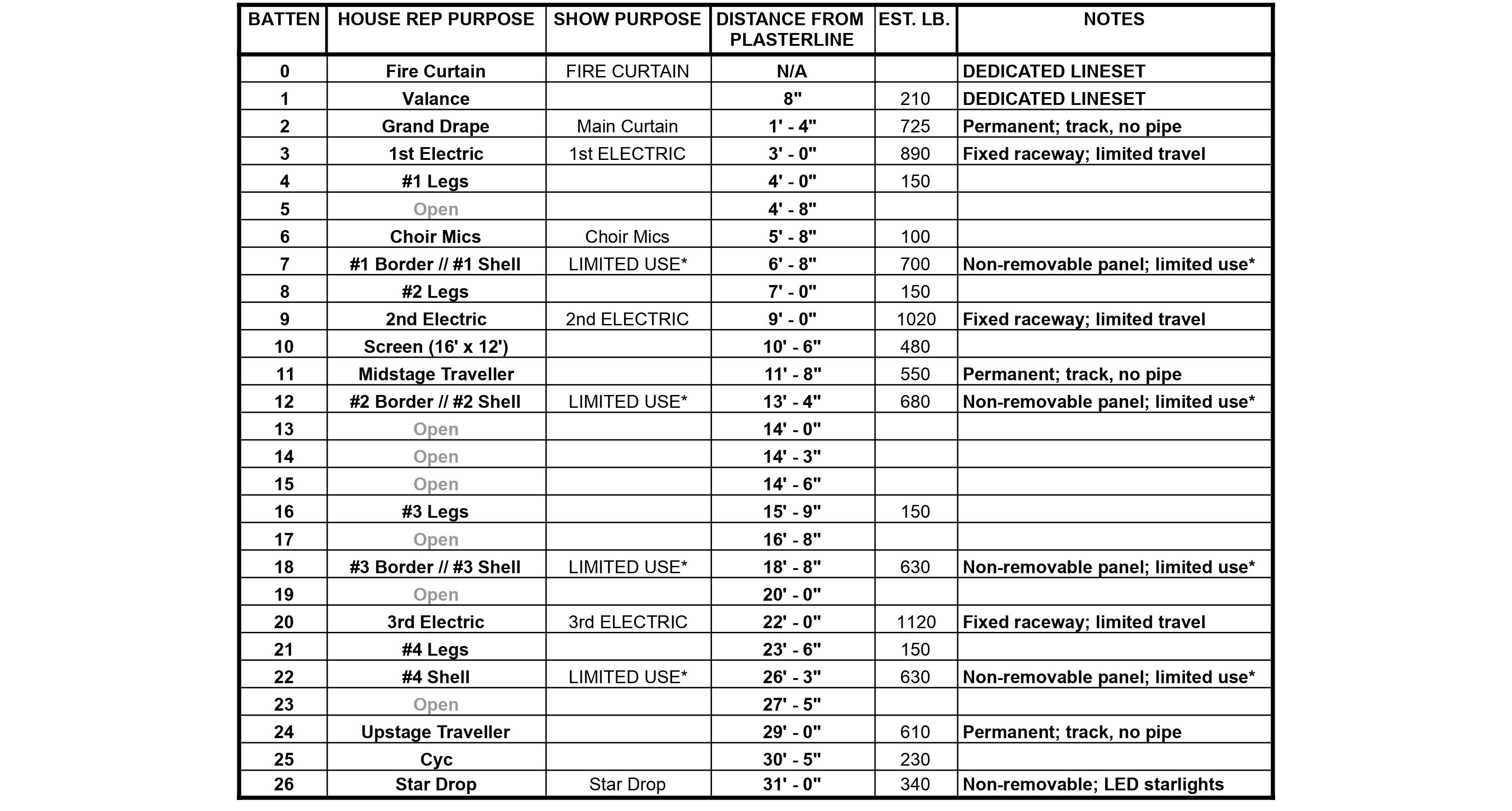 All linesets are single purchase.
*All Orchestra Shell Ceilings are non-removable. Small items may be able to be hung with these panels. Speed of movement is also greatly reduced. Please inquire.
Grand Drape and travellers are manual pull or can fly.
---
Jones Performing Arts Center • Ouachita Baptist University • Last Updated: March 2022
Appendix A: Usage Policies and Information
UPDATED: MARCH 2022
The Jones Performing Arts Center is proud to be a part of the Central Arkansas community. We are glad that you have chosen to present your event in this facility and are here to provide you a first class venue for the presentation of your event. In the Ouachita spirit, we are eagerly waiting to serve you and your guests. To do so successfully and efficiently, there are a few considerations we request of your group or organization when planning your event.
The JPAC Reservation Request is very important to you and to us. We ask that you take time to fill out this form in its entirety. By completing this form, we hope to assist you in pre-planning your event. Thinking through and itemizing your needs can ensure the success of your presentation or event. Please know that our staff, facilities, and equipment may change year to year. If your event happens to repeat every year, please continue to complete the form freshly, as to make sure everyone is one the same page. We want everyone to be successful! As always in the performing arts, timing is everything. Therefore we ask that you complete and return this form, signed and completed, as soon as possible but no later than four weeks prior to your event. We realize that for many organizations this much pre-planning can be quite demanding. However, our request is due in part to the busy schedule of this facility and in part from our desire to help assure that your event is everything you want it to be. With so many events pending, pre-planning is crucial. Failure to complete and return this form on time could prevent your event from gaining our full support. We appreciate your full cooperation on this matter. We encourage you to carefully review all the following information. Please do not hesitate to contact us with any questions.
USAGE PRIORITY AND COSTS
Because this facility is used extensively, and by many different types of groups, the following priorities have been established in order to fairly address the needs and desires of all users:
Ouachita Baptist University presented and sponsored events
Arkansas Baptist State Convention affiliated organizations
Community of Clark County non-profit organizations
Other non-profit organizations
For-profit organizations
Keep in mind that this priority will be applied with common sense. If a higher ranked type of group attempts to book a date at the last minute, and that date was reserved much earlier by a lower ranking group, the higher ranking group should not assume that the lower ranking group will be bumped. Booking as early as possible is always desirable, and it will make it more likely that all groups will be able to have a suitable date. However, booking will not be open for the upcoming year until the University Calendar committee has set their dates for the upcoming year.
Organizations which are types two, three, four, and five, will generally be able to use the facility at a set low cost illustrated below. Should the event require unusual equipment, staffing, or time (as outlined herein), a charge for extraordinary services may apply. Should the staff feel that this is necessary, the organization will be contacted immediately so that a fee can be agreed to, the extraordinary needs reduced so that a charge is not necessary, or other mutually satisfactory arrangements made.
All non-University organizations will be charged a fee for use of the facility as follows:
The currently set day rate (up to 10 hrs.) will be charged, however, upon mutual agreement an hourly charge may be arranged if usage is minimal. Please submit a Quote Request to receive accurate pricing.
The rates apply to all time that the facility is in use, including performance, rehearsal, load in, load out, setup, etc. In other words, anytime the venue is accessible to the client and the clients event belongings are set within the space.
For all organizations:
If admission is charged, and we provide box office services – a percentage of gross ticket sales, in addition to the above, is charged.
If admission is charged, and we do NOT provide box office services – no extra percentage is charged.
These fees will cover normal equipment and staffing as detailed in the Technical Usage Policies below, as well as normal custodial services, utilities, etc. If additional services are required, additional costs may apply.
The Center reserves the right to deny booking to any organization that is an inappropriate organization or proposes an inappropriate program in keeping with the Center's educational mission and purpose. Such consideration will be carried out in accordance with the 'Limited Open Forum' procedure of Federal Law.
USAGE POLICIES
I. Personnel
After examining an event's requirements, the Center's Technical Director will determine the minimum number of personnel required, and will be available to assist a User in making arrangements for all necessary personnel for load-in, set-up, rehearsal, performance and load-out.
All technical personnel must be knowledgeable in the operation of Center equipment, as determined by the Technical Director. Only qualified personnel are allowed to operate Center equipment. The Center reserves the right to designate technical staff personnel where safety or expertise is a consideration. User supplied technicians and volunteers may be allowed with prior approval from the Technical Director, if they are deemed to be qualified. An orientation will be scheduled, if needed.
At least one qualified Center staff member will be provided to facilitate the User's event. This staff member will act as the Center's representative regarding Usage policies. When using the Jones Performing Arts Center, we ask that you recognize the competency of our staff. Any disagreements or complaints regarding you or your organization's treatment while using this facility should be referred to our production manager for resolution.
II. Hours
General operating hours are from 8 a.m. to 11 p.m. Monday through Saturday, and from noon to 6 p.m. on Sunday. Please also remember that this facility is part of an educational institution and that between the weekday hours of 8 a.m. and 5 p.m. classes are being held or faculty are holding office hours. We ask that you consider the fact that many of our staff are students and we prefer not to ask them to be out late on weekdays. Should your event require hours outside these general operating times, please contact us.
Failure to adhere to your scheduled usage time can result in an hourly penalty rate of $150 per hour. We realize that this overtime charge may seem extreme. However, this charge is designed to prevent the misuse of our staff and facility by keeping a fixed schedule. Experience has shown that special events tend to lend themselves to a gathering afterwards without regard for removal of materials. This forgetfulness can cause our staff to work beyond designated hours at the expense of other obligations. The Center includes additional labor costs in the stated amount.
III. Delivery and Storage of Goods
Any materials delivered to the Center when the User is not on the premises will require prior arrangements to be made. The Center can not accept any goods shipped to the User if any sum is to be paid to the carrier upon delivery. Short term storage of User's equipment may be provided by the Center subject to space availability. No storage of flammables of chemicals is allowed. Trucks and buses will be parked in appropriate spaces. All vehicles are required to turn off their engines while in the Loading Dock area. Use of the Center does not allow User parking for any vehicle in the Loading Dock area unless prior arrangements have been made.
IV. Fire Protection
The User is responsible for ensuring that all costumes, sets and soft goods are made of non-flammable materials or are treated with fire retardant chemicals. The fire curtain line must be kept clear. All scenery and soft goods brought by the User into the Center must be flame proofed. Fire regulations prohibit blocking aisles and exits.
V. Firearms and Special Effects
All incendiaries, explosives, lasers, strobes, smoke effects involving fluids and gases must meet all fire and safety codes. The use of oil-based chemicals in fog machines is not allowed.
VI. Technical Work
Construction (except for the installation or removal of stage scenery) is not allowed. No facility wall or ceiling surface may have any item attached to it with glue, tape, screws, nails, tacks or staples. The stage deck (floor) may be nailed or lag bolted into for the installation of scenery, with permission of the Technical Director.
Duct tape is not allowed. No scene painting is allowed on the stage except touch-up work with a drop cloth in place.
Glitter is not allowed in any portion of the building at any time.
Following your performance, the building must be immediately and totally cleared of all your property, including costumes, feathers, scenery, set pieces, trash not placed in appropriate containers, etc.
VII. Technical Information Deadline
The following documents are due to the Center at least four weeks prior to the User's event:
Listing of User's technicians, if any.
Copies of set and lighting designs, if any.
Listing of any special User requirements.
Failure to provide the Center with technical information on your production may result in extra cost and/or equipment being unavailable. The Center's equipment inventory is limited and scheduled on a first-come, first-serve basis.
VIII. Technical/Production/Equipment Inventory
An equipment list is available upon request for the User's directors and designers. No stage equipment of any kind shall be used or changed without the approval of the Technical Director or their designee.
IX. Smoking
Smoking is not permitted in the building.
X. Dressing Rooms
The Center charges additional fees for the Dressing Room and Makeup room. Dressing Rooms, Green Room, Gallery, Lobby, Backstage and Stage areas must be kept clean, orderly and quiet. Please respect any residential theatre costumes, makeup, and accessories housed in these spaces.
XI. Dressing Room Supplies
The Center will provide restroom paper goods in all dressing rooms. User provides additional supplies such as those required for application and removal of makeup.
XII. Food and Drink
No food and drink is allowed in any seating area or the stage area at any time with the exception of water backstage. It is the responsibility of the User to assure that all participants and all others associated with the event abide by this requirement at all times.
XIII. Audience Members
For reasons of safety, audience members are not to be allowed on stage before or after performances.
XIV. Green Room
The Green Room is provided for an additional fee, if desired. Verser Theatre and the attached classroom are not included in this rental fee. They are to be respected and undisturbed.
XV. Acoustical Shell
The Center has a full acoustical shell which can be configured in a variety of ways. Please bear in mind that a minimum of one hour is required to set up or strike the shell. Events that are booked tightly together may be required to wait for the shell to be assembled or struck. There will be an additional hourly labor charge for the shell, if assembled or struck outside of the 10 hour rental day.
XVI. Pianos
User may reserve the use of a piano for an additional fee. The Center attempts to keep pianos in tune. If the user feels that the instrument needs tuning, it will be the User's responsibility to have it done.
XVII. Cast and Crew
All cast and crew members must enter the Center through the backstage hallway doors. As a safety precaution, the backstage door will only be opened as a entrance during load in. It will be locked at all other times and used only as an emergency exit. Users must provide adequate adult supervision at all times and in all areas of the theatre for any event involving children.
XVIII. Sound
User's event shall not exceed maximum sound decibel levels as established by the Center (maximum 95 db average – all frequencies). As sound levels are a major concern of our patrons, the Center staff will have the final authority to adjust house sound levels as necessary.
XIX. Copyrights and Permissions
It is the responsibility of the User to obtain any required rights and permissions to perform copyrighted material. Generally, if copyrighted music is performed, either live or via recording, royalties are due to be paid. Please ask us about this if you think it applies to your event. No violation of copyright laws will be permitted.
XX. Rehearsals
All rehearsals must be scheduled and made part of the Rental Agreement. For any event, only production personnel and user representatives authorized by JPAC will be permitted in the rented space during rehearsal. A rehearsal is defined by the use of only stage work lights with one JPAC staff person on duty. There will be no use of production equipment including but not limited to stage lights, sound system, the lighting booth, etc during a rehearsal. A technical rehearsal is defined by the use of all required technical staff as determined by the JPAC Production Manager and the full use of contracted production equipment.
Ouachita Baptist University School of Fine Arts Photography Policy
UPDATED: OCT. 29, 2020
This policy applies to Fine Arts performances* on campus including those in Jones Performing Arts Center, Francis W. McBeth Recital Hall, and Verser Theatre.
All sounds on the camera must be used in live view mode and/or silenced, including all shutter and focus confirmation sounds.
No flash used during performances.
Photographers must stay within the back half of the hall during performances.
Packing and unpacking of equipment should be done outside the performance space.
Enter and leave as quietly and inconspicuously as possible—preferably during applause.
*This policy is not in force for tech rehearsals or performances when the photographer is invited in advance by the event director for the purpose of making photos for publicity or archival purposes.
General Guidelines - Jones Performing Arts Center
UPDATED: MARCH 2022
JPAC would like to make all User's experience in the facility as excellent as possible. The following policies are for everyone's safety and efficiency.
GENERAL PRICING
The current day rate, includes up to 10 hours, will be charged for all events, unless other mutual arrangements are made for events requiring minimal time.
Since technical crew is made up of students with restricted hours, any time over designated amount will be paid by the visiting organization at current minimum wage. Organizations will be charged $150.00/hour for any additional hours.
Other arrangements should be made for small group discussions, free time, and activities other than main events, morning and evening worship services, or special concerts.
For non-Ouachita sponsored events, there will be an additional fee based on gross amount of ticket sales.
10% of gross ticket sales paid to the house.
TECHNICAL PERSONNEL
JPAC is not a union house. The JPAC crew is based on Federal and OBU work study arrangements and composed of current university students. All technical personnel are trained in the JPAC facility and equipment before they begin work by the Technical Director. Only qualified JPAC personnel are allowed to operate much of JPAC's equipment. JPAC reserves the right to use JPAC crew as department heads and key technical positions where safety or expertise are needed.
During the summer, the building operates with limited personnel. Be prepared to provide your own workers for labor and other non-technical positions.
FOOD AND DRINK
No food or drink allowed on stage, in seating areas or the lobby. Bottled water is allowed backstage.
JPAC requests these areas be kept clean, orderly, and quiet.
SETS, FLYING DROPS
Construction (except for installation or strike of scenery) is prohibited.
No wall, ceiling, seat, or carpeted surfaces may have any item attached to it with glue, tape, screws, nails, tacks, or staples in the auditorium or lobby.
"Duct tape" is NOT allowed.
Scene painting is not allowed in the facility, except touch-up work (with a drop cloth in place).
Only 3 spare fly lines are available for rigging in the summer. All rigging will be performed by the JPAC crew.
There is a 95dB-C sound level maximum for all events.
SMOKING
Smoking is not permitted anywhere in or near the Jones Performing Arts Center or any area on campus.
---
*More information will be provided in a Building Use Agreement that will be sent to you after your reservation form is submitted and the day of your event approved. Please know that if the agreement is not signed and returned, then your event day will not be held.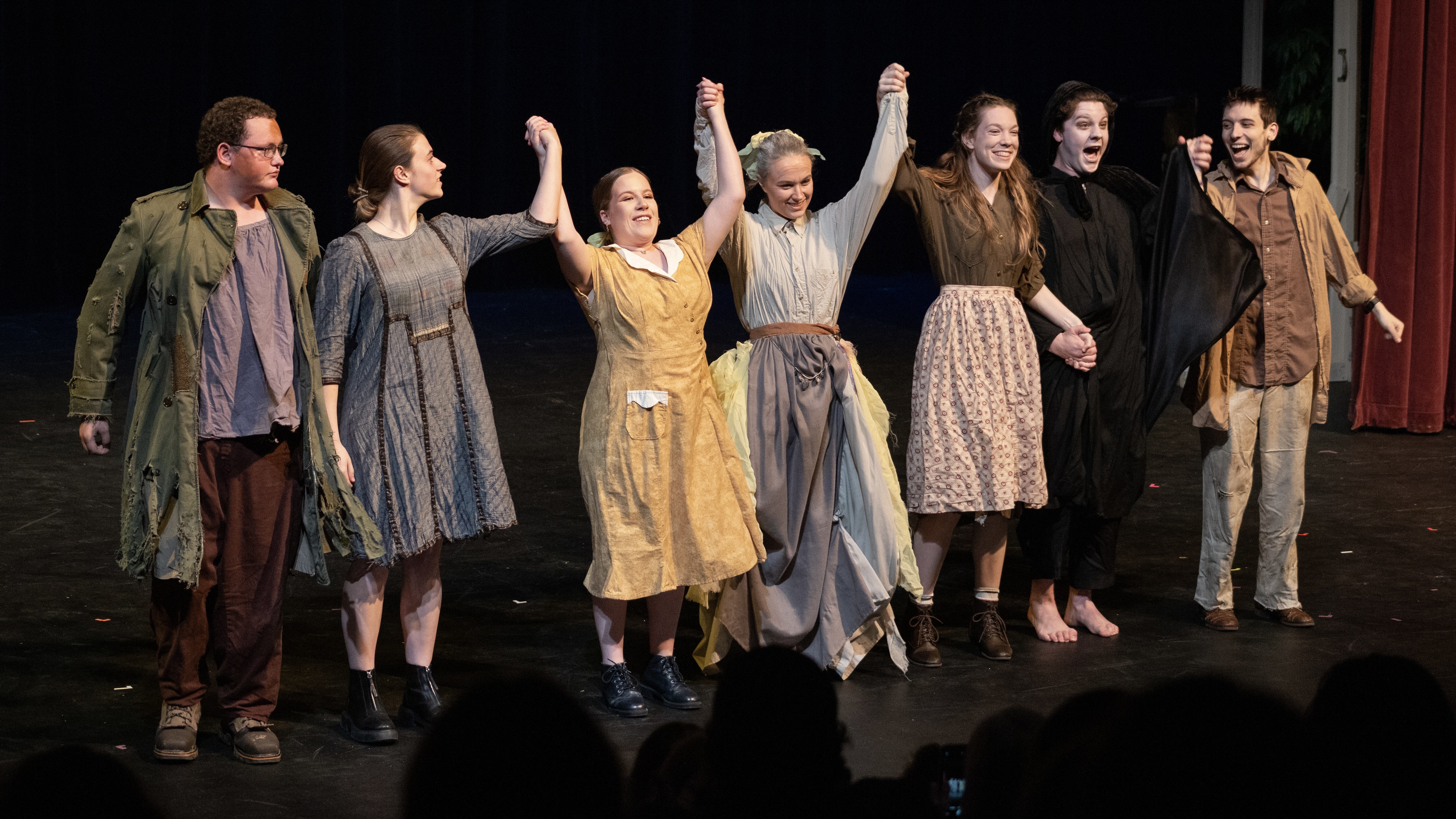 All-Night Theatre Festival to be held March 12
Ouachita Baptist University's Department of Theatre Arts will present its 23rd annual All-Night Theatre: A 10-Minute Play Festival on Saturday, March 11, at 7:30 p.m. in Verser Theatre. Hosted by the Alpha Psi Omega national college honor society, the festival is entirely student-run. Admission is free.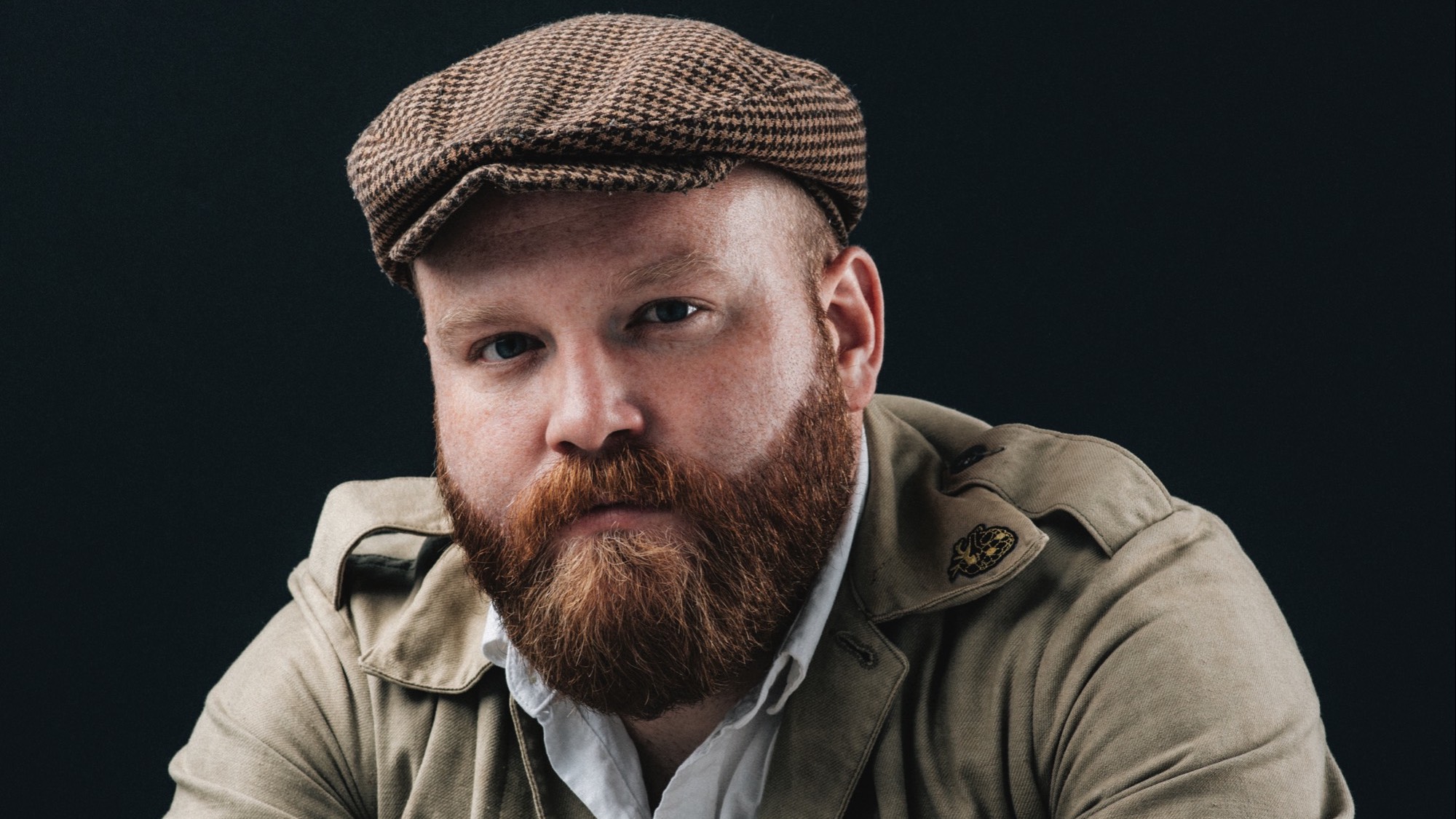 Jacob Keith Watson ('11)
Actor, singer, Broadway performer and Ouachita graduate Jacob Keith Watson fell in love with the university while attending Super Summer camp on campus as a teenager. He was drawn by the discovery that the school had a musical theatre major—the only one in Arkansas at the time.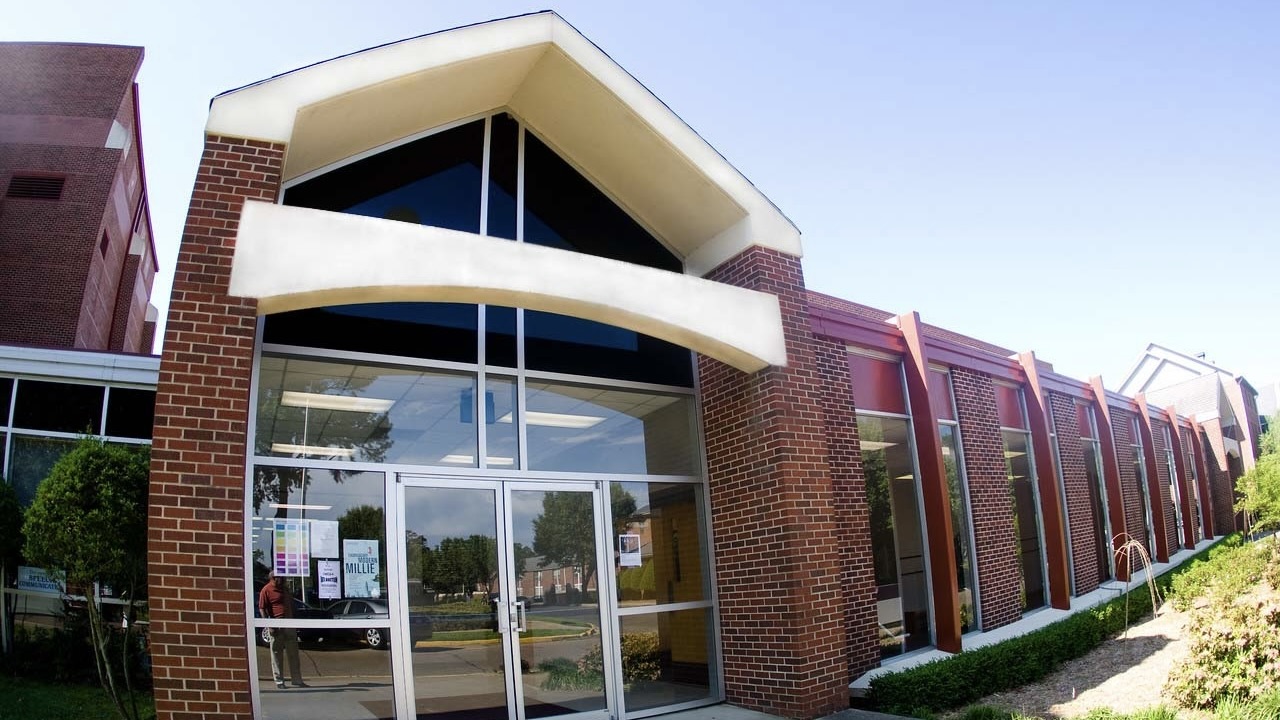 Ouachita's Department of Theatre Arts to present "A Servant to Two Masters"
Ouachita Baptist University's Department of Theatre Arts will present "A Servant to Two Masters" from Thursday-Saturday, Nov. 17-19, and Monday, Nov. 21, at 7:30 p.m. in Verser Theatre, 409 Ouachita St. A matinee performance is set for Sunday, Nov. 20 at 2:30 p.m.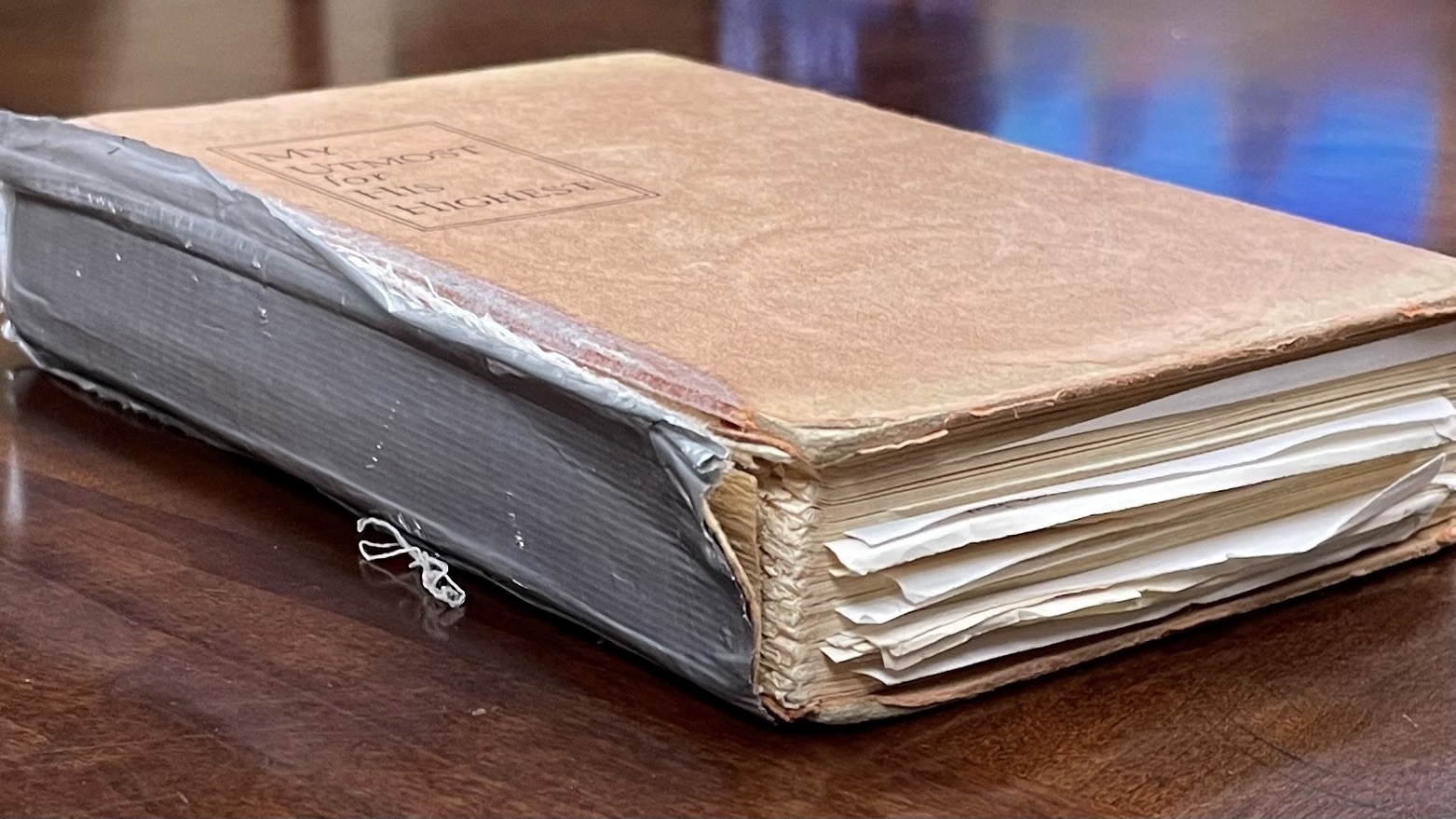 Hope grows in a nourished imagination
I like Chapel and seldom miss attending. I like being with students in Chapel. There are probably fewer than 100 universities in the country where essentially the entire student body can all be together. In my first six years, I've appreciated how students respect and engage in Chapel. I believe it's an important part of what makes Ouachita, Ouachita.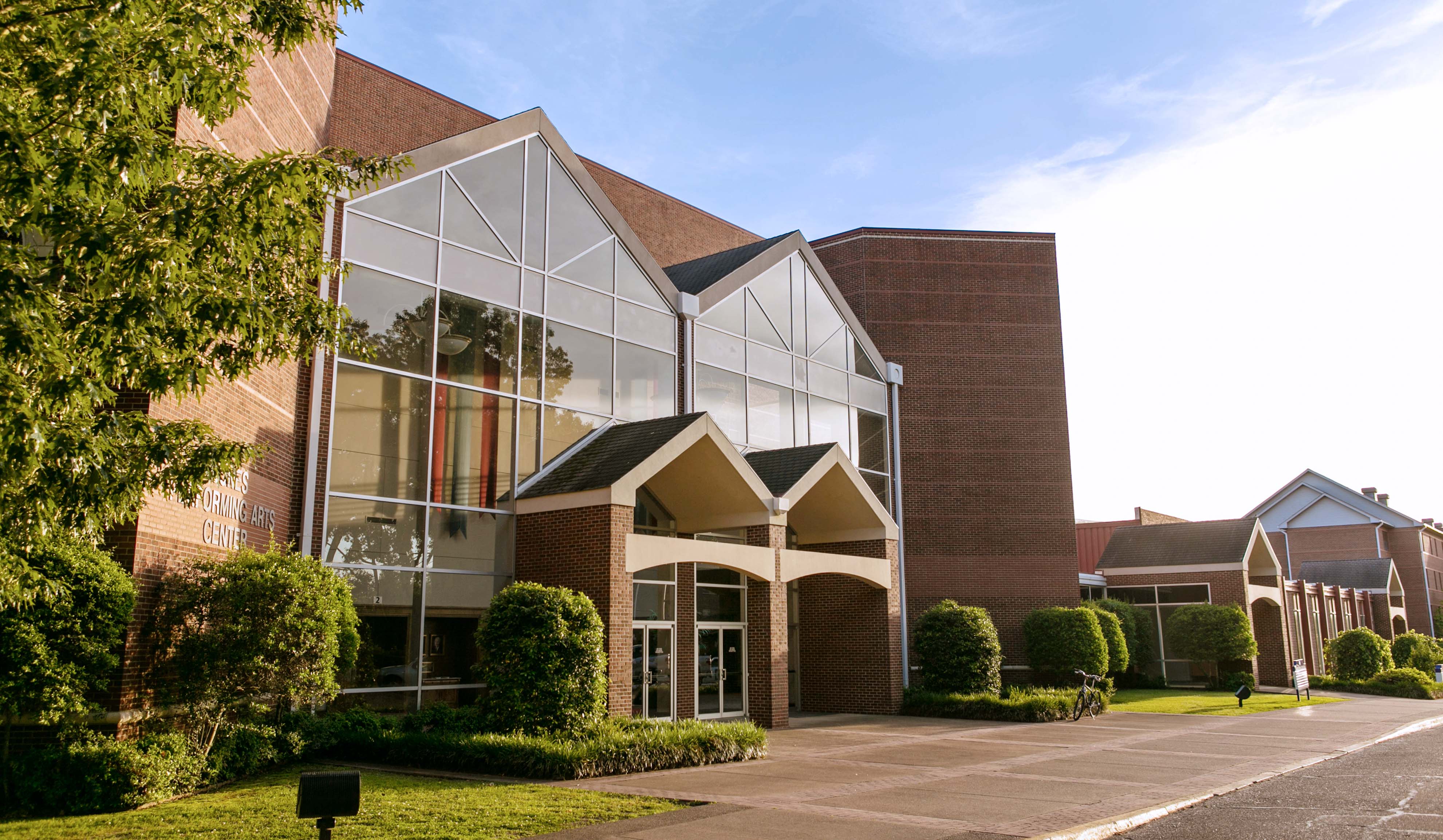 Ouachita's Department of Theatre Arts to present "Godspell" from April 7-10
Ouachita Baptist University's Department of Theatre Arts will present the 2012 revival of "Godspell" by Stephen Schwartz from Thursday-Sunday, April 7-10, in Jones Performing Arts Center, 409 Ouachita Street. Shows begin April 7-9 at 7:30 p.m.; a matinee performance will be held April 10 at 2:30 p.m. The production is open to the public.
GET IN TOUCH
Have a question about JPAC? Want more information? Shoot us a message!