Freshman Outdoor Orientation Trip (FOOT)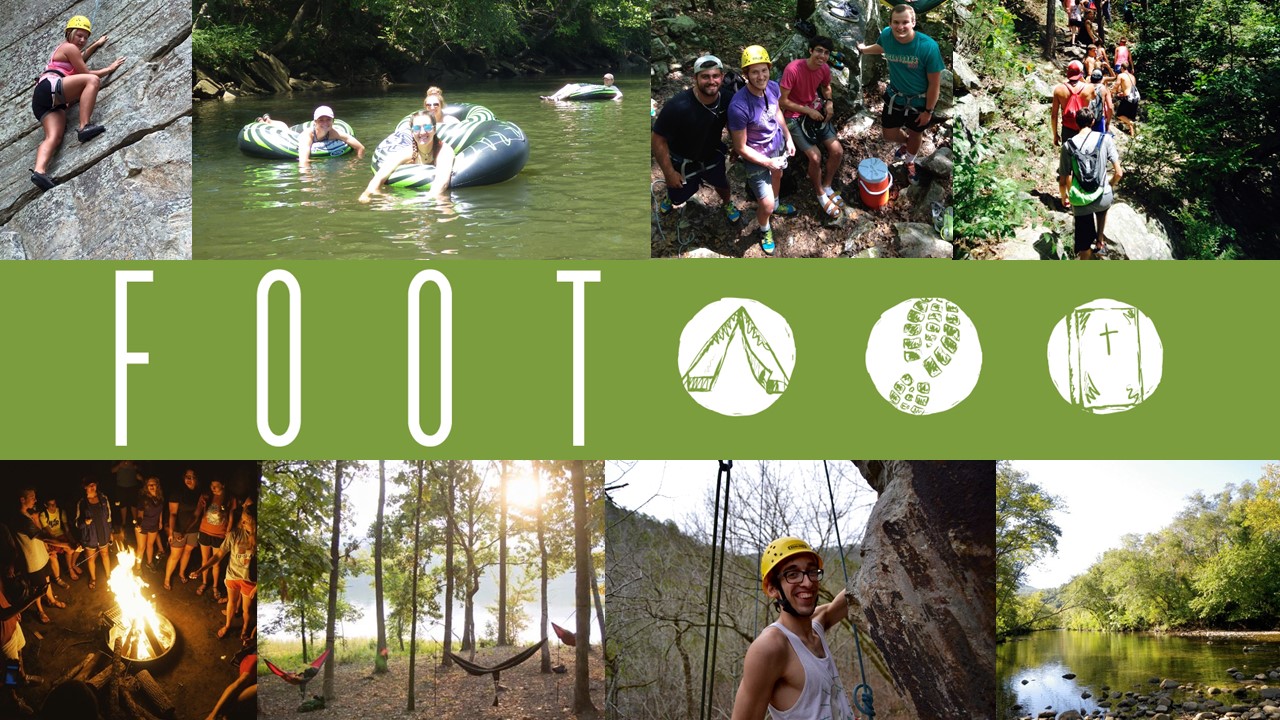 August 9-13, 2020
Ouachita's Freshman Outdoor Orientation Trip uses the wilderness as a unique learning environment in order to broaden the students' outdoor experiences, provide a setting in which incoming freshmen can interact with one another, and to acquaint themselves with Ouachita students, faculty, and staff as they make the transition to college life. This learning experience will draw them closer to God, setting Him as the foundation for their college life.
Adventure
OBU is blessed to be situated near the beautiful Ouachita National Forest. FOOT will take place in this beautiful, local landscape. The adventure experiences will include camping, rock climbing, river tubing, hiking, swimming, and serving the community. Students will be divided into small groups in which they will embark on their adventures during the day. In the evenings, everyone will come together at camp for times of worship and hanging out.
Worship
There is no better place to worship God than surrounded by His creation. This setting will allow incoming Freshman a chance to draw closer to God before embarking on their college career. Participants will not only worship God through our daily experiences in creation, we will also worship him through music and Truth-filled discussion. The trip will culminate in an extended solo experience where students can communicate with God in His creation.
Connection
FOOT will not only deepen the participant's connection with God, as mentioned above, it will also create a connection with the OBU community. This type of challenging experience in creation is a great way to build relationships. The freshmen will get a chance to build relationships with fellow newcomers, current students, and faculty and staff members.


Logistics
Cost: $250. $100 deposit due upon registration (non-refundable if cancellation happens within one month of the event). Final payment must be made before July 26th.
What you get: Awesome adventure experiences, organic cotton t-shirt, hammock, and lifelong friendships.
Arrival/Departure: Freshmen will arrive and depart from OBU campus. However, they will not remain on campus for the trip. Arrival time is August 9, 2020 at 3pm. Students will return to campus on August 13, 2020 at 3pm.
Registration: Registration opens April 18, 2020 at 8am. After filling out the registration form you will be prompted to go to another page to pay your deposit. Registration is not complete until deposit is paid. Registration deadline is July 1. Space is limited, registrations received after we are full will be placed on a wait list.
**COVID-19 Update: We are monitoring all governmental and institutional guidelines and will continually be assessing whether FOOT will be possible under these guidelines. If FOOT has to be cancelled due to the fact that we cannot follow these guidelines, then all registrants will receive a full refund.

Responsibilities: The students will be asked to step into the responsibilities of being an adult. They are expected to respect others and the guidelines set for everyone. Throughout the trip students will take part in cleaning up after meals, gathering wood, making fires, setting up and taking down tents, and participating in group activities. We believe that these responsibilities can happen even before the trip starts. In order to better help students prepare for life away from home, we recommend that students handle FOOT registration and preparation on their own. Use this experience as practice for when they need to take care of things on campus when the semester starts.
Technology: While technology is a wonderful tool for communication and efficiency it can also take over our lives. Students must prepare to be technology free while a part of FOOT. This enables them to better communicate with God and begin forming those lasting relationships.
Group Discussions: FOOT is a great opportunity for building relationships and transitioning our minds toward college. During this time, we will discuss information that will be important for you all to know as you start your college career at Ouachita and hopefully answer any questions you may have.
What To Bring: Click on this Packing List.
Need more info? Check the FAQ page or contact Shane Seaton, the Director of Recreational Life, seatons@obu.edu. Office Phone: 870-245-5268