blog
Getting to know Frances Crawford
The woman behind the iconic residence hall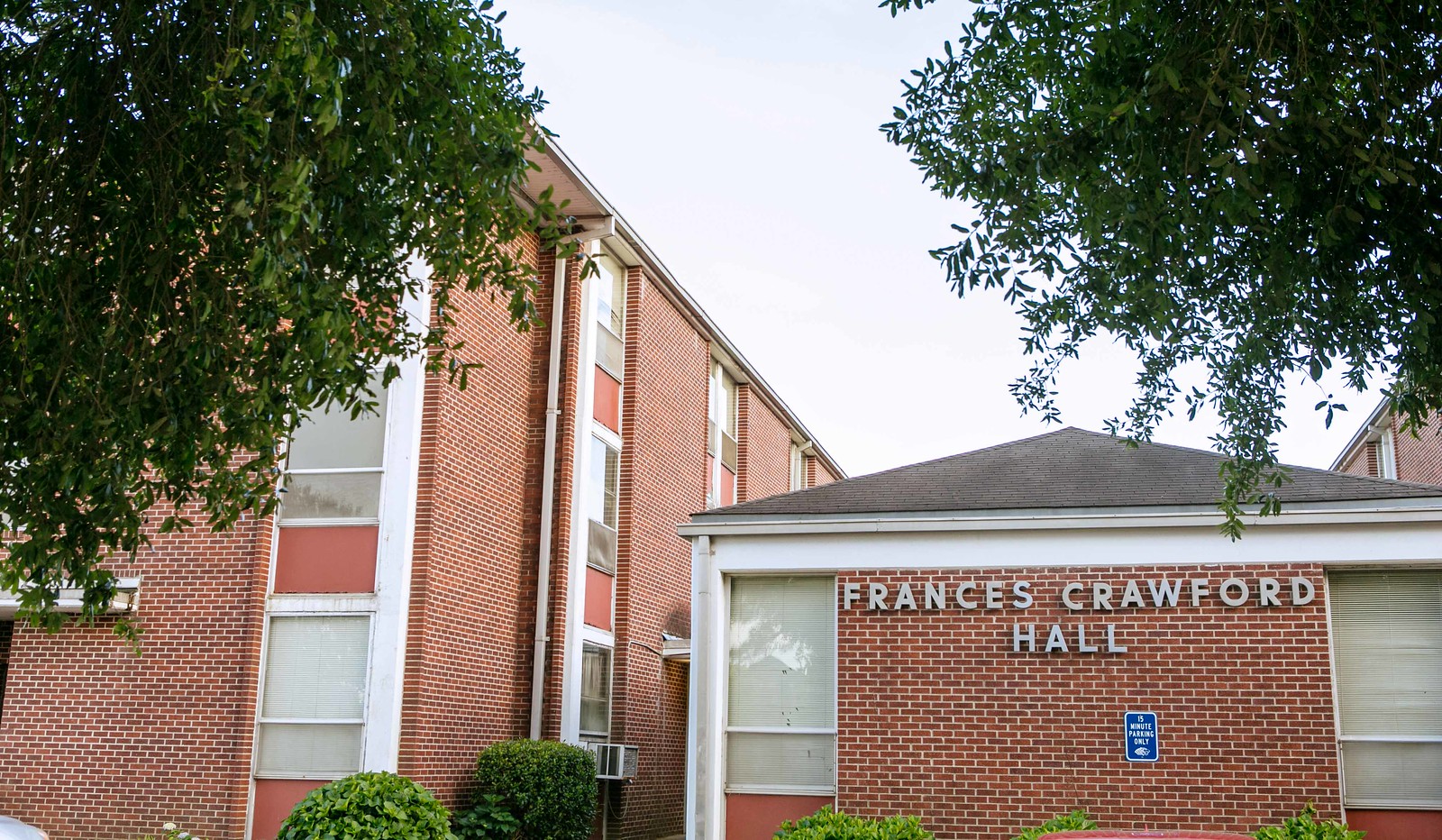 July 30, 2019 - Mercedes Mata
As an incoming freshman, I was nervous about dorm life and what all it would entail. I hadn't shared a room with anyone before, didn't know my roommate and had heard horror stories about freshman dorms from my friends that attended a variety of colleges.

As I walked through the doors to the lobby on my freshman move-in day, I knew something was different about Frances Crawford Hall. When you live in Frances Crawford Hall, often referred to as "Francie," you learn the phrase, "It's not about where you live, it's about who you live with." I began to understand what that meant on the first day. The Residence Life staff were welcoming and warm, and I couldn't help but wonder if there was more to the story.

When you think about the names of buildings on Ouachita's campus, you might think that they are all named after generous donors. While that is sometimes the case, the freshman girls' residence hall is named after hard-working Ouachita alumna Frances Crawford, who served Ouachita faithfully for six decades.

Frances McMillan Crawford was a native of Arkadelphia. She grew up in town and graduated from Ouachita in 1918 with a Bachelor of Music degree. Crawford then continued her education at Columbia University and George Peabody College.

It wasn't long before Crawford returned to Ouachita. She first served as secretary to presidents Arthur B. Hill and J.R. Grant for a total of 10 years. Beginning in 1936, Crawford served as college registrar for 26 years until her retirement in 1962. She also served as president of the Faculty Women of Ouachita, led students on a tour of Europe and the British Isles, kept herself busy with civic work in Arkadelphia and was a regular hostess to Ouachita friends and alumni.

While Crawford's roles in the President's and Registrar's Offices did not go unnoticed, for many alumni, Crawford's greatest service to the university was after her retirement, when she took on the role of alumni secretary. Crawford would arrange class reunions and gather information about former students – from marriages and birth announcements to new jobs and successes – and compiled and edited the "Ouachita Alumni Bulletin," which was sent out once a quarter.

The admiration and respect that many at Ouachita had for Crawford is evident in the 1948 Ouachitonian yearbook: "We, the staff and student body, wish to dedicate this volume to Miss Frances Crawford, who in her most patient and quiet way has helped each one of us to attain the goal toward which we are working. Without her kindness, cheerfulness and encouragement, college life would not have been so pleasant."

During his commencement speech in 1969, President Ralph Phelps announced that the new women's dormitory – which had been completed in the fall of 1967 – was to be named after Crawford, whom he said, "has worked longer than any other person in the institution's long and honored history and has, with her life and dedication, made contributions immeasurable." Phelps even went on to say that Crawford had become "the living symbol of the spirit of Ouachita." In March of 1970, Ouachita dedicated the girls' dormitory in her name.

Now that I know her story, I believe the legacy Frances Crawford left behind lives on in the past, present and future residents of Francis Crawford Hall.


By Mercedes Mata, a 2019 communications & media/strategic communications graduate from Mandan, N.D.