blog
Freshman Move-In Day: Advice for parents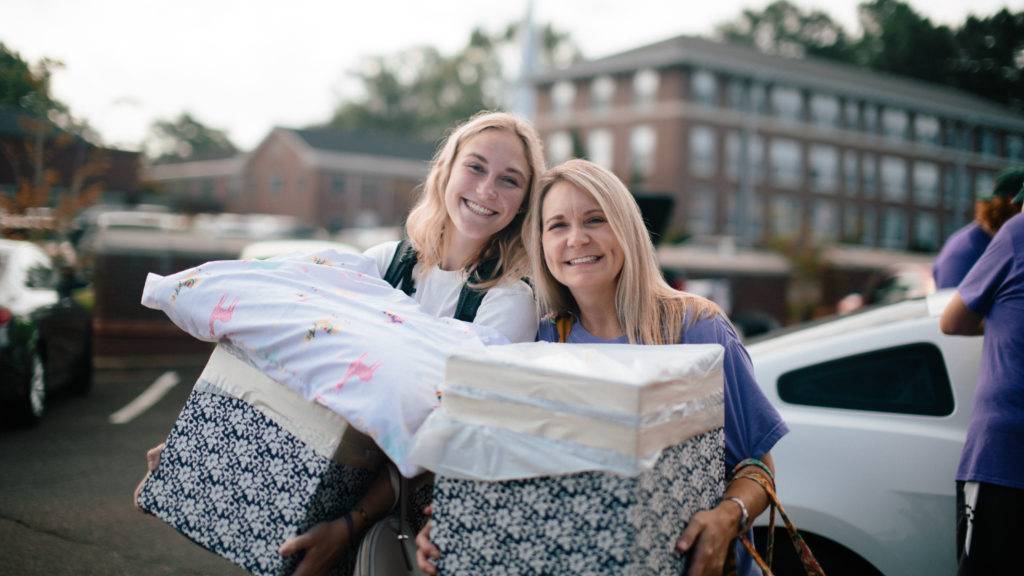 August 06, 2019 - Martha Schmidt
Before moving my oldest child to Ouachita, we thoroughly studied the housing information on the website and analyzed the floor plan, feeling pretty proud of ourselves for our preparedness. While the day did not go entirely as we had envisioned, moving in child #2 at Ouachita went more smoothly as we had learned a few things along the way.

My tips for parents on OBU's freshman move-in day will hopefully help you avoid our "lessons learned the hard way."
Before the big day...
Little things that will save you time
Label all items with building and room number.
Bring extra extension cords with surge protectors. Walmart usually has a run on these items, so they are tough to find that day if you need more.
Fill a bucket with cleaning supplies that you keep separate from what is carried in by Ouachita students.
Decide who will come
Based on experience, I recommend younger siblings not join parents for freshman move-in day. When we moved in our daughter in 2015, her four younger siblings were eager to see where she would live. Maneuvering within the dorm room proved impossible for four parents, two students and four siblings. As a result, we lost the assistance of my husband, who spent the entire day trying to keep our four youngest busy and out of the room. They were bored and tired hours before departure time.

When we moved in our son in 2018, we told the younger siblings we would take them to visit their brother and attend a Ouachita football game a couple of weeks later. They happily avoided another move-in day spent idly waiting!

Bed set-up
Until this decision is made, all move-in steps are literally halted. We parents all stood around while our girls said, "It doesn't matter to me… ." Because they did not know each other, neither wanted to seem pushy and state her real preference about the beds.

Here are a few set-up suggestions…
Encourage your student and roommate to determine the bed set-up BEFOREHAND.
If students decide to loft their beds, have each student reserve their loft kits ahead of time through the application process in their student INFO portals. (Homemade lofts are not allowed.)
If students decide to loft one bed and make the beds into an L-shape, a decision must be made about who is paying for the loft kit rental and who will take the lower bed.
If students decide to bunk their beds, a decision must be made about who takes which bunk. Remember that the lower bunk will become the "couch" for visitors unless you bring other seating options into the room.
On move-in day...

My role
My biggest regret remains taking control in unpacking. As a mom, I wanted each of my students all moved in and set up before I left campus, figuring they could then enjoy orientation week activities without stress. All I managed to do is communicate that I didn't believe my children capable of deciding things for themselves. With my son, I felt he could care less how things were set up, but my control resulted in him not knowing where to find anything!

What you CAN do:
Give your student a "clean start." With the bucket of cleaning supplies, quickly clean the room and bathrooms before rugs and items are brought in from the hallway.
Ask your student what he wants where and HELP unpack. Let him put things wherever he wants. This is super tough, but raising an adult means letting your student set up his own residence (even if he obviously puts things in "wrong" places … LOL).

My husband's role
My husband preferred we simply tell him which furniture to move around, what to assemble and which errands to run. My husband helped:


Set up loft/bunk beds.
Move-in items and boxes from the hallway.
Assemble shoe rack.
Hang string lights.
Set up the TV, coaxial cable, etc.
Break down boxes and carry them out.
Run out and buy lunch.
Run to Walmart to stock our student's refrigerator. Fun fact: the Arkadelphia Walmart (located at 109 W Malone Rd) now offers grocery pick-up if you'd like to save time and order ahead online!

Student's role
My students couldn't wait to walk around and meet people. So after they made the initial decisions about furniture placement and assignments, I sent them each out on these errands:
Pick up student ID (student's residence hall). If your student has not yet taken their ID photo, they must visit the Student Development Office (Evans Student Center).
Pick up books from the bookstore (Evans Student Center).
Locate mailbox and ensure the combination works (Evans Student Center).
Pick up parking sticker (Safety Office's table in Evans Student Center). They must bring proof of insurance and their driver's license in order to claim the sticker.

Ending well...
When the clock hits 2:45 p.m., it is time to stop setting up and walk away (even if it's not finished). My best advice – encourage your student to put their best foot forward at all of the WOW (Welcome to Ouachita's World) orientation events. WOW is designed to introduce them to their peers, Ouachita traditions and have some fun rather than feeling anxious or homesick.

And before you hop back in the car to drive home, attend the New Beginnings ceremony at 3 p.m. with your new college student. Do not skip it! It's a highly meaningful send-off time, and it will remind you as parents why you're entrusting your child to Ouachita Baptist University.


By Martha Schmidt. Martha is from Little Rock, married to Eric and is the mother of five children. She works with the Finance Department at Fellowship Bible Church and is a Ouachita mom to Luke, a current student, and Kinzie, a 2018 graduate.
You Also Might Like