blog
Besides having a name that's hard to pronounce, what makes Ouachita different? #askingforafriend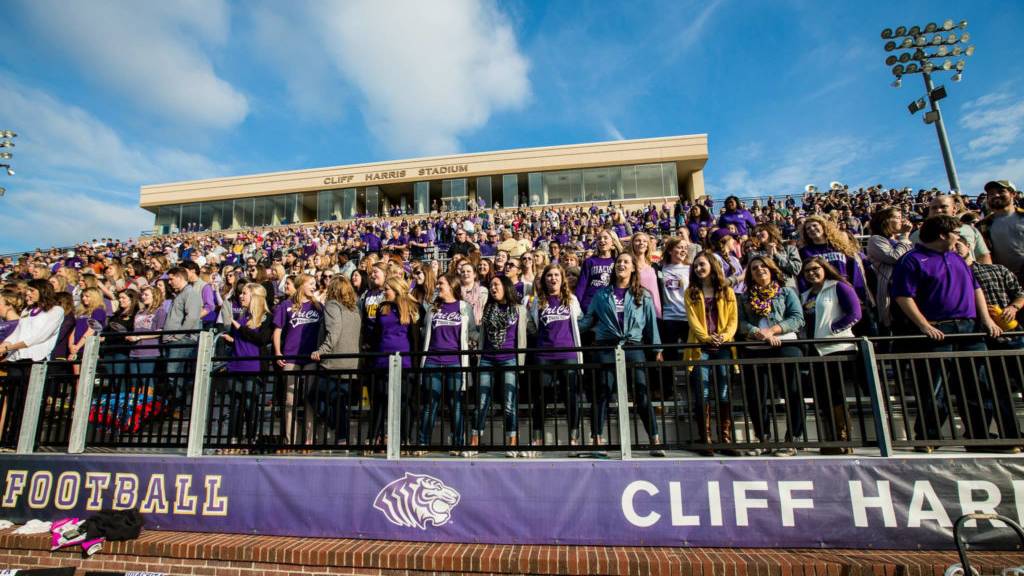 August 09, 2019 - Stan Poole
So you've heard of us – Ouachita Baptist University? Great! We are a leading liberal arts university and ranked nationally among "America's Best Colleges" by U.S. News & World Report and Forbes magazines. But you might wonder, "So what makes Ouachita different?" Here are a few commonly asked questions about Ouachita, along with the answers. No need to ask for your friends!
What size is Ouachita, and what's the student body like?

Ouachita's current enrollment on campus is about 1,500 students from 30 states and 30 nations. Approximately 45% of those students are male and 55% are female.

The student body also includes a sizeable number of student-athletes. About 25% of students compete on one of Ouachita's 18 NCAA Division II athletics teams.

What does it mean that Ouachita is a liberal arts university?

In a nutshell, you will take other classes outside of your chosen major that will help you navigate today's ever-changing world.

Ouachita's mission is to prepare "individuals for ongoing intellectual and spiritual growth, lives of meaningful work, and reasoned engagement with the world." So, while Ouachita wants you to be prepared to enter your desired field, the greater goal is that your studies will provide you with an informed education – the facts, as well as various theories and ideas – that will equip you to interact confidently outside your area of expertise, to ask informed questions, and to do so with understanding.

Another way of saying this? A liberal arts education.

Does this mean I'm majoring in liberal arts?

Not at all. Ouachita's liberal arts philosophy is the basis for all educational programs, but students can major in business, nursing, teacher education and other professional-oriented fields of study, as well as the traditional liberal arts disciplines. The academic program is organized into seven schools – Business, Christian Studies, Education, Fine Arts, Humanities, Natural Sciences and Social Sciences - and each school offers multiple majors and programs of study.

Okay, so what does it mean that Ouachita is a Christian liberal arts university?

We are unapologetically a Christ-centered learning community, a university that "seeks to foster a love of God and a love of learning." What does this look like at Ouachita? We've actually answered this question with a series of questions in another blog: What does attending a "Christian college" even mean?

What kinds of classes will I have to take besides my major?

You will take a series of "core" classes, which are designed to foster your intellectual inquiry and breadth of knowledge.

Classes in the Ouachita Core will introduce you to Ouachita's mission (OBU Connections) and the knowledge and skills you need as you continue your studies (e.g. Composition I and The Contemporary World). They also will develop your analytical skills (e.g. College Algebra or Intro to Philosophy); cultivate artistic, linguistic, and cultural appreciation (e.g. Fine Arts and a foreign language course, such as Spanish or Japanese); foster civic engagement (e.g. U.S. History or American National Government); and promote healthy living (e.g. Concepts of Wellness or Health & Safety).

Finally, your Ouachita Core classes will connect your learning with practical experiences (e.g. Public Speaking or Personal Finance) and encourage your participation in the Ouachita community (e.g. Chapel and Arts Engagement).

Why do I keep hearing about the student-to-teacher ratio?

Because our 13:1 student-to-faculty ratio makes a huge difference! With your average class size being 18 students, you get to know your professors on a personal level as both role models and mentors. But don't just take our word for it; read Will's story.

There are no 200-seat lecture halls here, and the majority of classes are taught by tenured faculty with the highest degrees available in their field. This means you get the highest quality education possible and deep connections with experts in your field, which often lead to internships and jobs after graduation.

What if I'm interested in an international study experience?

Ouachita offers more than 20 study abroad opportunities with partner institutions around the world. Some of these are short-term, such as 3-6 weeks during the summer, and some are for a full semester or academic year.

And, I'm still not 100% sure how to pronounce "Ouachita" …

No problem, we have a video explanation for that!



Want to learn more? Check out our #Askingforafriend Q&A series.
Contributor: Stan Poole, vice president for academic affairs and dean of the School of Interdisciplinary Studies
You Also Might Like