news
From the "Ouachitonian": Joao Rodrigues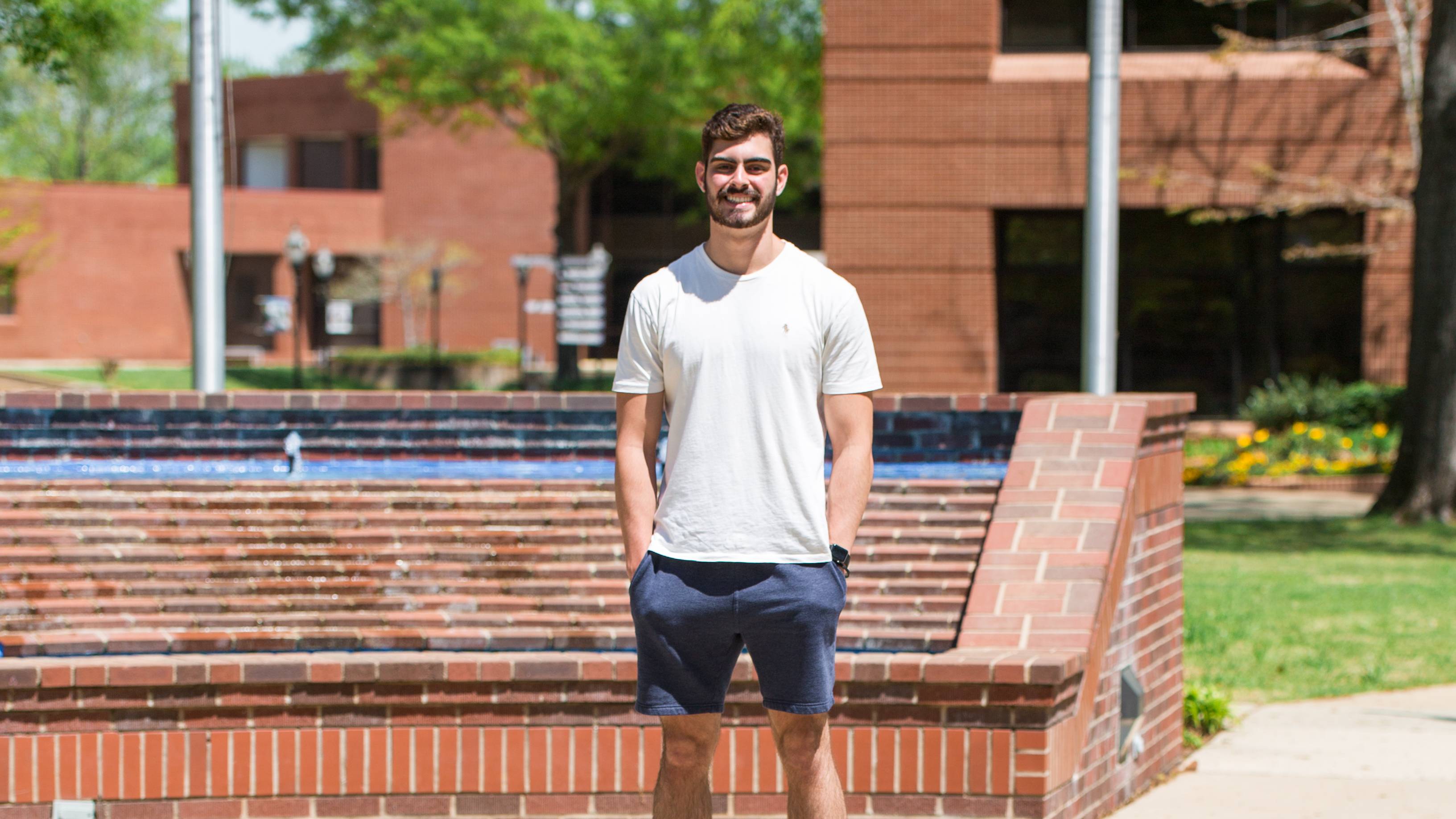 January 06, 2020 - Jack Bennington
For the 1500+ students who make their way onto Ouachita's campus every day, each one has ­­a unique and specific path that brought them to Arkadelphia. Joao Rodrigues, a sophomore finance and business administration major from Ribeirao Preto, Brazil, had never even heard of Ouachita before thinking about college, but a big passion and talent for swimming was just what it took to come to school in southwest Arkansas.
"After growing up and going to a Methodist school and studying English, going to the United States for college was always a dream for me," said Rodrigues.
Rodrigues started swimming in club competition at the age of seven and continued doing so for 11 years until he finally came to Ouachita after finishing high school. ­­­
"It made me learn a lot that swimming is something that shaped my identity and made me more responsible and organized to see the world with different eyes, which eventually led to opening some doors in the future," said Rodrigues.
That door was opened by Steven Bostick, head coach of the men's and women's swimming teams at Ouachita. He was the first person from Ouachita who reached out to Rodrigues to come and was the man who gave him the opportunity to come to Ouachita.
Since finding his way to Arkansas through swimming, Rodrigues is no longer a member of the team. This was a decision he nor his peers expected.
"By the end of freshman year of swimming, I realized all the things I wanted to do with my life and all the things that I wanted to be involved in, and I'm trying to take advantage of every opportunity I can for the future," said Rodrigues. "So it was pretty much the idea of embracing opportunities on campus and trying to see what is best for me."
Since the end of his freshman year, the list of things that Rodrigues has been involved with at Ouachita had only grown. He was on the Tiger Serve Day Leadership Team, a member of Enactus, served as resident assistant of Flippin-Perrin Hall, a member of the International Food Festival Committee and a Campus Ministries Life Group leader.
Everyone had to go through some transition from living in their own home and their own town to coming and being a part of Ouachita's community. But that was an even bigger challenge for Rodrigues because he wasn't just moving a few hours away, but instead to another continent. Instead of a quick drive home that a lot of students take on the weekends is a full day of flying for Rodrigues.
"There were so many things that made me grow by moving away and knowing that it would take so much for me to go home and see my family. So I think all the changes that happened, I took on the positive side and take the best of both worlds and create what is the best place for me," said Rodrigues.
"If you had told 15-year-old Joao that he would be where he is now, I would have never expected it to be at a place like Ouachita. And the funny thing is that Ouachita was the very first school that I looked at when coming to the United States, and it has stuck with me ever since."