blog
From the "Ouachitonian": Janeeshia Dashaiye Harvell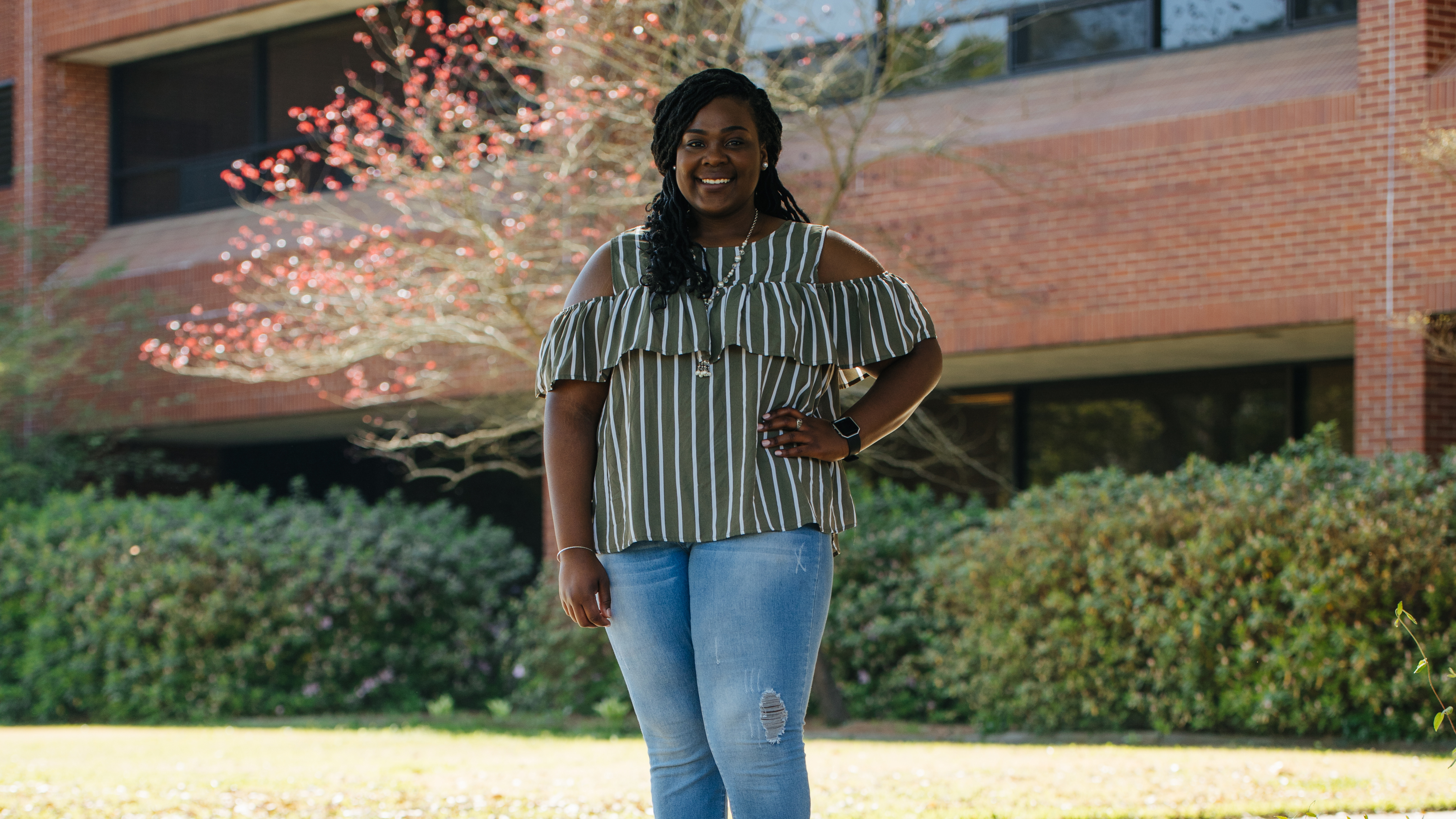 March 02, 2020 - Addy Goodman
Previously published in the 2019 Ouachitonian yearbook
Janeeshia Dashaiye Harvell stepped up to the red carpet donned in an Arkadelphia Badger blue cap and gown and her neck weighed down with honor cords and stoles. She removed her cap and allowed her mother to put two medals around her neck, one for receiving an advanced diploma and one celebrating her high grade point average. After hugging her mother's neck, Harvell turned the corner and made her way to her diploma. While cliché, this high school graduate was on her way to the rest of her life.
Harvell decided during her senior year at Arkadelphia High School that her next step would be at Ouachita. While she didn't know what that step would necessarily look like, she knew it was the step she needed to take.
"High school was a very lonely time," said Harvell. "I didn't feel like I fit in with a lot of groups, both because of race and religion. Being on fire for Jesus at Arkadelphia wasn't common. I had to keep a lot to myself."
It was during her busy time in the halls of high school that Harvell first saw signs of her mental illness: battling anxiety and depression.
"My mom saw it before I did," said Harvell. "I didn't understand what it was. I remember telling my basketball coach that I was diagnosed with anxiety and he responded with, 'Well, don't we all?' And so I just thought it was normal."
Her decision to apply for Ouachita was a decision that weighed heavily. However, she knew she needed the spiritual vulnerability and community that she saw at Ouachita. At first, this step was out of the picture. Financially, it was impossible. However, Harvell felt the need to apply anyway, trusting in her Heavenly provision.
Harvell entered her freshman year at Ouachita with a plan to study sociology and English and eventually attend law school post-graduation. But this was not the path God had for her.
"I was looking for a summer job that would help me get into law school," said Harvell. "I ran across Pediatrics Plus, and I saw that they had a legal side to their company. … They hired me. And I loved it."
At first, the job of a summer camp worker for children with special needs was just a stepping stone for Harvell's future. As she continued learning the company and gaining experience, she realized that it meant more than that. Despite her determination to get herself to law school, Harvell couldn't shake the feeling that she needed to advocate for the children she left that summer.
During her senior year, Harvell worked there again, accepting the fact that God had changed her desire to advocate for others to looking different than advocating in a court room, but advocating in scrub pants and on a playground. Two months into the job, her advisor offered Harvell a full-time job as a registered behavioral tech after graduation while she pursued a masters in applied behavioral analysis with an emphasis in autism. The plan from that point was for Harvell to lead the behavioral department of Pediatrics Plus in Arkadelphia after completing her degree.
For Harvell, the pursuit of passion and a life of meaningful work came full-circle as she found her passion at Ouachita, pursued it and came back home to share it.
"Life is too short to go really far away from your village," said Harvell. "God is so great to let me come home."
You Also Might Like