blog
Pandemic Profiles: Randall Quillin
Building Services Supervisor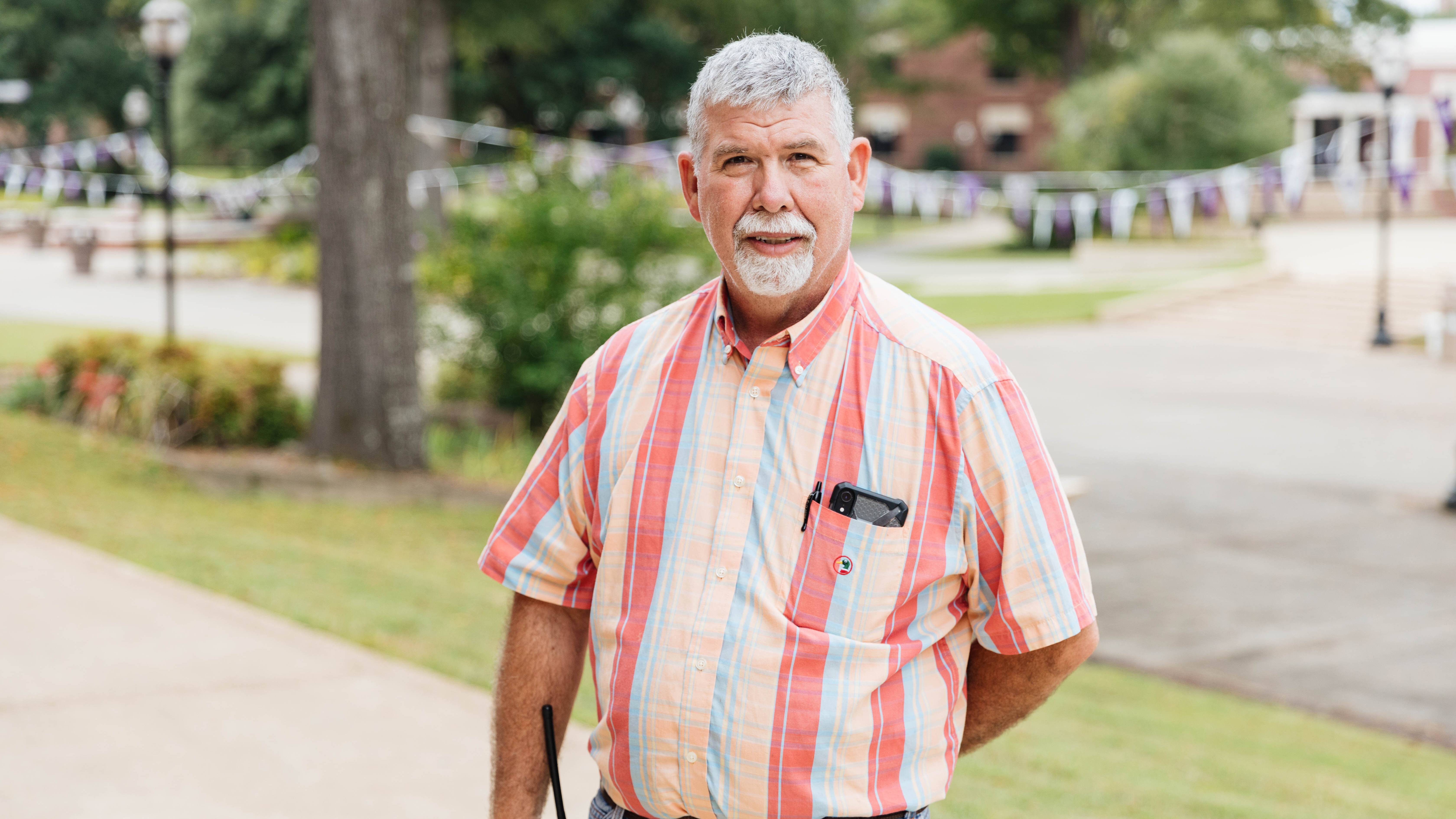 October 27, 2020 - Madison Cresswell
Remember at the onset of COVID-19 in the U.S. when toilet paper was impossible to find and hand sanitizer was out of stock? Imagine the demand for those supplies on a college campus, specifically at Ouachita. Thanks to the work of Randall Quillin, building services supervisor in Ouachita's Office of Facilities Management, and his building services team, Ouachita was able secure needed supplies to return to on-campus classes.
"Over the summer, we started out with finding foggers and hand sanitizers – and they were hard to come by," Quillin said. "We spent weeks on the phone with different suppliers, and slowly but surely by the time school started, we had enough to get going."
With every university, school and organization needing the same cleaning materials as Ouachita, it was a difficult time to be in a position like Quillin. And the need for these important items continues as they are used throughout the semester. Every Monday, Quillin's building services team inspects high traffic areas across campus, restocking hand sanitizer stations and other disinfecting materials as needed, and keeping at least 260,000 disinfecting wipes in reserve at all times.
"The demand for everything is still pretty high, and we have to determine how much is being used every day," Quillin explained. "Some schools, unfortunately, didn't get going in time and don't have the resources that they need."
Quillin and his team were so prepared that they were able to help a Bismarck public school that was running short on disinfecting wipes.
"We were able to sell the school 15 cases of wipes while keeping our campus adequately supplied," Quillin said.
Along with finding and purchasing cleaning materials, Quillin also helped hire additional facilities management staff to meet the increased sanitation needs on campus, adjusted staff work schedules to allowed for physical distancing and created a work plan to increase cleaning of high traffic areas.
For example, two additional staff members come in at 3 a.m. every morning to clean the spaces on campus being used as non-traditional classroom spaces, including Walker Conference Center, Jones Performing Arts Center and Verser Theatre.
"They have done a great job," Quillin said. "It takes a lot to come in and clean a building that size, especially that early in the morning."
Quillin emphasized the team effort on campus to accomplish a safe environment for living and learning at Ouachita, from the facilities crew to students respecting health protocols.
"The students are doing better than I could have imagined," Quillin said, "and I can tell that we are on the right track."
By Madison Cresswell, a senior communications & media/strategic communications and political science double major from North Little Rock, Ark.
Photo by Tyler Rosenthal