blog
Time-out: Sports media students score Zoom interviews with industry pros during global pause of athletics events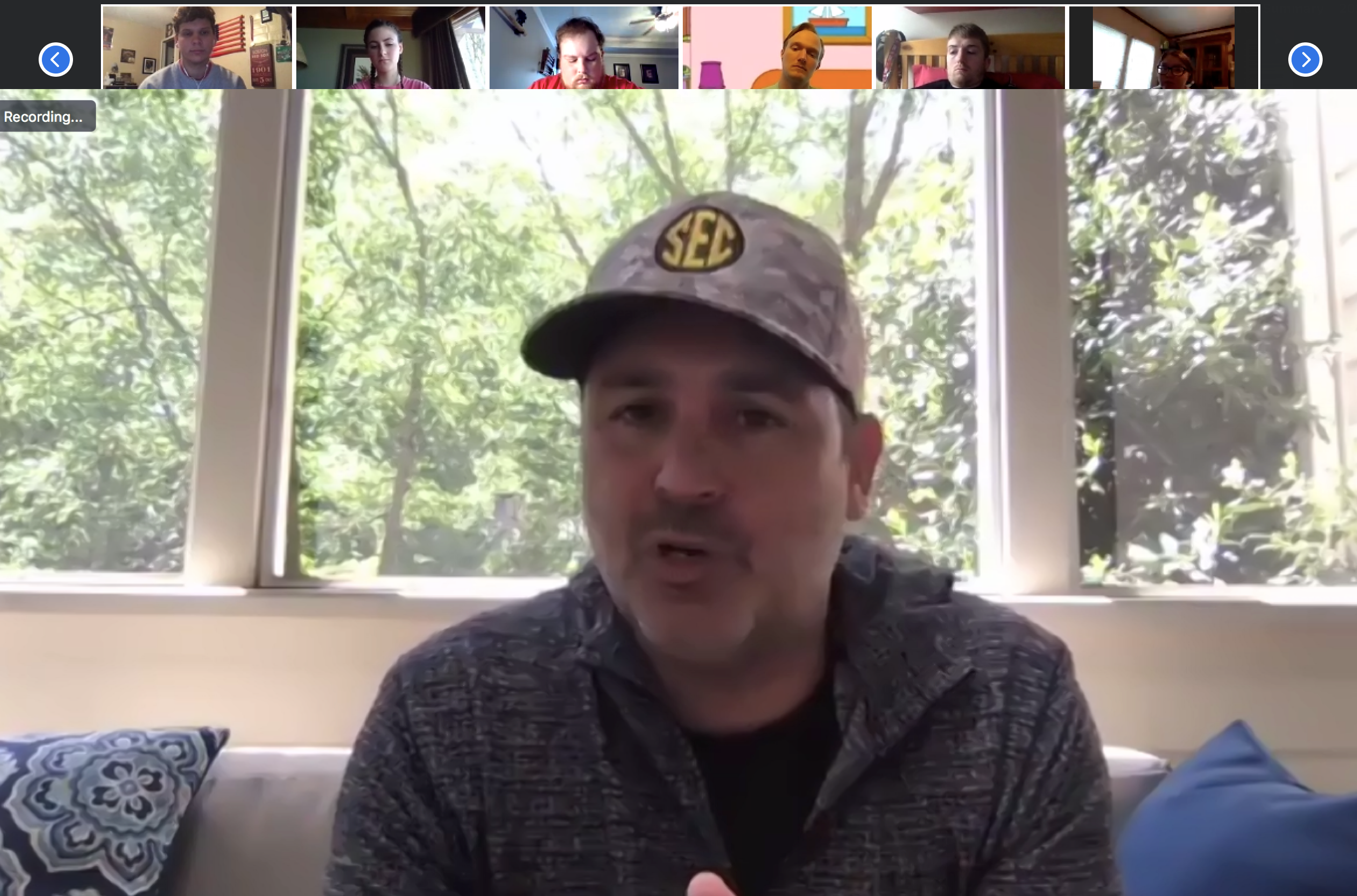 October 20, 2020 - Chris Babb
During my time at Ouachita in the late 1990s, one of the phrases that Dr. Bill Downs hammered into mass communications majors was "monitor and adjust." I've always remembered that phrase when plans that were made have to be altered. Also during my time at Ouachita, hands-on experience in the classroom was a big part of the curriculum. We learned by doing. That hasn't changed. High-impact learning has always been a staple of our department, and it plays a big role in the curriculum.
Twenty-five years after having that mantra engrained into my head by everybody's favorite red-pen-wielding editor in the halls of the Mabee basement, the world was forced to readjust when the COVID-19 pandemic hit. For myself and my colleagues at Ouachita, it was in the form of changing hands-on learning to a remote style using Zoom last semester. The "extended Spring Break" for students was a valuable time for faculty to steer our collective ships 180 degrees and begin a new journey.
But what do you do in Sports Journalism class when sports are cancelled, and what do you do in Broadcast Performance class when your students aren't able to get into the studio or work with the equipment on campus?
Thankfully, there was another group of people who were asking themselves the same questions – the professionals. Sportscasters found themselves sitting at home rather than traveling cross-country to broadcast the next game. Writers found themselves covering how sports were impacted by the COVID-19 pandemic and, in some cases, found themselves covering news.
Thankfully, I found many of them willing to speak to the next wave of Ouachita sports journalists and broadcasters via Zoom and to give them tips and encouragement.
After Ouachita sent students home the weekend of March 13, I began to reach out to Ouachita alumni in the sports communications industry as well as their industry connections around the region and nation. Interestingly enough, other connections came through interaction on social media, particularly Twitter, as sportswriters found themselves with more time to reply to tweets or messages.
As always, Ouachita communications alumni were more than happy to visit with students: Rex Nelson (senior editor, Arkansas Democrat-Gazette); Jeff Williams (assistant director of statistics, NCAA); Cris Belvin (associate AD for communications, Stetson University); Patrick Netherton (host of "The Patrick Netherton Show" on 1130 AM, "The Tiger" in Shreveport and voice of the Northwestern State Demons); Brent S. Gambill (Director of Communications, NASCAR Mid-Atlantic Region); Tony Ranchino (videographer, KATV Channel 7); and Tiffany Lee (reporter, KFSM in Fayetteville/Ft. Smith).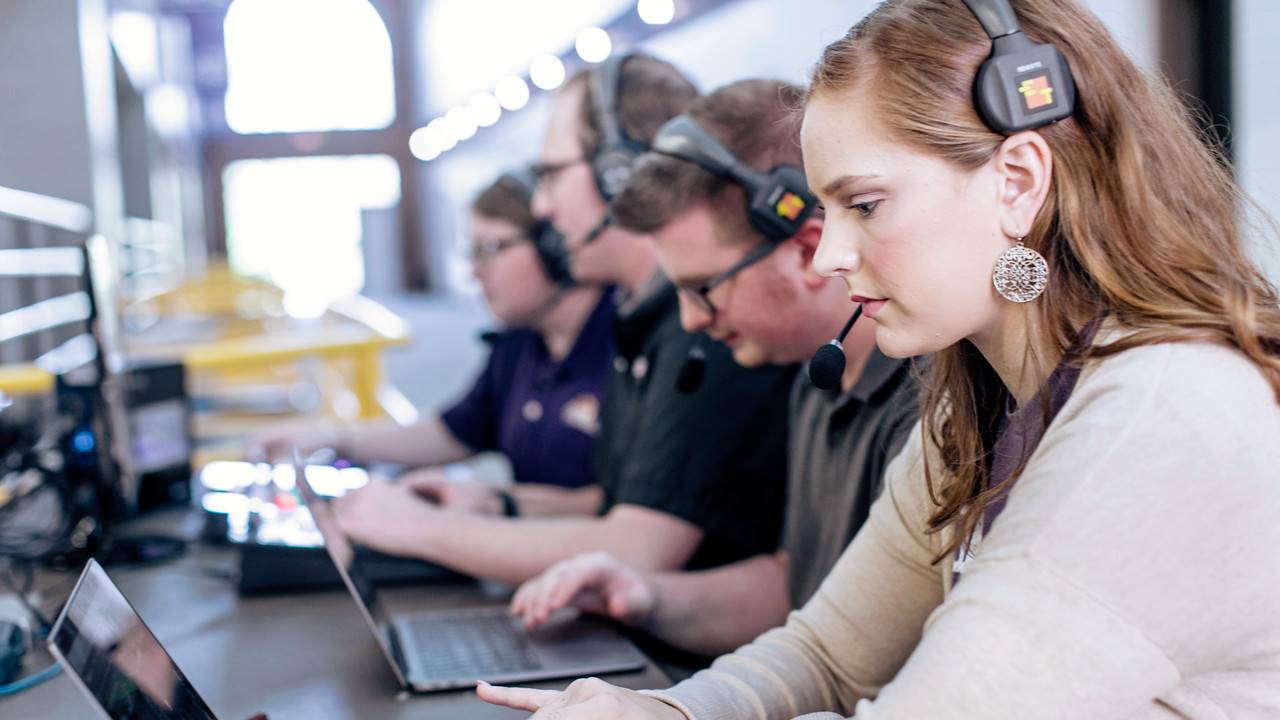 It was also great for our students to hear from some national names. Last fall, Sports Illustrated and The Athletic both did pieces on the Battle of the Ravine. SI's Alex Prewitt spent the majority of the week leading up to the game in town and on campus researching the story. In a Zoom call with Alex, my students were able to hear how he produced a fantastic story – his first story on the Battle of the Ravine – that made it sound like he had been involved in the rivalry for decades. On another Zoom call, Nicole Auerbach from The Athletic also shared how she researched the Ouachita-Henderson story, which was featured in her weekly college football piece that uncovers the great secrets of college football.
Students also heard from Seth Davis of CBS Sports and The Athletic about the importance of reading and writing in order to get better at writing. Davis normally would have been on the desk in the New York studios of CBS analyzing the NCAA Basketball Tournament, but instead he was sitting in his residence in California giving tips to Ouachita Broadcast Performance students.
Thankfully, Twitter conversations led to speaking appearances from play-by-play voices like Pete Pranica (Fox Sports SE TV voice of the Memphis Grizzlies); Tom Hart (college football, basketball and baseball, ESPN and SEC Network); Kyle Peterson (college baseball, ESPN and the SEC Network); and Kevin Kugler (national radio voice, coverage including the Super Bowl, Final Four, Monday Night Football, NCAA Baseball College World Series, The Masters and more).
Not only did every speaker tell Ouachita students the key to getting better was as simple as reading and writing, every speaker also was more than willing to speak to them as rising professionals. In an industry that has had its ups and downs on the journalism side with job demand, those professionals in the industry see the need to help the next wave of students who want to work in sports industry communications.
While we hope that we never have to go back to that type of learning during a semester, we will be more prepared should the time come.
By Chris Babb, instructor of communications and director of sports media productions. (Lead photo) Tom Hart of ESPN and SEC Network talks with Ouachita's Broadcast Performance class about technical aspects of broadcasting an event and the importance of every crew member being a good storyteller.