magazine
Faculty profile: Glenn Good, professor emeritus of physics
Busy having fun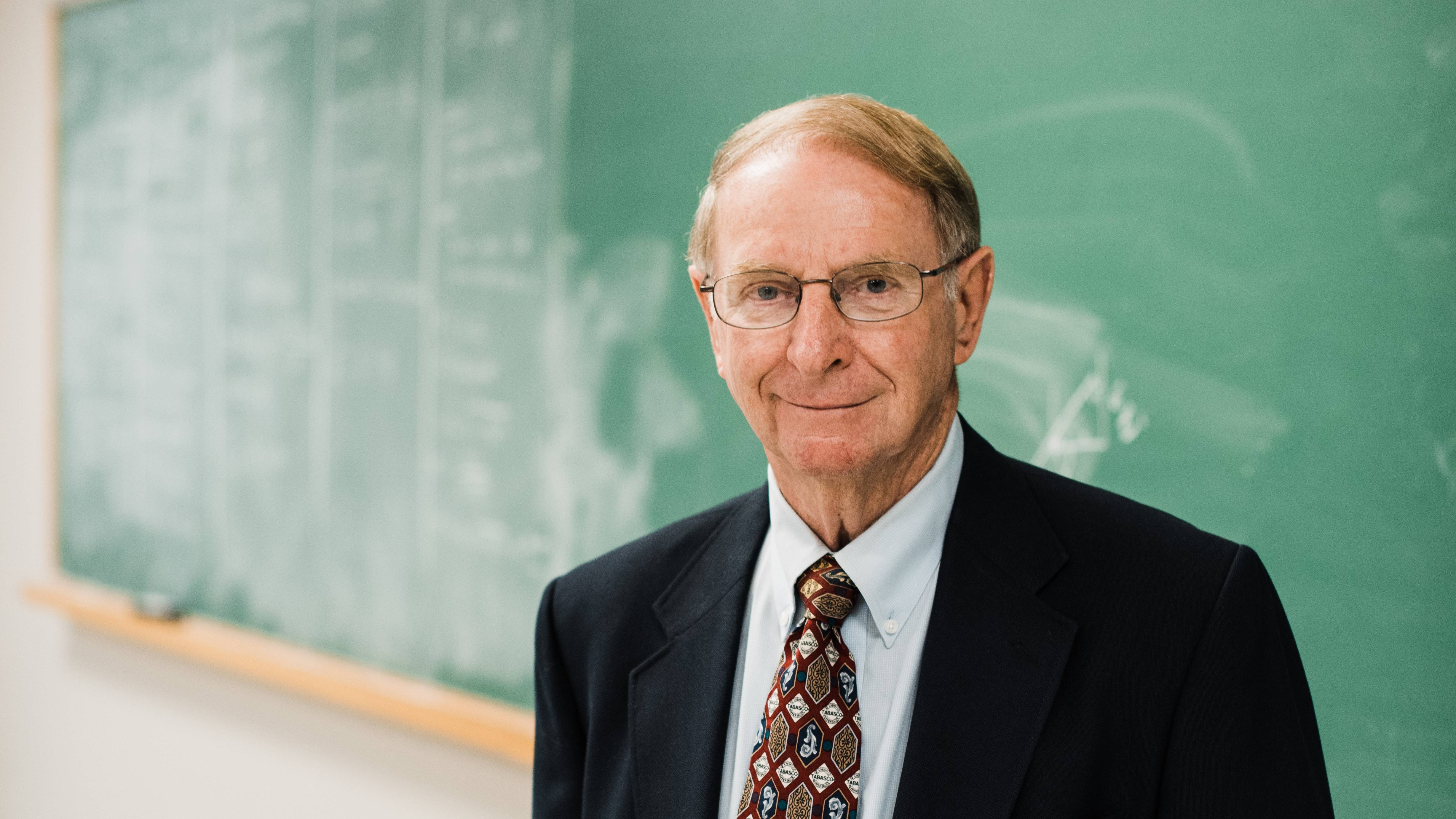 May 15, 2019 - Rachel Gaddis
For Glenn Good, teaching at Ouachita for 43 years was more than a good job. It was a good time. "I didn't have trouble going to work," Good said. "Usually, I had an 8 a.m. class. Students didn't like it, but I didn't mind it."
Good was offered a job at Ouachita in 1969 to teach Pre-Engineering, Intro to Physics for Pre-Professionals – his favorite class – and Science for Elementary Teachers. He taught at least two generations of Ouachita students, including a handful of current faculty and staff members and their children.
"Glenn Good was one of the best teachers I had in my entire educational experience," said Dr. Tim Knight, current dean of the Patterson School of Natural Sciences. "He was also a great colleague when I returned to Ouachita and joined the faculty."
Though Good and his wife of 55 years, Evelyn, did not have children of their own, Good said his students were like his kids.
"You ought to know I had bunches every year," he smiled. "My students were my children. I enjoyed them. But I told myself, 'Now, if I ever get a grandchild of a previous student, I'm quitting!' I retired before that happened."
Good discovered his love for teaching while at Louisiana State University, where he taught physics and nuclear science labs. He previously had earned Bachelor of Science and Master of Science degrees in physics from Louisiana Tech University. With his education, Good had many options other than teaching, but his professional goal was to help students. He even returned to earn an additional B.S. degree in mechanical engineering from Louisiana Tech "so I could better advise students in the pre-engineering program at Ouachita," Good noted.
"What I remember about my students is their faces and where they sat in the classroom," Good continued as he looked out the window, reminiscing. "I liked to see them as I taught, and I could tell if they were on-track or out in la-la-land."
Good was committed to giving his students new and exciting academic experiences. He studied astronomy in order to offer a class and drove to Missouri to retrieve a donated telescope. He co-taught an ecology class, which included several summer trips to Belize. Good, along with Dr. Joe Jeffers and Dr. Knight, took students on trips to the rain forest to study medicinal plants and develop a broader appreciation of nature, people and their cultures.
Good also secured multiple grants to give students more opportunities. For several summers, Good and Jeffers led science workshops around the state, equipping elementary teachers to better engage students.
"I should have written a book, but I was too busy having fun," he chuckled. "After that, books started coming out about how to teach hands-on science."
But Good's legacy won't end with the students he taught in his classroom. Over the years, he and Evelyn contributed to an account that ultimately became an endowed physics scholarship.
"Glenn had a significant impact on many, many students," Knight said, "and the endowed scholarship allows that impact to continue even though he's retired."
"I wanted to leave something to help Ouachita students," Good said. "There are students who will need it, and I want to help them reach their goals."
---
Photo by Andy Henderson