magazine
Staff profile: Mike McGhee, head softball coach
A legacy in relationships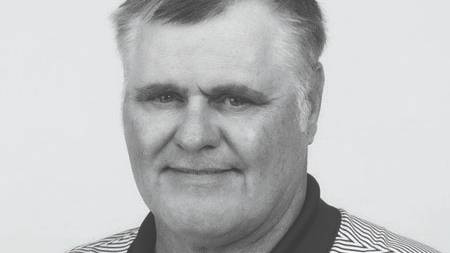 May 15, 2019 - News Bureau
Head Softball Coach Mike McGhee entered his 17th season at Ouachita in the midst of a battle with cancer. He passed away Feb. 24. McGhee left behind a lasting legacy in the lives of his players, fellow coaches and coworkers.
"His influence on his players and the qualities and values he expected from them established a program respected by all," said David Sharp, Ouachita director of athletics. "His hard work and relationships with others built Ouachita softball into what it is today."
McGhee joined the coaching staff as assistant softball coach in 2002 and took leadership of the team, along with Danny Prescott, in 2004 as McGhee finished his bachelor's degree at Ouachita. He was named head softball coach in 2006. He also served as head cross country coach from 2007-2016.
"He was my friend and mentor. He was a role model for my children and my players, as well," Prescott said. "It would be easy to go on and on about Mike, but all I can say is that he represented his love for Christ in all that he did."
Since the establishment of the Great American Conference (GAC) in 2011, McGhee coached 42 softball players who were named to the All-GAC Academic Team and three named to the All-GAC Tournament Team. He coached 19 cross country athletes who were named to the All-GAC Academic Team, one GAC Distinguished Scholar Athlete and two named to the All-GAC Cross Country Team. Additionally, 30 of his softball players were named All-American Scholar Athletes by the National Fastpitch Coaches Association.
"The impact he had on me and many others around him will never be forgotten," said Macy Nantz, current Ouachita assistant softball coach and former player. "He cared more about our spiritual lives than what was on the scoreboard. He was not only my coach but one of the godliest men in my life who meant the absolute world and more to me – someone who I will always remember and cherish every moment I had with."
"Coach McGhee was such a good man," added former player Sarah (Hanson) Hogan, a 2011 graduate. "He believed in me when I didn't believe in myself. I'm so thankful for his life."
In a 2013 interview with the Arkansas Democrat-Gazette, Coach McGhee himself summed up his time at Ouachita.
"Along with coaching these players in softball, you end up looking after these girls," McGhee said. "That is part of being at a smaller religious school. It's the OBU way. I get to know and love each one of my players. I feel like they are all my daughters."
"He cared so deeply about us," said current Tigers pitcher Marissa Butler. "He could tell me random facts about games he came to watch and recruit me back in high school … score, outs and what pitch I threw. He went the extra mile for us, and I miss him more than anything. I hope I can be at least half the person he was. Easily he will forever be one of the people who impacted me most."