magazine
Clothed with strength and dignity
Ouachita celebrates 10 years recognizing women of character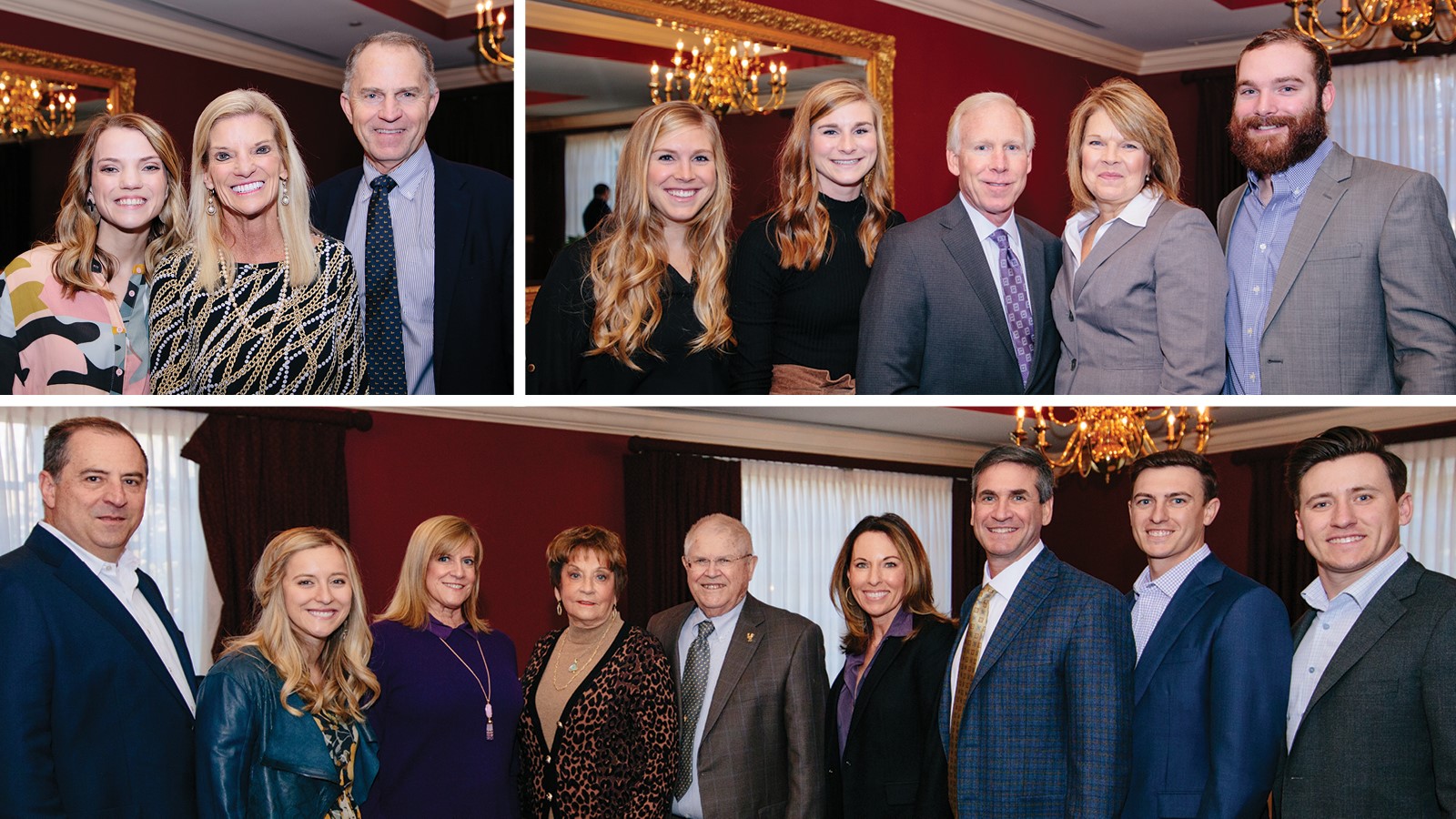 February 27, 2020 - Rachel Gaddis
More striking than the elegant setting or carefully prepared meal were these words – spoken with a tone of admiration and, on several occasions, muffled by tears – recognizing three women at the 10th anniversary Stepping Up for Ouachita luncheon:
"There is no way to edify my wife, Livia, in two minutes. I would measure what she's meant to many by the friends who are here today."
"Betty has dedicated her life to taking care of things that are important: her family, her church and her work."
"Kathy's preference, the way she lives life, is serving behind-the-scenes – quietly and unknown to anyone else."
Introduced by their husbands, honorees Livia Dunklin, Betty Tollett and Kathy Whisenhunt were surrounded by a full room of friends, family and Ouachita alumni as they each were recognized.
Every year, the university's Stepping Up for Ouachita luncheon honors an outstanding woman who has shown grace, leadership, integrity and faith. The event, which has raised more than $680,000 for scholarships since the inaugural event in 2010, is a symbol of Ouachita's ongoing commitment to the next generation of Ouachita women.
For the first time, Ouachita commended not one but three women, all who are outstanding Ouachita mothers. They were recognized for the special ways they have actively, but without seeking recognition, made a difference in the lives of those around them – in their homes, work and communities – and at Ouachita.
"All of these ladies are Ouachita super moms."
Terry Peeples
Vice President for Development
"These front tables are filled with husbands, daughters and sons and grandchildren who can tell us in words and ways, too many to count, how Betty, Kathy and Livia helped them, and changed them," said Dr. Ben Sells, President of Ouachita.
"Betty, Kathy and Livia, unlike the previous recipients of this award, are not alumni of Ouachita," he continued. "They did more than attend alumni reunions, travel to campus events or pay tuition, as important as that is. They began to identify with Ouachita, so much so that they wanted to offer their help to all Ouachita students, not just their family. Over time, they began to help, in ways that are visible and invisible, to make possible a Ouachita education for others. They've helped in untold and incalculable ways."
In a series of videos, the families of Livia, Betty and Kathy identified the characteristics they admired most about them.
Livia Dunklin: Loving, compassionate, devoted
Livia, who has supported her family's business, Five Oaks Ducks Lodge, was praised by both her husband and daughter for being a person of presence.
"Livia was there through a really difficult time in my life," said Livia's husband, George. "At every meeting, every turn, every time we had an issue come up, she was there and offered advice and counsel.
"She's a very driven person and successful person at anything she does," he continued, "but she does it with grace and love and dignity."
Lauren (Dunklin) Heird, a 2014 graduate who first introduced her parents to Ouachita, said of her mother, "She'll drop anything in the world to be there for us, no matter what she's doing or where she is."
Having actively attended Ouachita football games and Homecoming celebrations in support of Lauren and their son-in-law, Brad ('15), George and Livia said they "fell in love with Ouachita."
"I believe that the small campus Ouachita offers radiates a feeling of community and family," Livia said. "When I go to Ouachita, it is like being home. Even for someone who didn't attend, you are always very sorry to leave."
Betty Tollett: Kind, classy, unconditional
"I am proud that my two children, some of my grandchildren and a daughter-in-law attended Ouachita," said Betty, who also was introduced to Ouachita through her children. "I feel the world needs a Ouachita. It is a bright light in this very dark world."
Betty served many years as an elementary school teacher and also as a third grade Sunday School teacher at Cross Church in Fayetteville, Ark., where she also met her husband, Leland.
"Sometimes I see Betty coming across the room or sitting in a room, and I see that same classy, elegant young woman that I saw 59 years ago," Leland said. "Our life together has been wonderful."
Throughout her life, Betty has been known for her way with names, hospitality and service to others.
"I will run into people all the time, still today, who say, 'Your mom is just one of the kindest people I've ever been around,'" said her son, Gary, a 1989 graduate who serves on the Ouachita President's Advisory Council.
"She's just unconditionally loving," said Betty's daughter,
Terri (Tollett) Mardis, 1984 graduate and a member of Ouachita's Board of Trustees.
Kathy Whisenhunt: Patient, peaceful, loyal
Kathy's purpose is clear in everything she does, such as preparing meals for sick individuals, hosting showers for new brides and mothers, rocking babies at Arkansas Children's Hospital or homeschooling her children.
"She simply does what Jesus said the basis of life is," said her husband, Gene. "She loves God, and she loves people."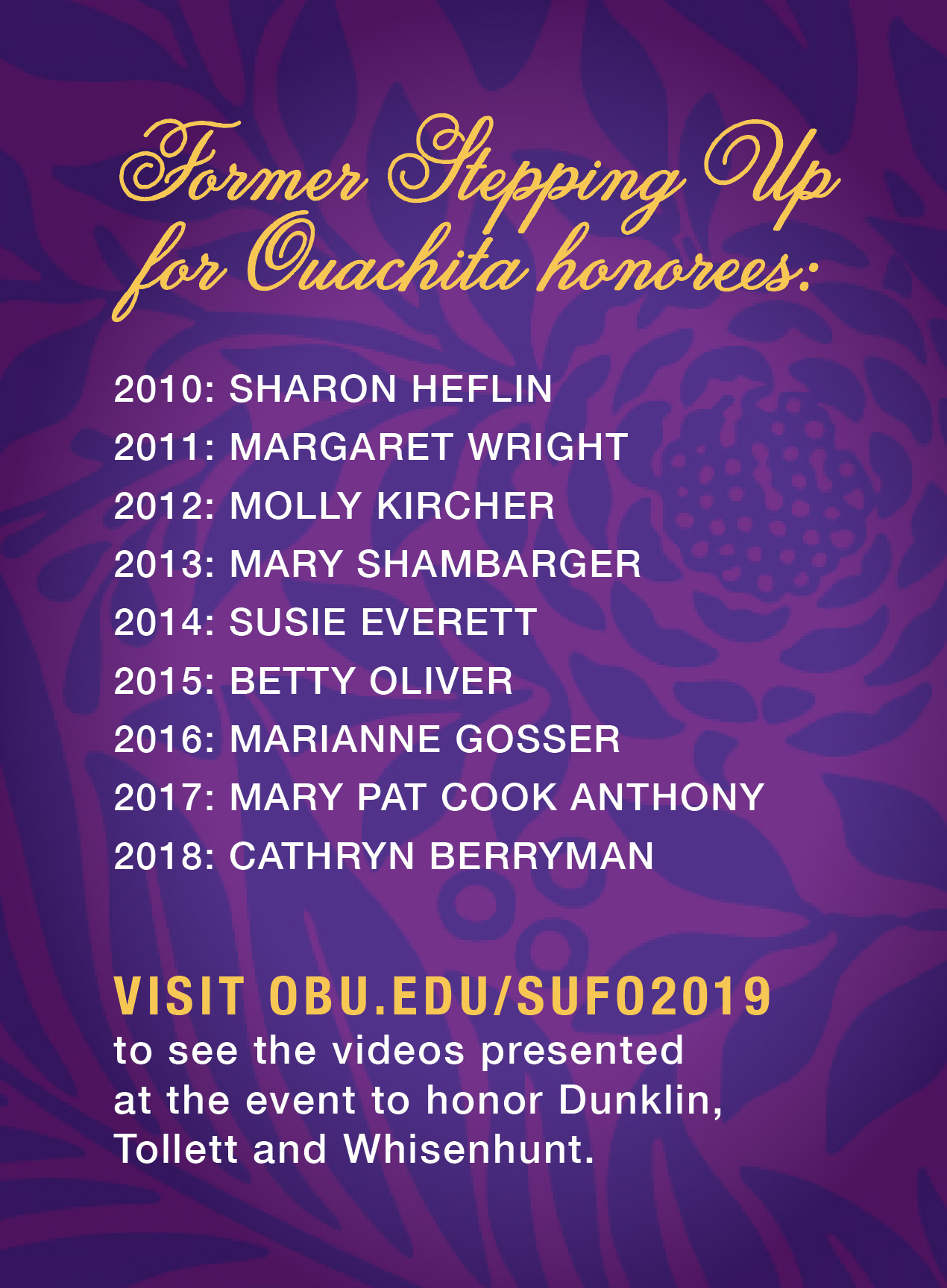 While homeschooling their children, she taught them "to do things right – to treat people with respect, to always honor others, to serve and to give – but also responsibility, work ethic and that you reap what you sow," Gene said.
Mary (Whisenhunt) Harrell, a 2013 graduate, said of her mom, "I value so much the way you've taken time to invest in us. Thanks for loving on our own kids so well. And, most importantly, thanks for pointing us to Christ all the time."
Looking back on her children's choice to attend Ouachita, Kathy said, "Ouachita provided a biblical worldview to guide and encourage my children as the Lord prepared them to go out into the world and make a difference for His kingdom."
Women of character
"All of these ladies are committed wives, mothers and servants for the Kingdom," said Terry Peeples, vice president for development at Ouachita. "They are all Ouachita super moms."
Livia, Betty and Kathy follow nine Stepping Up honorees. What they all have in common, besides their deep love for Ouachita, is their personification of the Proverbs 31 woman: "Many women do noble things, but you – a woman of character – surpass them all." It is not what they accomplish, but the character with which they live their lives. And that is lasting.
"Betty, Kathy and Livia, thank you. You follow a 133-year tradition of people stepping up for Ouachita," Sells said, "and this mission has been sustained and strengthened precisely because of people like you."
---
Lead photo: From left, Livia Dunklin (center) and family; Kathy Whisenhunt (fourth from left) and family; and Betty Tollett (fourth from left) and family. Photo by Alex Blankenship.