magazine
Faculty Profile: Ruth Plymale
Holder of the J.D. Patterson Chair of Biology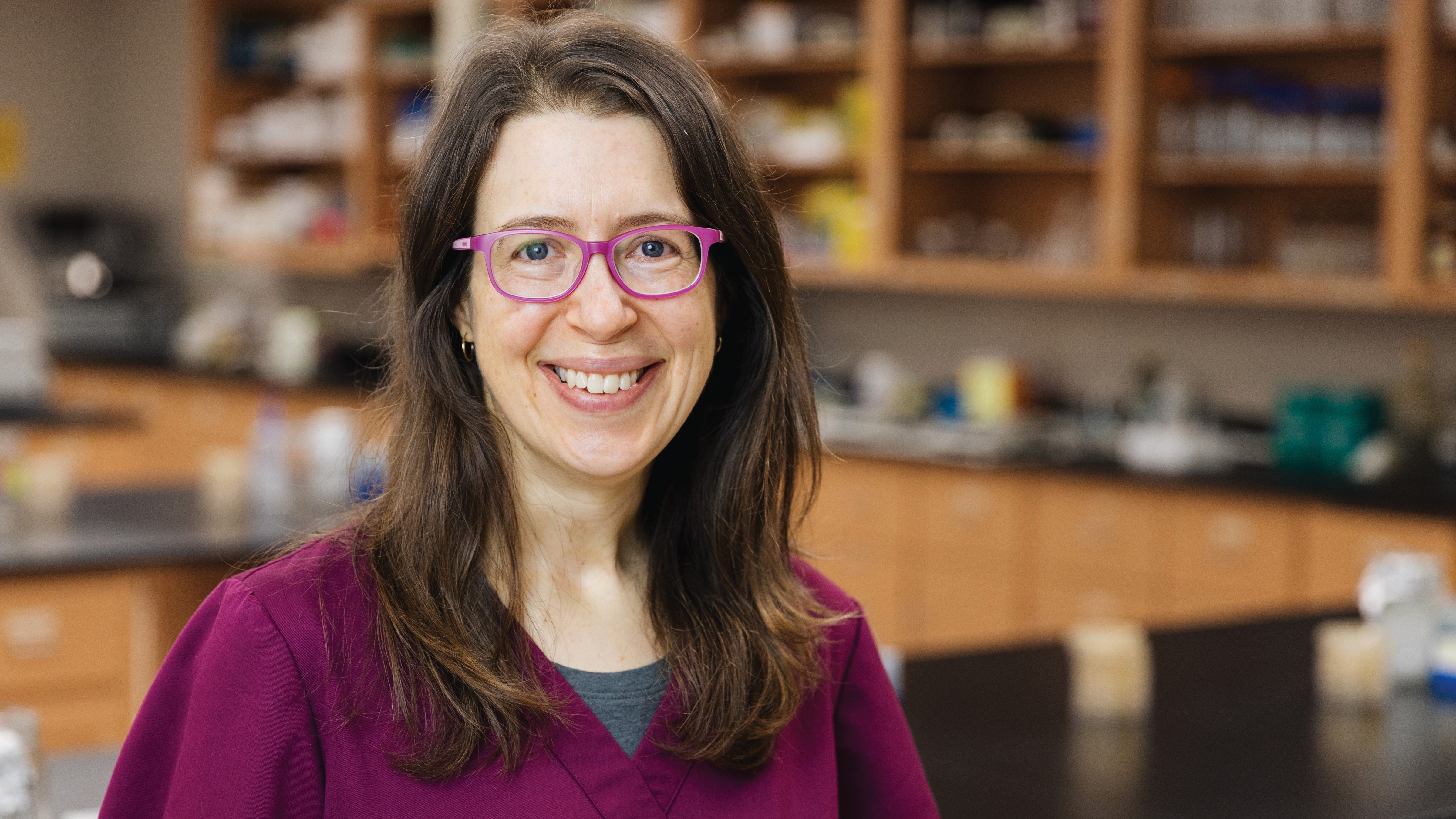 March 09, 2021 - Jon Merryman
Ask Dr. Ruth Plymale what she loves about Ouachita, and her answer is easy – the students!
"Ouachita students are phenomenal," Plymale shared. "They're nice, for one, but also super hard-working. They want to do a great job, and they're just lovely people. I've had students pray for me; we encourage one another. I love getting to know students – which may not have been the case if I taught at a larger university without a focus on community."
Born in Japan and growing up in Texas and Northwest Arkansas, Plymale arrived at Ouachita to teach biology in 2009 after earning degrees at the University of Arkansas and Penn State. Now Arkadelphia feels like home and her students like family.
"I love not only getting to know my students but other Ouachita students I meet at campus activities," Plymale said. "One day I was picking up groceries, and the employee bringing my groceries to my car was a student I met at a ballgame in the stands. I was so excited to see them and reconnect!"
"Ruth is one of the most organized and most conscientious people I know," said Dr. Tim Knight, dean of Ouachita's Patterson School of Natural Sciences. "She is not just a great teacher but an excellent advisor, as well. She genuinely cares for students and wants to see them succeed."
In addition to teaching biology courses and advising students, Plymale serves as coordinator of Ouachita's Biomedical Scholars Program, a program built for students preparing to enter health professions.
"Unlike a typical biology degree, Ouachita Biomedical Scholars take courses in physics, logic, communications; courses that focus on other people like Death and Dying; they participate in TranServe and study abroad; and they graduate with 50 hours of medical shadowing," Plymale explained. "We have an outstanding alumni network working with students for shadowing – even during COVID-19! Completing all of these courses and experiences make these graduates excellent applicants for health professions."
" Completing all of these courses and experiences make these graduates excellent applicants for health professions. "
Ruth Plymale
When in-person instruction shifted to remote in March due to COVID-19, Plymale and her colleagues worked tirelessly to ensure learning continued smoothly. Labs were created that could be completed at home, lectures were recorded to be watched on demand while class time was spent in synchronous question-and-answer sessions. Plymale's famous shark dissection lab took place via Zoom from her bathroom at home, where there were "plenty of wipeable spaces," she said.
Other home-friendly labs also were used, including labs that are now models for other science programs across the country thanks to Ouachita's unique AR-CURE program.
"Students can learn to measure this and that and put it in to this formula – and they're great at that – but if they just do that, they won't know how to apply those techniques to anything else," Plymale explained. "Instead, if you have students work on a project where they learn to solve problems, they gain confidence in their abilities to solve problems."
These "CURE"s, course-embedded undergraduate research experiences, have been a keystone of Ouachita's Patterson School for several years, with faculty members recently building the nationwide initiative to provide pedagogical resources to other undergraduate programs. This summer, they hosted the fourth annual AR-CURE Synthetic Biology Workshop, only this time it was virtual. Plymale and her colleagues hosted faculty members from 38 colleges and universities for the weekend workshop.
Problem solving proved to be a critical skill in this unprecedented year not only for Plymale's students but also for faculty, staff and others as we each made adjustments to life as usual.

Lead photo by Tyler Rosenthal
You Also Might Like