happenings
Ouachita's Division of Music presents the Wind Ensemble in concert March 7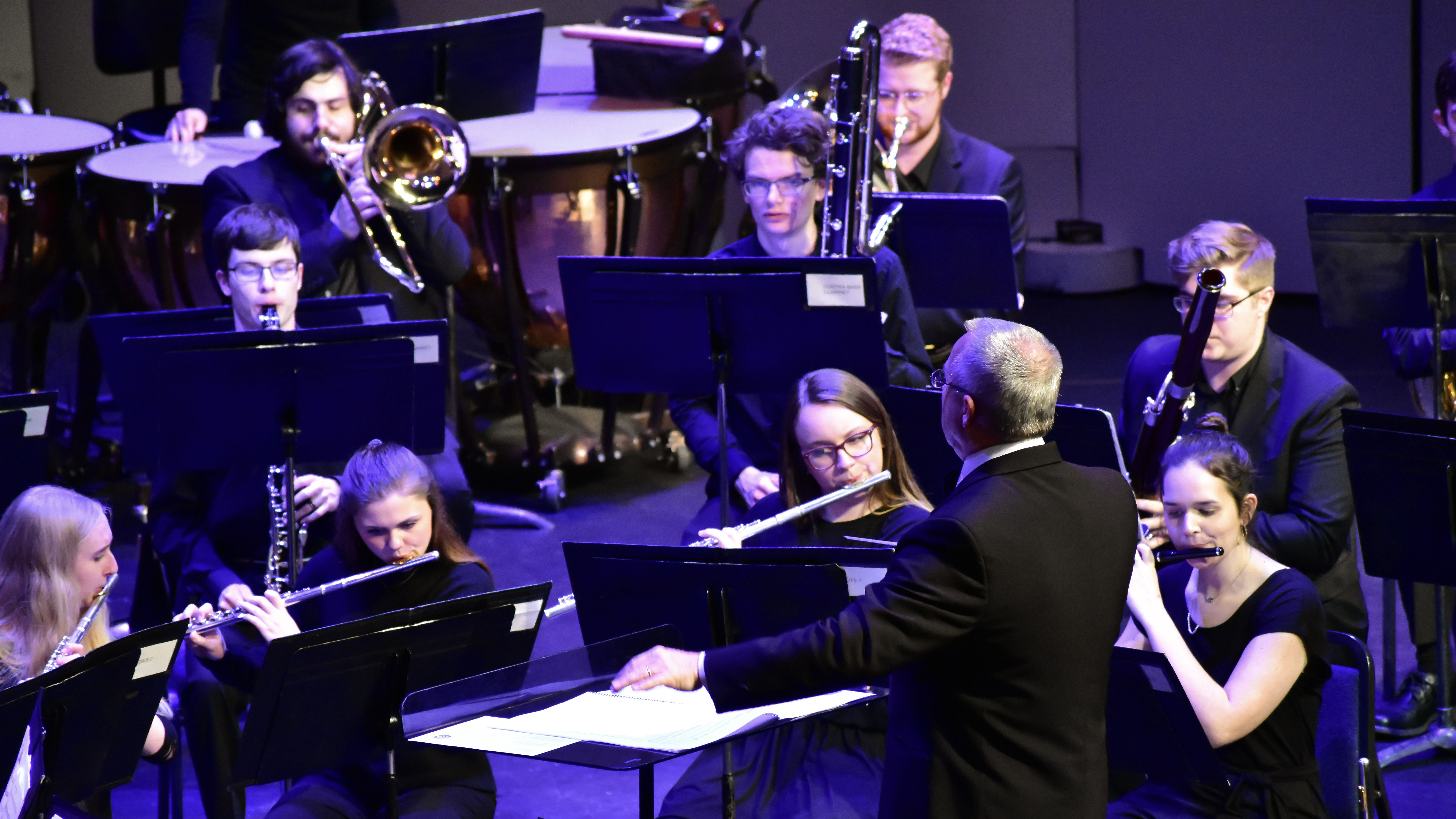 February 24, 2022 - Angela Webb
Ouachita Baptist University's Division of Music presents the Wind Ensemble in concert Monday, March 7, at 7:30 p.m. in Jones Performing Arts Center. The concert is free and open to the public.
"We have prepared a varied program of great music for the audience to enjoy," said Dr. Craig Hamilton, the Lena Goodwin Trimble Professor of Music and director of bands at Ouachita. Hamilton will conduct the Wind Ensemble. "Our featured soloist is Craig Crawford playing Fantasia for Alto Saxophone by Claude T. Smith. Craig is the winner of the 2021 W. Francis and Mary McBeth Concerto Competition."
Crawford is a senior music performance/instrumental major from Texarkana, Texas. In addition to his featured solo, the program will include "Prologue," "Song," "Dance," "Burlesque," "Soliloquy" and "March" from Divertimento for Band, Op. 42. by Vincent Persichetti; "Riften Wed" by Julie Giroux; "Shadow Rituals" by Michael Markowsky; and "Oratio," "Cantus" and "Dies Festus" from Gloriosa by Yasuhide Ito.
The Wind Ensemble concert will be livestreamed from obu.edu/band. For more information about the Ouachita bands, contact Dr. Craig Hamilton at hamiltonc@obu.edu or at (870)245-5137.
…..
BASS CLARINET: Jaelen Becho, Sam Youmans
BASSOON: Cross Brandon
CLARINET: Reganne Dumas, Lane Dunman, Hanah Green, Ashton Tumlison
CONTRA-BASS CLARINET: Hailea Eubanks
EUPHONIUM: Gabe Mills, Ashlyn Seibert
FLUTE: Katie Carroll, Destiny Diaz, Brailee Price, Skylar Schaffer, Victoria Sprague
HORN: Kaitlyn Campbell, Jacob Emmons, Isabella Owen, Mac Ricks
OBOE: Emma Rouse, Brock Wade
PERCUSSION: Jenna Barnes, Braden Crawley, Carly Hall, Lloyd Hassell, Katie McManus, Jonathan Sandy, Chloe Spraggins
SAXOPHONE: Craig Crawford, Caden McClain, Joseph Osborne, Lexi Peck, Graham Scarborough, Josh Sutton, Elizabeth Worden
TROMBONE: Tyler Hancock
TRUMPET: Camryn Manning, Deacon Miller, Jared Wainright, Josh York
TUBA: Alex Browning, Chris Rudy
Photo by Hannah Adamson
You Also Might Like