news
Ouachita presents PRISM concert May 1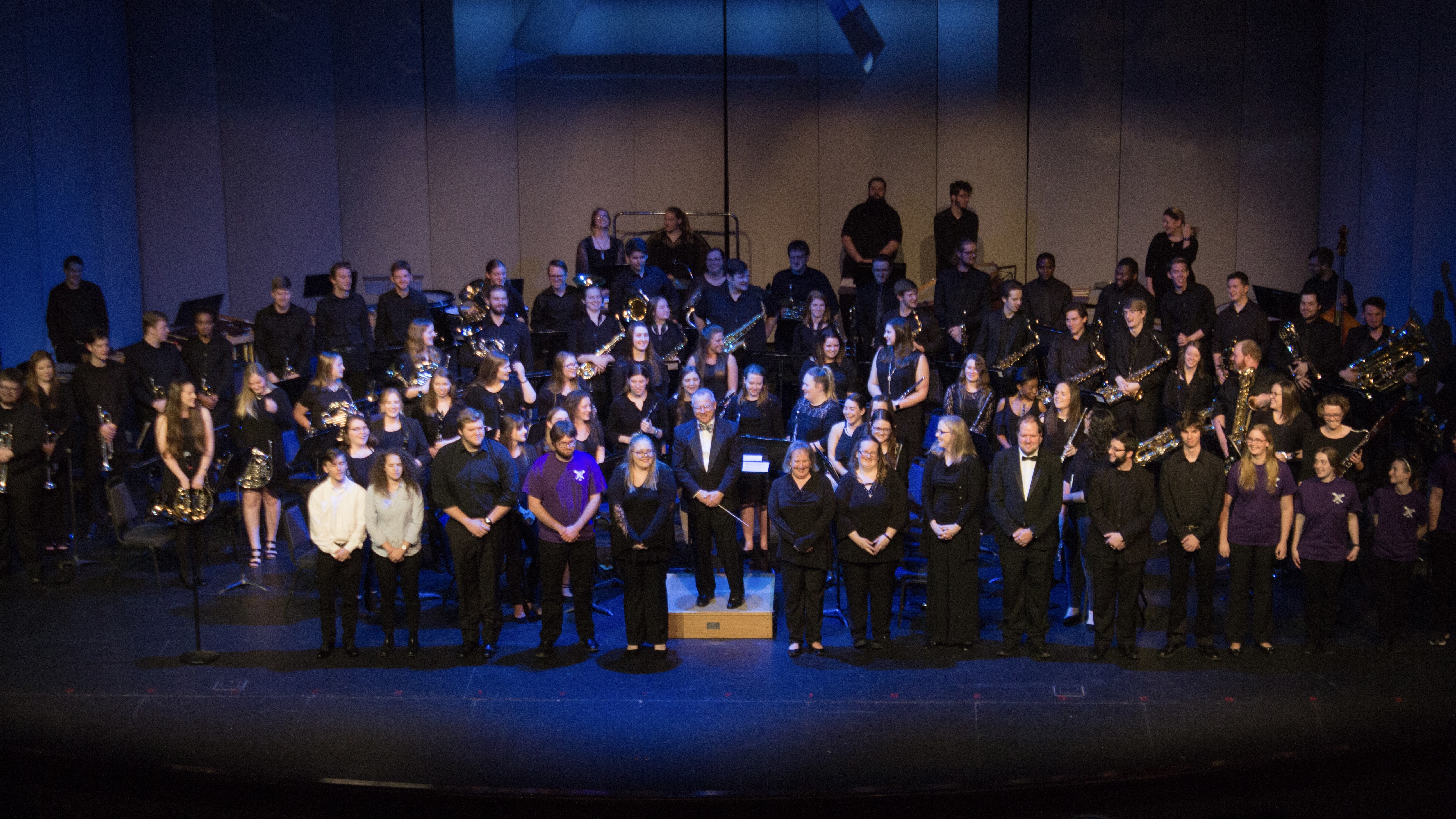 April 28, 2023 - Kelsey Bester
Ouachita Baptist University's Division of Music presents its annual PRISM concert on Monday, May 1, at 7:30 p.m. in Jones Performing Arts Center. Free and open to the public, the concert will include performances from Ouachita's instrumental ensembles.
"The Ouachita PRISM Concert is one of my favorite concerts of the year," said Dr. Craig Hamilton, Lena Goodwin Trimble Professor of Music and director of bands at Ouachita. "It features many of our instrumental ensembles in a unique setting. I am very proud of the music our students and faculty create and look forward to sharing their achievements with our audience."
The Wind Ensemble will perform "Meditation" by Dwayne Milburn, "Irish Washerwoman" by Leroy Anderson and Malcolm Arnold's "Prelude, Siciliano and Rondo," arranged by John Paynter. James Christensen's arrangement of "The British Grenadiers" and Dale Eymann's arrangement of "Prelude and Fugue in D minor" by J.S Bach will be performed by the Single Reed Ensemble, and the Flute Ensemble will perform "The Cat's Pajamas" by Nicole Chamberlain and Guy du Cheyron's arrangement of "Die Moldau" by Bedřich Smetana.
Other performances include:
Jan Van der Roost's "Flashing Winds" and Frank Ticheli's "Sun Dance" performed by the Combined Band
The Ouachita Percussion Ensemble's arrangement of "Medley for Tubarimba" performed by the Symphonic Band Percussion
Tyler Swick's "Can I Say?" performed on marimba and tenor pan by Katie McManus, a junior instrumental music education major from Buford, Ga.
Ivan Trevino's "Catching Shadows" performed on marimba by Chloe Crawley, a senior music major from Hot Springs, Ark., and Katie McManus
Johann Pezel's "Sonata No. 2 from Hora Decima (Leipzig 1670)" performed by the Wind Ensemble Brass
Pierre-Octave Ferroud's "Bergere Captive" performed by Destiny Diaz, a senior instrumental music education major from Malvern, Ark.
For more information about the concert, contact Dr. Craig Hamilton at hamiltonc@obu.edu or at (870) 245-5137.
---
FLUTE
Destiny Diaz

Emma Grace Morris
Brooke Wright
Brailee Price
Elizabeth Hahn
Skylar Schaffer
Victoria Sprague
Sadie Buttram
Sarah Wagner
Autumn Walters
Hannah More
GraceAnn Covington
Josie White
OBOE
Emma Rouse
Kelsey Coventry
Kaitlyn Norris
Chloe Veuleman
CLARINET
Lane Dunman
Lexi Williams
Baylee Burson
Landon DiMaio
Landon Smith
Tatum Smith
Ashton Tumlison
Jasmine Riley
Alexis Hawkins
Ashton Arnold
BASS CLARINET
CONTRABASS CLARINET
SAXOPHONE
Elizabeth Worden
Caden McClain
Lexi Peck
Aaron Washburn
Joseph Osborne
Trevor Jones
Savannah Pierce
Ayden Bennett
Dalton Lunday
Josh Motl
TRUMPET
Camryn Manning
Josh York
Kaleb Freeman
Deacon Miller
Kenzie Tatum
Sam Spraggins
Ty Bearden
HORN
Bella Owen
Jacob Emmons
Nathan Clark
Haley Jackson
Mac Ricks
Abigail Dahl
TROMBONE
Caleb Cornelius

Peyton Lowery
EUPHONIUM
Gabe Mills
Kaleb Metz
Jacob Holt
TUBA
Alex Browning
Evan Burroughs
Colin Conroy
PERCUSSION
Braden Crawley
Chloe Crawley
Katie McManus
Carly Hall
Jenna Barnes
Lloyd Hassell
Hannah Tullos
Cason Barnett
Colin Clark
Nathan Costner
Jalon Davis
Owen Dodd
Caleb Gumm
Carleigh Himmelsehr
Anderson Jones
Kalel Langford
Andrew Pierce
Micah Terry
Brandon Tullos
Carter Smith
David Weick

Hayden Wylie
You Also Might Like