news
Ouachita celebrates student achievements in Academic Awards Ceremony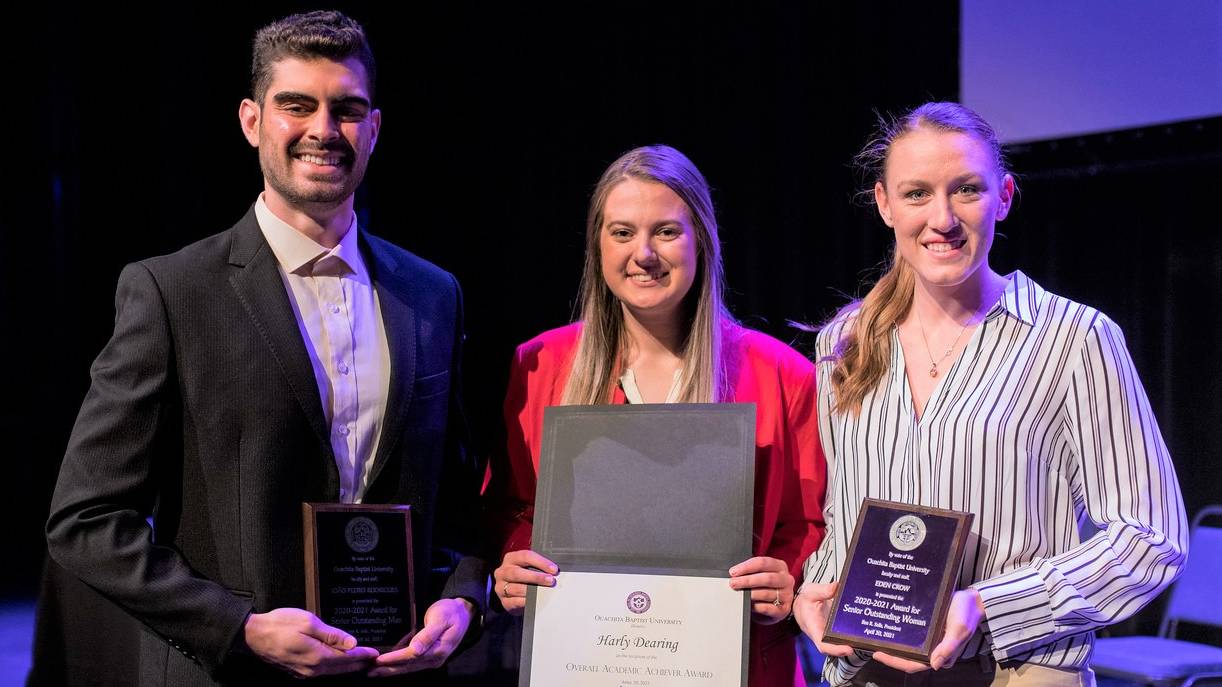 May 20, 2021 - Rachel Gaddis
Ouachita Baptist University recently recognized students for outstanding academic, leadership and civic achievements during the 2020-2021 academic year with its annual Academic Awards Ceremony, which was held in Jones Performing Arts Center.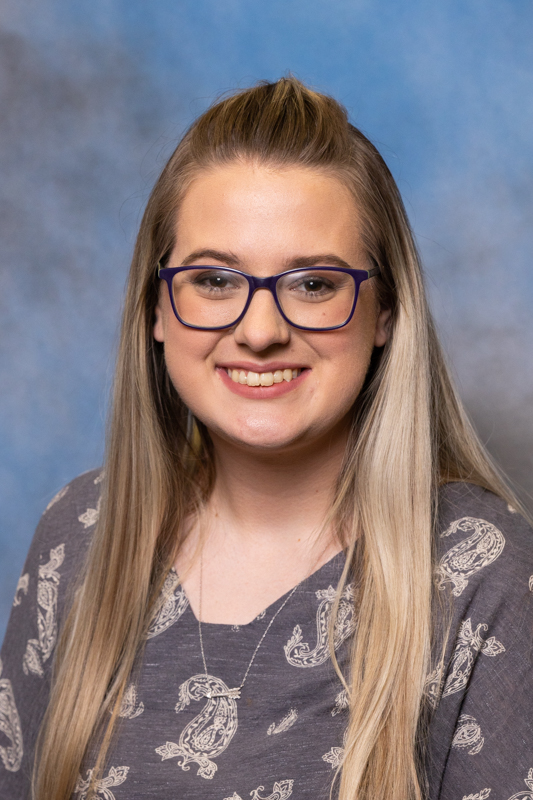 Harly Dearing, an accounting, finance and business administration/management triple major from Cove, Ark., was awarded Ouachita's highest academic honor as the university's Overall Academic Achiever. Dearing also earned top academic achiever in the Hickingbotham School of Business and was recognized as a Carl Goodson Honors Program Blue Ribbon Finisher.
Ouachita's Senior Outstanding Man is João Pedro Rodrigues, a finance major from Ribeirão Preto, Brazil. Ouachita's Senior Outstanding Woman is Eden Crow, a kinesiology & leisure studies/teaching and education double major from Texarkana, Ark. The Senior Outstanding Man and Woman are selected by Ouachita's faculty and staff. Rodrigues also was recognized as a Carl Goodson Honors Program Blue Ribbon Finisher.
Other top academic achievers in each school include:
Pruet School of Christian Studies – Laura Beth Warner, a Christian studies/Christian ministries major from Benton, Ark.
Huckabee School of Education – Emily Koonce, a secondary education and English double major from Wylie, Texas
School of Fine Arts – Holli Barger, an instrumental music education major from Carrollton, Texas
School of Humanities – Elizabeth Steely, a communications & media/multimedia journalism major from Conway, Ark.
D. Patterson School of Natural Sciences – Emme Edmondson, a biology major from Benton, Ark.
H. Sutton School of Social Sciences – Taryn Bewley, a political science and psychology double major from Conway, Ark.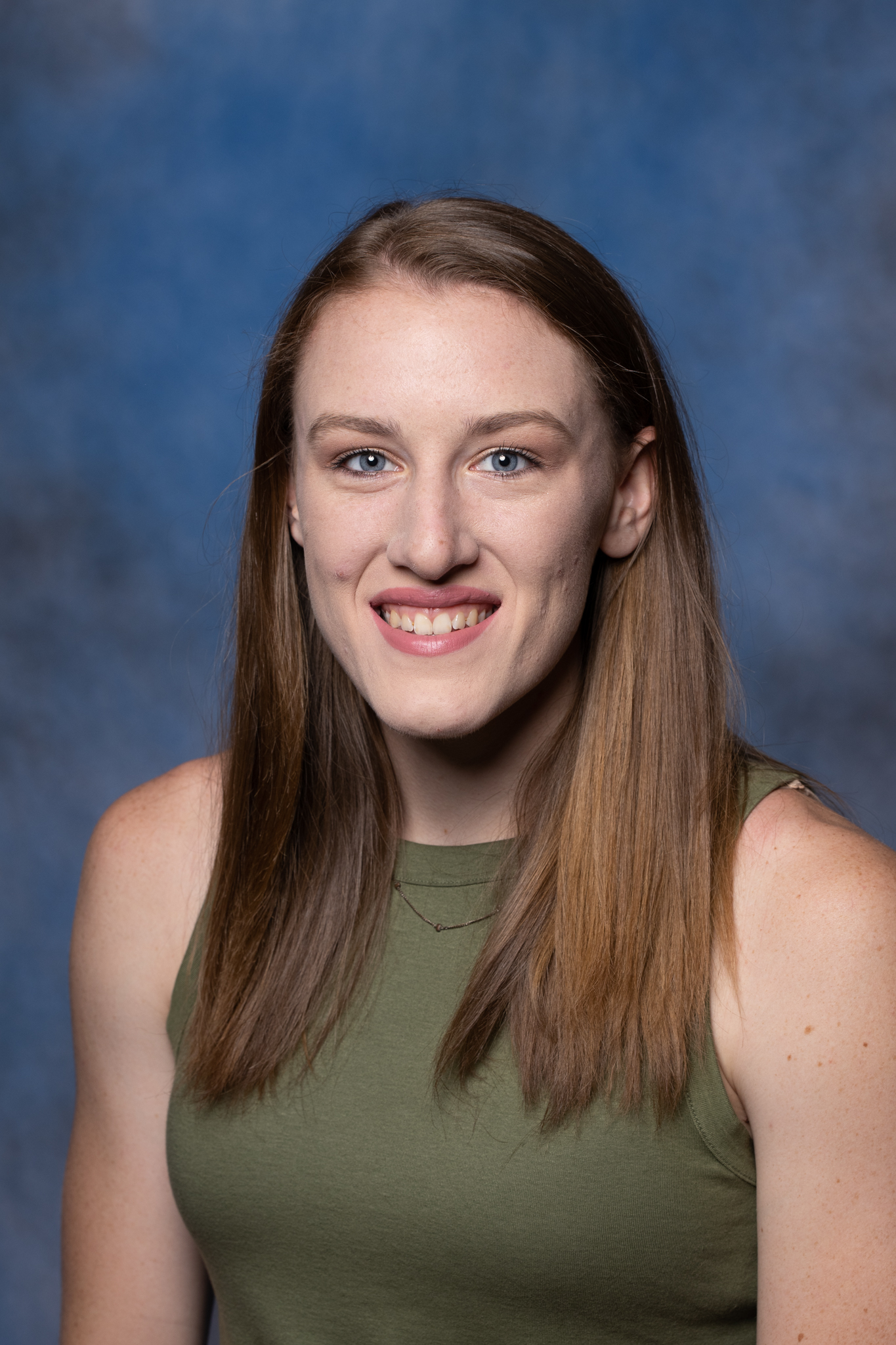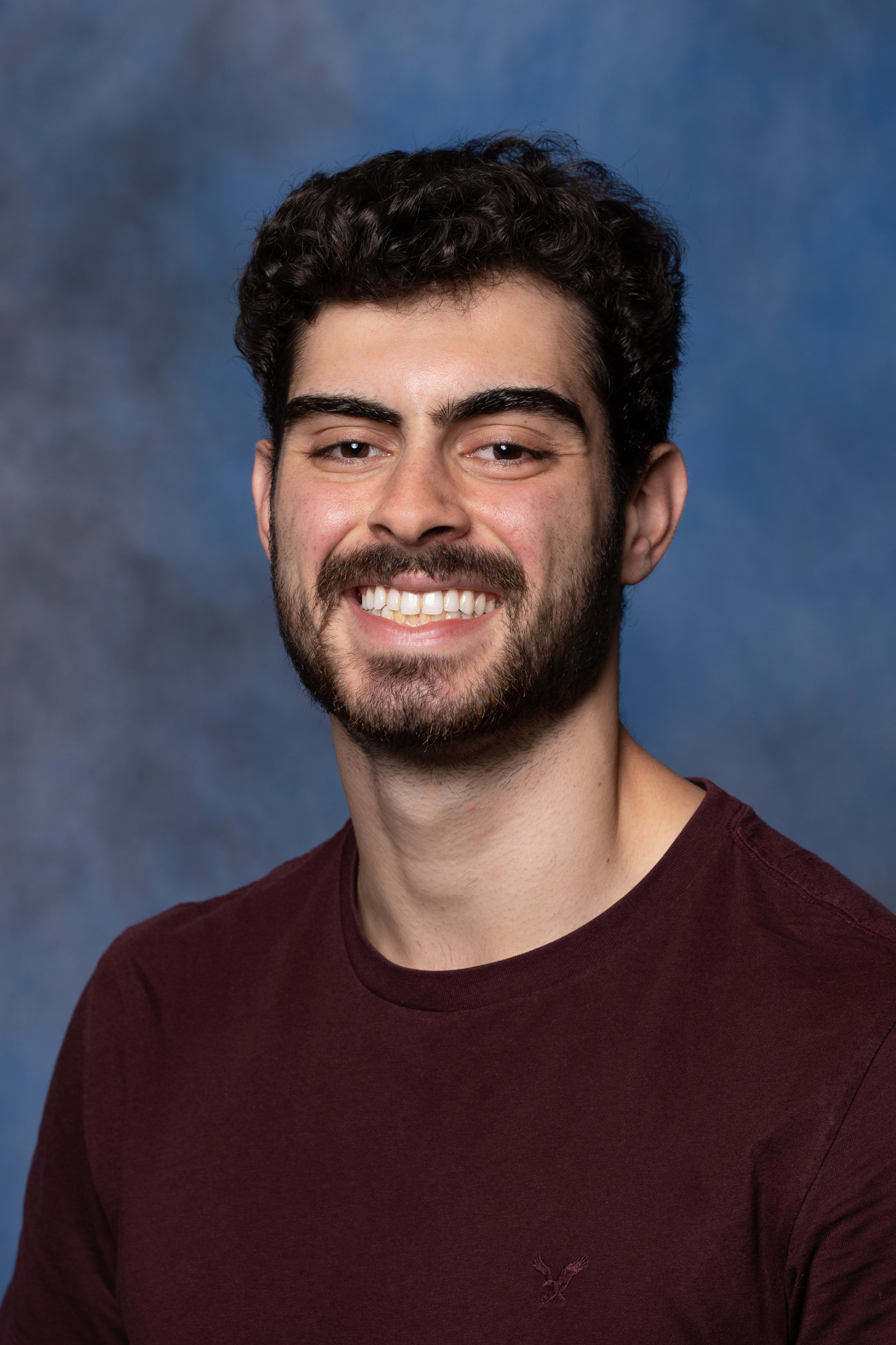 The Mrs. J.R. Grant Endowed Awards for freshman and senior female students were given to Anna Kate Velasquez and Bailey Buettner, respectively. Velasquez is a Christian studies major from Pearland, Texas. Buettner is a psychology and Christian studies/Christian missions double major from Garland, Texas.
The Mrs. Betty Oliver Grant Endowed Awards for sophomore and junior female students were given to Dayja James and Madison Williamson, respectively. James is a biology major from McGehee, Ark. Williamson is a communication sciences & disorders major from Magnolia, Ark.
The Most Inspirational Professor Award was presented to Dr. Scott Duvall, J.C. and Mae Fuller Professor of Biblical Studies.
Individuals honored by the Carl Goodson Honors Program and Ouachita's seven academic schools include:
CARL GOODSON HONORS PROGRAM
Ben Elrod Scholar: Cora Saddler
Carl Goodson Scholar: Maddie Bailey
Garrett Ham Scholar: Jael Winterholter
Blue Ribbon Finishers: Tray Armstrong, Addison Bates, Jasmine Baughman, Christina Beger, Elijah Begin, Jordon Bone, Rebecca Braly, Scarlett Castleberry, Kayla Churchwell, Jessica Daniell, Harly Dearing, Kara DeLaune, Melodie DuBose, Lauren Dunaway, Emily Edmondson, Jordon Ford, Grace Gallagher, Travis Hankins, Caleb Harmon, Kathryn Harmon, Caitlyn Hatchett, Cade Haynie, Shawn Hill, Jennifer Johnson, Grace Jones, Madeline Knight, Emily Koonce, Moriah Manchack, Erin McNully, Jordan Myers, Rebekah Oliver, Breanna Parker, Hannah Perkins, Stephen Pilant, Stephany Quintero, David Rainwater, Alyssa Reece, João Pedro Rodrigues, Madeline Rottinghaus, Sidney Salyers, Carmen Scott, Madison Shankle, Rylie Slone, McKenzie Smith, Timothy Spiva, Zachary Tomlinson, Abigail Walker, Jennifer Wallace, Laura Warner, Julianne Weaver, Mallory Whitson and Estelle Zhang.
Most Valuable Professors: Dr. Sharon Hamilton, associate professor of chemistry, and Dr. Nathan Reyna, associate professor of biology.
HICKINGBOTHAM SCHOOL OF BUSINESS
Lera Kelly Outstanding Senior in Business Administration Award: Ali Chapman, Cole Alexander
Margaret Wright Outstanding Senior in Accounting Award: Erin McNully
Eddie Ary Outstanding Senior in Finance Award: Will Guerra
Johnny Heflin Excellence in Leadership & Academics Award: Stephany Quintero
Outstanding Business Scholar Athlete: Rileigh Fielder, Luke Scaggs
PRUET SCHOOL OF CHRISTIAN STUDIES
Outstanding Student in Biblical Studies: Lucas McCann
Outstanding Student in Christian Ministries: Laura Beth Warner
Outstanding Student in Christian Missions: Rylie Slone
Don Harbuck Award for Excellence in Philosophy: Zach Tomlinson
Preben Vang Award for Christian Theological Studies: Cody Cagle
Biblical Hebrew Award: Emma Smith
Robert Stagg New Testament Greek Award: Gabby Grau
HUCKABEE SCHOOL OF EDUCATION
Alice Searcy Award: Anna Katherine Green
Outstanding Current Education Sophomores: Isabella Bejarano (elementary), Sydni Watts (middle), Hannah Tullos (secondary)
Sylvia Gates Webb Award: Garrison Jensen
Maude Wright Memorial Award: Katie Gray
Phi Delta Kappa Teachers in Training: Gracen Seabaugh (elementary), Jonathan Rubin (middle), Sydney Mendel (secondary), Bethany Crawley (K-12)
Charles Chambliss Distinguished Educator Award: Olivia Yarbrough
Bob Gravett Outstanding Kinesiology & Leisure Studies Teaching Award: Alexis Castillow
Tona Wright Outstanding Kinesiology & Leisure Studies Fitness Award: Gabriel Curlin
Outstanding Kinesiology & Leisure Studies/Exercise Science: Ryan Wilson
Outstanding Kinesiology & Leisure Studies/Recreation: Ben Adair
Outstanding Kinesiology & Leisure Studies/Pre-Professional Studies Award: Julianna Mack
Outstanding Kinesiology & Leisure Studies/Recreation & Sports Administration: Luke Schmidt
SCHOOL OF FINE ARTS
Division of Applied Arts
Francie Phelan Outstanding Senior – Graphic Design: Maddie Bayer
Francie Phelan Outstanding Senior – Studio Art: Jenna Whitlow
Raybon-Berry Outstanding Freshman Visual Arts Major: Jill Parsons
Russell Shad Memorial Art Award for Outstanding Junior: Tehya Hinkson
Theatre Arts Outstanding Design/Tech Student Award – Freshman: Brynlee Beams
Theatre Arts Outstanding Student Award – Freshman: Abby Burlison
Theatre Arts Outstanding Student Award – Junior: Sammy Campione
Alpha Psi Omega Senior Award: Danielle Hall, Molly Kennedy
Division of Music
Sigma Alpha Iota College Honor Award: Kailee Morehart
Sigma Alpha Iota Scholarship Award: Lexi Reimer
The Presser Scholar: Sam Youmans
Rachel Fuller Scholarship: Eryn Riley
James Harrison Scholarship: Bryce Krisell
Friends of Fine Arts Scholars
Visual Arts: Saba Esho
Instrumental Music: Graham Scarborough
Piano: Katie Bayer
Theatre Arts: Julia Letcher
Voice: Matthew Mayfield
SCHOOL OF HUMANITIES
Department of Language and Literature Awards
Outstanding Senior English Major: Emily Koonce
Outstanding Junior Louise Searcy Bennett Scholarship Award: Cora Saddler
Outstanding Sophomore Herman Sandford Scholarship Award: Emily Pease
Outstanding Freshman in English: Sydney Motl
The Sharpest Speer Award: Emily Koonce, Tray Armstrong
Bugtruck Gumption Award for Outstanding Service: Langley Leverett
Outstanding Junior Spanish Major: Lauren Gaharan
Outstanding Senior Spanish Major: Mady Cate Rottinghaus
El Tigre Award: Chase Hartsell
Outstanding Student in Latin: Emilee Webb
Rogers Department of Communications Awards
Bill & Vera Downs Outstanding Sophomore Mass Communications Student Award: Caroline Derby
Matt Turner Outstanding Junior Mass Communications Major Award: Abby Blankenship
William D. Downs Outstanding Mass Communications Graduate Award: Caity Hatchett, Ben Swanger
Roy Buckelew Outstanding Speech Major Award: Hayden Reedy
Publications Awards: Ben Swanger (Ouachitonian), Caity Hatchett (Signal), Caity Hatchett (Online Signal) Abby Blankenship (Photo Lab), Hannah Smith (Photo Lab), Matthew Branch (Ouachita Sports Digital Network)
J. D. PATTERSON SCHOOL OF NATURAL SCIENCES
Outstanding Freshman Biology Award: Kaylee Johnson
Richard H. Brown Biology Award: Rylie Davis
Outstanding Senior in Biology Award: Emme Edmondson
Outstanding Dietetics & Nutrition Award: Madeline Steely
Freshman Chemistry Award: Kaylee Johnson
Ethel & Nell Mondy and E.A. Provine Scholar: Kayla Whittington
Outstanding Graduate in Chemistry: Travis Hankins
Harvey Research Award: Kayla Churchwell
Rowland Memorial Awards in Physics, Mathematics & Computer Science
Outstanding Senior – Mathematics: Sarah Freeze
Outstanding Senior – Mathematics Education: Katie Harmon
Outstanding Senior – Physics: Travis Hankins
Outstanding Senior – Computer Science: Caleb Harmon
Academic Excellence – Mathematics: Jonah Mears
Academic Excellence – Computer Science: Kaitlyn Campbell
Academic Excellence – Physics: JaCoya Hodges
Mathematics Ambassador Award: Graycie Bohannan
Academic Excellence – Nursing: Grace Pickleman, Miranda Petit, Kaylee Martin, Courtney Myers, Cassie Lackey
Florence Nightingale's Spirit of Human Kindness Award: Madi Esch
Most Likely to Exceed: Bay Novak
W.H. SUTTON SCHOOL OF SOCIAL SCIENCES
Everett Slavens Award to Outstanding Sophomore: Landon Denman
Lavell Cole Award to Outstanding Future Teacher: Kaleb McAdams
Fran Coulter Award to Outstanding Junior: Sarah Spakes
C. Daily Award to Outstanding Senior: Jenna Whitlow
Phi Alpha Theta Award for Outstanding Research Paper: Spencer Worth
Bob Riley Outstanding Graduate in Political Science Award: Taryn Bewley
Psychology Faculty Award: Ashton Hurst, Pietra Gois, Saba Esho
Zeitgeist Award: Josie Collins, Victoria Martin
Weldon Vogt Outstanding Psychology Senior Award: Madison Shankle
Outstanding Junior Sociology Award: Kiki Youmans
Outstanding Graduating Senior Sociology Award: Carli Copell
---
Lead photo: Ouachita awarded Harly Dearing (center) the university's Overall Academic Achiever award, Joao Rodrigues (left) Senior Outstanding Man and Eden Crow (right) Senior Outstanding Woman for the 2020-2021 academic year during its annual Academic Awards Ceremony. Photo by Abby Blankenship. Download full size image.