news
Ouachita student achievers honored May 5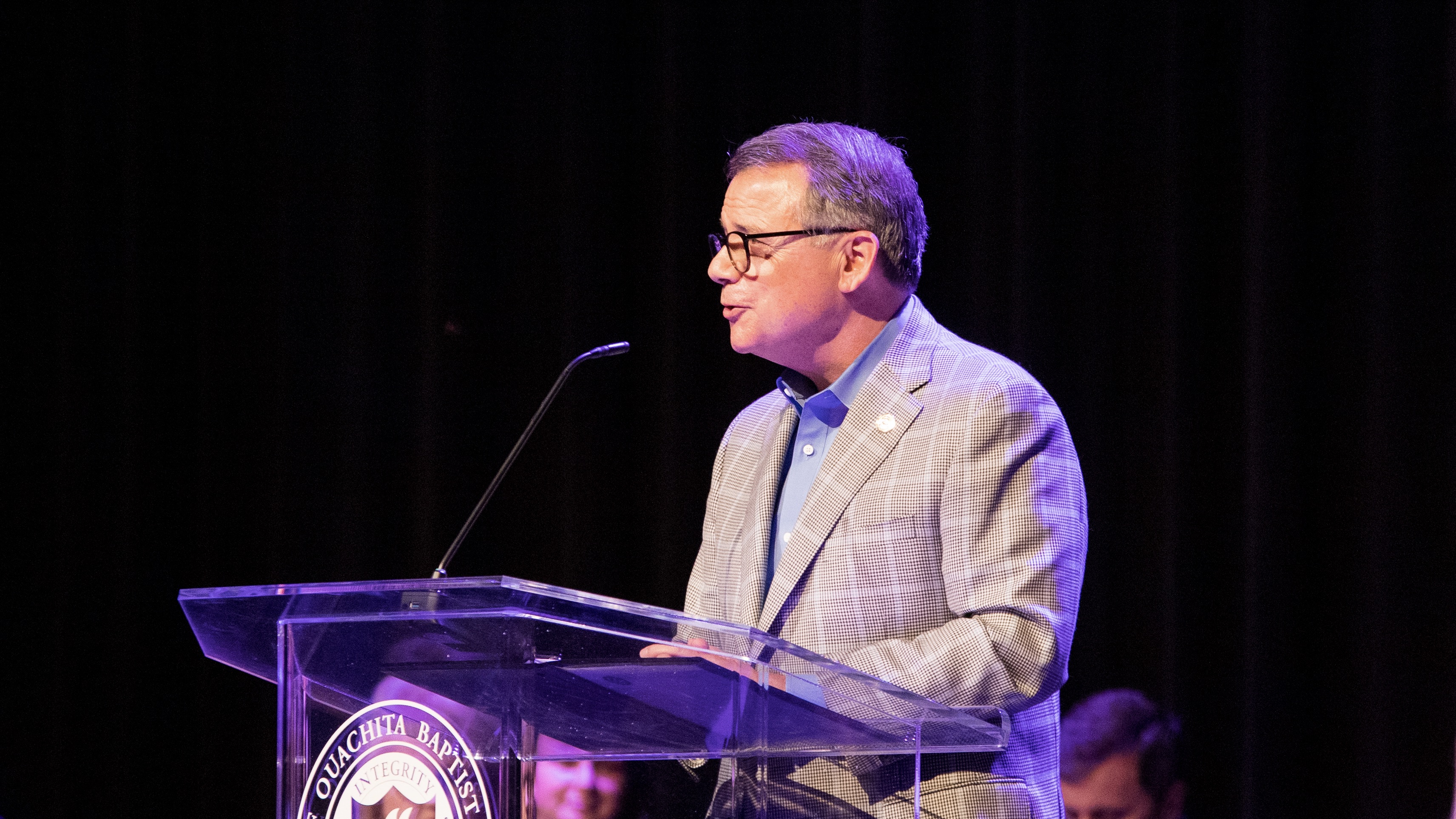 May 10, 2022 - Felley Lawson
Ouachita Baptist University students were honored for scholastic achievement Thursday, May 5, in Jones Performing Arts Center during an academic awards ceremony sponsored by Ouachita's Student Senate.
Cora Saddler, a senior English and Spanish double major from Cabot, Ark., was named Overall Academic Achiever, the university's highest academic honor. She also earned distinction as top academic achiever and Outstanding Senior English Major in the School of Humanities and as a Blue Ribbon Finisher in the Carl Goodson Honors Program.
Ouachita's Outstanding Senior Woman and Outstanding Senior Man are chosen by the university's faculty and staff. Kayla Whittington, a chemistry, biology and Spanish triple major from North Little Rock, Ark., was selected to be Outstanding Senior Woman. She is also one of two students named Outstanding Graduate in Chemistry. Outstanding Senior Man is Sam Youmans, a music industry major from Siloam Springs, Ark., who was also the top academic achiever in the School of Fine Arts. Whittington and Youmans are Carl Goodson Honors Program Blue Ribbon Finishers, as well.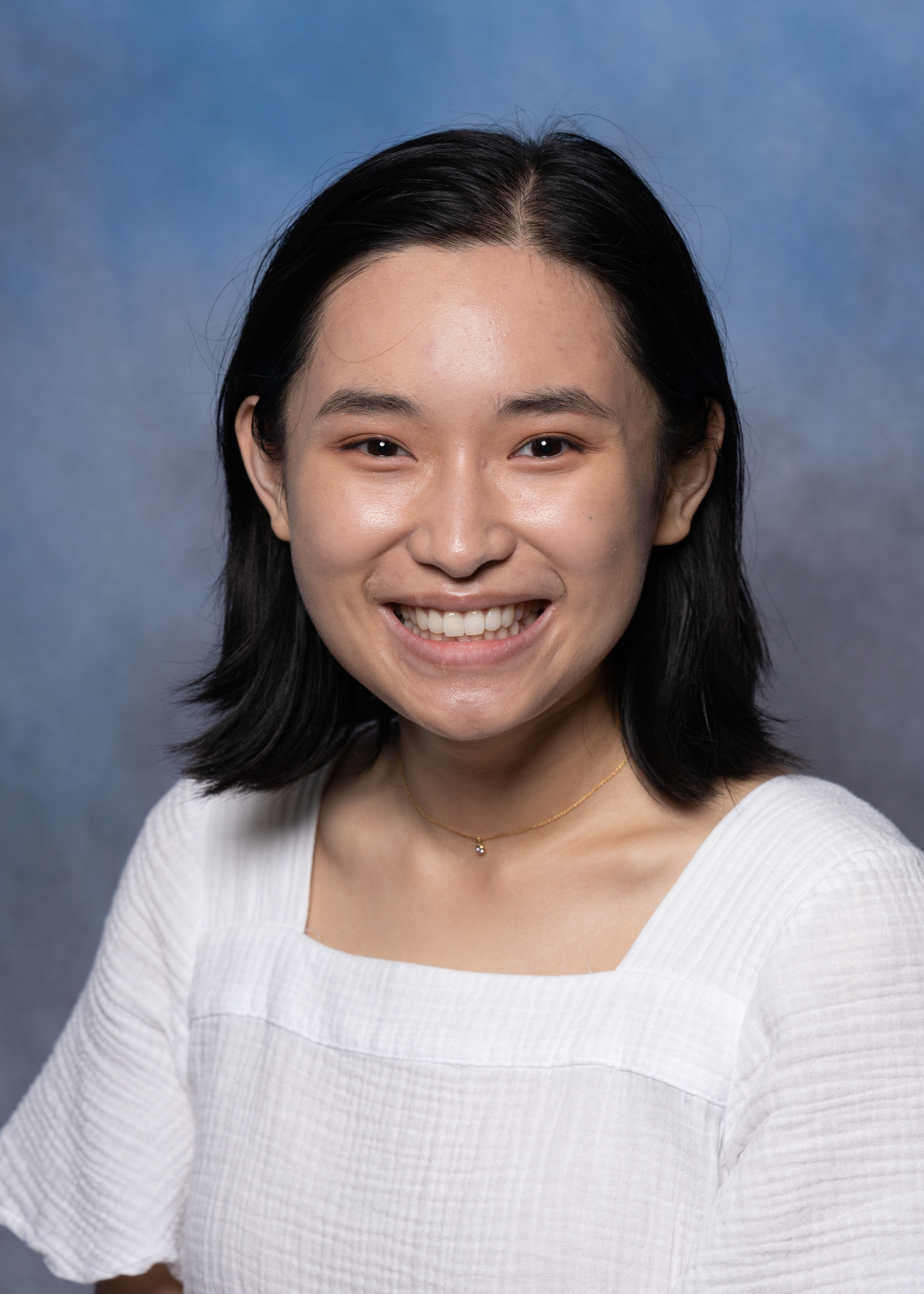 From left: Cora Saddler, Kayla Whittington and Sam Youmans
Top academic achievers in other schools are:
Frank D. Hickingbotham School of Business—Keith Matthews, a senior finance major from Carrollton, Texas
Chesley & Elizabeth Pruet School of Christian Studies—Jael Winterholter, a senior Christian studies/Biblical studies and theology major from Fort Wayne, Ind.
Michael D. Huckabee School of Education—Grace Loftin, a senior kinesiology & leisure studies/pre-professional studies major from Shreveport, La.
D. Patterson School of Natural Sciences—Sebastian Bustillo, a senior engineering physics, applied mathematics and computer science triple major from Tegucigalpa, Honduras
H. Sutton School of Social Sciences—Josie Collins, a senior psychology and sociology double major from Little Rock, Ark.
The Mrs. J.R. Grant Endowed Award for freshman and senior women students was given to Georgia Richards, a freshman communications & media/strategic media major from Farmington, Ark., and MacKenzie Hall, a senior communications & media/strategic media major from Bolivar, Mo.
The Mrs. Betty Oliver Grant Endowed Award for sophomore and junior women students was given to Isabella Bejarano, a sophomore elementary education and Spanish double major from Bogotá, Colombia, and Maria Urbina, a junior nutrition & dietetics major from Tegucigalpa, Honduras.
Students selected Dr. Barbara Pemberton, professor of Christian missions and director of the Carl Goodson Honors Program, to be the Most Inspirational Professor.
Ouachita Baptist University, a private liberal arts university in Arkadelphia, Ark., is in its 136th year as a Christ-centered learning community and is ranked the No. 2 "Regional College in the South" by U.S. News & World Report. Learn more about the university's highly personal approach, reflected in a student/faculty ratio of 13:1, at www.obu.edu.
---
Students recognized in each of Ouachita's seven academic schools and in the Carl Goodson Honors Program include:
HICKINGBOTHAM SCHOOL OF BUSINESS
Lera Kelly Outstanding Senior in Business Administration Award—Michaelyn Ferrell
Margaret Wright Outstanding Senior in Accounting Award—Gage Hill
Eddie Ary Outstanding Senior in Finance Award—Chris Bryan
Johnny Heflin Excellence in Leadership & Academics Award—Carter Wade
Outstanding Business Scholar Athlete—Lilia Clark, Sydney Parker
PRUET SCHOOL OF CHRISTIAN STUDIES
Outstanding Student in Biblical Studies—Lucas McCann
Outstanding Student in Christian Ministries—Joy Covington
Outstanding Student in Christian Missions—Addison White
Don Harbuck Award for Excellence in Philosophy—Alex Moore
Preben Vang Award for Christian Theological Studies—Sara Patterson
Biblical Hebrew Award—Emma Smith
Robert Stagg New Testament Greek Award—Mason Campbell
HUCKABEE SCHOOL OF EDUCATION
Alice Searcy Award—Taylor Bass
Outstanding Current Education Sophomores—Anna Katherine Green (elementary), Ethan Kailey (secondary) and Grady Jones (K-12)
Sylvia Gates Webb Award—Anna Hudson
Maude Wright Memorial Award—Lauren Gaharan
Phi Delta Kappa Teachers in Training Award—Hannah Dwiggins (elementary), Lindsay Jefferson (middle) and Ethan Gasaway (K-12)
Charles Chambliss Distinguished Educator Award—Michelle Phillips
Bob Gravett Outstanding Kinesiology Teaching Award—Caleb Woodfield
Tona Wright Outstanding Kinesiology Fitness Award—Asha Samson
Outstanding Kinesiology Sports Ministry Award—Hayden Waller
Outstanding Kinesiology Pre-Professional Studies Award —Jessi Bennett
Outstanding Kinesiology Sports Administration Award—Terrell Gibson
SCHOOL OF FINE ARTS
Division of Applied Arts
Francie Phelan Outstanding Senior—Tehya Hinkson
Raybon-Berry Outstanding Freshman Visual Arts Major—Hannah Schulze
Russell Shad Memorial Art Award for Outstanding Junior —Jill Parsons
Theatre Arts Outstanding Design/Tech Student Award, Freshman—Thomas Lilley

Theatre Arts Outstanding Student Award, Freshman—Amaya Hardin
Alpha Psi Omega Senior Award—Kinsey Potts
Division of Music
Sigma Alpha Iota College Honor Award—Danielle Frick
Sigma Alpha Iota Scholarship Award—Danielle Frick
The Presser Scholar—Craig Crawford
Rachel Fuller Scholarship—Avery Stahl
James Harrison Scholarship—Michael Pasman
Friends of Fine Arts Scholars
Art—Addie Chumley
Instrumental—Hailea Eubanks
Piano—Jenna Barnes
Theatre—Shelby Tripcony
Voice—Cordell Hufstedler
SCHOOL OF HUMANITIES
Department of Language and Literature
Outstanding Senior English Major—Cora Saddler
Outstanding Junior Louise Searcy Bennett Scholarship Award—Lauren Bridgeman
Outstanding Sophomore Herman Sandford Scholarship Award—Sydney Motl
Outstanding Freshman in English—Hannah Smith
The Sharpest Speer Award—Elaina McKenzie
Bugtruck Gumption Award for Outstanding Service—Emily Blair
Outstanding Junior Spanish Major—Karlee Kindy, Jack Webb
Outstanding Senior Spanish Book Award—Jacob Cates and Victoria Martin
El Tigre Award—Pietra Gois Camargo
Outstanding Student in Latin—Lizzie Horton
Rogers Department of Communications
Melissa and Denver Peacock Outstanding Sophomore Mass Communications Student Award—Chase Hartsell
Matt Turner Outstanding Junior Mass Communications Major Award—Caroline Derby
William D. Downs Outstanding Mass Communications Graduate Award—Abby Blankenship and Matthew Branch
Roy Buckelew Outstanding Speech Major Award—Gracen Goudy
Publications Awards—Anna Roussel and Gracen Goudy (Ouachitonian), Sara Patterson (Signal and Signal Online), Abby Blankenship and Levi Dade (photo lab) and Matthew Branch (Ouachita Sports Digital Network)
SUTTON SCHOOL OF SOCIAL SCIENCES
Everett Slavens Award to Outstanding Sophomore—Landon Denman
Lavell Cole Award to Outstanding Future Teacher—Katie Henry
Fran Coulter Award to Outstanding Junior—Natalie Moore
C. Daily Award to Outstanding Senior —Nick Herrington
Bob Riley Outstanding Graduate in Political Science Award—Maddie Bailey
Psychology Faculty Award—Annika Jostad
Zeitgeist Award—Pietra Gois, Karigan Clay
Weldon Vogt Outstanding Psychology Senior Award—Josie Collins
Outstanding Graduating Senior Sociology Award—Cole Edrington, Madelyn Filla and Kiki Youmans
CARL GOODSON HONORS PROGRAM
Ben Elrod Scholar—Andrew Tarlton
Garrett Ham Scholar—Mason Campbell
Blue Ribbon Finishers—Hyland Alfonso, Maddie Bailey, Luke Brinkerhoff, Cori Clower, Josie Collins, Rylie Davis, Emma Gregory, Gwyneth Hadasa, Dane Jester, Anna Leicht, Langley Leverett, Grace Loftin, Elysian Majeske, Allison Martin, Victoria Martin, Lauren McCann, Lucas McCann, Emily McMaster, Jonah Mears, Sara Patterson, Lacey Pettigrew, Cora Saddler, Rachel Sansano, Brennan Saunders, Haddon Smead, Katelyn Still, Brianna Taylor, Jacob Thomas, Kayla Whittington, Jael Winterholter, Isabella Wood and Sam Youmans
Most Valuable Professors—Dr. Jay Curlin, Kathryn Maddox Professor of English; Dr. Scott Duvall, J.C. and Mae Fuller Professor of Biblical Studies; and Carrie Sharp, assistant professor of education
Photo by Abby Blankenship