news
Ouachita's Elrod Center hosts awards banquet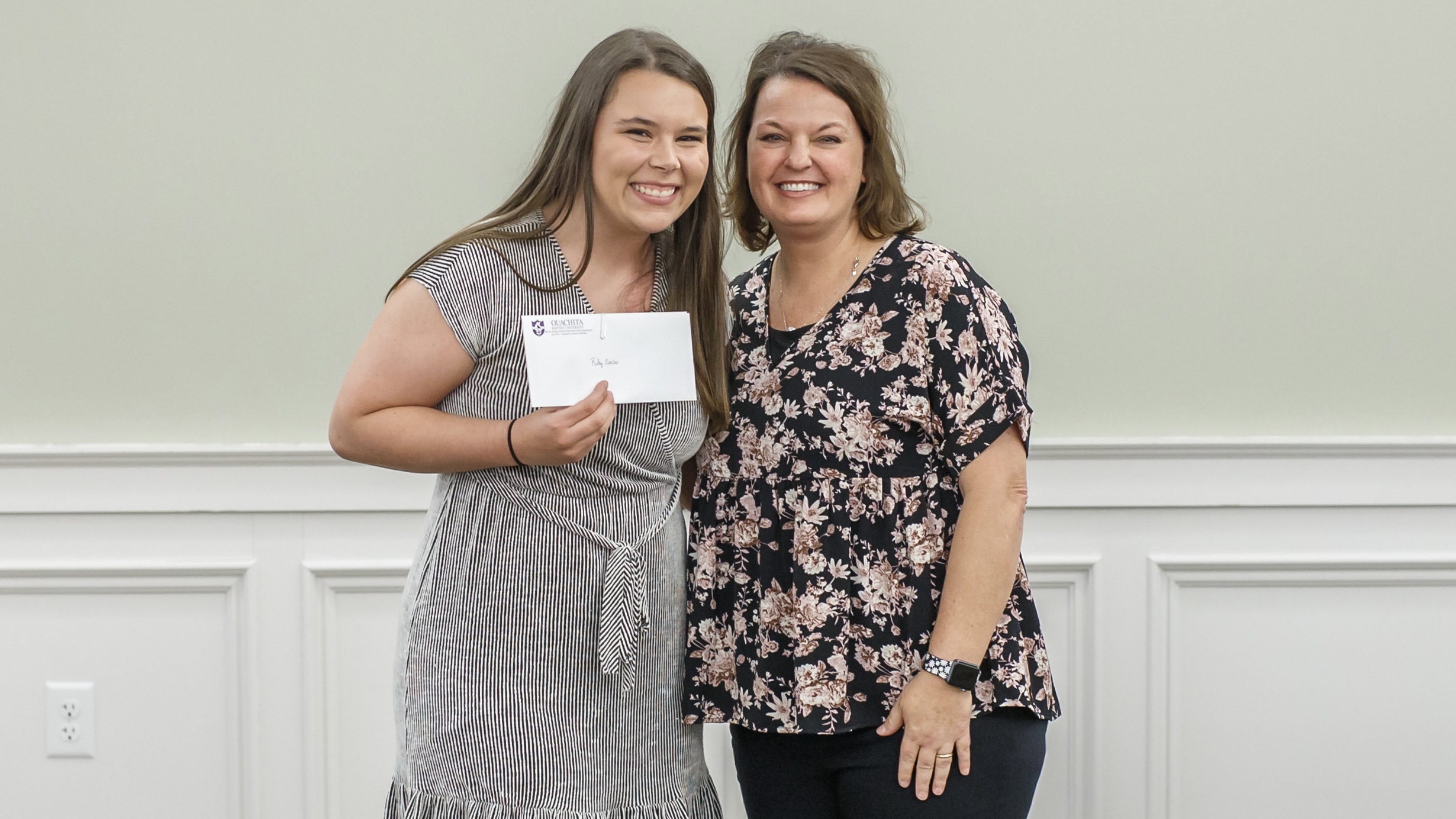 May 04, 2022 - Julia Shands
The Ben M. Elrod Center for Family and Community at Ouachita Baptist University held its annual University Community Service Awards banquet on Tuesday, April 12, in Walker Conference Center. The banquet honors volunteers and their service through programs organized by the Elrod Center.
"Each year we set aside time to highlight our volunteers and say thank you for the many ways they have served," said Judy Duvall, director of the Elrod Center. "Ouachita places a high value on service, and its volunteers serve in multiple ways and different places both on campus and in the community. The impact that our volunteers make is felt in the public schools, nursing homes, churches, nonprofits and homes of Arkadelphia residents."
Rylie Davis, a senior biomedical sciences major from Benton, Ark., received the 2022 Cargill Leadership Award. Funded by Dr. Bob Cargill, a longtime friend and colleague of Dr. Ben Elrod, the award is given to a student who honors the life and legacy of Dr. Elrod through acts of servant leadership.
Davis was recognized for her service as a tutor in Arkadelphia area schools, as well as through other Elrod Center projects and Ouachita's Academic Success Center. She has also served as a laboratory peer instructor at Ouachita in the Patterson School of Natural Sciences and as a member of the Ouachita Student Foundation and Refuge worship band. Davis has volunteered through Tiger Serve Day and through opportunities in her hometown and church.
The Elrod Center was established in 1997 to meet the need for an organized, campus-wide voice to encourage, coordinate and facilitate public service, volunteerism and community engagement among Ouachita's students, faculty and staff. To learn more about the center, contact Judy Duvall at duvallj@obu.edu or at (870) 245-5320.
---
Faculty, staff and students honored during the Elrod Center's University Community Service Awards banquet on April 12 include:
After School Tutoring: Hailey Coulson, Jamila Day, Anna Katherine Green, Mea Heard, Olivia Hobson, Lindsay Jefferson, Yu Chan Jeong, Karlee Kindy, Emma Mackey, Hattie McDonald, Elise McWilliams, Alaina Moore, Hope Murphy, Olivia Nethercutt, Julie Phillips, Anna Marie Plastiras, Glenna Ratcliff, Josh Spiva, Hannah Tullos, Vanessa Vives, Spencer Whipple
America Reads/America Counts: Ana Barfield, Jenna Barnes, Sabrina Cheek, Hailey Coulson, Sydney Delgado, Maggie George, Katie Gray, Elise Henderson, Olivia Hobson, Matt Jones, Allee Lipford, Allyson Oliver, Jonmarc Pinkerton, Caroline Smallwood, Kaleigh Thomas, Torrie Weems, Meredith West
Campus Ministries leadership team: Emma Anderson, Madeline Babb, Isabella Bejarano, Jacob Cates, Katelin Cotton, Joy Covington, Emma Donley, Aidan Doss, Scott Gay, Kaylie Green, Valeria Gomez, Ashlyn Ham, Anna Holiman, Ben Inmon, Julia Letcher, Caroline Massey, Noah McCallum, Emily Pease, Lauren Reams, James Renshaw, Kinley Ritter, Noah Sanders, Kallen Smith, Andy Strauss, Tom Tran, Vanessa Vives, Angela Webb, Graca Webster, Wade Wilson, Jael Winterholter
ElderServe: Hyland Alfonso, Mackenzie Amaya, Allie Bailey, Isabella Bejarano, Kelsey Bester, Izzi Breaux,Emma Bynum, Coleman Callan, Sabrina Cheek, Reese Chesshir, Kaelin Clay, Cori Clower, Haley Day, Kinley Deaton, Alex Delgado, Jade Dorman, Jaymee Dotson, Saba Esho, Michal Felan, Jamie Fowler, Dakota Furr, Erica Gaddie, Mallory Gatson, Maggie George, Kassidy Gray, Madison Gray, Allison Harrison, Landen Hill, Jacob Holt, Kristen Holeyfield, Lauren Jamell, Kaylee Johnson, Annika Jostad, Josilyn Kispert, Ashlyn Lynch, Molly Maddox, Hannah Matthews, Madison McGhee, Kaylee Mitchell, Marlie Moix, Megan Monk, Maggie Moore, Moriah Motosicky, Emily Pease, Sidney Pigott, Brooklin Pitard, Mack Polk, Abby Ralston, Lauren Reams, Grace Rew, Eryn Riley, Ben Scarbrough, Erica Stilwell, Gary Storment, Ryan Thompson, Josh Tibbs, Gracen Turner, Hope White, Kenya Wright
Elrod Center interns: Isabella Bejarano, Tiger Serve Day; Abby Blankenship, photography; Allie Graves, grief/celebration; Tehya Hinkson, graphic arts; Ben Inmon, gratitude/celebration; Juli Parsons, baking; Mary Madison Tolbert, Thanksgiving; Kathryn Totty, social media
Elrod Service Enrichment Grants, award total — $3,487: Johan Eriksson, business administration/bicycle learning activity; Myra Houser, social justice studies/Feed Arkadelphia; Mike Reynolds, kinesiology and leisure studies/Tough Tigers at Group Living Inc. and Special Olympics; Lisa Speer, public history/student-led workshop at Rose Hill Cemetery
Feed Arkadelphia: Connor Brown, Bailey Case, Anna Funk, Erica Gaddie, Gwyneth Hadasa, Liz (Sandy Elizabeth) Hulin, Kyle Kelson, Bryce Krisell, Lydia Medigovich, Julie Phillips, Emma Starkman, Erica Stilwell, Maria Urbina, Ryan Wheeler
Human Development Center: Mackenzie Amaya, Mariah Halbert, Madison Mosier, Caroline Worthen
International Service Award of the Year: Gwyneth Hadasa, Indonesia
Kluck Service Enrichment Grants, award total — $5,000: Karla Montiel and Michael Barnes, La Fuerza; Maria Urbina and Jason Greenwich, International Club; Andy Strauss and James Taylor, Backyard Bible Club; Isabella Bejarano and Judy Duvall, Walk for Freedom; Gwyneth Hadasa and Sodexo Food Services, Feed Arkadelphia; Ben Inmon and Judy Duvall, The Thank You Project; Annika Jostad, Brooklin Pitard, Kassidy Gray and Judy Duvall, ElderServe Hospice; Mary Tolbert and Leigh Anne McKinney, Thanksgiving baskets; Madison Mosier and Judy Duvall, Human Development Center; Ben Olatuji and John Cloud, TaxServe; Baker Kendrick and Sharon Hamilton, American Chemical Society; Hope White and Myra Houser, Alpha Chi; Alexa Copeland and Ryan Lewis, Percussion Club
Peake Partnership tutors: Addyson Cassell, Erica Chapman, Kaelin Clay, Ella Cox, Rylie Davis, Olivia Dixon, Andrew Ellis, Mallory Gatson, Emily Langston, Kaylee Mitchell, Moriah Motosicky, Jordan Nelson, John Peyton, Abigail Powers, Rachel Sansano, Josh Spiva, Kennedy Stringfellow, Libby Tomlin, Ashlyn Vana, Natalie Williams, Allie Jane Wilson
TaxServe: John Cloud, Ben Olatunji, Sam Youmans
Tiger Serve Day leadership team: Cabb Batson, Isabella Bejarano, Kelsey Bester, Abby Blankenship, Coleman Callan, Mallorie Carozza, Isaac Crow, Andrew Ellis, Valeria Gomez, Allie Graves, Wes Guerra, Mariah Halbert, MacKenzie Hall, Katelyn Harris, Tehya Hinkson, Wyatt House, Seth Hunter, Conner Jacobs, Hannah Martin, Jill Parsons, Hannah Rossell, Noah Sanders, Julia Shands, Kallen Smith, Ryan Thompson, Addison White, Kayla Whittington, Wade Wilson
TranServe Students with 100 plus hours: Allie Bailey, Coleman Callan, Addyson Cassell, Ella Cox, Jade Dorman, Gwyneth Hadasa, Mikayla Long, Victoria Mayfield, Ashton Price
Rylie Davis (left), a senior biomedical sciences major from Benton, Ark., received the 2022 Cargill Leadership Award during the University Community Service Awards banquet. She is pictured with Leigh Anne McKinney, associate director of the Elrod Center. Photo by Levi Dade
You Also Might Like