news
Ouachita announces students named to the Fall 2022 Dean's List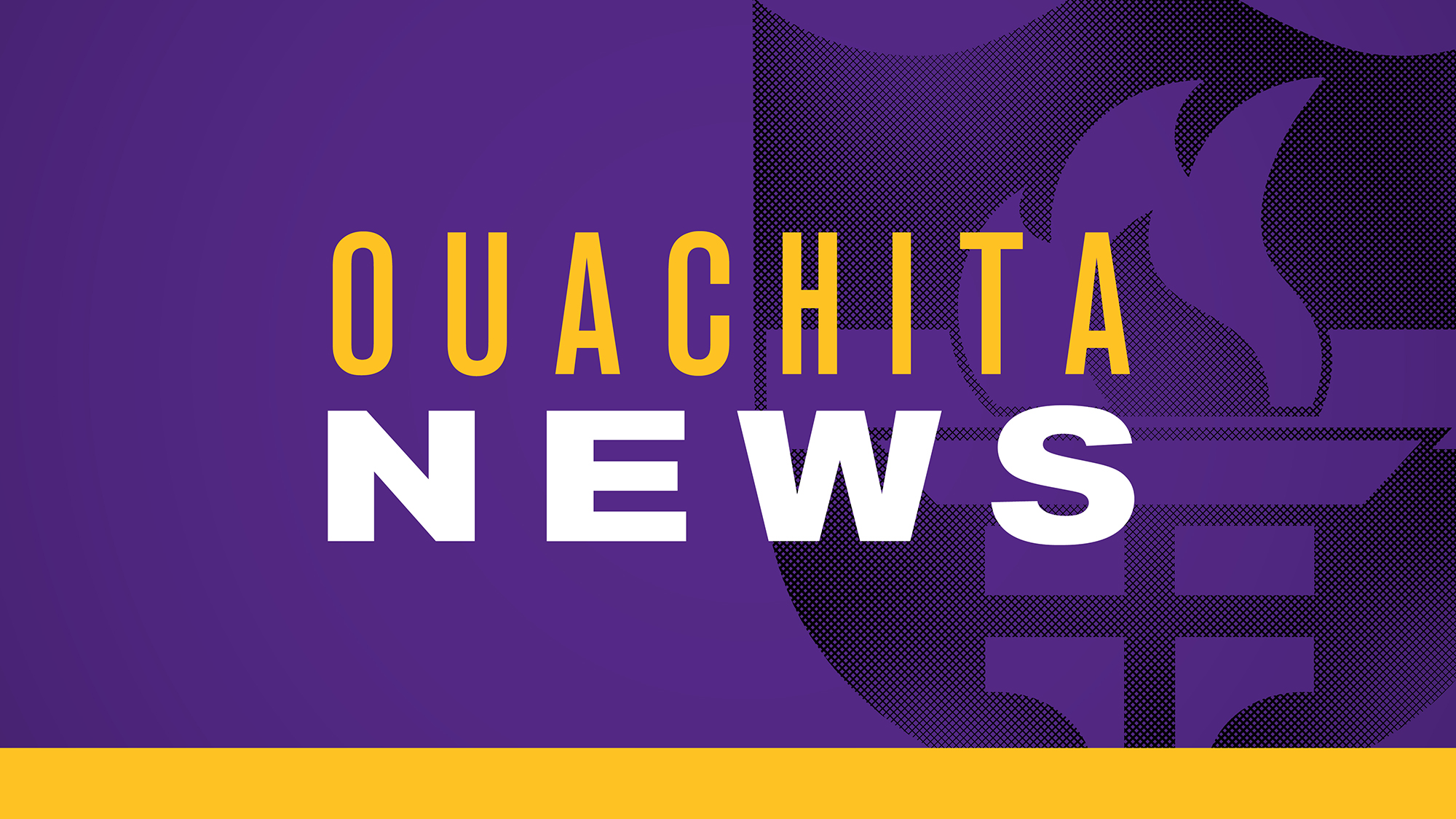 January 18, 2023
Ouachita Baptist University has named 388 students to its Dean's List for Fall 2022.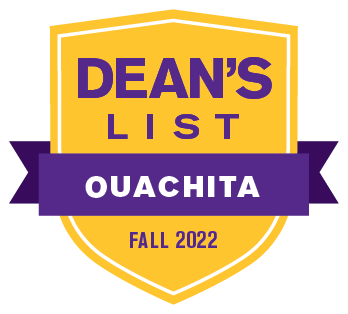 To be named to the Dean's List, a student must compile a 3.5–3.9 grade point average and be classified as a full-time student, with a minimum of 12 academic hours and no incomplete or failing grade for the semester.
Ouachita Baptist University, a private liberal arts university, is in its 137th year as a Christ-centered learning community and is ranked nationally by U.S. News & World Report. Ouachita continues to break enrollment records, reporting its highest headcount in 56 years during the Fall 2022 semester. Learn more about the university's highly personal approach to higher education, reflected in a student/faculty ratio of 13:1, at www.obu.edu.
The following students, listed in order of hometown, are included in the Fall 2022 Dean's List at Ouachita:
Alexander, Ark. — Madison Draper, Baylee Hutchison, Parker Nelson, Elyse Smith
Allen, Texas — Aksa Mathew
Alpena, Ark. — Xandra Jetton
Argyle, Texas — Carlin Clark
Arkadelphia, Ark. — Jozie Burson, GraceAnn Covington, Carson Craft, Tate Goodrum, Raegan Greer, Hayden Hardman, Henry Hunley, Noah Kelly, Lynli Lowry, Ana Summerville, Drew Webb
Arlington, Tenn. — Joseph Webb
Ashdown, Ark. — Landon Wright
Bald Knob, Ark. — Madyson Shoebottom
Batesville, Ark. — Katelyn Langston, Charlie McClain, Kate Moody
Bauxite, Ark. — Allie Bailey, Reed Gautreaux
Beckville, Texas — Kaitlyn Tillman
Bedford, Texas — Makenzie Schilmoeller
Bee Branch, Ark. — Maggi Huddleston
Beebe, Ark. — Maryann Rettig
Bella Vista, Ark. — Baylie Slone
Benton, Ark. — Annslee Clay, Morgan Cobb, Brodie Horton, Brennon Humphry, Qara Johnson, Laci Larsen, Caleb Miller, AubrieKate Moseley, Kennedy Stringfellow, Kaleigh Thomas, Alex Treadway, Veronica West
Bentonville, Ark. — Kelsi Coleman, Benjamin George, Hunter Swoboda
Bernice, La. — Trace Morrow
Bethany, Okla. — Dax Jaggers
Bismarck, Ark. — Zayne Ashley, Victoria Bourgeois, Hannah Moss
Boyd, Texas — Maddi Terry
Branson, Mo. — Riley Crouse
Broken Bow, Okla. — Kate Burris
Bryant, Ark. — Kiley James, Lacey Lewellen
Cabot, Ark. — Jake Emmons, Alissa Gordon, Dena Hallum, Mason Martin, Daniel McCarty, Madeline Mott, Ian Vance, Seth Vance, Chloe Veuleman
Canton, Texas — Rachel New
Carlisle, Ark. — Audrey Fortner, Mac Ricks
Casscoe, Ark. — Makena Munger
Cave City, Ark. — Kate Provence
Cedar Hill, Texas — Chaya Vogel
Celina, Texas — Susannah Arnn
Centerton, Ark. — Kalel Langford, Madeline McKay
Chelsea, Ala. — Charles Parkinson
Cherokee Village, Ark. — Joy Covington
Cochabamba, Bolivia — Natalia Zamora
College Station, Texas — Jade Ashley
Colleyville, Texas — Brie Fewell, Kasten Merrill
Collierville, Tenn. — Brayden Hendricks
Columbia, Mo. — Elise Henderson, Joe Ragsdell, Sam Ragsdell
Conway, Ark. — Gabe Chandler, Didi Christenson, Emma Kate Elliott, Karli Ferguson, Luke Robbins, Barrett Troup, Kelcie Watson
Cord, Ark. — Hayden Childers
Covington, La. — Jamila Day
Crawford, Texas — Ashlyn Spanos
Crossett, Ark. — Clayton Nelson, Mary Kathryn Staley, Jayden Thurman
Dallas, Texas — Mackenzie Amaya, Caleb Robbins
Damascus, Ark. — Rachel Lane
De Kalb, Texas — Whitt Sparks
Decatur, Texas — Riley Braziel
Denton, Texas — Benjamin Highsmith
DeWitt, Ark. — Jessalyn Ahrens
Donaldson, Ark. — Dylan Clayton
El Dorado, Ark. — Joseph Bolin, Kimber Mitcham, Makaylen Swint
Fairview, Texas — Micah Martin
Farmington, Ark. — Georgia Richards
Fayetteville, Ark. — Julia Campbell, Addyson Cassell, Connor Flannigan
Flower Mound, Texas — William Read
Forney, Texas — Bryce Benson, Taylor Darland
Fort Smith, Ark. — Emily Bass, Anna Cabaness, Kelley Hayes, Ann Klein, Carter Wood
Fort Worth, Texas — Jonathan McEndree, Landon Denman
Fouke, Ark. — Sierra Hoss
Franklin, Tenn. — Blythe Hutchison
Frisco, Texas — Emma Ballantyne, Eryn Dawson, Nathan Frater, Avery Howard, Logan Langley, Luke Lawson, Reid Messick, Joshua Rhine, Erin Russo, Sadie Snow, Graca Webster
Gentry, Ark. — Garrison Jackson
Giddings, Texas — Hope Pennington
Gilmer, Texas — Brooke Wright
Glenwood, Ark. — Demi Moore
Grand Cane, La. — Sarah Franklin
Grannis, Ark. — Kayla Richardson
Gravette, Ark. — Alexandria Hesse, Ryli Russ
Greenbrier, Ark. — Jadie Langston, Joey Whisenhunt
Greenwood, Ark. — Madeline Ciesla, Olivia Gaston, Kennedy Holland, Bree Steinfeldt
Guthrie, Okla. — Bethany LaTurno
Hackett, Ark. — Macie Cash
Hamburg, Ark. — Karson Grant
Harrison, Ark. — Lindsey Ward
Haworth, Okla. — Rebekah Wendt
Heber Springs, Ark. — Jojo Riggs
Hendersonville, Tenn. — Sabrina Cheek
Henrietta, Texas — Audrey Gallagher
Hensley, Ark. — Katelyn Hancock
Herriman, Utah — Noah Bachman
Holly Ranch, Texas — Michael Everett
Hope, Ark. — Jillian Woodruff
Hot Springs, Ark. — Brooks Bell, Andrew Cox, Landon DiMaio, Brandon Dyberg, Madison Easley, Gabriella Gancarczyk, Katelyn Hartsell, Barrett James, Brayden James, Hannah Newcomb, Ainsley Rottinghaus, Ashlyn Sales, Ethan Stevens, Kyleigh Stevens, Ashton Wilhelm, Tavin Wright
Huntington, Ark. — Darby Jones
Ivanhoe, Texas — Azlyn Terry
Jacksonville, Ark. — Jaden Nash
Jessieville, Ark. — Lawson Wideman
Jonesboro, Ark. — Alex Brown, Peyton Church, Chris Couch, Braden Crawley, Brit Hawkins, Deanne Puryear
Keller, Texas — Josh Case, Ashleigh Estes, Paris Morse, Frankie Nine
Konstanz, Germany — Phil Exner
Lafayette, La. — Donald Paul
Lantana, Texas — Zoie Eserman
Leander, Texas — Hayden Jackson, Hannah Smith
Lewisville, Texas — Hudson Herring
Little Elm, Texas — Kieran Malmer
Little Rock, Ark. — Madeline Babb, Sydney Babb, Kristian Baker, Ellie Bennett, Gracie Blocker, Grace Bornemeier, Anna Breeding, Brooks Brown, Deanna Brown, Sydney Burton, Elizabeth Byrd, Brianna Cantrell, Carter Collins, Austynn Crocker, Blake Dickinson, Julianne Fletcher, Reese Hargrove, Seth Hernandez, Garner Hodge, Brandon Holloway, Davis Jordan, Karmen Lybrand, Seth Lybrand, Allie Mooney, Taylor Moran, Isaac Nowell, Cooper O'Briant, Cody Pallen, Glenna Ratcliff, Grace Sexton, Tanner Shipman, Erica Stilwell, Gracie Vaughn, Sydni Whitfield, Hayden Wylie, Blair Yager
Longview, Texas — Matt Burton
Lonoke, Ark. — Collin Clark, Laura Stewart, Micah Terry
Lonsdale, Ark. — Carson Tillery
Lucas, Texas — Anika Dresser, Rebecca Holiman
Mabank, Texas — Jessie Hodge
Mabelvale, Ark. — Tommy Crumpton, Luke Wood
Malvern, Ark. — Kassidy Gray, Josh Spiva
Manaus, Brazil — Ligia DaSilva
Manila, Ark. — Autumn Walters
Mansfield, Texas — Paige Owens
Marion, Ark. — Hannah Grace Hallum, Josie White
Marmaduke, Ark. — Heidi Robinson
Marshall, Texas — Brody Kriegel
Marvell, Ark. — Abby Kemmer
Maumelle, Ark. — Jordan Dallimore, Crosse Deaton, Isaac Devine, Trevor Jones, Abby Moore, Justin Oulette, Ashton Price, Caden Pulliam
McKinney, Texas — Gracen Williams
Melissa, Texas — Hannah Schulze
Mena, Ark. — Mason Brotherton, Zane Stephens
Mesquite, Texas — Carleigh Himmelsehr
Midland, Texas — Avery Jauz
Minneola, Kan. — Abigayl Conard
Morón, Buenos Aires — Matias Parzajuk
Mount Vernon, Texas — Heather Gray, Elexis Lunsford
Mountain Home, Ark. — Bella Rushing, Gannon Connelley, Rylee Patterson, Emily Payne, Fritz Vetter
Mountain Pine, Ark. — Joseph Benson
Mountain View, Ark. — Emry Johnson, Kadyn Johnson
Murfreesboro, Ark. — Ella Claire Brinkley
Murray, Ky. — Isaac Bourne
North Little Rock, Ark. — Armani Atilano, Taylor Barnhart, Bailey Bearden, Emily Blair, Ella DePriest, Carly Hall, Hannah Claire Humphries, Chloe Lay, Sam Looney, Elizabeth Phifer, Kenzie Tatum, Joely Thomas, Mary Charles West
Nacogdoches, Texas — Emily Castilaw
Nashville, Ark. — Ella Ragar
Newberry, Fla. — Jayden Herron
Oden, Ark. — Allison Bates
Ozark, Ark. — Addison McCaulley
Paragould, Ark. — Rylee Branch
Paris, Texas — Hannah Crosswhite
Pearland, Texas — Anna Kate Velasquez
Phoenix, Ariz. — Mikey Quinones
Pine Bluff, Ark. — Arcrel Lee
Plano, Texas — Emma Anderson
Poyen, Ark. — Jaxson Carter
Prairie Grove, Ark. — Mariah Halbert, Elizabeth Hall
Prairieville, La. — Hanna Williams
Prattsville, Ark. — Elise Hicks
Princeton, Texas — Allyson Rodgers, Katie Wilder
Queen City, Texas — Owen Dodd
Redfield, Ark. — Riley Gillis
Richardson, Texas — Connor Radabaugh
Rison, Ark. — Emily Stover
Roanoke, Texas — Emily Caraway, McKenna King, Kate McCown, Madison Melcher
Rogers, Ark. — Chaney Campbell, Kate Nachtigal, Sean Rhodes, Elle Riendeau, Juliana Shaw
Roland, Ark. — Benjamin Kelley
Royal, Ark. — Dylan Horton
Royse City, Texas — Wyatt Ashlock, Mikayla Cook
Russellville, Ark. — Meg Atchison, Lilly Biggers, Gracie Campbell, Hannah Garner, Emmy Hipps, Seth Hunter
Ruston, La. — Luke Black
Sachse, Texas — Sierra Douglas
Salado, Texas — Jaci McGregor
San Antonio, Texas — Joel Allen, Jaelen Becho, Shelly Davilus, Connor Schorp, Emma Starkman
Sant Andreu de Llavaneres, Spain — Alex Blanchar
Searcy, Ark. — Joseph Stroupe
Shawnee, Kan. — Kayla Johnson
Sheridan, Ark. — Jenna Barnes
Sherwood, Ark. — Emily Horn, Eli Jenkins, Katelyn Lu, Kirsten Lu, Kaydee Price
Shreveport, La. — Joseph Lattier, Abigail Roberts
Siloam Springs, Ark. — Shayla Conley, Jonah Morgan, Kennedy Wilkie
South Jordan, Utah — Mia Paladini
Springdale, Ark. — Grant Allen, Drew Dudley, Karla Montiel
Sugar Land, Texas — Lexa Levermann
Sulphur Springs, Texas — Cable Glenn
Tegucigalpa, Honduras — Fernando Bustillo, Rafael Bustillo
Texarkana, Ark. — Mallory Cheatham, Landi Williamson
Texarkana, Texas — Kylee Braley, Endsley Norman
Thayer, Mo. — Cordell Hufstedler
Tomball, Texas — Michelle Byers
Tontitown, Ark. — Hattie McDonald
Tool, Texas — Tallon Heine
Tyler, Texas — Ashlynn Hecht, Jaxon Rees
Van Alstyne, Texas — Andrew Tarlton
Van Buren, Ark. — Aidan Doss, Alexandra DuPree
Vienna, Austria — Isabel King
Vilonia, Ark. — Dawson Brown, Brady Ussery
Walpole, Mass. — Sydney Taylor
Warren, Ark. — Riley Cornish
West, Texas — Skylar Schaffer
White Hall, Ark. — Harlie Hipp
White Oak, Texas — Erin Bagley
Wichita, Kan. — Lenna Conard
Wichita Falls, Texas — Hagan Sanchez
Wylie, Texas — Delaney Crane
Wynne, Ark. — Emily Langston