news
Ouachita announces students named to the Fall 2022 President's List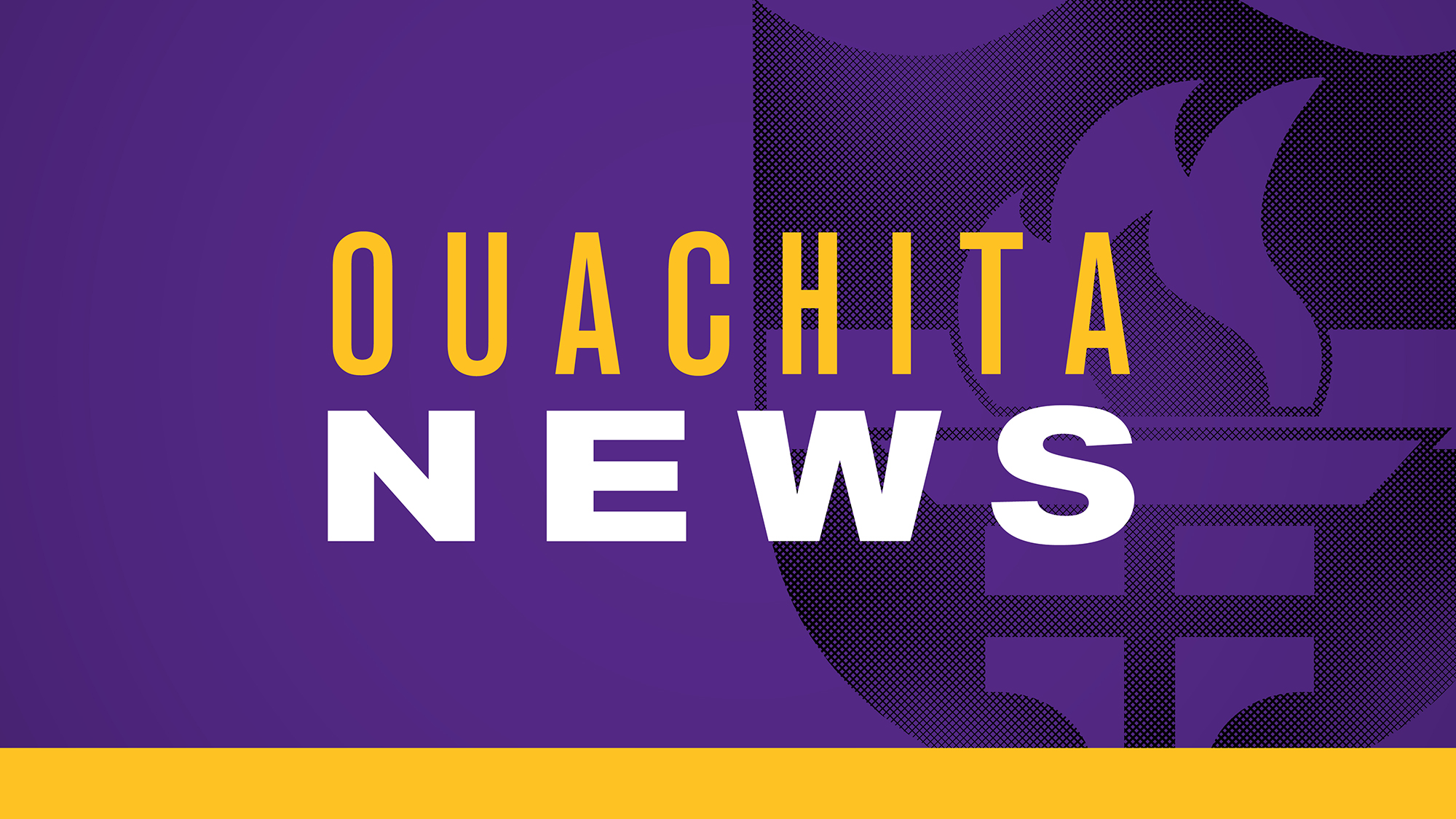 January 18, 2023
Ouachita Baptist University has named 382 students to its Fall 2022 President's List.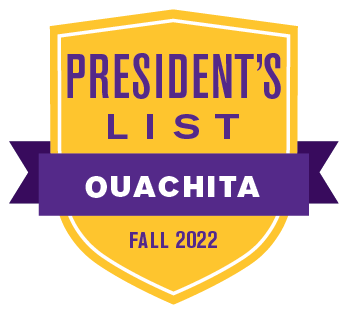 To be named to the President's List, a student must compile a grade point average of 4.0 and be classified as a full-time student, with a minimum of 12 academic hours and no incomplete or failing grade for the semester.
Ouachita Baptist University, a private liberal arts university, is in its 137th year as a Christ-centered learning community and is ranked nationally by U.S. News & World Report. Ouachita continues to break enrollment records, reporting its highest headcount in 56 years during the Fall 2022 semester. Learn more about the university's highly personal approach to higher education, reflected in a student/faculty ratio of 13:1, at www.obu.edu.
The following students, listed in order of hometown, are included in Ouachita's Fall 2022 President's List:
Alajuela, Costa Rica — Valeria Gomez
Alexander, Ark. — Kennedy McGuire, Sarah Wagner
Alexandria, La. — Addie Robertson
Alma, Ark. — Mack Polk
Amarillo, Texas — Jacie Sellars, Peyton Stafford
Amity, Ark. — Rachel Forsythe, Makenzie Grider
Andover, Kan. — Arista Pitchford
Arkadelphia, Ark. — Baylee Burson, Mallorie Carozza, Brynn Clark, Sam Coventry, Caroline Derby, Olivia Dixon, Keren Fernandez, Jake Greenwich, Reagann Harper, Lizzie Horton, Chase Howerton, Riley Kratz, Colson McKinney, Sydney Motl, Cole Turner, Noah Yeamans
Arlington, Texas — Emily Adams
Ash Flat, Ark. — Natalie Moore
Augusta, Ark. — Andrew Grisham
Austin, Ark. — Abbey Inman, Trey Lamb
Bartlett, Tenn. — Sophia Cunningham
Batesville, Ark. — Eli Livingston
Beebe, Ark. — Abby Burlison
Benton, Ark. — Carson Burks, Addie Chumley, Jade Dorman, Payton Dumas, Emily Greenwell, Wes Guerra, John Guttery, Layla Henthorne, Ashton Inman, Erin Key, Karlee Kindy, Bryce Krisell, Jenna Malone, Abby McElhaney, Kloe Parsons, Andrew Pierce, Kinley Ritter, Sarah Spakes, Gary Storment, Raegan Swindle, Mallorie Warner, Melina West
Benton, La. — Max Kenyan
Bentonville, Ark. — Aiden Dillard, Natalie Helms, Olivia Phillips
Berryville, Ark. — Abby Thurman
Blytheville, Ark. — Emery Cash
Bogota, Columbia — Isabella Bejarano
Boulder City, Nev. — Hannah Estes
Brisbane, Australia — Yosua Lumbanradja
Bryant, Ark. — Payton Lee
Bumpass, Va. — Aidan Perry, Alexis Perry
Cabot, Ark. — Brynlee Beams, Haley Fairchild, Abigail Gaddis, Chloe Miller
Camden, Ark. — Piper Fain, Grace Tidwell, Kathryn Totty
Carrollton, Ohio — Malea Borland
Carrollton, Texas — Jeremiah Mainor, Keith Mathews
Cash, Ark. — Lane Dunman
Casscoe, Ark. — Camryn Shelton
Celina, Texas — Jill Parsons, Ashlyn Vana
Center, Texas — Keelan Williams
Centerton, Ark. — Savannah Mae Carrigan, Abby Moseley, Steven Willett
Charleston, Ark. — Anna Hudson, Clay West
Choctaw, Okla. — Abbie Moix
Clarksville, Ark. — Josh Engle
Combine, Texas — Addyson Miller
Conway, Ark. — Ashley Drennan, Jaden Gipson, Grant Greenway, Avery Hart, Sara Holman, Anna Johnson, Ethan Kailey, Baker Kendrick, Marlie Moix, Alyssa Rye, Eli Stuart, Cade Swindle, Josh Tibbs, Duncan Troup, Chloe Wallace
Coppell, Texas — Jenae Wilson
Cordova, Tenn. — Pietra Gois Camargo
Cove, Ark. — Cassidy Ashcraft
Crossett, Ark. — Angela Hibbard, Karis Staley
Cypress, Texas — Hannah Smith
Dallas, Texas — James Savarese
Deerfield, Ill. — Emma Firestone
De Kalb, Texas — Kaitlan Kinney, Hope Murphy
Delight, Ark. — McKenzie May
Denton, Texas — Hannah Hickman
Donaldson, Ark. — Karigan Beckwith
Dover, Ark. — Kailey May
Dripping Springs, Texas — Tiffani Chew
Edmond, Okla. — Lauren Heathcock
El Dorado, Ark. — Kasey Dumas, Jonathan Sandy
Elkins, Ark. — Noah Terry
England, Ark. — Shelby Cheek
Enola, Ark. — Olivia Beene
Erbil, Iraq — Sabaoot Esho
Euless, Texas — Alyssa Strauss, Andy Strauss
Evening Shade, Ark. — Chloe Jamora
Fayetteville, Ark. — Nathan Costner, Kennedy Johnson, Melvin Kumwenda, Michael Lee, Madison Lovell
Flower Mound, Texas — Zach Kuykendall
Fordyce, Ark. — Madison Gray
Forney, Texas — Elijah Christenson
Fort Smith, Ark. — Riley Collins, Olivia Marine, Xander Naegle
Fort Stockton, Texas — Taylor Hansard
Fort Worth, Texas — Tyler Andruss, Braden Tucker, Hope Waid
Fouke, Ark. — May Hyman
Franklin, Texas — Ali May
Fremont, Neb. — Riley Harms
Frisco, Texas — Genevieve Cooper, Mackenzie Davis, Kate Ellis, Lauren Gaharan, Priscilla Leverett, Danielle Schager, Josh Watson, Brock Wollent
Garland, Texas — Emma Dennis, Jackson McCaleb, Joni Schneider
Georgetown, Texas — Chloe Jetton, Jackson Pickard
Gilmer, Texas — Joshua Ray
Greenbrier, Ark. — John Hunter Crum, Reagan James, Presley Roberts, Georgia Wilder
Greenwood, Ark. — Deacon Drennan, Taylor Koeth
Gulfport, Miss. — Alex Moore
Gunnedah, Australia — Aaron Osmond
Gurdon, Ark. — Sophia Talley
Harrell, Ark. — Abbi Wood
Hawkins, Texas — Isaac Edwards
Heath, Texas — Dawson Miller
Hensley, Ark. — Kaylee Johnson
Hinton, W.Va. — Mason Campbell
Horatio, Ark. — Gracie Tucker
Hot Springs, Ark. — Ben Combs, Angela Coriaty, Bailey Gibson, Cooper Gordon, Wyatt Harrington, Chase Hartsell, Julia Lance, Carly Orr, Seth Poindexter, Tanner Roberts, Will Ross, Kaylee Smith
Huntsville, Ala. — Brooks Schrimsher
Idabel, Okla. — Kaelin Clay, Karigan Clay
Iron River, Mich. — Jubilee Collins
Jackson, Tenn. — Alli Hylkema
Jonesboro, Ark. — Izzy Baughn, McKenzie Chavers, Rachel Dunnam, Ashlyn Ham, Dani Imrie, Elise Knight, Isabella Owen, Drace Provost, Faith VonDran
Keller, Texas — Ava Dunagan
Kingwood, Texas — Garrett Richards
Lantana, Texas — Chad Gscheidle
Leola, Ark. — Emilee Webb
Lindale, Texas — Sydni Watts
Little Rock, Ark. — G. Allen, Scarlet Bates, Ali Bricker, Rebekah Chandler, Nadia Denman, Ashley Dillman, Christy Dunavan, Heather Dunavan, Clayton Fitzpatrick, Lyndsey Gardner, Anna Katherine Green, Sarah Hankins, Katie Henry, Wyatt House, Tyranni Hubbard, Abigail Jansen, Jessica Johnson, Noah Sanders, Sam Sexton, Addison Southerland, Shelby Tripcony, Piper Warren, Hannah White, William White, Layne Wilson
Longview, Texas — Izzi Breaux, Nathan Clark
Lonoke, Ark. — Haley Cohea
Lumberton, Texas — Torrie Weems
Madison, Miss. — Hannah Rossell
Magnolia, Ark. — Abby Harrington, Troi Kacsir, Elise McWilliams
Magnolia, Texas — Brendan Watson, Sarah Grace Wisener
Malvern, Ark. — Kodee Batchelor, Cade Cramer, Luke Falco, Emma Kyzer
Manila, Ark. — Vivian Pryor
Marion, Ark. — Conner Jacobs
Marshall, Texas — Jeff McCoy
Maud, Texas — Jaycie Anderson
Maumelle, Ark. — Becca Beard, Katie Dabrowski, Kinley Deaton, Jackson Edds, Abbey Moore
McGehee, Ark. — Dayja James
McKinney, Texas — Abigail Dahl, Emilio Garcia, Cameron Marchant
Melissa, Texas — Bella Blankenship
Memphis, Tenn. — Breanna Watson
Mena, Ark. — Lexi Williams
Mesquite, Texas — Kyndall Fomby-Bell, Maddy Moore
Miami, Fla. — Alfonso Gonzalez Gomez, Erika Ortiz
Midlothian, Texas — Lindsay Hachat, Emily Shipman
Mineral Springs, Ark. — Katie Carroll
Montgomery, Texas — Kaitlyn Montgomery, Kendall Wilson
Monticello, Ark. — Reece Gray
Mount Ida, Ark. — Bailey Martin
Mount Pleasant, Ark. — Emma Rouse
Mount Pleasant, Texas — Olivia Nethercutt, Nathan Scolaro
Mountain Home, Ark. — Whit Lawrence, Emily Payne, Tatum Smith
Mueselbach, Switzerland — Ramon Strassmann
Murfreesboro, Ark. — Adam Lott
Murphy, Texas — Brooke Steinman, Hayley Wolfe
Nacogdoches, Texas — Ellie Davis, Brooklyn Perkins, Abigail Powers, Anna Claire Powers
Nashville, Ark. — Grady Jones
Nashville, Tenn. — Sarah Dean
Norman, Okla. — Trevor Greene
North Little Rock, Ark. — Rebecca Danuwar, Hannah Matthews, Callie Renshaw, Grace Rew, Emma Smith, Briley Thompson, Chau Tran, Noah Warford
North Richland Hills, Texas — Finley Nipper
Oak Grove, La. — Cole Pennock
Oak Leaf, Texas — Connor Bjerke
Oklahoma City, Okla. — Angela Staats
Omaha, Texas — Heather Brown
Paragould, Ark. — Emma Grace Morris, Kaitlyn Stoddard
Paris, Texas — Hannah Tullos
Pearcy, Ark. — Jolie Crane, Ethan Smith, Noah Smith
Peyton, Colo. — Tiffany Backeberg
Pflugerville, Texas — James Jolly
Pine Bluff, Ark. — Alex Browning
Pineville, La. — Brailee Price
Plano, Texas — Meghann Bledsoe, Holly Hatcher, Brock Wade, Grace Woodward
Ponder, Texas — Jillian Roberts
Pottsville, Ark. — Maggie Gregory
Powderly, Texas — Caroline Smallwood
Prattsville, Ark. — Anna Holiman
Prosper, Texas — Taylor Bass, Maegan Royster
Quitman, Ark. — Addison White
Red Oak, Texas — Colton Schrader
Richardson, Texas — Emily Pease
Rockport, Texas — Lorraine Soto
Rockwall, Texas — Tag Pacot
Rogers, Ark. — Hannah Coffman, Hayden Coffman, Ella Cox, Ashlyn Holt, Faith Lymburner, Ben Olatunji
Roland, Ark. — Mika Celicourt, Emma Kathleen Conner, Ella Marie Davis
Round Rock, Texas — Jake Goltzman
Rowlett, Texas — Jacob Smith
Russellville, Ark. — Seth Curl, Camryn Manning, Avery Stahl
Ruston, La. — Zoe Graham
St. Charles, Ark. — Avery Womack
Salatiga, Indonesia — Yu Chan Jeong
Searcy, Ark. — Ruthie Fox, Julia Shands, Addie Woods
Sheridan, Ark. — Megan Monk
Sherman, Texas — Jackson Lipscomb
Sherwood, Ark. — Brock Bivens, Olivia Hobson
Shreveport, La. — Averey Sewell
Spring, Texas — Mary O'Sullivan, Lacy Ornelas
Springdale, Ark. — Sadie Buttram, Abby Elcan, Leah Gamble, Caroline Johnson, Claire Sorg, Natalie Williams, Allie Jane Wilson, Wade Wilson
Tegucigalpa, Honduras — Ian Redman Aguilar
Texarkana, Ark. — Madison Atchley, Jaelyn Bunch, Reese Chesshir, Emily Waters
Texarkana, Texas — Tucker Anderson, Reganne Dumas, Ryan Pickelman, Lily Sewell
Traskwood, Ark. — Nikki Schneider
Troup, Texas — Emma Bynum
Tull, Ark. — Matthew Mayfield
Van Buren, Ark. — Ashton Hurst, Caden Jenkins
Vilonia, Ark. — Hope Johnson, Chloe Lane, Madeleine Tipton
Wake Village, Texas — Ben DePriest
Washington, Ill. — Elizabeth Hahn
West Memphis, Ark. — Clara Griggs
Willingboro, N.J. — Julie Phillips
Wooster, Ark. — Jacob Bowman
Wylie, Texas — Mikaila Fatheree
Yellville, Ark. — Kylie Jo Kilgore