news
Volunteers recognized for service through Ouachita's Elrod Center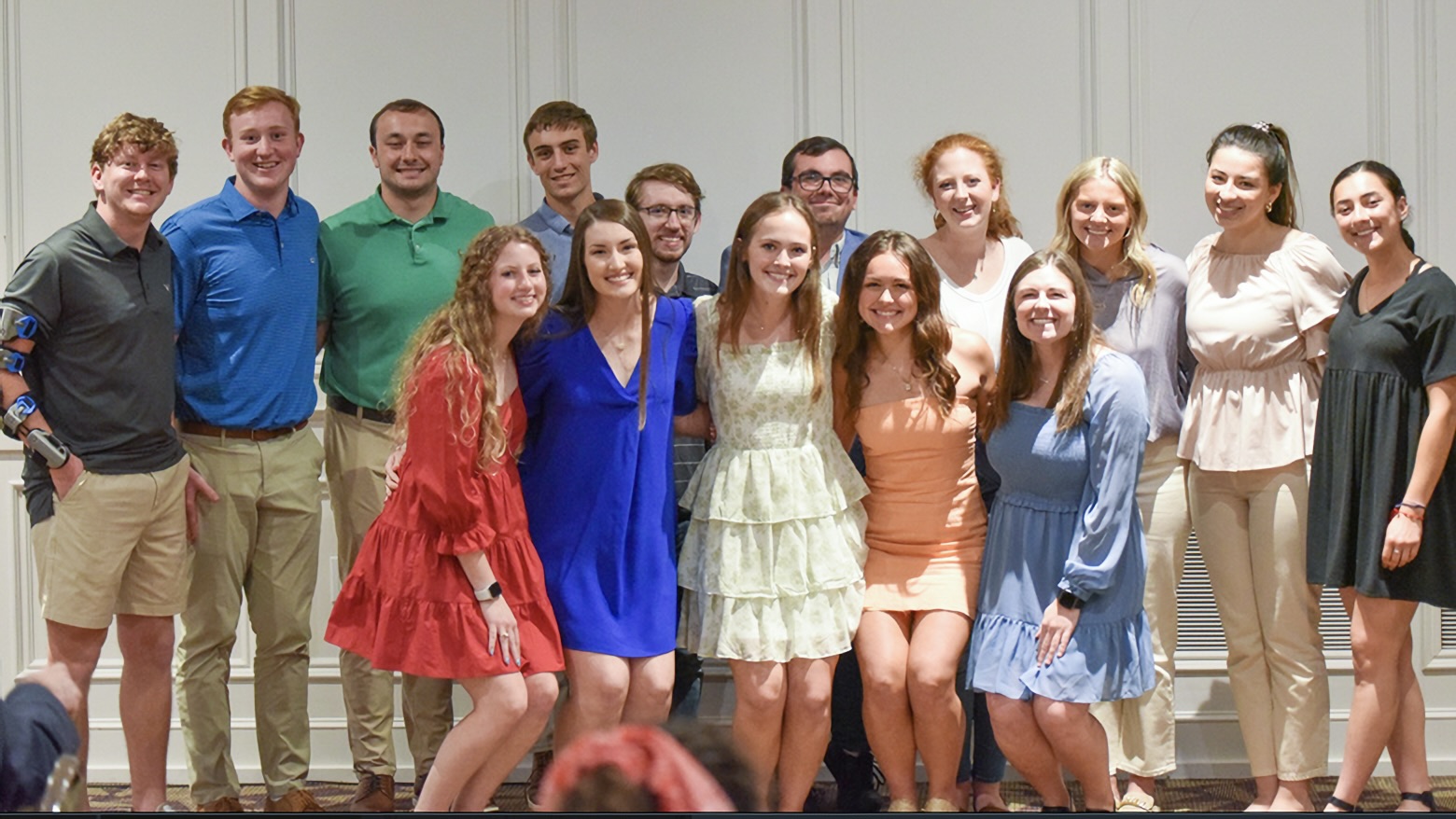 May 09, 2023 - Felley Lawson
Volunteers who serve through the Ben M. Elrod Center for Family & Community at Ouachita Baptist University were recognized Tuesday, April 18, during the center's annual University Community Service Awards banquet in Walker Conference Center on the Ouachita campus.
"The University Community Service Awards Celebration is a once-a-year gathering to honor Ouachita volunteers who have excelled in service to our community. Through the Elrod Center, these volunteers touch lives at many intersections serving children, teens, families, senior adults, individuals with disabilities, nonprofits, schools, churches and our campus," said Judy Duvall, Elrod Center director. "This is a joyful night of celebration as we say 'thank you' to our volunteers for living a life of service to others."
Leigh Anne McKinney, associate director, added, "The volunteer awards banquet is one of my favorite nights of the year. Having most of our volunteers in one space at the same time really gives a comprehensive picture of the breadth and depth of the Ouachita community's impact on the community around us. The reach of our volunteers covers all ages and stations in life. It's such a joy to be connected to this group."
Each year, a student whose servant leadership honors the life and legacy of Dr. Ben Elrod is presented with the Cargill Leadership Award, established by Elrod's longtime friend Dr. Bob Cargill. Isabella Bejarano, a junior elementary education major from Bogota, Colombia, received the 2023 Cargill Award in recognition of her service with ElderServe, the Tiger Serve Day Leadership Team, Backyard Bible Club and the International Club.
"I am so grateful for the opportunity to serve, because it has connected me to the Arkadelphia community and allowed me to meet people I would never have met if it weren't for volunteering with the Elrod Center," Bejarano said. "The Elrod Center staff brings a smile to my face every single day and always reminds me, through the way they live and their encouraging words, of the reasons we serve. I was so surprised to receive this award, and I am truly humbled to be deemed worthy of it."
Duvall said, "Isabella has a deep love for God and a kind, compassionate heart. Many have been impacted for good under her wise and thoughtful leadership."
Each year, Ouachita students, faculty and staff average a combined investment of more than 40,000 hours of volunteer service through programs facilitated by the Elrod Center. For more information, visit obu.edu/elrod or contact Judy Duvall at duvallj@obu.edu or at (870) 245-5320.
Lead photo: Ouachita students who gave 100 or more hours of volunteer service during the 2022-23 school year were among those honored during the Elrod Center's University Community Service Awards banquet.
Photo by Madeline Circle
---
Ouachita students, faculty and staff honored during the Elrod Center's 2023 University Community Service Awards banquet on April 18 include:
After School Tutoring: Gracie Campbell, Kaelin Clay, Payton Dumas, Jackson Edds, Anna Katherine Green, Reese Hargrove, Mea Heard, Olivia Hobson, Yu Chen Jeong, Luke Lawson, Ashlyn Lynch, Cara Malin, Hope Murphy, Rylee Patterson, Julie Phillips, Anna Marie Plastiras, Mary Kathryn Staley, Kennedy Stringfellow, Gracen Turner, Clay West, Natalie Williams
America Reads/ America Counts: Olivia Beene, Shayla Conley, Hailey Coulson, Sydney Delgado, Reese Hargrove, Kaelyn Hartsell, Emily Langston, Jadie Langston, Allee Lipford, Kaylee Mitchell, Glenna Ratcliff, Mary Kathryn Staley
Campus Ministries Leadership Team: Emma Anderson, Taylor Bass, Isabella Bejarano, Meghann Bledsoe, Mallorie Carozza, Joshua Case, Emma Kathleen Conner, Braden Crawley, Emma Donley, Aidan Doss, Natalie Fletcher, Kaylie Green, Ashlyn Ham, Olivia Hibbard, Kadyn Johnson, Isaac Lawson, Julia Letcher, Lacey Lewellen, Jenna McGraw, Emily Peace, Brooklin Pitard, Georgia Richards, Braden Richardson, Tanner Roberts, Noah Sanders, Kallen Smith, Andy Strauss, Anna Talley, Vanessa Vives, Mallorie Warner, Emily Waters, Graca Webster, Allie Jane Wilson, Wade Wilson, Josh York
ElderServe: Mackenzie Amaya, Isabella Bejarano, Kelsey Bester, Emma Bynum, Kaelin Clay, Liberty Crouse, Saba Esho, Natalie Fletcher, Madison Gray, Kaylie Green, Mikayla Long, Ashlyn Lynch, Cara Malin, Kaylee Mitchell, Megan Monk, Emily Peace, Allie Sample, Josh Tibbs, Gracen Turner
Elrod Center Interns: Isabella Bejarano, Tiger Serve Day; Shelby Cheek, Arkadelphia Human Development Center; Levi Dade, photography; Saba Esho, graphic arts; Allie Graves, grief/celebration; Kathryn Totty, social media; Allie Jane Wilson, Thanksgiving
Elrod Service Enrichment Grants: Dr. Mary Chung, Ouachita Community Arts Program; Hallie Wallace, Kinesiology Adapted Fitness Program – Tough Tigers at Group Living; Donnie Copeland, After School Youth Arts Class; Johan Eriksson, Business Plan Development Class
Feed Arkadelphia: Abby Atwood, Thomas Daniel, Hannah Bess Gonzalez, Bryce Krisell, Emma Starkman, Sarah Grace Wisener
Human Development Center: Shelby Cheek, Sophia Ward, Allie Jane Wilson
International Service Award of the Year: Vanessa Vives, Colombia
Kluck Service Enrichment Grants: Heather Brown, Dr. Jack's Coffee House missions; Shelby Cheek, Arkadelphia Human Development Center; Liberty Crouse, Gamma Phi women's social club philanthropy and Nightingale Health & Rehab; Aiden Doss, Tri Beta – teaching genetics to high school students and teachers; Natalie Fletcher, Campus Ministries – Monticello Children's Home; Anna Hudson, Kappa Delta Pi – Perritt Primary School mid-semester supply restock; Bryce Krisell and Emma Starkman, Feed Arkadelphia; Mikayla Long, Jones Science Center – Nicaragua medical mission trip; Tuesday Melton, Ouachita Chess Club; Nataly Nailling, La Fuerza; Ben Olatunji, International Club and TaxServe; Diana Summerville, Campus Ministries – Backyard Bible Club; Allie Jane Wilson, Thanksgiving baskets
Peake Partnership: Jessalyn Ahrens, Grace Campbell, Addyson Cassell, Austynn Crocker, Jaycie Jobe, Tuesday Melton, Mia Paladini, Kaylee Smith, Natalie Williams
TaxServe: Emilio Garcia, Ben Olatunji
Tiger Serve Day Leadership Team: Cabb Batson, Isabella Bejarano, Kelsey Bester, Bella Blankenship, Emma Bynum, Coleman Callan, Mallorie Carozza, Levi Dade, Andrew Ellis, Kristopher Garcia, Valeria Gomez, Allie Graves, Colson McKinney, Jill Parsons, Hannah Rossell, Noah Sanders, Kallen Smith, Alyssa Strauss, William White, Wade Wilson
TranServe Students with 100+ hours: Mackenzie Amaya, Cabb Batson, Isabella Bejarano, Brock Bivens, Coleman Callan, Addyson Cassell, Liberty Crouse, Kinley Deaton, Andrew Ellis, Kennedy Johnson, Mikayla Long, Rylee Patterson, Abigail Powers, Hannah Rossell, Andy Strauss, William White