news
Ouachita student media honored among the best locally, nationally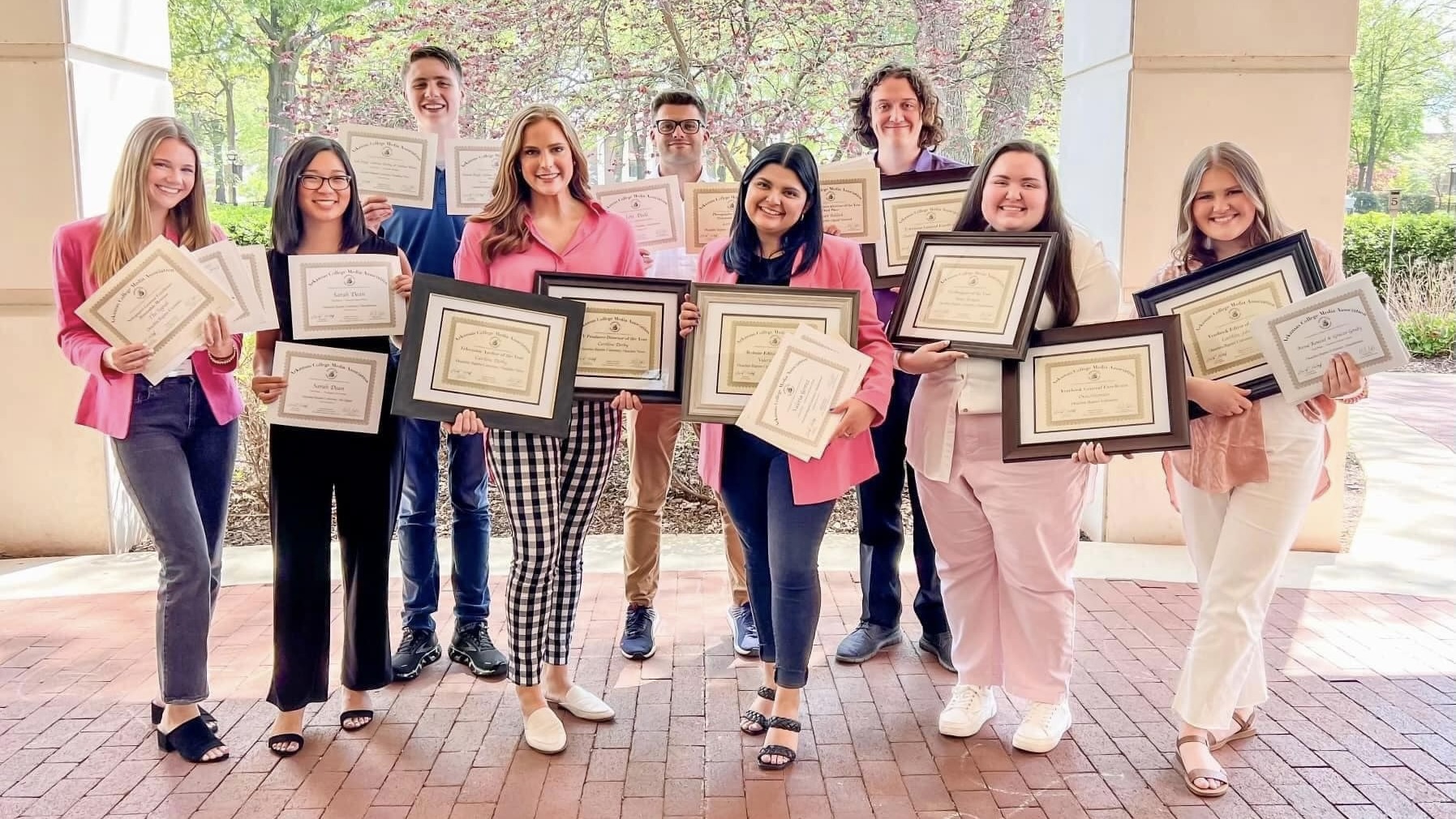 May 08, 2023 - Office of Communications & Marketing
Ouachita Baptist University student media have earned 82 awards for excellence, including seven national and 38 state awards for the Ouachitonian yearbook and 37 state awards for the Signal newspaper, Ouachita Sports Digital Network, online media and television coverage.
The 2022 Ouachitonian was honored with a Pacemaker Award from the Associated Collegiate Press. Announced in March during the ACP National College Media Conference in San Francisco, the Pacemaker is one of the oldest nationwide awards for college journalism. Additionally, the Ouachitonian was awarded All-American distinction in the ACP's annual critique service of student publications. Marks of Distinction were earned in the categories of Writing and Editing, Essentials, Coverage and Design.
Anna Roussel, a 2022 communications & media/strategic communications and political science graduate from Searcy, Ark., and Gracen Zucha, a 2022 communications & media/communications studies graduate from Bryant, Ark., served together as editors-in-chief of the Ouachitonian.
"It was a wonderful moment when I heard the Ouachitonian announced as a Pacemaker winner at the conference," said Dr. Deborah Root, professor of communications and director of assessment and institutional research at Ouachita. "Only three colleges received this award, and it shows the caliber program we have in our communications department and on our publication staffs. Anna and Gracen did a marvelous job leading the team on the 2022 Ouachitonian. I am so proud for them and for our university."
Roussel and Zucha were also honored with five national Gold Circle Awards for Yearbook by the Columbia Scholastic Press Association; Roussel was singled out for a sixth award for writing.
At its April 14 annual convention at Harding University, the Arkansas College Media Association honored Ouachita student media with 75 awards in five divisions. The Ouachitonian and the Ouachita Sports Digital Network were presented with General Excellence awards for Yearbook and Television, respectively; these are the top awards presented at the competition.
For their work on the Ouachitonian, Roussel and Zucha were named Co-Designers of the Year and Caroline Johnson, a senior communications & media/communications studies and political science double major from Springdale, Ark., was named Yearbook Editor of the Year.
"It's such an honor to be awarded nationally and within the state of Arkansas for all the hard work the staff put into the book," Zucha said. "We had the best team of people who helped create the best book. I'm thankful to be a part of Ouachita's winning legacy."
"The recognition our book has received has been an incredible celebration of the work that went into the 2022 Ouachitonian," Roussel said. "The talent in our newsroom is unmatched, and I feel so grateful to have been a part of that. It was an honor getting to capture a year of Ouachita's story."
Valeria Gomez, a senior communications & media/multimedia major from Alajuela, Costa Rica, was named Website Editor of the Year and Caroline Derby, a senior communications & media/multimedia, communications & media/strategic communications and political science triple major from Arkadelphia, Ark., was named TV Anchor of the Year and TV Producer of the Year.
"I was honored to receive these awards," Derby remarked. "Ouachita News is a newer platform within our department that was started just three years ago. It's been a joy to see how much work the team has put in and how the show has grown. I couldn't be more proud."
Though several veterans of Ouachita student media were recognized, the honorees also included students who were new to the Department of Communications and to Ouachita. Isaac Bourne, a freshman communications & media/sports media major from Murray, Ky., won first place awards in the Sports Column and Campus Sports Story categories of the newspaper division and a second place award in the Sports Reporting category of the television division.
"It's such a blessing from the Lord to be recognized for my work," said Bourne, who serves as sports editor of The Signal. "I'm surrounded by so many people at Ouachita who make me better in every aspect of my life, such as putting me in a situation where awards like this are possible."
Root said, "I am extremely proud of our students for being recognized on both the national and state levels for their work in our student media. Their hard work and dedication are evident on a daily basis, and it's nice to see their commitment and talent honored in this way."
For more information about Ouachita student media or the Rogers Department of Communications at Ouachita, contact Dr. Deborah Root at rootd@obu.edu or at (870) 245-5510.
Lead photo: Communications & media students who represented Ouachita at the Arkansas College Media Association spring convention in April include (from left) Julia Shands, Sarah Dean, Josh Engle, Caroline Derby, Levi Dade, Valeria Gomez, Wyatt Ashlock, Anna Roussel and Madi Darr.
Photo by Dr. Deborah Root
---
2023 ACMA awards include:
GENERAL EXCELLENCE
Co-Designers of the Year – Anna Roussel and Gracen Zucha
TV Anchor of the Year – Caroline Derby
TV Producer of the Year – Caroline Derby
Website Editor of the Year – Valeria Gomez
Yearbook Editor of the Year – Caroline Johnson
2nd

Place Reporter of the Year – Chase Hartsell

2nd

Place Newspaper Editor of the Year – Julia Shands

3rd

Place TV Producer of the Year – Wyatt Ashlock

3rd Place Website General Excellence
Honorable Mention Photographer of the Year – Levi Dade
Honorable Mention Newspaper General Excellence
OUACHITONIAN
1st Place
Student Life Photo – Abby Blankenship
Sports Photo – Sarah Dean
Feature Photo – Abby Blankenship
Typographic – Anna Roussel and Gracen Zucha
Special Features – Mitchell Waite
Sports Writing – Gracen Zucha
Sports Layout – Anna Roussel and Gracen Zucha
Student Life Layout – Anna Roussel and Gracen Zucha
Divider – Anna Roussel and Gracen Zucha
Closing Theme Page – Anna Roussel and Gracen Zucha
Introduction Theme Page – Anna Roussel and Gracen Zucha
Feature Layout – Anna Roussel and Gracen Zucha
Academics Layout – Anna Roussel and Gracen Zucha
Student Life Layout – Anna Roussel and Gracen Zucha
Portrait Layout – Anna Roussel and Gracen Zucha
2nd Place
Academic Writing – Valeria Gomez
Cover – Anna Roussel and Gracen Zucha
Feature Layout – Anna Roussel and Gracen Zucha
Organizations/Greek Layout – Anna Roussel and Gracen Zucha
Portrait Layout – Anna Roussel and Gracen Zucha
Organizations Writing – Valeria Gomez
Sports Photo – Levi Dade
Student Life Layout – Anna Roussel and Gracen Zucha
Feature Layout – Anna Roussel and Gracen Zucha
3rd Place
Academics Layout – Anna Roussel and Gracen Zucha
Feature Layout – Anna Roussel and Gracen Zucha
Organizations/Greek Layout – Anna Roussel and Gracen Zucha
Organizations Writing – Caroline Johnson
Portrait Layout – Anna Roussel and Gracen Zucha
Sports Layout – Anna Roussel and Gracen Zucha
Student Life Photo – Abby Blankenship
Honorable Mention
Sports Writing – Caroline Johnson
Student Life Layout – Anna Roussel and Gracen Zucha
Student Life Writing – Anna Roussel
Typographic Presentation – Anna Roussel and Gracen Zucha
ONLINE
1st Place
Multimedia Package – Chase Hartsell
Sports Writing – Chase Hartsell
Arts & Entertainment Review – Wyatt Ashlock
Editorials, Commentary, Blogs – Sydney Whitfield
3rd Place
Social Media – Promotion – Valeria Gomez
Newswriting – Madison Basco
Honorable Mention
Audio Podcast – Malea Borland
Arts & Entertainment Article – Rachel Dunnam
TELEVISION
1st Place
Regularly Occurring Newscast – "Ouachita News Show"
Sports Feature – Chase Hartsell
Sports Reporting – Wyatt Ashlock, Jill Parsons, Haley Shourd, Chase Hartsell, Chris Gay and Jay Brumsey, "OSDN Captain Henderson House Pregame Show: Homecoming"
Weather – Josh Engle
News Reporting – Josh Engle, Josh Ryan, Caroline Derby
2nd Place
Sports Reporting – Wyatt Ashlock, Chase Hartsell, Chris Gay, Isaac Bourne
Sports Feature – Chase Hartsell
Computer Graphics – Matthew Branch, Bailey Redden, Chris McCuistion, Chase Hartsell
3rd Place
Computer Graphics – Wyatt Ashlock, Chase Hartsell, Chris Gay, Jill Parsons, Priscilla Leverett, Hannah Hickman
Honorable Mention
Social Media Promotion – Jill Parsons
THE SIGNAL
1st Place
Sports Column – Isaac Bourne
Campus Sports Story – Isaac Bourne
2nd Place
Editorial Page Layout – Julia Shands
3rd Place
News Photo – Sarah Dean
Editorial Page Layout – Julia Shands
Honorable Mention
Feature Page Layout – Julia Shands and Mariah Halbert
Sports Page Layout – Julia Shands
Review Writing – Wyatt Ashlock
Art/Illustration – Chau Tran, "Tunes Film Strip"