news
Ouachita names more than 350 students to Dean's List for spring semester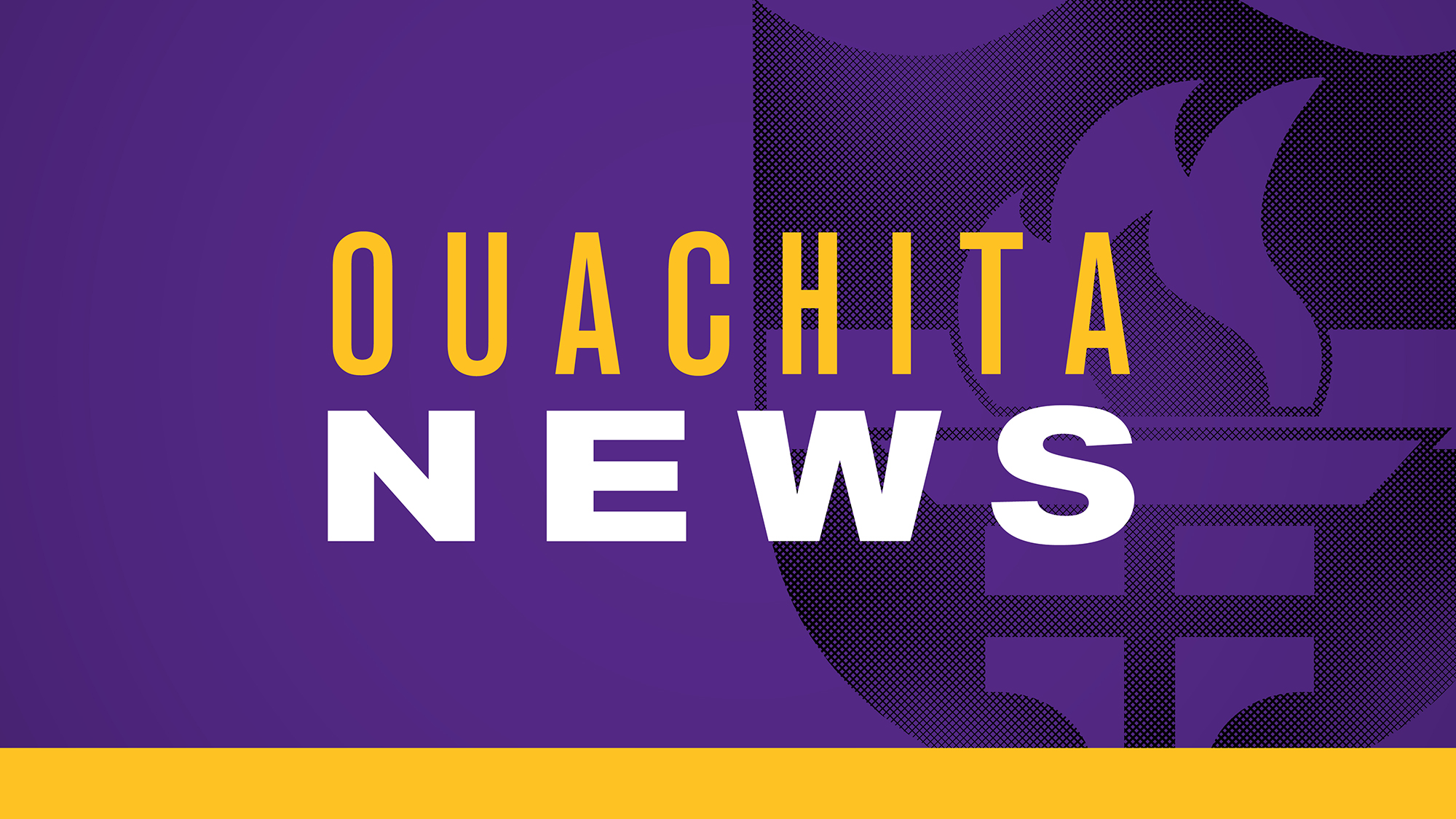 June 14, 2023
Ouachita Baptist University has named more than 350 students to its Dean's List for Spring 2023.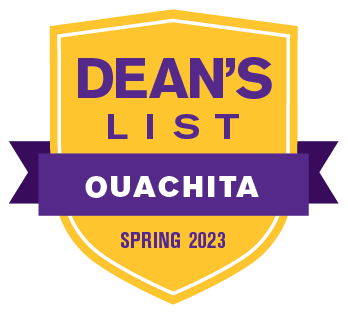 To be named to the Dean's List, a student must compile a 3.5–3.9 grade point average and be classified as a full-time student, with a minimum of 12 academic hours and no incomplete or failing grades for the semester.
Ouachita Baptist University, a private liberal arts university, is in its 137th year as a Christ-centered learning community and is ranked nationally by U.S. News & World Report. Ouachita continues to break enrollment records, reporting its highest headcount in 56 years during the Fall 2022 semester. Learn more about the university's highly personal approach, reflected in a student/faculty ratio of 13:1, at www.obu.edu.
The following students, listed in order of hometown, are included in the Dean's List:
Allen, Texas – Micah Martin
Alma, Ark. – Haley Jackson
Alpena, Ark. – Xandra Jetton
Anna, Texas – Jaime Mayo
Arkadelphia, Ark. – Brynn Clark, GraceAnn Covington, Carson Craft, Tate Goodrum, Raegan Greer, Riley Kratz, Lynli Lowry, Josh Wallace
Ashdown, Ark. – Landon Wright
Augusta, Ark. – Andrew Grisham
Austin, Ark. – Logan Bell, Lindsay Fulton
Bald Knob, Ark. – Madyson Shoebottom
Bartlett, Tenn. – Sophia Cunningham
Batesville, Ark. – Kate Moody
Bedford, Texas – Makenzie Schilmoeller
Beebe, Ark. – Maryann Rettig
Bella Vista, Ark. – Baylie Slone
Bellbrook, Ohio – Bella Howell
Benton, Ark. – Zachary Cloud, Layla Henthorne, Ashton Inman, AubrieKate Moseley, Erika Ortiz, Kloe Parsons, Kinley Ritter, Rose Robinson, Kaleigh Thomas, Alex Treadway
Benton, La. – Max Kenyan
Bentonville, Ark. – Aiden Dillard, Benjamin George, Andrew Laney
Bethany, Okla. – Dax Jaggers
Bismarck, Ark. – Zayne Ashley
Bradford, Tenn. – Cole McCartney
Broken Arrow, Okla. – Ben Himaya, William Martin
Broken Bow, Okla. – Kate Burris
Cabot, Ark. – Anthony Conklin, Jake Emmons, Haley Fairchild, Dena Hallum, Mason Martin, Daniel McCarty, Madeline Mott, Gracen Turner, Seth Vance, Chloe Veuleman
Camden, Ark. – Katye Leggett, Jonah Worley
Carrollton, Ohio – Malea Borland
Cash, Ark. – Lane Dunman
Cedar Hill, Texas – Chaya Vogel
Center, Texas – Keelan Williams
Centerton, Ark. – Madeline McKay
Chelsea, Ala. – Charles Parkinson
Cochabamba, Bolivia – Natalia Zamora
College Station, Texas – Jade Ashley
Colleyville, Texas – Brie Fewell
Conway, Ark. – Luke Robbins, Haley Shourd, Kamy Treat, Caroline Worthen
Cordova, Tenn. – Pietra Gois Camargo
Crossett, Ark. – Karis Staley, Mary Kathryn Staley
Cura Cabai, Aruba – Cleon Sutherland
Dale, Texas – Nathan Stull
Dallas, Texas – James Savarese
DeKalb, Texas – Christopher McDaniel
Denton, Texas – Benjamin Highsmith
Dewitt, Ark. – Naturi Harris
Donaldson, Ark. – Karigan Beckwith
Dover, Ark. – Savannah Pierce
Dripping Springs, Texas – Tiffani Chew
Durant, Okla. – Alexis Hawkins
El Dorado, Ark. – Madilyn Bonsall, Mario Ganter, Brooklin Pitard, Makaylen Swint
Euless, Texas – Alyssa Strauss
Fair Play, Mo. – Abby Flora
Fayetteville, Ark. – Wyatt Core, Sophia Ward
Flower Mound, Texas –
Zach Kuykendall
Fort Smith, Ark. – Anna Cabaness, Kelley Hayes, Olivia Marine, Carter Wood
Fort Worth, Texas – Matthew Bearden, Jonathan McEndree, Frankie Nine, Braden Tucker
Frisco, Texas – Mackenzie Davis, Eryn Dawson, Logan Langley, Luke Lawson, Priscilla Leverett, Reid Messick, Joshua Rhine, Danielle Schager, Sadie Snow
Garland, Texas – Emma Dennis
Georgetown, Texas – Jackson Pickard
Giddings, Texas – Hope Pennington
Glenwood, Ark. – Kaylee Mitchell, Demi Moore
Grand Cane, La. – Sarah Franklin
Grand Prairie, Texas – Samuel Goins, Clarisa Valenzuela
Grandview, Texas – Tanner Nelson
Grapevine, Texas – Trey Flint
Greenbrier, Ark. – Jadie Langston
Greenwood, Ark. – Madeline Ciesla, Olivia Gaston, Emma McCorkle
Gulfport, Miss. – Alaina Moore
Gunnedah, Australia – Aaron Osmond
Harrison, Ark. – Kinder Hinrichs, Lindsey Ward
Hatfield, Ark. – Grayson Fairless
Haworth, Okla. – Rebekah Wendt
Heber Springs, Ark. – Jojo Riggs
Hensley, Ark. – Reagann Harper, Katelyn Hancock
Hope, Ark. – Jillian Woodruff
Horatio, Ark. – Gracie Tucker
Hot Springs, Ark. – Evan Armitage, Andrew Cox, Landon DiMaio, Gabriella Gancarczyk, Cooper Gordon, Wyatt Harrington, Barrett James, Brayden James, Seth Poindexter, Ainsley Rottinghaus, Ethan Stevens, Kyleigh Stevens, Ashton Wilhelm
Houston, Texas – Katelyn Brown
Jacksonville, Ark. – Andie Fletcher, Jaden Nash
Johannesburg, South Africa – Kelsey Bester
Jonesboro, Ark. – McKenzie Chavers, Braden Crawley, Rachel Dunnam, Deanne Puryear
Keller, Texas – Josh Case, Harrison Miller, Paris Morse
Kingwood, Texas – Garrett Richards
Konstanz, Germany – Phil Exner
Lake Village, Ark. – Tamia Haney
Langley, Ark. – Anna White
Lantana, Texas – Zoie Eserman
Lawton, Okla. – Sophia Valencia
Lipan, Texas – Emma Mayes
Little Elm, Texas – Kieran Malmer
Little Rock, Ark. – Madeline Babb, Ellie Bennett, Gracie Blocker, Anna Breeding, Ali Bricker, Brooks Brown, Deanna Brown, Drew Bryant, Brianna Cantrell, Carter Collins, Kinley Cooper, Lawrence Davis, Jane Ellen Dial, Heather Dunavan, Michal Felan, Clayton Fitzpatrick, Julianne Fletcher, Kendel Givens, Will Green, Sarah Hankins, Seth Hernandez, Brandon Holloway, Tyranni Hubbard, Abigail Jansen, Davis Jordan, Cade Knoernschild, Isaac Nowell, Cody Pallen, Anna Marie Plastiras, Noah Sanders, Grace Sexton, Tanner Shipman, Addison Southerland, Maison Staggs, Sydni Whitfield, Layne Wilson, Blair Yager, Chandler Yung
Longview, Texas – Matt Burton, Blake Myers, Alex Watson
Lonoke, Ark. – Brad Richardson, Micah Terry
Lonsdale, Ark. – Carson Tillery
Lowell, Ark. – Derek Hobbs
Mabelvale, Ark. – Luke Wood
Magnolia, Texas – Elias Loughmiller, Brendan Watson
Malvern, Ark. – Kodee Batchelor, Destiny Diaz, Luke Falco, Kassidy Gray, Hannah Hunter, Mikayla Long, Josh Spiva
Manila, Ark. – Vivian Pryor, Autumn Walters
Mansfield, Texas – Keilee Holcomb
Marion, Ark. – Conner Jacobs, Josie White
Marmaduke, Ark. – Heidi Robinson
Marvell, Ark. – Abby Kemmer
Maud, Texas – Jaycie Anderson
Maumelle, Ark. – Katie Dabrowski, Crosse Deaton, Kinley Deaton, Isaac Devine, Luke Garrison, Amaya Hardin, Ben Harrod, Jenna Johnson, Micah Meeks, Justin Oulette
Melissa, Texas – Bella Blankenship
Memphis, Tenn. – Tylar Haynes
Mena, Ark. – Zane Stephens
Mesquite, Texas – Kyndall Fomby-Bell
Miami, Fla. – Alfonso Gonzalez Gomez
Midland, Texas – Avery Jauz
Midlothian, Texas – Lindsay Hachat, Emily Shipman
Mineral Springs, Ark. – Katie Carroll
Montgomery, Texas – Kendall Wilson
Monticello, Ark. – Reece Gray
Moron-Buenos Aires, Argentina – Matias Parzajuk
Mountainburg, Ark. – Zac Henson
Mountain Home, Ark. – Rylee Patterson, Emily Payne
Mountain Pine, Ark. – Joseph Benson
Mountain View, Ark. – Kadyn Johnson
Mount Ida, Ark. – Harlie Hipp
Mount Pleasant, Ark. – Emma Rouse
Mount Vernon, Texas – Heather Gray
Murfreesboro, Ark. – Ella Claire Brinkley
Nacogdoches, Texas – Emily Castilaw, Abigail Powers
Nairobi, Kenya – Morris Tsuma
New Caney, Texas – Payton Mixon
Norman, Okla. – Trevor Greene
North Little Rock, Ark. – Armani Atilano, Emily Blair, Rebecca Danuwar, Carly Hall, Hannah Claire Humphries, Callie Renshaw, Joely Thomas
North Richland Hills, Texas –
Michele Snow
Oak Grove, La. – Cole Pennock
Oak Leaf, Texas – J.D. Scott
Ozark, Ark. – Addison McCaulley, Caden McCaulley
Paragould, Ark. – Rylee Branch
Pine Bluff, Ark. – Arcrel Lee
Pineville, La. – Brailee Price
Plano, Texas – Holly Hatcher, Julia Letcher
Ponder, Texas – Victoria Sprague
Pottsville, Ark. – Maggie Gregory
Prairie Grove, Ark. – Mariah Halbert
Prairieville, La. – Hanna Williams
Princeton, Texas – Katie Wilder
Prosper, Texas – Jocelyn Hayes
Red Oak, Texas – Colton Schrader
Roanoke, Texas – Emily Caraway
Rockford, Ill. – Olivia Whitehead
Rockport, Texas – Lorraine Soto
Rockwall, Texas – Adrienne Brown, Cade Crossland, McKenna King, Kate McCown, Madison Melcher
Rogers, Ark. – Connor Brown, Chaney Campbell, Hayden Coffman, Elle Riendeau
Roland, Ark. – Ella Marie Davis, Benjamin Kelley
Rosenberg, Texas – Sydney Delgado
Round Rock, Texas – Angel Medina
Rowlett, Texas – Jacob Smith, C.J. Washington
Royse City, Texas – Mikayla Cook
Russellville, Ark. – Gracie Campbell, Hannah Garner, Emmy Hipps, Ty Hipps, Seth Hunter
Ruston, La. – Luke Black, Andrew Ellis
Sachse, Texas – Sierra Douglas
Saginaw, Texas – Sarah Woodward
St. Charles, Mo. – Kayla Steinmeyer
Salado, Texas – Jaci McGregor
San Antonio, Texas – Joel Allen, Shanley Rogers, Emma Starkman
Sanger, Texas – Tom Huston
Sant Andreu de Llavaneres, Spain – Alex Blanchar
Searcy, Ark. – Joseph Stroupe
Serra, Spain – Carla Gallart Polo
Shawnee, Kan. – Kayla Johnson
Sheridan, Ark. – Jenna Barnes
Sherwood, Ark. – Brock Bivens, Hannah Boswell, Emily Horn, Eli Jenkins, Kaydee Price, Meredith West
Springdale, Ark. – Sadie Buttram, Abby Elcan, Caroline Johnson, Claire Sorg, Natalie Williams
Story, Ark. – Katie Minton
Sunnyvale, Texas – Sydney Ellason
Tegucigalpa, Honduras – Ian Redman Aguilar, Fernando Bustillo
Texarkana, Ark. – Madison Atchley, Amanda Thomas
Texarkana, Texas – Whit Addington
Thayer, Mo. – Cordell Hufstedler
Tool, Texas – Tallon Heine
Toronto, Canada – Alex Scariolo
Traskwood, Ark. – Nikki Schneider
Tyler, Texas – Jaxon Rees
Van Buren, Ark. – Aidan Doss
Vilonia, Ark. – Brady Ussery, Laynie White
Waco, Texas – Katie Cofer, Amerie Thomas
Wake Village, Texas – Ben DePriest
White Settlement, Texas – Adrian Salazar-Rivera
Willingboro, N.J. – Julie Phillips
Wimberley, Texas – Reece Randig
Wylie, Texas – Delaney Crane, Sam Gorman, David Stankovic
Wynne, Ark. – Emily Langston, Joseph Osborne