news
Ouachita names more than 420 students to President's List for spring semester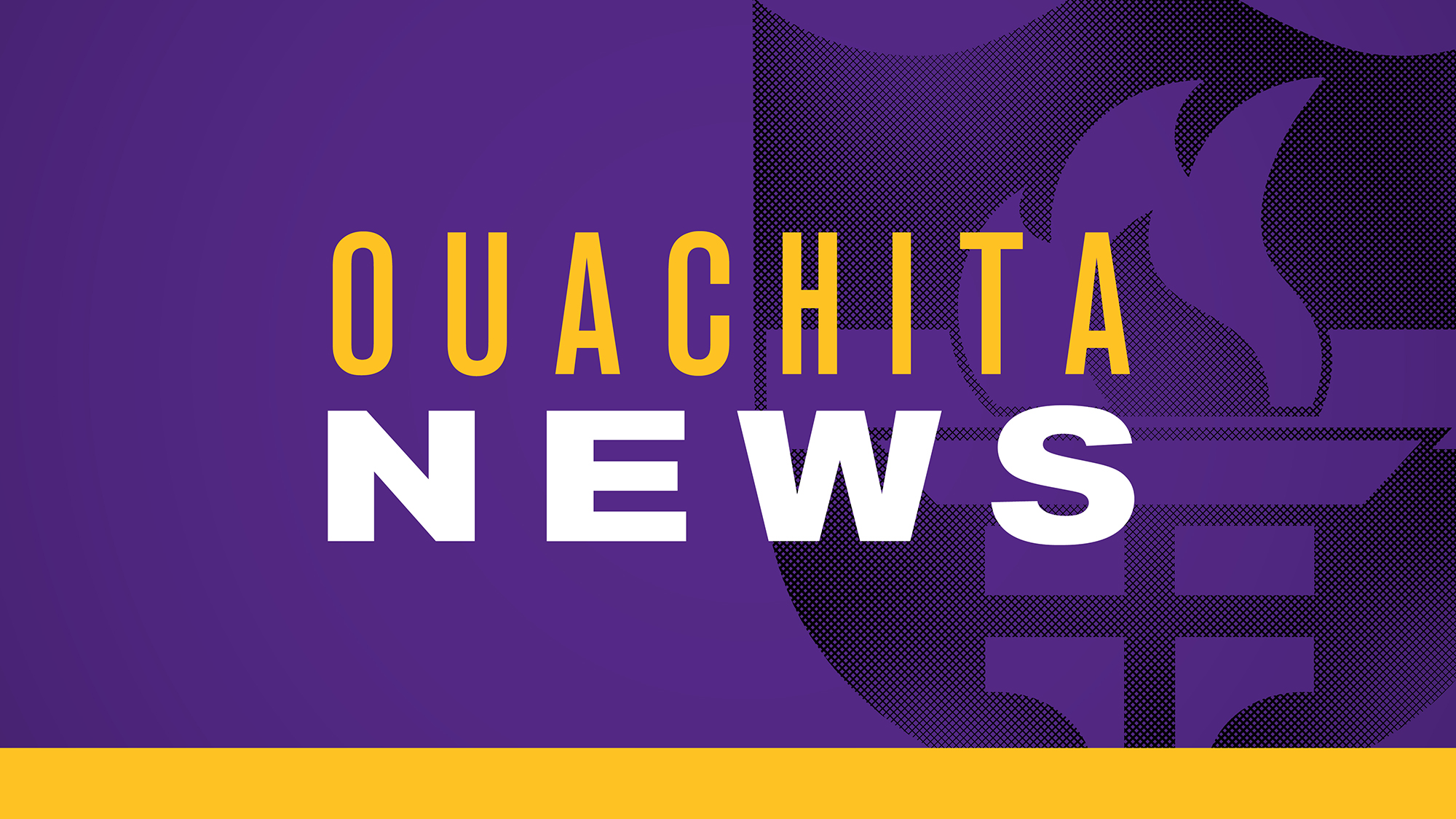 June 14, 2023
More than 420 students were named to the President's List for the Spring 2023 semester at Ouachita Baptist University.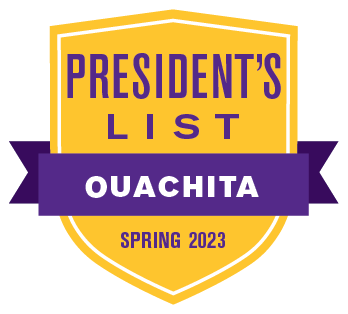 To be named to the President's List, a student must compile a 4.0 grade point average and be classified as a full-time student, with a minimum of 12 academic hours and no incomplete or failing grades for the semester.
Ouachita Baptist University, a private liberal arts university, is in its 137th year as a Christ-centered learning community and is ranked nationally by U.S. News & World Report. Ouachita continues to break enrollment records, reporting its highest headcount in 56 years during the Fall 2022 semester. Learn more about the university's highly personal approach to higher education, reflected in a student/faculty ratio of 13:1, at www.obu.edu.
The following students, listed in order of hometown, are included in the President's List:
Alexander, Ark. – Madison Draper, Baylee Hutchison, Kennedy McGuire, Kailee Morehart, Parker Nelson, Elyse Smith, Sarah Wagner
Alexandria, La. – Jillian Covington, Addie Robertson
Amarillo, Texas – Jacie Sellars
Amity, Ark. – Rachel Forsythe, Makenzie Grider
Andover, Kan. – Arista Pitchford
Arkadelphia, Ark. – Baylee Burson, Jozie Burson, Mallorie Carozza, Sam Coventry, Caroline Derby, Olivia Dixon, Jake Greenwich, Lizzie Horton, Colson McKinney, Sydney Motl, Cole Turner
Arlington, Tenn. – Joseph Webb
Arlington, Texas – Emily Adams
Ash Flat, Ark. – Natalie Moore
Austin, Ark. – Abbey Inman, Trey Lamb
Batesville, Ark. – Eli Livingston, Kady Tosh
Bauxite, Ark. – Allie Bailey
Beebe, Ark. – Abby Burlison
Benton, Ark. – Addie Chumley, Jade Dorman, Payton Dumas, Maggie George, Wes Guerra, John Guttery, Brodie Horton, Michelle Hritz, Qara Johnson, Erin Key, Bryce Krisell, Jenna Malone, Abby McElhaney, Caleb Miller, Andrew Pierce, Sarah Spakes, Gary Storment, Raegan Swindle, Mallorie Warner, Melina West, Veronica West
Bentonville, Ark. – Kelsi Coleman, Gael Gonzalez, Natalie Helms, Olivia Phillips
Berryville, Ark. – Abby Thurman
Bismarck, Ark. – Hannah Moss
Bogota, Colombia – Isabella Bejarano, Vanessa Vives
Boulder City, Nev. – Hannah Estes
Brisbane, Australia – Yosua Lumbanradja
Bryant, Ark. – Emily Greenwell, Kiley James, Lacey Lewellen
Bumpass, Va. – Alexis Perry
Cabot, Ark. – Brynlee Beams, Abigail Gaddis, Mason Martin, Chloe Miller
Camden, Ark. – Halley Bryant, Piper Fain, Kathryn Totty
Canton, Texas – Rachel New
Caracas, Venezuela – Daniel Marcano
Carlisle, Ark. – Mac Ricks
Carrollton, Ohio – Malea Borland
Carrollton, Texas – Brock Wade
Casscoe, Ark. – Makena Munger, Camryn Shelton
Celina, Texas – Jill Parsons, Ashlyn Vana
Centerton, Ark. – Savannah Carrigan, Kalel Langford, Abby Moseley, Steven Willett
Charleston, Ark. – Anna Hudson, Clay West
Cherokee Village, Ark. – Joy Covington
Choctaw, Okla. –
Abbie Moix
Clarksville, Ark. – Josh Engle
Colleyville, Texas –
Brie Fewell
Columbia, Mo. – Elise Henderson, Joe Ragsdell
Conway, Ark. – Didi Christenson, Ashley Drennan, Karli Ferguson, Grant Greenway, Avery Hart, Sara Holman, Anna Johnson, Ethan Kailey, Marlie Moix, Alyssa Rye, Eli Stuart, Cade Swindle, Jameson Tankersley, Josh Tibbs, Barrett Troup, Duncan Troup, Nathan Turner, Chloe Wallace, Kelcie Watson
Coppell, Texas –
Jenae Wilson
Cove, Ark. – Cassidy Ashcraft
Crossett, Ark. – Angela Hibbard
Cypress, Texas – Hannah Smith, Erin Strautman
Dallas, Texas – Mackenzie Amaya, Spencer Benway, Caleb Robbins
DeValls Bluff, Ark. – Leah Miller
Decatur, Texas – Riley Braziel
Deerfield, Ill. – Emma Firestone
DeKalb, Texas – Hope Murphy
Delight, Ark. – McKenzie May
Dewitt, Ark. – Jessalyn Ahrens
Dover, Ark. – Cara Malin, Kailey May
Edmond, Okla. – Lauren Heathcock
El Dorado, Ark. – Kasey Dumas, Kimber Mitcham
Elkins, Ark. – Noah Terry
England, Ark. – Shelby Cheek
Enola, Ark. – Olivia Beene
Erbil, Iraq – Sabaoot Esho
Euless, Texas – Andy Strauss
Evening Shade, Ark. – Chloe Jamora
Fayetteville, Ark. – Remington Adams, Addyson Cassell, Nathan Costner, Connor Flannigan, Carsten Johnson, Kennedy Johnson, Melvin Kumwenda, Michael Lee, Madison Lovell
Fordyce, Ark. – Madison Gray
Forney, Texas – Elijah Christenson
Fort Smith, Ark. – Emily Bass, Riley Collins, Emma Mackey, Xander Naegle, Eryn Riley
Fort Worth, Texas – Tyler Andruss, Landon Denman, Hope Waid
Fouke, Ark. – Sierra Hoss, May Hyman
Franklin, Tenn. – Blythe Hutchison
Franklin, Texas – Ali May
Frisco, Texas – Emma Ballantyne, Maddie Cargile, Kate Ellis, Nathan Frater, Lauren Gaharan, Avery Howard, Lydia Medigovich, Erin Russo, Josh Watson, Brock Wollent
Garland, Texas – Joni Schneider
Gilmer, Texas – Brooke Wright
Greenbrier, Ark. – John Hunter Crum, Reagan James, Presley Roberts, Joey Whisenhunt
Greenwood, Ark. – Deacon Drennan, Brooke Jones, Taylor Koeth, Bree Steinfeldt
Gulfport, Miss. – Alex Moore
Gurdon, Ark. – Sophia Talley
Guthrie, Okla. – Bethany LaTurno
Hamburg, Ark. – Karson Grant
Harrell, Ark. – Abbi Wood
Hawkins, Texas – Isaac Edwards
Heath, Texas – Dawson Miller
Hendersonville, Tenn. – Sabrina Cheek
Hensley, Ark. – Kaylee Johnson
Hinton, W.Va. – Mason Campbell
Hope, Ark. – Hannah Lloyd, Matthew Lloyd
Hot Springs, Ark. – Brooks Bell, Ben Combs, Angela Coriaty, Jolie Crane, Brandon Dyberg, Madison Easley, Bailey Gibson, Chase Hartsell, Katelyn Hartsell, Julia Lance, Hannah Newcomb, Carly Orr, Tanner Roberts, Will Ross, Ashlyn Sales, Kaylee Smith, Tavin Wright
Hot Springs Village, Ark. – Emily Hemund
Houston, Texas – Rachel Del Angel
Humphrey, Ark. – Erin Williams
Huntsville, Ark. – Faith Morgan
Idabel, Okla. – Kaelin Clay, Karigan Clay
Iron River, Mich. – Jubilee Collins
Jackson, Tenn. – Alli Hylkema
Jonesboro, Ark. – Emery Cash, Peyton Church, Chris Couch, Ashlyn Ham, Brit Hawkins, Elise Knight, Isabella Owen, Drace Provost, Faith VonDran
Kansas City, Mo. –
Courtney Ragsdell
Katy, Texas – Elizabeth Seek
Keller, Texas – Ava Dunagan, Ashleigh Estes
Kuwait City, Kuwait – Aksa Mathew
Lantana, Texas –
Chad Gscheidle
La Rioja, Argentina – Fernando Docters Bosetti
Leander, Texas – Hannah Smith
Leola, Ark. – Emilee Webb
Lindale, Texas – Austin Roots, Sydni Watts
Little Rock, Ark. – G. Allen, Sydney Babb, Kristian Baker, Grace Bornemeier, Sydney Burton, Rebekah Chandler, Austynn Crocker, Austin Crook, Nadia Denman, Ashley Dillman, Emma Dorsey, Christy Dunavan, Lyndsey Gardner, Anna Katherine Green, Reese Hargrove, Katie Henry, Allison Hernandez, Wyatt House, Bailey Hunter, Jessica Johnson, Allie Mooney, Cooper O'Briant, Sam Sexton, Chau Tran, Shelby Tripcony, Rebekah Van Namen, Gracie Vaughn, Piper Warren, William White, Olivia Wylie
Lone Star, Texas – Joshua Sutton
Longview, Texas – Izzi Breaux, Nathan Clark, Blake Myers
Lorena, Texas – Shelby Smith
Lucas, Texas – Anika Dresser, Rebecca Holiman, Trent Robinson
Lumberton, Texas – Torrie Weems
Mabank, Texas – Jessie Hodge
Madison, Miss. – Hannah Rossell
Magnolia, Ark. – Abby Harrington, Troi Kacsir, Elise McWilliams
Magnolia, Texas – Sarah Grace Wisener
Malvern, Ark. – Kodee Batchelor, Cade Cramer, Brenna Kesterson, Emma Kyzer
Mansfield, Texas – Paige Owens
Marshall, Texas –
Jeff McCoy
Maumelle, Ark. – Becca Beard, Jordan Dallimore, Jackson Edds, Abbey Moore, Ashton Price
McKinney, Texas – Abigail Dahl, Emilio Garcia
Melissa, Texas – Hannah Schulze
Mena, Ark. – Lexi Williams
Mesquite, Texas – Maddy Moore
Montgomery, Texas – Kaitlyn Montgomery
Mount Ida, Ark. – Bailey Martin
Mount Pleasant, Texas – Olivia Nethercutt, Nathan Scolaro
Mount Vernon, Texas – Heather Brown
Mountain Home, Ark. – Whit Lawrence, Tatum Smith, Fritz Vetter
Mountain View, Ark. – Emry Johnson
Mueselbach, Switzerland – Ramon Strassmann
Murfreesboro, Ark. – Adam Lott
Murphy, Texas – Nati Abeje, Hayley Wolfe
Nacogdoches, Texas – Ellie Davis, Brooklyn Perkins, Anna Claire Powers
Nashville, Ark. – Grady Jones
Nashville, Tenn. – Sarah Dean
North Little Rock, Ark. – Bailey Bearden, Makenzie Cresswell, Ella DePriest, Carly Hall, Hannah Humphries, Chloe Lay, Hannah Matthews, Lizzie Phifer, Aaron Reed, Emma Smith, Briley Thompson, Noah Warford, Mary Charles West
North Richland Hills, Texas – Finley Nipper
Oak Leaf, Texas – Connor Bjerke
Oklahoma City, Okla. – Angela Staats
Owasso, Okla. – Addison Hudler
Paragould, Ark. – Emma Grace Morris
Paris, Texas – Lyric Tredwell, Hannah Tullos
Paron, Ark. – Kyla Williams
Pearcy, Ark. – Ethan Smith, Noah Smith
Peyton, Colo. – Tiffany Backeberg
Pine Bluff, Ark. – Alex Browning
Plano, Texas – Meghann Bledsoe, Lauren Bridgeman, Grace Woodward
Powderly, Texas – Caroline Smallwood
Prairie Grove, Ark. – Elizabeth Hall
Prattsville, Ark. – Anna Holiman
Princeton, Texas – Allyson Rodgers
Prosper, Texas – Taylor Bass, Maegan Royster, Noah Yeamans
Quinlan, Texas – Isabel King
Quitman, Ark. – Addison White
Richardson, Texas – Emily Pease, Connor Radabaugh
Rockwall, Texas – Chase Howerton, Tag Pacot
Rogers, Ark. – Hannah Coffman, Ella Cox, Ashlyn Holt, Faith Lymburner, Kate Nachtigal, Ben Olatunji, Logan Robertson
Roland, Ark. – Mika Celicourt, Emma Kathleen Conner
Rosenberg, Texas – Alex Henry
Royal, Ark. – Dylan Horton
Royse City, Texas – Wyatt Ashlock, Mikayla Cook
Russellville, Ark. – Seth Curl, Emmy Hipps, Camryn Manning
Ruston, La. – Zoe Graham
Salatiga, Indonesia – Yu Chan Jeong
Searcy, Ark. – Ruthie Fox, Isabelle Holeyfield, Julia Shands, Addie Woods
Sheridan, Ark. – Megan Monk
Sherman, Texas – Jackson Lipscomb
Sherrill, Ark. – Sara Hulse
Sherwood, Ark. – Olivia Hobson
Shreveport, La. – Averey Sewell
Siloam Springs, Ark. – Shayla Conley, Kennedy Wilkie
South Jordan, Utah – Mia Paladini
Sparkman, Ark. – Katie White
Spring, Texas – Ashlyn Lynch, Mary O'Sullivan, Lacy Ornelas
Springdale, Ark. – Leah Gamble, Allie Jane Wilson, Wade Wilson
Sugar Land, Texas – Lexa Levermann
Sunset, Texas – Brock Neese
Talco, Texas – Elexis Lunsford
Tegucigalpa, Colombia – Rafael Bustillo
Texarkana, Ark. – Reese Chesshir, Kendall Jones, Emily Waters
Texarkana, Texas – Tucker Anderson, Ryan Pickelman, Lily Sewell
Tontitown, Ark. – Elly McDonald
Troup, Texas – Emma Bynum
Tull, Ark. – Matthew Mayfield
Tyler, Texas – Ashlynn Hecht
Van Alstyne, Texas – Andrew Tarlton
Van Buren, Ark. – Alexandra DuPree, Ashton Hurst, Caden Jenkins
Vilonia, Ark. – Hope Johnson, Chloe Lane, Madeleine Tipton
Walpole, Mass. – Sydney Taylor
Washington, Ill. – Elizabeth Hahn
West Memphis, Ark. – Clara Griggs
Wichita, Kan. – Abigayl Conard
Wooster, Ark. – Jacob Bowman
Wylie, Texas – Mikaila Fatheree
Wynne, Ark. – Melanie Armstrong