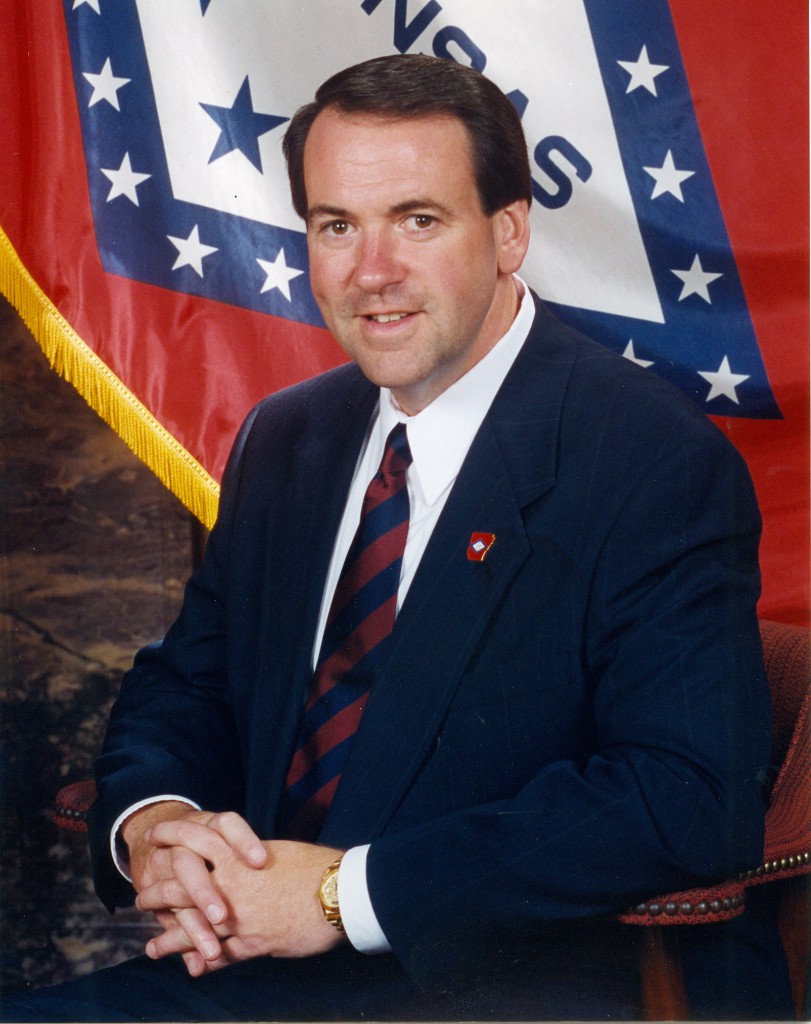 Governor Mike Huckabee formally announced in 2003 that Ouachita Baptist University would be the repository for his official papers and memorabilia. Today, the governor's papers are housed in OBU's Riley-Hickingbotham Library.

Hundreds of cubic feet of files serve as the centerpiece of the collection, including items from Huckabee's decade as governor and three years as lieutenant governor. A large collection of photographs, newsclippings, audio/video recordings, and artifacts supplement the files.
---
Michael Dale Huckabee was born on August 24, 1955, in Hope, Arkansas, the son of Dorsey W. and Mae Elder Huckabee. Huckabee's father was a firefighter, and his mother worked for the Louisiana Transit Company. In 1965, he joined Garrett Memorial Baptist Church and became involved in church activities. His faith has played a significant role throughout his private and public life.

Tumultuous national and international events of 1968 spurred Huckabee's desire for a career in media or public service. Indicative of things to come, in 1972, Huckabee was elected governor of Arkansas Boys State. He dated Janet McCain during his final semester at Hope High School in 1973, and the couple married May 25, 1974. They have three children.

Huckabee enrolled at Ouachita Baptist University, majored in religion, minored in speech, and graduated in 1975 after two-and-one-half years. He then attended Southwestern Baptist Theological Seminary in Fort Worth, Texas.

Evangelist James Robison hired Huckabee to be his director of communications, a post he held until he returned to Arkansas in 1980. He became minister at Immanuel Baptist Church in Pine Bluff. Huckabee later became the pastor of Beech Street Baptist Church in Texarkana and served in that position from 1986 to 1992. During these years, he established and became president of Beech Street Communications, an organization that created television station KBSC-TV (later KLFI 35). In 1989, Huckabee was elected president of the Arkansas Baptist Convention. During the two years he served as the president of that organization, people urged him to seek public office.

In 1992, he decided to run as the Republican candidate against the incumbent Democrat Senator Dale Bumpers. Bumpers, a popular politician and former governor, had served in the Senate since 1975 and had a well-established base in the state. Huckabee was defeated in the general election that fall.

That same year, Governor Bill Clinton won the U.S. presidential election, and Lieutenant Governor Jim Guy Tucker became the state's governor in 1993. A special election was called to fill the vacancy for lieutenant governor. Huckabee ran and won the position, and was the only Republican holding statewide office. In 1994, he was re-elected.

In 1996, Mike Huckabee decided to pursue the Senate seat being vacated by Democrat David Pryor. Huckabee was leading in the polls when Governor Jim Guy Tucker was convicted of felony fraud charges stemming from the federal Whitewater investigation. Arkansas law prohibits convicted felons from serving as governor, so Tucker announced his intention to resign. Huckabee decided to give up his bid for the U.S. Senate and prepared for his swearing-in ceremony as Arkansas's forty-fourth governor on July 15, 1996. Only moments before Huckabee was to take the oath of office, Tucker called the lieutenant governor and rescinded his resignation. The state faced a potential constitutional crisis for several hours until Tucker decided to go through with his resignation after Huckabee threatened to call lawmakers together for an emergency legislative session to begin impeachment proceedings.

As only the second Republican governor since Winthrop Rockefeller, Huckabee faced many political challenges. One of his first acts was the creation of a program labeled ARKids First. The initiative created a medical insurance plan for thousands of children. He also supported and promoted Amendment 75, a 1/8-cent sales tax that generated revenue for the Arkansas Game and Fish Commission, the Department of Parks and Tourism, the Department of Arkansas Heritage, and the Keep Arkansas Beautiful Commission.

In 1998, Huckabee ran for election and won. Following the election, he led a campaign to improve the state highway system by supporting a bond initiative, and pushed for Arkansas's tobacco settlement to be used for the state's health care system. Education was also an important issue for Huckabee. He enacted programs targeting school children and achievement. Huckabee was also instrumental in passing the Covenant Marriage Act of 2001. It was during this first full term as governor that Huckabee began to find leadership posts within regional organizations. In 1999, he became the chair of the Southern Governor's Association and later the chairman of the Southern Growth Policies Board.

In 2002, Huckabee won re-election and later assumed leadership positions within national organizations. The Governor gained national attention in 2004 after he lost 110 pounds by changing his diet and exercise habits. Using his personal experiences, the Huckabee launched a program called "Healthy Arkansas" to promote more healthy lifestyles among all Arkansans. In 2005, he became the chairman of the National Governor's Association, and he became the chairman the Education Commission of States. He also served as chairman of the Southern Regional Education Board. In 2005, Time magazine listed Huckabee among the five most effective governors in the nation. Because of term limits, he could not run for re-election in 2006.

While in office, Huckabee authored five books: Character is the Issue (1997), Kids Who Kill (1998), Living beyond Your Lifetime (2000), Quit Digging Your Grave with a Knife and Fork (2005), and From Hope to Higher Ground (2007).

As early as 2004, the governor's name surfaced as a possible contender for the 2008 Republican nomination for president. Huckabee announced his intention to run for president in January 2007 and won the Iowa Republican Caucus the following January. He captured primary victories throughout the South, including Alabama, Arkansas, Louisiana, Georgia, and Tennessee, and scored a noteworthy victory in Kansas. However, he bowed out of the race in March after U.S. Senator John McCain earned enough delegates to win the nomination.

The Governor then provided political commentary to the Fox News channel and was given his own weekend talk show, Huckabee. He also published a campaign memoir, Do the Right Thing (2008), and has continued writing and publishing other books.

This biography is adapted from "Mike Huckabee" in the Encyclopedia of Arkansas , authored by former OBU Professor of History Trey Berry.
Hundreds of cubic feet of files serve as the centerpiece of the collection, including items from Huckabee's time as governor and lieutenant governor. A large collection of photographs, newsclippings, audio/video recordings, and artifacts supplement the files.

The collection is currently being processed and is therefore not accessible at this time.