blog
'Tis the season to be a Tiger
Bookstore gift ideas for those who love Ouachita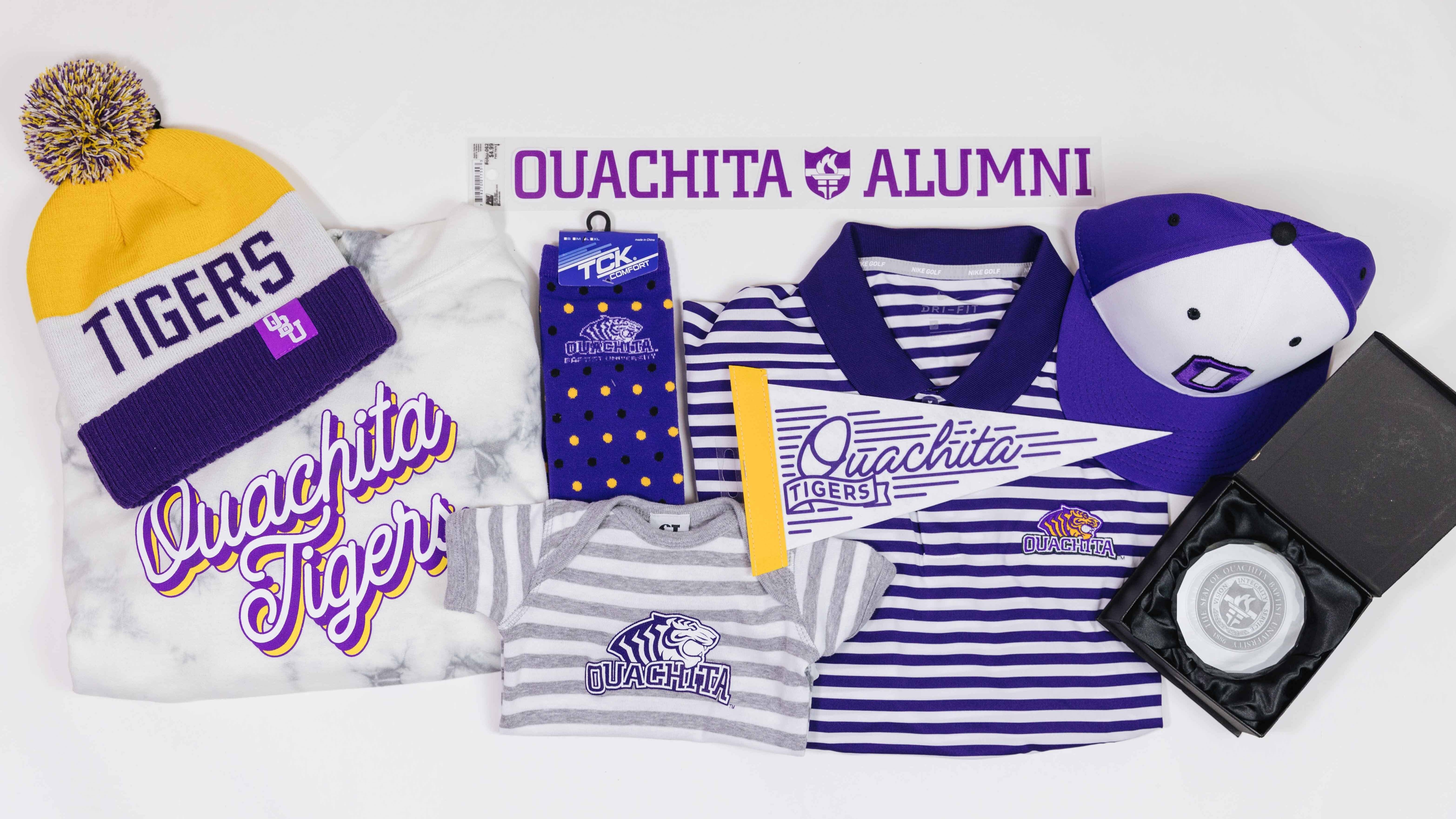 December 01, 2020 - Mallory Morris
Shopping at the Ouachita bookstore is fun any time of the year, but as we approach the holiday season, it's a wonderful opportunity to bring home some of your favorite Ouachita merch to loved ones! Friends, family and future tigers alike will all find something special and unique to them in the bookstore this season.
If you're shopping for some stylish new attire, be sure to check out some of the bookstore's new T-shirts, button downs, windbreakers and more! There are plenty of options to choose from, whether you're shopping for athletic clothing, a Seaside-style sweatshirt to rep at the family get-together or even sharp dress shirts with the Tiger head logo.

As the weather begins to get cooler outdoors, it's also a great opportunity to invest in a Ouachita baseball cap, headband or beanie. The bookstore sells multiple options from purple and white striped hats to cozy faux fur beanies! This headwear would be the perfect Christmas gift and easily pair with fun purple and gold socks or a stylish wallet.

What about items for the proud Ouachita parent or grandparent? The bookstore also has plenty of Ouachita coffee mugs and tumblers, "Ouachita Mom" and "Ouachita Dad" shirts, car decals, key chains and license plate frames that would make the perfect gift to (humbly) brag about their student being a Tiger.
You may be shopping for a future generation Tiger. If that's the case, the bookstore has also got you covered. From Ouachita-themed coloring books to piggy banks, clothing and more, there are plenty of children's gifts no matter their age.

These are just a few of the gift ideas you'll find in the Ouachita bookstore this holiday season. You won't be disappointed by all that the bookstore has to offer, so stop by soon and bring home a gift that's a reminder of a place so special to me and you!
By Mallory Morris, a senior graphic design and communications & media/integrated communications double major from Nacogdoches, Texas
You Also Might Like