blog
20 COVID-friendly activities to try this semester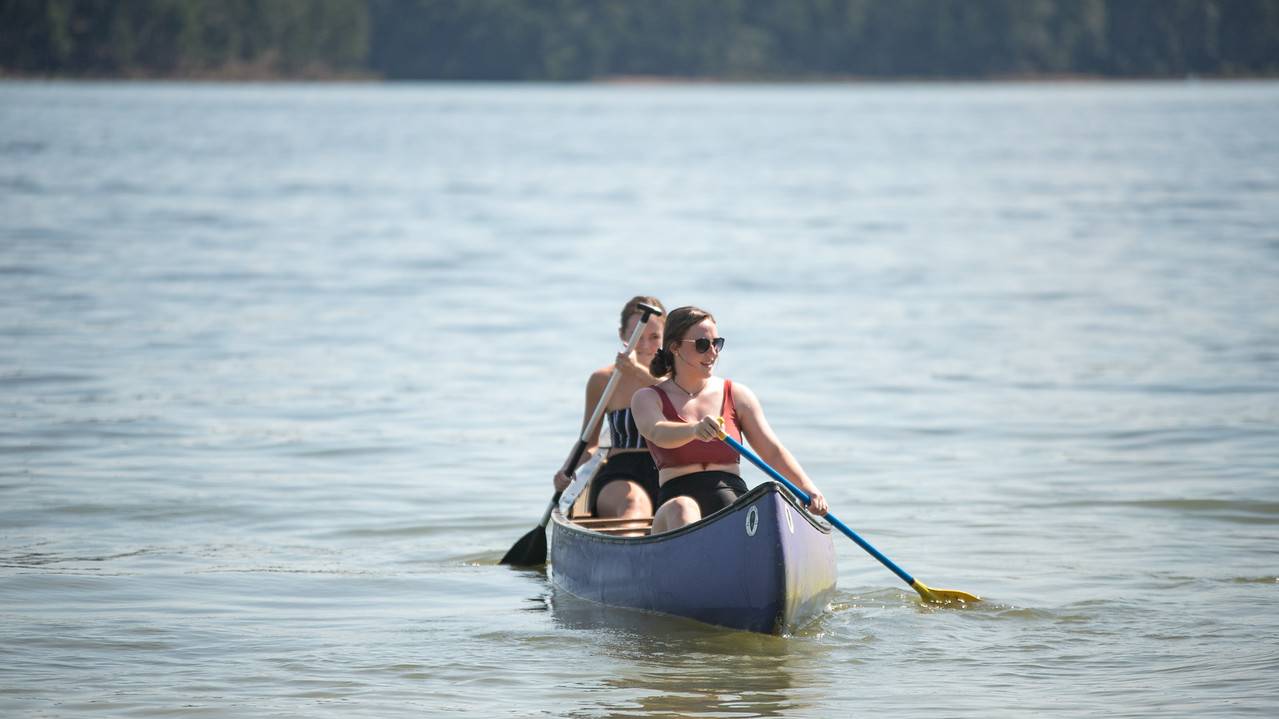 August 21, 2020 - Rachel Gaddis
From the beginning of this pandemic, we've all heard "re-think," "adjust" and "get creative" probably a million times. But now that you're back on campus, it may be tough to reimagine your go-to activities and hanging out with your friends physically-distanced.
So, let's start fresh and change our perspective! Here are some activities and hobbies that you may have never done while a Ouachita student. You might just discover a new hobby or interest you didn't know you had.
Start a book club. Is there a book or series you've never read? Rather than doing this solo, why not take this opportunity to meet new people who share a common interest? You could come up with your own reading plan as a group, or you can follow what popular/celebrity book clubs are reading.
Slack-lining. With all the trees and green space on campus, you can practice until you're a pro.
Outdoor pursuits. Being located on the banks of the Ouachita river, minutes away from DeGray Lake and nestled in the foothills of the Ouachita National Forest has its perks! Check out RecLife's recommendations for local outdoor pursuits.
Double-dutch. Remember the movie "Jump In?" (Starring Corbin Bleu and Keke Palmer.) Maybe you haven't jumped a rope since elementary school, but this could be your new favorite, physically-distanced workout with friends! If you get really fancy, you might learn some tricks.
Knitting. You can do this on your own or make a knitting circle with your friends.
Tennis. If you don't usually frequent the Ward Tennis Center or courts, you're missing out. Especially with nice weather, you could tone your arms and keep your summer tan.
Disc golf. Did you know there's a disc golf course on campus? You can go solo or go with friends, but either way, this is a low-impact sport that still requires skill and encourages lots of walking. Discs are available to check out for free at the CRAG rental center (open Monday-Thursday 8 a.m. - 4 p.m.) through RecLife.
Host a poetry or story slam. While some big cities offer poetry and story "slams" that are competitive and award scores to storytellers and poets, you might prefer a simple "theme night" to allow storytelling and poetry around that topic. Also, you know some profs will be so down for this!
Capture the flag. Okay, in all seriousness, wasn't this everyone's favorite game at summer camp? Try a twist on the classic using water guns and devise your battle plan!
Fish – for fun or competitively. The Ouachita Fishing Team just held their first interest meeting. If you love to fish or have never done it, this is a great place to meet new people and relax (or not, if you're in it for the bragging rights). Or head out to Lake DeGray or the many other nearby fishing spots on your own!
RecLife activities. From fitness classes and new intramurals (have you heard about human foosball?) to the rock climbing center and planned events like Lake Day, there are still plenty of RecLife activities to enjoy with your friends this fall.
Rent equipment for outdoor leisure. Rent a kayak, canoe, tents, mountain bikes and other equipment from RecLife at the CRAG (in Vining Arena). Many items are available for only $1 a day!
Serve. If you haven't served with the Elrod Center before, the pandemic is a great time to serve others! While service opportunities will be physically distanced, you have opportunities to do outdoor work, write notes to senior adults or school-age children, help clean up the city, deliver meals to families in need, sort clothes at Lighthouse Ministries and more!
For the animal lovers: Did you know you can walk and wash dogs at the Humane Society of Clark County – or even adopt a dog for the day!
Support your friends. This is an especially stressful time for your fellow athletes, performers and student leaders as they adjust how their passions play out. Show up for them by attending events, shoot them encouraging texts and lift them up in prayer.
Explore the area. If you haven't seen our recent blog about things to do in our region of Diamond Lakes (Arkadelphia, Malvern, Murfreesboro, Hot Springs), adventure awaits! Grab your family group and hop in the car for a day trip.
Write a letter. You know your mom, dad, grandparents, younger siblings or significant other would literally cry if you sent them a letter. You've got time. Why not? If paper and pen is not your thing, try an app like Touchnote to digitally create and send real cards through the mail. They'll love seeing a pic of your latest college adventure.
Paint. Whether you freehand it or buy a paint-by-numbers set, you could create art for your dorm ... or get a head start on your grandma's Christmas present.
Prep for Tunes Rewind. Brush up on Tunes history and relive the nostalgia of shows past by binging old shows. Mount a campaign to vote for your fave. Plan a watch party with Tunes-themed snacks and even costumes. Or brainstorm ideas for the next legendary show.
And, of course, there are lots of creative things you can do digitally or via Zoom. Here are a few ideas.
By Rachel Gaddis, a 2016 Ouachita graduate, serves as editorial coordinator for Ouachita's Office of Communications & Marketing.